Biggest Lessons Learned from Start of Montreal Canadiens' Playoff Campaign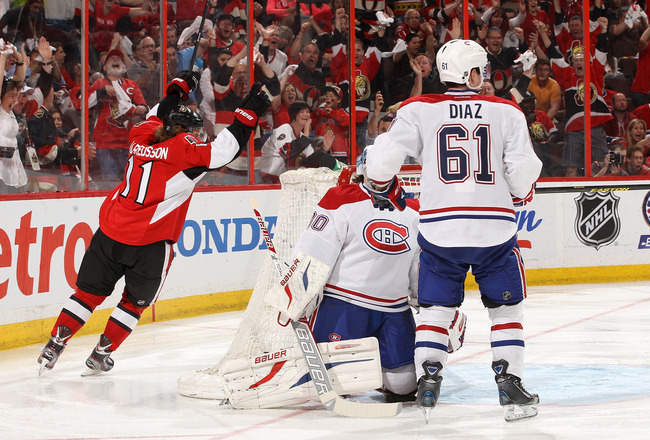 Montreal Canadiens Raphael Diaz and Peter Budaj look on following Ottawa Senator Kyle Turris' Game 4-winning goal.
Jana Chytilova/Freestyle Photo/Getty Images
Needless to say, the Montreal Canadiens did not have the start to the series against the Ottawa Senators they would have liked.
They lost the first game of the series, home-ice advantage and one of their better players in brutal fashion. While Lars Eller will presumably recover from his injuries, the Habs may not be in the playoffs by then, even though they were able to win Game 2.
Now down three games to one following a heartbreaking finish to Game 4, here are the biggest lessons the Habs should have learned so far that they can apply in ensuing games to give them the best chance at moving on:
6. Brendan Gallagher Should Be the Undisputed Rookie of the Year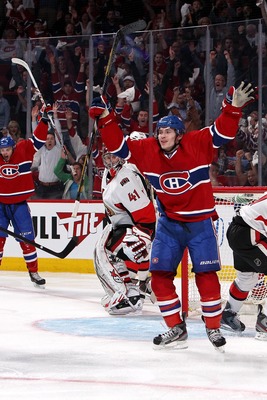 Montreal Canadien Brendan Gallagher celebrates a goal against the Ottawa Senators.
Francois Laplante/FreestylePhoto/Getty Images
Granted, performances in the playoffs don't count towards the Calder Memorial Trophy. However, Gallagher's two goals in the first two games of the series as well as his play overall prove he is a gamer, and he is for real.
Of course, the only other possible alternative, that he is an imp from another dimension admittedly isn't all that likely (even though he tends to smile...a lot).
He may not have led rookies in any one category during the regular season (the goal title belongs to Nail Yakupov, assists to Justin Schultz, points to Yakupov and Jonathan Huberdeau, plus/minus to Brandon Saad).
Hell, even his 117 shots on goal were eclipsed by Jakob Silfverberg of the very same Senators (134), while fellow Sen Cory Conacher takes home the title for biggest drop-off in performance in the second half of the season relative to the first.
However, Gallagher, who does not have the most talent, does have arguably the best well-rounded game. He gets results. That cannot be denied, just like him more often than not at the lip of the crease.
At 5'9", he is not the ideal player to lead the charge and crash the net. He unfortunately seems to be the only one doing so, and as a result, he's the focus of Ottawa's defense. All other Canadiens should follow his lead and just go to the net.
5. Craig Anderson Is the Mr. Anderson from the Matrix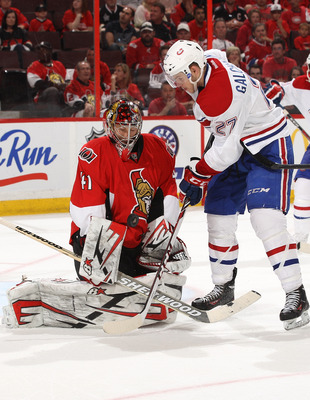 Ottawa Senator Craig Anderson makes a save on Montreal Canadien Alex Galchenyuk.
Jana Chytilova/Freestyle Photo/Getty Images
There's no other way to explain it. Anderson's insane performance in Game 1 showcased an uncanny ability to slow down time, only he wasn't dodging bullets, but rather putting himself in front of pucks, 48 out of 50 to be exact.
The main reason why it's clear he is the savior of mankind from the tyrannical rule of machines, though?
He has made a habit of replicating that one performance time and again the past few seasons, back to his days as an above-average backup with the Florida Panthers.
Leading the league this year in goals-against average (1.69) and save percentage (.941), Anderson has proven beyond a shadow of a doubt that he too is for real, which in turn poses a very real problem for the rest of us (specifically teammate Zack Smith), what with Earth actually being a nuclear wasteland and all.
So, how to beat Anderson? Well, if the movies are any indication—and we have to believe they are—the Habs must assimilate him, enabling him to destroy Montreal from the inside out, thereby extinguishing his life force.
Maybe not the best means to win a playoff series, essentially setting your own destruction into motion, but, on the bright side, assimilating a consistently dependable goalie would solve the whole Carey Price dilemma.
However, if even that fails, actually crashing the net on a consistent basis should work just as well.
4. Goalies Need Mouthguards on Top of Helmets
By "on top" I mean "in addition to," as a goalie wearing a mouth guard literally on top of his helmet would look ridiculous.
By the same token, a goalie wearing a mouth guard under a presumably fully protective facemask makes just as much sense, or at least it did two weeks ago.
However, both Anderson, off a shot by Rene Bourque, and Price, following a collision with Jarred Tinordi, lost teeth, making it the first time opposing goalies have lost teeth in the same series…probably (a pretty safe assumption, as goalies tend to lose teeth like they lose track of time left late in a shutout bid).
While Montreal goalie Jacques Plante once made history by bringing the mask into mainstream use, it may be about time for another revolutionary change to the position. But I wouldn't hold my breath for either goalie in this series to become a pioneer anytime soon.
That's even taking into account Price seemingly toying with a brand-new goaltending style instead of his usual butterfly: stand-up…comedy.
In all seriousness, though, as most will know, neither of the "hits" to Price and Anderson rank all that highly on the list of the most devastating ones of the series.
3. Clean Hits in the Playoffs That Lead to Injuries Also Lead to Suspensions

Ottawa Senator Eric Gryba lays out Montreal Canadien Lars Eller.

Habs fans may want to blissfully believe that Eric Gryba is the devil incarnate to try and make sense of the situation that left Lars Eller concussed and out cold in a pool of his own blood, but the fact of the matter is that Gryba's hit, while needless, was still clean.
The hit wasn't late. Gryba didn't charge him. He didn't even leave his feet. And that is the nature of the NHL these days, where blindside hits resulting in head injuries are legal, as long as the head was not the principal point of contact.
Rule 48 (Illegal Check to the Head) clearly states:
…In determining whether such a hit should have been permitted, the circumstances of the hit, including whether the opponent put himself in a vulnerable position immediately prior to or simultaneously with the hit or the head contact on an otherwise legal body check was avoidable, can be considered.
Looking at the video, Eller did put himself in a vulnerable position, and if you break it down further, the principal point does not even appear to be the head, making this rule inapplicable and the final call on the play interference (even with Eller clearly made contact with the puck).
So, with Gryba nonetheless getting a two-game ban, the only logical conclusion to be made (and lesson to be learned) is that no Canadien should seek legal retribution on the Sens, unless they want to risk getting suspended themselves. They had better make it an illegal hit, just to be safe.
Another clear-as-day lesson here: The NHL doesn't know what it's doing in regard to player safety and enforcing its own rules.
But everyone already knew that, didn't they?
2. When All Else Fails, Resort to Name-Calling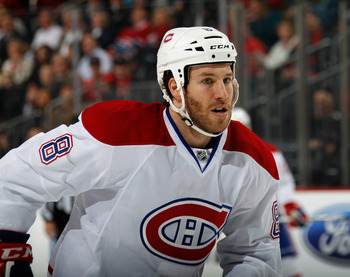 Montreal Canadien Brandon Prust.
Bruce Bennett/Getty Images
Brandon Prust can in a way be excused for calling Senators head coach Paul MacLean a "bug-eyed fat walrus" after the latter had this to say about the Eller hit (via Puck Daddy):
"[If I'm Eller], I'm really mad at player 61, whoever he is [Raphael Diaz], because he passed me the puck in the middle of the rink when I wasn't looking. That's always been a dangerous place as far as I know."
Prust was obviously acting immaturely (even if he clearly can spot and identify fauna at a sixth-grade level at least). However while many might accuse Prust of taking the war of words back to elementary school, he really was just following MacLean's lead.
Not only did MacLean fail to hold his player accountable for the hit and have him own it, like a preschooler in hot water for failing to put his toys away, he instead chose to blame someone else.
On the bright side, we know he can count at least up to 61.
Diaz may very well be partly to blame, but all MacLean did was piss off the Habs by showing an immense amount of disrespect by not only not knowing his name, but also having to think about Eller's.
All he should have done was say it was a good hockey play (which was the truth) and stand by his player. Instead, he exacerbated matters by stirring the pot.
Prust, meanwhile?
Whether it was his intention or not, he successfully deflected all attention off Price and his horrible play in the 4-2 loss (including an incredibly soft game-tying 2-2 goal), enabling his goalie to have an arguably decent game finally.
While Price's proponents and detractors can stand around and debate until the cows come home as to whether or not he was actually good in Game 2 or just incredibly lucky, he did get the win.
So, clearly, name-calling works. It's no longer just for the schoolyard, folks. You heard it hear first. Guillaume Fatendresse could very well be next.
1. Nobody Said It Was Going to Be Easy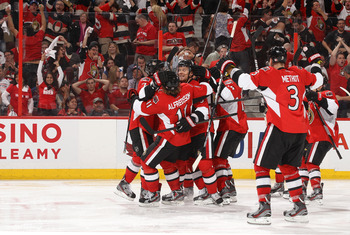 The Ottawa Senators celebrate their Game 4 victory.
Jana Chytilova/Freestyle Photo/Getty Images
Whether it's a third-period lead or a third-line player, the hardest lesson the Canadiens should have learned in the playoffs so far is not to take anything for granted. That apparently and unfortunately includes referees making the right calls on key plays.
The Habs entered this series with one distinct advantage over the Ottawa Senators: depth up front. Whereas Ottawa has perhaps a single consistently dangerous line, Montreal had played the entire season rolling three and averaging just over the same amount of goals per game.
However, all of a sudden following Game 1, the Habs weren't just without Lars Eller, but Alexei Emelin, Max Pacioretty and captain Brian Gionta as well.
While the latter two returned for Game 3, Gionta is now out for good with a torn left biceps, as are Prust and Ryan White with undisclosed upper body injuries (via thestar.com).
So, that aforementioned depth? Not all that existent anymore. And it's kind of hard to develop an us-versus-the-world mentality when the "us" on which the Habs can rely are so few in number.
On the bright side, Price, who has been inconsistent at best in this series, is also doubtful for Game 5.
Thank God for life's little miracles, eh? It's times like these that one has to be grateful that the Habs have a great backup like Peter Budaj in the wings who can be trusted in any and all game situa—Oh, right…Never mind.
The fact of the matter is if Price hadn't have given up the game-tying goal late in Game 4 (on which he got injured and, let's be honest, looked horrible, flailing about like a fish out of water after having lost track of the puck), Habs fans would be having very different conversations right now and discussing how the Habs now have all the momentum in the series.
No dice, though.
Following the two cruel twists of fate in Game 4 (including the first Ottawa goal that shouldn't have counted), that simply is not the case, and the Habs are faced with elimination sooner than most could have foreseen.
As a result, it can no longer be considered a matter of taking it one game at a time, but one period at a time, as the ability to play a full 60 minutes has eluded the team up to this point in the series.
Coming back from a 3-1 deficit is possible, however unlikely it may be at this juncture. The Habs are the better team. They just have to play like it the rest of the way. It's up to them how long that is.
Keep Reading

Montreal Canadiens: Like this team?