Michigan Basketball: 5 Storylines to Monitor During Wolverines' Offseason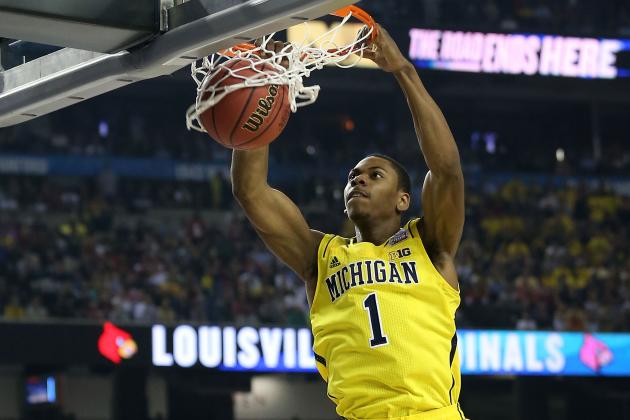 Streeter Lecka/Getty Images
Glenn Robinson III will move to the 3 next season.
The college basketball offseason is already a month old and the Michigan basketball program has been in the news quite a bit.
Wooden Award winner Trey Burke declared for the NBA draft. First team All-Big Ten shooting guard Tim Hardaway Jr. followed suit. The Wolverines did get a big boost, though, when Glenn Robinson III and Mitch McGary both announced they would return to Ann Arbor for their sophomore seasons.
With six months left before the 2013-14 season tips off, there are plenty of stories the Maize and Blue faithful should keep tabs on. Some are related to starting spots for next year, while others include scheduling and former stars.
One thing is for sure, Michigan will not have a quiet offseason.
Begin Slideshow

»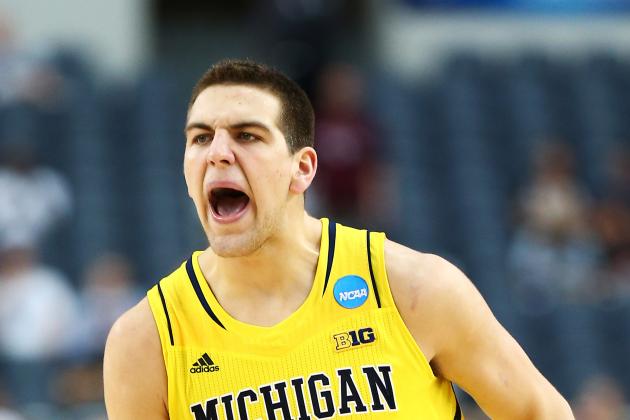 Tom Pennington/Getty Images
Mitch McGary may be sliding over to the 4, which means he has some adjustments to make during the offseason.
In order for the Michigan Wolverines to contend for a Big Ten Conference championship next season, Mitch McGary and Glenn Robinson III have to play at an All-American level. This means the offseason will be more important than ever for the two budding stars.
Robinson wants to play the 3 as opposed to the 4, which is where he played during the 2012-13 campaign. The mental aspect of the transition should be easy. Up until his freshman season at Michigan, Robinson starred at small forward. Learning the nuances and responsibilities of his new position in John Beilein's complex offense will take some time, though.
Additionally, Robinson has to become a more consistent jump shooter. There is no better time than the offseason to get in the gym and put up countless jumpers.
For McGary, developing a post game will be his top priority over the next several months. The Brewster Academy product already has a solid mid-range shot and runs the pick-and-roll as well as any big man in college basketball. Adding the ability to play in the high post and on the block is all McGary needs to become a dominant force for the Wolverines.
Everyone should be keeping an eye on how the pair of rising sophomores develop during the offseason.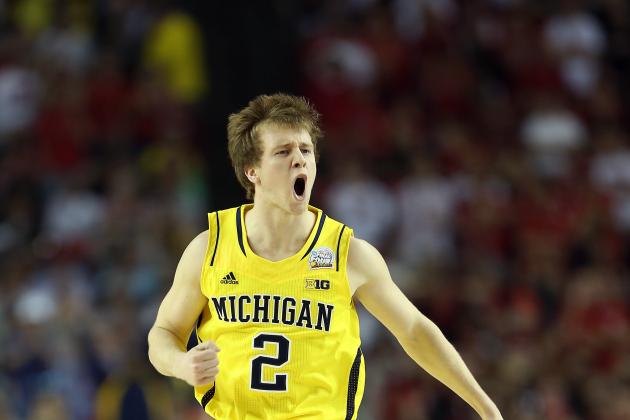 Andy Lyons/Getty Images
Spike Albrecht may be able to hold off Derrick Walton in the battle to become the starting point guard.
Leading up to last season's national championship game, not too many people would have expected Spike Albrecht to challenge for a spot in the starting lineup in 2013-14. After a 17-point performance on college basketball's biggest stage, though, Albrecht looks like he could replace NBA-bound point guard Trey Burke in the starting lineup.
Although Albrecht only played 8.1 minutes per game last year, he was one of the Michigan Wolverines' best reserves. The Crown Point, Ind., native never showed any fear no matter the situation. Outstanding passing and a high basketball IQ were two things Albrecht put on display for everyone to see whenever he got on the floor. Three-point shooting (54.5 percent) is also one of his specialties.
Incoming freshman Derrick Walton is going to make a push for the starting spot, however. Walton is far more athletic than Albrecht, which may give him a leg up in the position battle.
Another factor working in Walton's favor is his ability to play in transition. Walton is dangerous in the open floor and plays a lot like Burke. If Walton displays the ability to consistently knock down shots, he will be too good to keep out of the starting five.
Either way, Michigan has two excellent point guards. Walton and Albrecht will see plenty of action this season and should be able to soften the blow of losing Burke.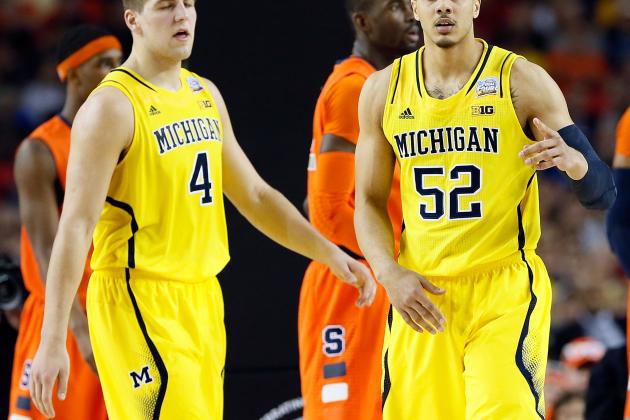 Kevin C. Cox/Getty Images
Jordan Morgan and Mitch McGary may both be in the starting lineup come November.
Prior to an ankle injury on Jan. 27, rising fifth-year senior forward Jordan Morgan made 53 straight starts and played in 89 consecutive games. The bum ankle hindered Morgan for the remainder of the 2012-13 season and opened the door for Mitch McGary to crack the starting lineup. Even when Morgan could finally play more than four minutes in a game, he never returned to form.
John Beilein is giving some consideration to playing two big men next season, which means Morgan and Jon Horford will be competing for a starting spot.
It is hard to bet against Morgan, but Horford could blossom into a starter over the offseason. Morgan's defense in late-game situations helped the Michigan Wolverines advance to the national title game. As long as Morgan can play the same kind of defense he did at the beginning of last season, the 6'8", 250-pounder should win the starting job.
Despite the injury and a lack of production late in the campaign, Beilein delivered a message to the media about Morgan's resiliency.
"Don't count Jordan out. He'll be back," Beilein said after Michigan's round of 64 victory over the South Dakota State Jackrabbits. (h/t mlive.com)
Look for Morgan to earn his starting spot back by the time November rolls around.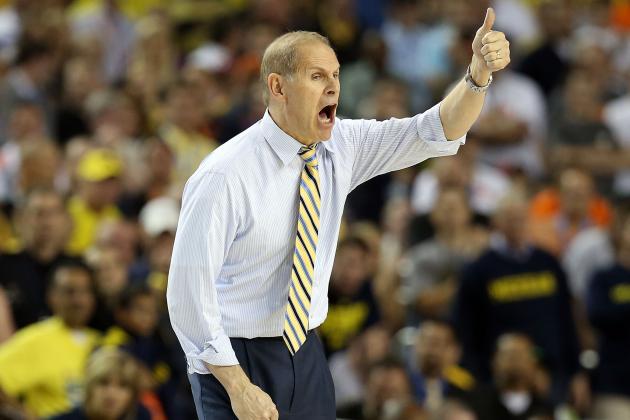 Streeter Lecka/Getty Images
What other teams will be on Michigan's final schedule?
Now that the Michigan Wolverines are once again at a high enough level to compete with the nation's elite teams, their nonconference schedules are about to get a lot tougher. Michigan already has a daunting slate of games lined up for next season.
A road game against the Iowa State Cyclones is on tap. For the second straight year, Michigan will head to the Barclays Center in Brooklyn. This time, the Wolverines will face the Stanford Cardinal. Traveling to Cameron Indoor Stadium to take on the Duke Blue Devils in the Big Ten-ACC challenge is a tall order as well.
The first leg of a home-and-home with the Arizona Wildcats will be played at Crisler Arena this season. Oh, and if that were not enough, the Wolverines accepted an invitation to play in the 2013 Puerto Rico Tip Off. The field also features Auburn, Charlotte, Florida State, Georgetown, Kansas State, Long Beach State and Virginia Commonwealth.
There are a few vacant spots left on Michigan's 2013-14 slate. All of them will be filled over the course of the offseason, and while none are likely to be taken up by marquee opponents, it is worth monitoring.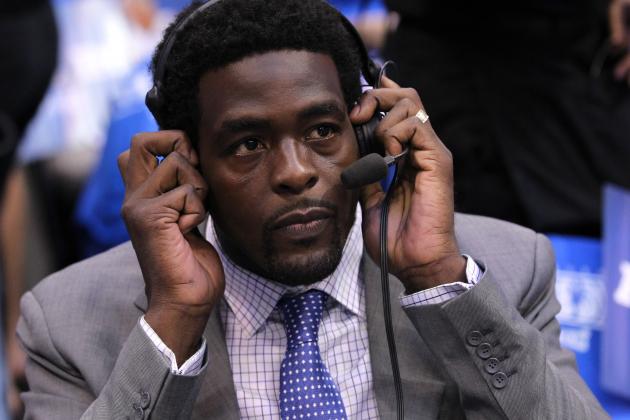 Matthew Emmons-USA TODAY Sports
Michigan and Chris Webber need to mend their strained relationship.
After 10 long years, the disassociation between the University of Michigan and former stars Chris Webber, Maurice Taylor, Louis Bullock and the late Robert Traylor came to an end on May 8.
This means it is finally time for Michigan and Webber to issue some apologies. Webber committed some NCAA violations and the university essentially threw him under the bus once the sanctions were announced. Both parties need to make amends and allow the Fab Five to reunite in Ann Arbor next season.
Athletic director Dave Brandon is keeping the door open for the members of the Fab Five.
"I've never met any of those guys, and I am looking forward to meeting them," Brandon said in an interview with The Associated Press. "If any of those guys are interested in meeting with me, that would be great."
On the other hand, Jalen Rose believes Michigan needs to be the ones to reach out and make contact with Webber and the Fab Five.
The Final Four banners those teams earned during the 1991-92 and 1992-93 season will likely be in storage for the foreseeable future. Still, the Fab Five are still remembered today for the cultural impact they made on the game of basketball. For this reason, that era needs to be celebrated.
There will be plenty of chatter about the Fab Five now that the disassociation period is over. With no basketball until November, the offseason will feature plenty of stories related to Webber and his former teammates.