IRB Sevens Rugby: New Zealand Win and Lose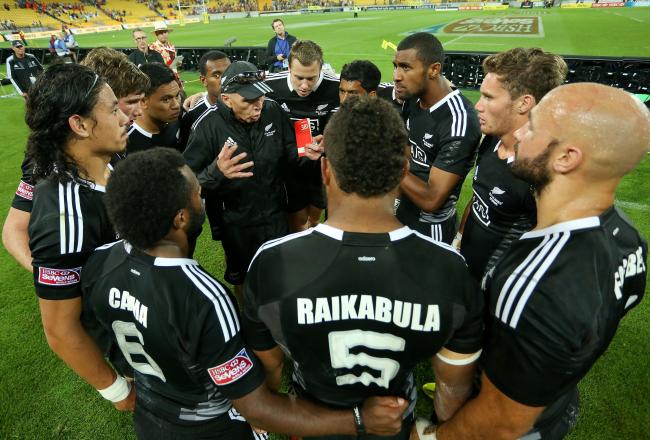 New Zealand have won the 2012/13 IRB World Series, but are they really the world's best team?
Hagen Hopkins/Getty Images
Last Sunday brought us one step nearer to the close of the 2012/13 IRB Sevens season, in what was perhaps the most decisive tournament yet. The winner of this year's World Series has been obvious for some time, but the debate over the world's best team, it seems, is very much still an open question.
After sailing past five straight opponents over the course of a rather damp and chilly weekend in Glasgow, the New Zealanders were defeated, once again, by an outstanding South African side, by a score of 28-21, in the tournament's grand final.
Click here to see the full results from the Glasgow Sevens
New Zealand were top form at the 2013 Glasgow Sevens, but they couldn't best South Africa.
The result means that South Africa have won the last two legs of the IRB men's sevens series, bringing their total to three Cup titles for this season. However, the Sevens All Blacks, by virtue of their second-place finish, have now what was already a highly probable result mathematically certain.
Click here to see the IRB World Series points table
Consistency has been the mantra of the New Zealand squad this year, but for all of their strong performances, they have looked very vulnerable at times in the presence of South Africa.
This will be the third straight Series victory for New Zealand head coach Gordon Tietjens and his squad, but their accomplishment is unlikely to stir its usual amount of praise back home.
Should South Africa win the final stop of the 2012/13 season this weekend in London, they will have an excellent claim to being the world's finest sevens team heading into the last-ever IRB Sevens World Cup in Moscow in June.
Click here to see the pool draw for the Sevens World Cup
Such a result would give South Africa a claim to four cup titles this season to put up against New Zealand's single cup victory in the competition's early stages. In addition, the Blitzbok would head into the World Cup riding a sizzling three-tournament win streak. Furthermore, the South Africans will have beaten New Zealand on multiple occasions in cup finals, making the discussion as to who really is the world's finest team at the moment a very interesting one indeed.
A victory in London would give New Zealand some much-needed credibility to go along with their IRB Sevens Series trophy; however, another defeat at the hands of their archrivals would surely leave many to wonder if Tietjens and his troops have what it takes to bring the Sevens World Cup back to New Zealand soil.
With the lower-ranked teams having been sent to the IRB qualifying tournament in London, there are a mere 12 nations competing, as is sure to be a ferociously contested final series stop.
Every nation will be wanting to stake a claim ahead of the fast-approaching World Cup in Moscow, and we will be bring you all of those results, as well as our exclusive Sevens World Cup preview right here on Bleacher Report.
Click here to see the pool draws for the London Sevens
Jeff Hull is a Featured Columnist for Bleacher Report.
Follow him on Twitter by clicking on the link below.
This article is
What is the duplicate article?
Why is this article offensive?
Where is this article plagiarized from?
Why is this article poorly edited?