Arizona Cardinals Veterans Who Have Been Put on Notice This Offseason
Jennifer Hilderbrand-USA TODAY Sports
Could O'Brien Schofield be on his way out of Arizona?
Whether through free agency or the NFL draft, several Arizona Cardinals veterans have been put on notice this offseason. If these players fail to prove their worth on the field, they could be replaced.
One player already has been ousted, when 2012 free-agent addition Adam Snyder was released after his replacement, rookie first-round pick Jonathan Cooper, arrived into town.
On both offense and defense, multiple positions have been upgraded—some by players returning from injury, others by way of the aforementioned free-agent market and the draft.
Focusing on the latter, here are Cardinals veterans who have been put on notice this offseason.
Begin Slideshow

»
Christian Petersen/Getty Images

Early during the offseason, it seemed as though Ryan Williams would be the feature back in 2013.
But after expressing his love for the third-year back, head coach Bruce Arians brought in free agent Rashard Mendenhall on a one-year prove-it deal to be his starting running back.
Not only that, but when a pair of productive college backs fell in the draft, general manager Steve Keim did not hesitate in adding them, too; Stepfan Taylor could be a future three-down back, and Andre Ellington is a threat to take it the distance every time he touches the ball.
With so much talent from all four Cardinals backs, Williams could be the odd man out if he does not show well in 2013.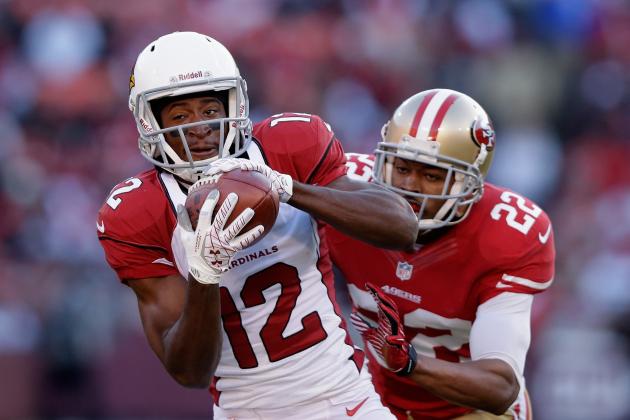 Ezra Shaw/Getty Images

Andre Roberts knows he must play well from the slot this season. His job depends on it.
Michael Floyd assuredly will get most of the snaps on the outside opposite Larry Fitzgerald, and with one slot position going to tight end Rob Housler at least some of the time, that leaves one spot for him and rookie Ryan Swope to earn the majority of slot snaps.
While Swope likely will start the season as the No. 4 or No. 5 depending on what we see out of LaRon Byrd, the sixth-round pick is too talented to stay on the sidelines long. It may be just a matter of time before Swope shows coaches he is valuable enough to keep on the field for three-receiver sets.
Roberts has improved his catches, yards and touchdowns every year since his rookie season, but he has not yet been the deep threat he was drafted in Round 3 to be.
A career 11.9 yards-per-catch average is not ideal for a slot receiver in Arians' offense, so he must show he can be that guy, or he will be pushed out of a position.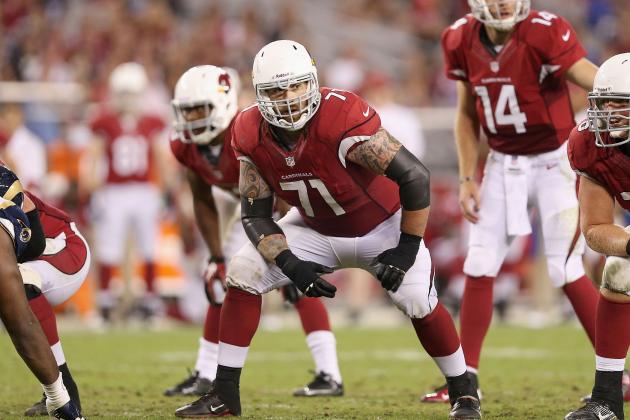 Christian Petersen/Getty Images

While Daryn Colledge's spot at left guard is safe for now, that may not be the case for long depending on how he plays and how much improvement and development rookie Earl Watford shows this season.
Despite being a fourth-round pick, Watford has the potential to develop into a starting guard.
His athleticism fits the zone-blocking scheme Arians and Co. will employ in the desert, and with Cooper already manning one guard spot, the line is more athletic already.
One thing Colledge has going for him is that he was a very good pass-blocker in 2012. He ranked as the No. 4 left guard in the NFL at pass blocking, according to ProFootballFocus.
But as good a pass-blocker as he was last season, he was that bad at run-blocking.
Pro Football Focus says only 10 guards who played at least 50 percent of their team's offensive snaps were worse than Colledge—including the now-released Snyder.
Ranking No. 44 out of 54 at run-blocking is not good.
But with Levi Brown next to him once again, he should be better by default. Colledge was forced to help D'Anthony Batiste and Nate Potter on run plays last year, and that could have hurt his grade.
That said, he might be looking over his shoulder by the end of the 2013 season.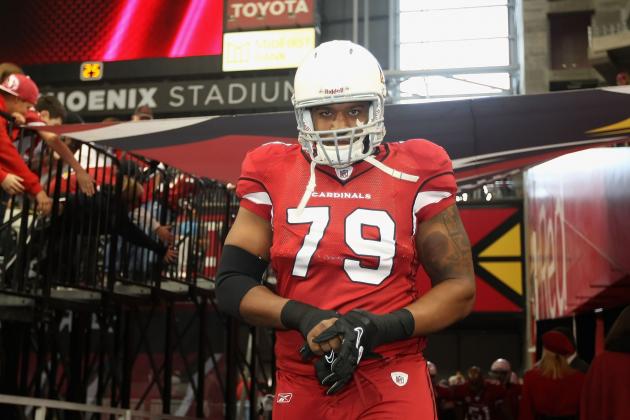 Christian Petersen/Getty Images

He did not play much at nose tackle last season, but David Carter played well when called upon. He played more in relief of Darnell Dockett and Calais Campbell than he did Dan Williams.
His best game was Week 11 in Atlanta, when he started for Campbell at right end.
Carter was good in getting to Matt Ryan, and though he did not record a sack, he was credited with a QB hit and hurry (per PFF).
But the Cardinals may have found a replacement for him if he cannot find the field on a more regular basis.
Undrafted rookie Padric Scott comes in as an underdog trying to make an NFL roster.
He comes from a true 3-4 defense—a rarity in college—in which he manned the middle of the defensive line, oftentimes occupying multiple offensive linemen.
He is a well-spoken student of the game, and he knows his worth on the field as a 3-4 nose tackle. This is his take on nose tackle statistics, from an interview with Max Strauss of ProInterviews.com:
For a 3-4 nose tackle your worth isn't measured by stats, but about the attention the offense pays you. If you are dominating and respected by the opponent, they will block you often with two players on pass and rush plays, sometimes even three, which makes it hard to be in on a tackle. However, that really never bothered me because I knew my teammates were left with one-on-ones as a result. Also, it made making plays that much sweeter when you beat a double and triple teams to get in on plays…
Scott has the knowledge, the humility and the skill to play nose tackle in the NFL. Add the depth at the other defensive line positions the Cardinals now have, and Carter may be left out before long.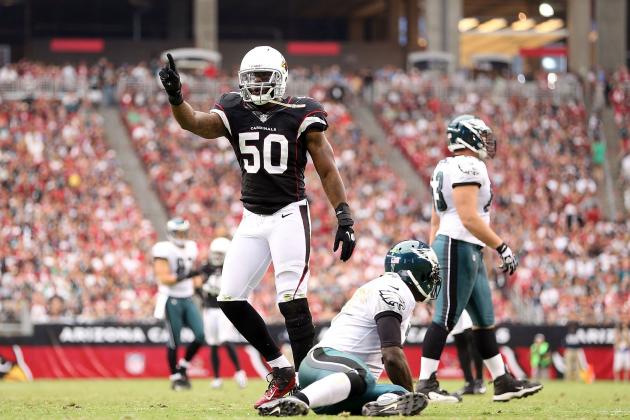 Christian Petersen/Getty Images

Both starting outside linebackers, O'Brien Schofield and Sam Acho, were drafted by Ken Whisenhunt and Rod Graves in the fourth round of their respective drafts.
Both ended up becoming starters, but for Schofield, his spot may be in jeopardy if Arians and Keim's first fourth-round pick, rookie Alex Okafor, can be productive early.
I expect the two—Schofield and Okafor—to share snaps early, and if Schofield gets off to a slow start as he did in 2012, the rookie could take his spot for good.
Okafor notched 12.5 sacks and 16.5 tackles for loss his senior year at Texas. Though he played mainly as a 4-3 defensive end, he did stand up and play outside linebacker as part of a part-time 3-4 look.
How well he can play tight ends in coverage may be key, and he has some proving to do in terms of coverage skills. But of all the potential replacement players throughout this list, Okafor may have the best chance to start first.