NY Knicks Sticking with Small-Ball Lineup Will Pay off in 2013 Playoffs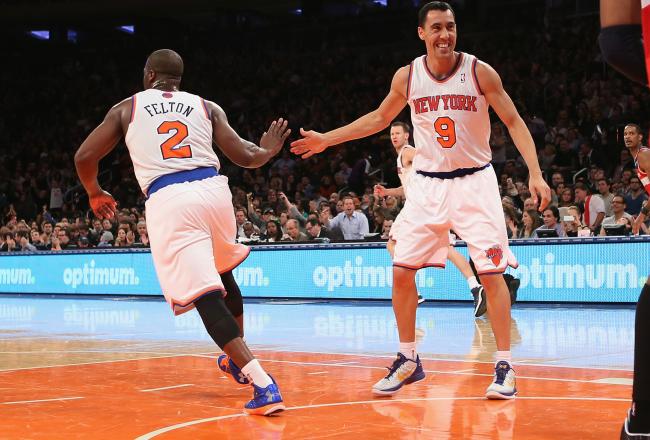 Raymond Felton and Pablo Prigioni have spearheaded the Knicks' small lineup.
Bruce Bennett/Getty Images
Mike Woodson stuck with a small lineup after his New York Knicks were outmuscled in Game 1 of their playoff matchup with the Indiana Pacers. The decision paid off, as New York evened the series by routing Indiana 105-79 in Game 2. That small lineup will continue to pay dividends in the 2013 playoffs.
Many Knicks fans were clamoring for Woodson to start Kenyon Martin alongside Tyson Chandler and move Carmelo Anthony to the 3 after the Knicks were outrebounded 44-30 by Indiana in Game 1. However, Woodson understood that his team's poor performance was due to a lack of effort and execution, rather than a dearth of size.
New York did not play with a sense of urgency in Game 1 and was outworked by a hungry Indiana team. They were a step slow on their defensive rotations, resulting in far too many open looks for the Pacers. Indiana shot 48.7 percent from the field, well above their shooting percentage in the regular season (43.6 percent) and the playoffs (43.6 percent) (via ESPN.com).
Offensively, the Knicks fell back into their old pattern of holding on to the basketball. Carmelo Anthony and J.R. relied too heavily on isolation plays, which allowed the staunch Pacer defense to dig in and contest the Knicks' shots.
In Game 2, New York created open looks by moving the basketball. Anthony, in particular, looked for shooters on the opposite wing and initiated his isolation plays more quickly before the Pacers defenders had a chance to provide help.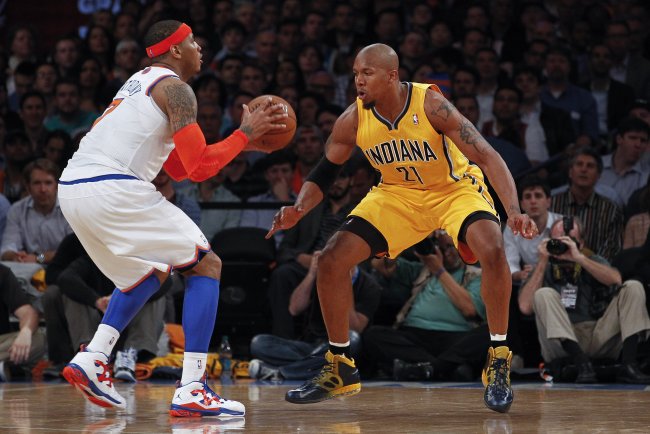 Jeff Zelevansky/Getty Images
New York even out-rebounded Indiana 37-35 in Game 2. Still, size will remain an issue for the Knicks throughout the series. Indiana center Roy Hibbert is a defensive force around the rim and his soft hook shots are difficult to defend. David West is a heavy load for Anthony to handle in the post.
However, the Knicks' small lineup also poses significant problems for the Pacers. Anthony blew right by West when the Pacers' power forward guarded him for stretches in Game 2. When Paul George is on Carmelo, West is forced out of his comfort zone (on the perimeter) to cover Iman Shumpert.
The Knicks' smaller lineup is also well-suited to force the Pacers into mistakes. Indiana had the second-highest turnover ratio in the league this season (16.2, via NBA.com), and with Shumpert on the floor with two point guards, the Knicks are able to apply immense pressure on the Pacers' ball-handlers.
Indiana coughed up the ball 16 times in Game 1 and 21 times in Game 2. The Knicks had a great deal of success in disrupting Indiana's offense and forcing turnovers by trapping the pick-and-roll in Game 2.
Moreover, the Knicks' current lineup produced the third-most efficient offense in the league (108.6) and set a record with 10.9 three-pointers.
Playing three guards has visibly improved New York's spacing. Surrounded by three shooters, Anthony has room to operate on the wing or in the post. If double-teamed, he kicks it out to one of the shooters for a three-point shot.
Having two of the Knicks' three-point guards—Raymond Felton, Pablo Prigioni and Jason Kidd—on the floor at the same time has facilitated good ball movement and created open shots. Moving Anthony to the 3 would put an end to the two point-guard lineup, and Prigioni and Kidd would lose minutes at shooting guard to J.R. Smith and Shumpert.
Anthony, Tyson Chandler and Kenyon Martin tallied a plus/minus rating of plus-3 in the 3.8 minutes they played together in the first two games of the Pacers series, which is not a significant sample size. The majority of the time Martin and Chandler were on the floor together (6.6 minutes), Anthony was on the bench.
Playing another big man alongside Chandler would clog the lane, leaving less room for Anthony to drive. It would also leave New York with one less shooter on the floor. Having Chandler and Kenyon Martin on the floor together would be particularly damaging to the Knicks' spacing because neither is a threat to score from beyond five feet.
New York's lineup was very successful against the Miami Heat—the team they would likely face in the conference finals—during the regular season. The Knicks took three of four games from the Heat, including two 20-point victories early in the season.
Miami plays a small lineup as well, and while it is tempting to try to punish them inside, Chandler and Martin do not have the offensive skills to exploit their size advantage. The Knicks neutralized Miami's suffocating defense by spreading the floor with three guards and Anthony.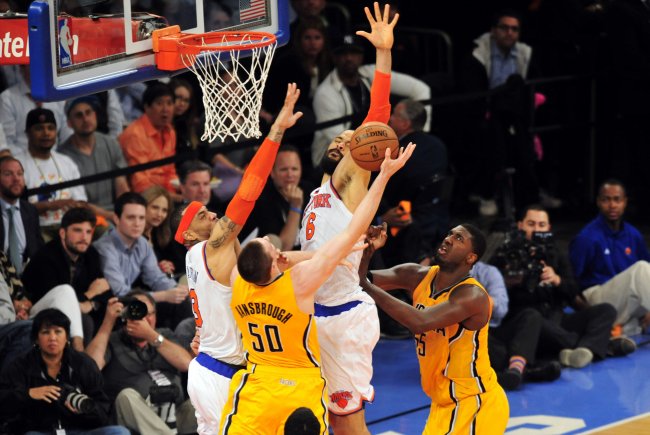 Joe Camporeale-USA TODAY Sports
Mike Woodson's devotion to small ball could be tested by the return of Amar'e Stoudemire. According to Ian Begley of ESPNNewYork.com, Stoudemire, who has been sidelined the past two months after undergoing knee surgery, is aiming to play in Game 3.
Stoudemire transformed from a pick-and-roll/pick-and-pop player to a low-post scorer this season and excelled at his new role, averaging 14.2 points on 57 percent shooting in 23.5 minutes per game. However, the six-time All-Star was limited to just 29 games sandwiched in between two knee debridements.
It took Amar'e about 10 games to get his legs under him and find his rhythm after returning to the lineup in January. He shot 48.6 percent in his first 10 games, compared 61 percent over his final 20 (NBA.com). The Knicks cannot afford for him to work out the kinks during a highly contested playoff series.
Woodson needs to bring Stoudemire along slowly, especially against a Miami team that shredded the forward with pick-and-rolls in the playoffs last season. And though the Knicks played well with Stoudemire, Anthony and Chandler on the floor together (a net rating of 7.9, compared to their overall net rating of 5.1 (via NBA.com) that lineup would hinder the Knicks' ability to spread the floor.
Great teams do not alter their style of play based upon their opponents. They make their opponents adjust to them. The Knicks won 54 games in the regular season playing small ball. Sticking with a small lineup will provide them with their best chance of making the NBA Finals.
This article is
What is the duplicate article?
Why is this article offensive?
Where is this article plagiarized from?
Why is this article poorly edited?

New York Knicks: Like this team?