3 Trades the Cleveland Indians Could Explore for Possible Postseason Run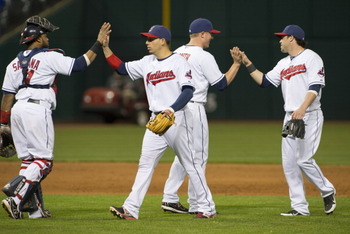 Jason Miller/Getty Images
The Cleveland Indians seem to have found their groove—winning eight of their past 10 games—but how soon is too soon for a team to begin to look at different trade scenarios to help push them toward a postseason run? For most general managers, the 30-game mark is when they begin to evaluate their rosters.
A lot of people might argue that May is too early in the 162-game season for speculation to occur. Also, a lot of fans might not want to give up on their team so early while others might not want to jinx the team if things are going well.
If the Indians are going to entertain some of those trade scenarios, they will more than likely be going after starting pitching. The position players have been firing on all cylinders, and the bullpen has been solid, so it only makes sense to address the weak link on the team.
For the sake of argument—or good conversation—let's take a look at a few of the opportunities that may present themselves to the Tribe as they move into summer baseball.
Lucas Harrell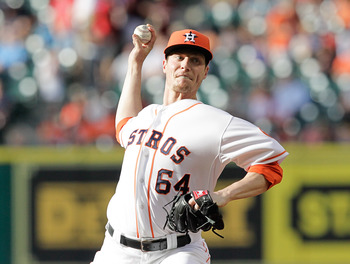 Bob Levey/Getty Images
The Houston Astros are doing just about as well as expected during their American League debut. Sitting at a paltry 8-24, it was widely known the Astros would not be contending in 2013—or anytime soon.
For that reason, it would not be a stretch for a team like the Indians to go after Lucas Harrell. Harrell has accounted for almost half of the Astros' wins this season, going 3-3 with a 5.03 ERA.
That ERA might seem high, but when the team's run differential is at minus-75, you have to give the kid some credit.
The Indians would move to acquire Harrell over the Astros' other trade chip, starting pitcher Bud Norris, because they would have control of him for more than two years (free agent in 2017).
But at what price?
The Indians prospects are few and far between, and the player that would attract the most interest—2011 first-round pick Francisco Lindor—should be regarded as untouchable by the front office.
Matt Garza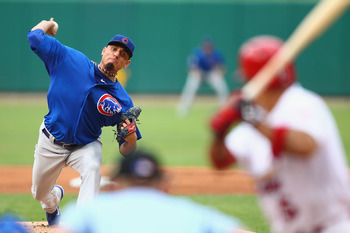 Dilip Vishwanat/Getty Images
The Chicago Cubs haven't won more than 71 games since 2009, and so far, 2013 doesn't look like the year that will change. The club is currently sitting at 12-20 after their first 32 outings, and one player that may not be around to suffer through another tumultuous season is pitcher Matt Garza.
Garza is currently rehabbing a strained lat muscle and should rejoin the club after a few more starts so he can finally begin his 2013 campaign.
However, if things don't turn around for the Cubs in May, the aforementioned campaign will be more of a showcase for teams looking to play baseball into October.
If the Cubs were to attract interest from the Indians for Garza, they would be looking to fill outfield depth. All three of the Cubs outfielders will more than likely be used as trade bait, and they will be looking to replenish.
The favorite for the Cubs might be the Indians' 2012 first-round selection, Tyler Naquin. Although Naquin's bat isn't the best, his arm is the prize in this deal.
Hitting .310/.365/.457 with 14 RBI in only 29 games this season, Naquin is looking to move the ranks at a quick pace in 2013.
Ricky Nolasco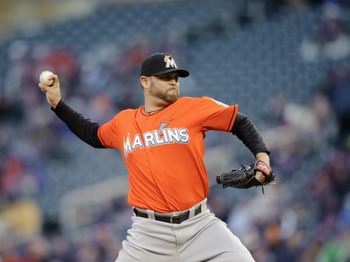 Hannah Foslien/Getty Images
The Miami Marlins have some bad blood with the city—and the fans—after their 12-player fire sale with the Blue Jays in November. The bad blood also spilled over to the Marlins ace, Ricky Nolasco.
Earning $11.5 million and in the final year of his contract, it seems as though the question isn't if Nolasco will get traded, but when. Also, if the Marlins are smart, and the verdict is still out on that, they would attempt to maximize Nolasco as a bargaining chip by the deadline rather than letting him walk in free agency.
Nolasco would be a great addition to the Indians' starting rotation and would serve as a big step forward toward the postseason.
General manager Chris Antonetti would have to play this trade carefully. He wouldn't be able to give up too much talent because the chances of the Indians re-signing Nolasco after the 2013 season are slim. It would be like gambling the future for two good months of baseball.
It has happened before.
The probability of any of these transactions taking place at the end of July are just as slim, but it isn't too early to start putting the feelers out. With the Indians putting up $117 million on free agents in the offseason, it doesn't seem like they would be willing to give up on the season if there is still a glimmer of hope at the deadline.
Then again, it is only May, and the Tribe has finally come alive. So maybe we would be better served if we just sat back and enjoyed the success while it lasts.
Keep Reading

Cleveland Indians: Like this team?