Notre Dame Football's Greatest Challenges for Irish to Repeat Perfection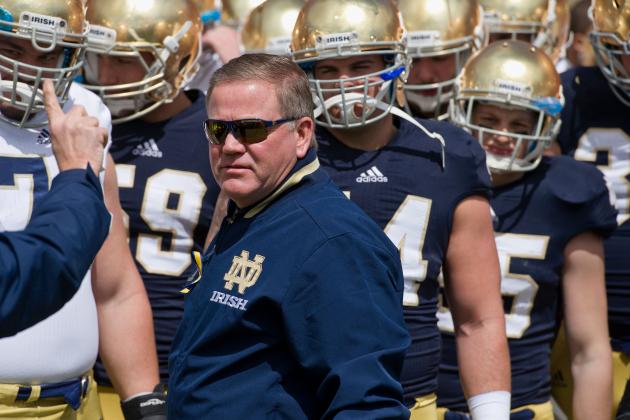 USA TODAY Sports
Will Notre Dame repeat regular season perfection?
Brian Kelly and the Notre Dame Fighting Irish have an opportunity to repeat regular season perfection in 2013.
Last year was undoubtedly an overachieving campaign, but the Irish do face a winnable schedule this fall.
That said, by no means does "winnable" equate to easy. For one, count on every opponent giving Notre Dame its A-game.
It's a chance to knockoff the BCS runners-up, not to mention prevent Kelly and Co. from encoring 2012's magic. The good news for the Irish faithful, however, is the schedule almost mirrors last year to a T.
Nine of the 12 teams are the same, while three newcomers—Temple, Arizona State and Air Force—enter the mix. Ahead, we check out which foes will be Notre Dame's toughest 2013 adversaries on the gridiron.
Note: Full view of 2013 recruiting class rankings on Scout and Rivals.com.
Begin Slideshow

»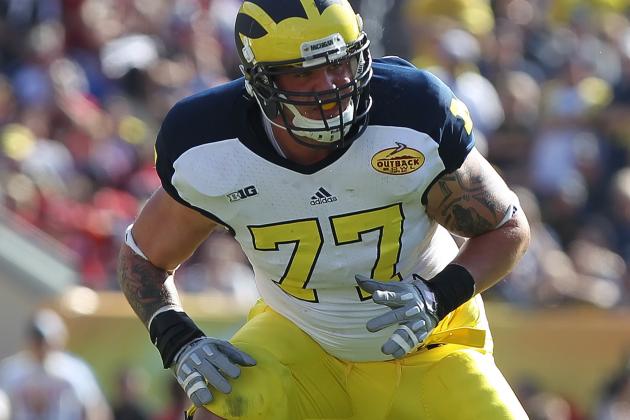 Kim Klement-USA TODAY Sports

It's already tough enough that Notre Dame has to square off against Michigan.
Put the game in the Big House and the Wolverines possess an even greater advantage.
Coach Brady Hoke will have Michigan contending for the Big Ten title, and his recruiting class was ranked No. 2 on Scout.com and No. 5 on Rivals. In addition, star offensive tackle Taylor Lewan leads a bruising ground game to keep defenses from focusing on Devin Gardner.
Expect the Wolverines to attack Notre Dame downfield as well, because there's no Manti Te'o or Zeke Motta in coverage. A faster pace is also to Michigan's advantage, because the Irish don't have tight end Tyler Eifert to rely on for big plays offensively.
The experience of Everett Golson helps, but Brian Kelly's passing game will have to hit an unforeseen level when the tempo increases.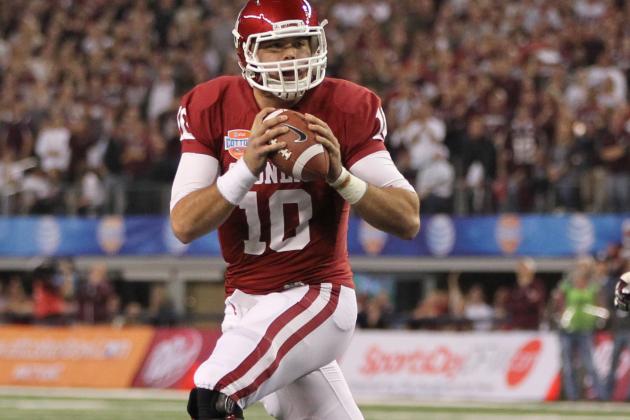 USA TODAY Sports

Although Oklahoma ranked just No. 15 in recruiting, never underestimate the Sooners.
The experience and established success of Bob Stoops always has Oklahoma competitive. Last year the Sooners simply ran into a buzzsaw that was Notre Dame's defense.
As for 2013, Landry Jones is in the NFL but Blake Bell presents an interesting dynamic. He's not the fastest when moving, but Bell has underrated mobility and will truck any would-be tackler. Obviously how he develops as a passer will be the next challenge.
Here, expect the Irish to force Oklahoma to throw, as odds as that sounds. The Sooners have a solid back in Damien Williams, so minimizing his impact and winning the battle up front is to Notre Dame's advantage.
Switching gears and Oklahoma ranked No. 44 in total defense a year ago. It's not terrible, but not great either. Therefore, letting Golson make plays with his feet and launch downfield when needed will keep the Sooners on their heels.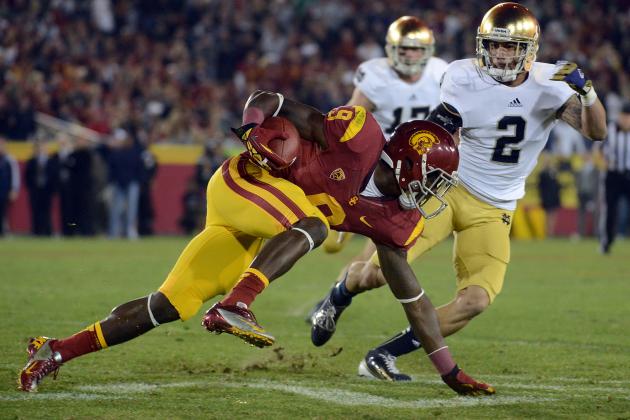 Harry How/Getty Images

The key for Notre Dame against USC is to isolate receiver Marqise Lee.
Coming off a campaign where he caught 118 passes for 1,721 yards and 14 scores, Lee enters 2013 as one of the nation's most explosive players. Keeping him contained must happen, because it simply makes the quarterback look elsewhere.
Well, the Trojans don't field an elite signal-caller. Max Wittek enters with the most experience, albeit limited, whereas Cody Kessler only made two passing attempts last fall.
Regardless of who is under center against the Irish, a barrage of blitzes in front of press coverage will force ill-advised throws. What results are additional possessions off turnovers.
However, that also puts USC's underrated pass rush on the field.
Morgan Breslin comes off a strong 2012 season and Notre Dame saw other key offensive players graduate to the NFL: Braxston Cave, Mike Golic and Theo Riddick. As a result, expect this contest to be lower-scoring than expected.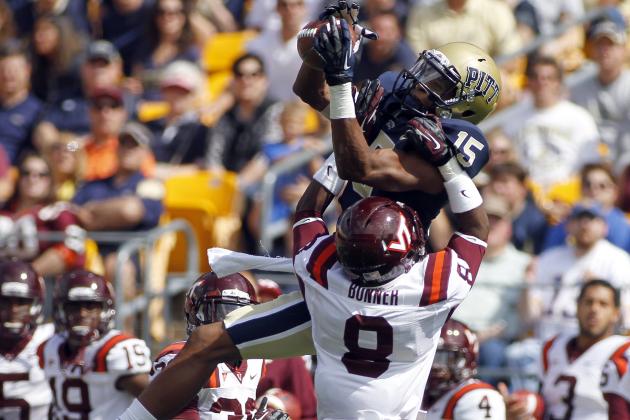 Justin K. Aller/Getty Images

Had it not been for a botched field goal attempt by Pittsburgh in the second overtime last year, Notre Dame does not reach the national title game.
So when this season's contest begins, anticipate the Panthers coming out with a vengeance.
One player to watch is receiver Devin Street. At 6'4" the guy can outjump any defender and is a significant red zone advantage. Don't sleep on running back Rushel Shell either. He has the size to win short-yard situations and help set up play action.
Quarterback is a definite concern, so just like against USC the Irish must blitz relentlessly.
Offensively, moving won't be easy. Pitt ranked No. 16 in total defense last season and returns some impressive talent. In order to maintain control of this game, the Irish need a dose of consistent balance to reduce turnovers.
If anything, field position will determine this outcome.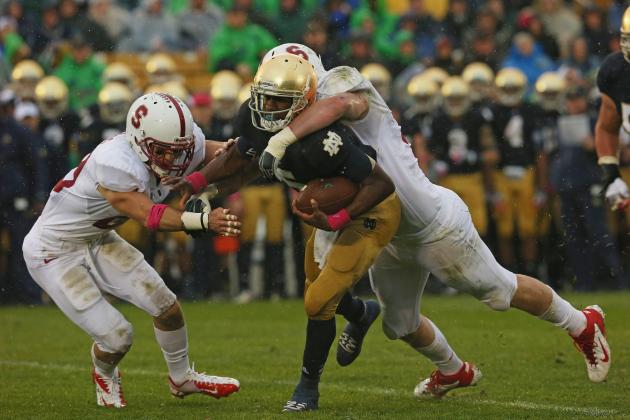 Jonathan Daniel/Getty Images

Stanford doesn't bring in a recruiting class of Notre Dame's level, but the Cardinal are always a physically tough opponent for anyone.
Defense remains coach David Shaw's strength too.
Linebacker Shayne Skov will patrol the interior and Ben Gardner is a force off the edge. Include the playmaking instincts of Ed Reynolds at safety and the Cardinal are set at each level. Just like versus Pitt, balance is the answer for Notre Dame to move effectively and win the field position battle.
Flip to Stanford's offense and Kevin Hogan was the better passer than Josh Nunes in 2012. Sporting a 71.7 completion percentage, Hogan also connected on nine scores to a mere three picks.
And with Stepfan Taylor gone to the NFL, expect Stanford to rely on the aerial assault a bit more. In short, Notre Dame sticking to a base set with a physical Cover 1 press/Cover 2 schemes will prevent the Cardinal from establishing balance.