2013 Stanley Cup Playoffs: Most Unexpected Storylines to Emerge in 1st Round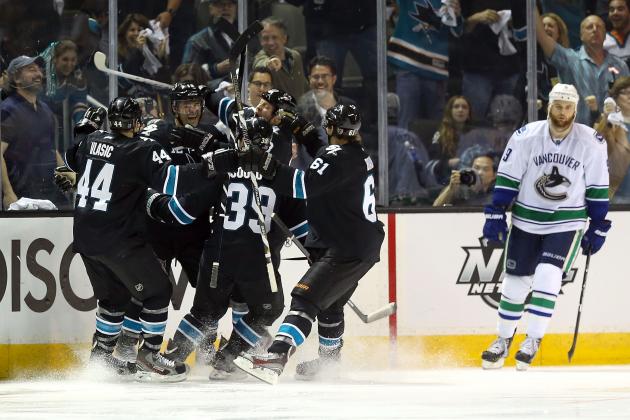 Christian Petersen/Getty Images

The 2013 Stanley Cup playoffs are just over a week old and all of the series in the quarterfinals are at least three games old, which means that plenty of storylines have started to emerge.
During the regular season, the stories that catch our eyes tend to have a certain trajectory. The big picture is evident in our analysis, and most fans aren't typically overzealous when it comes to hitting the panic button.
The playoffs are a different animal altogether. One play can change the outcome of an entire series, be it a hit or an OT goal. There are no second chances and everything seems bigger. All of a sudden, cheating a bit on a faceoff is a crime punishable by a rare media call-out. Scrums are taken a bit more personally, and even the coaches might have some choice words for each other.
Everything is magnified—and so are the storylines.
Begin Slideshow

»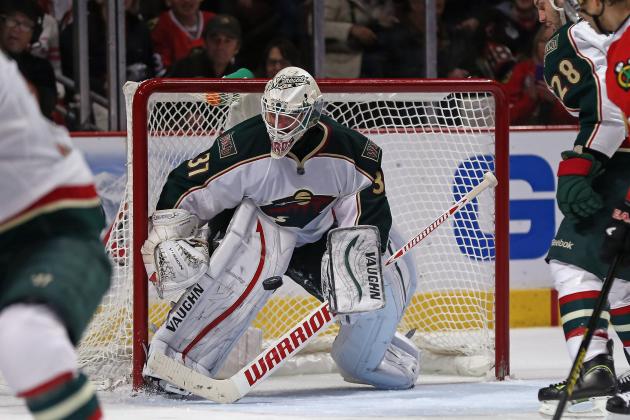 Jonathan Daniel/Getty Images

Heading into their quarterfinal playoff series against the Chicago Blackhawks, the Minnesota Wild knew that they were going to have their hands full.
The 'Hawks were coming off of one of the most dominant regular-season performances in recent memory and were firing on all cylinders. Patrick Kane and Jonathan Toews had evolved into multi-dimensional threats, Marian Hossa was healthy and Corey Crawford had shaken his sophomore bug for good.
For the Wild to compete in this series, they knew two things: The scoring depth was going to have to be lights out, and Niklas Backstrom was going to have to be all-world for six or seven games. Josh Harding was in no way part of the pre-series conversation.
He quickly became the most important player in the series when Backstrom injured himself during the warm-ups before Game 1.
A goaltender that hadn't played since January 30th was now going headfirst into Game 1 against the best team in hockey. He was outstanding in both Games 1 and 3 and managed to snag a victory in the latter contest, pulling his Wild to within one of knotting up the series.
Not too shabby for a guy that missed almost the entire season while battling MS.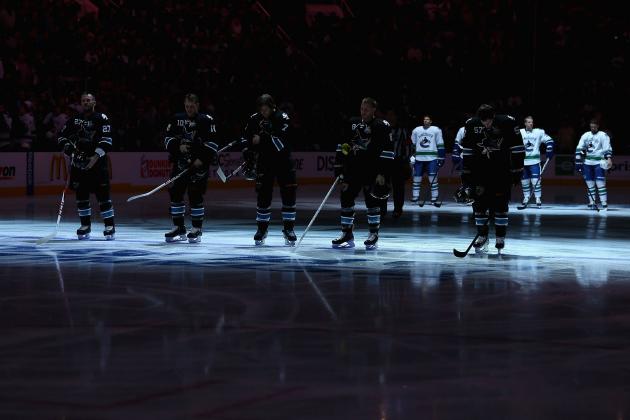 Christian Petersen/Getty Images

What was expected to be one of the more hard-fought and competitive series has been anything but. The San Jose Sharks have thoroughly dominated the Vancouver Canucks through long stretches of play and have them on the brink of elimination heading into Game 4 on May 7th.
The Sharks have been better than the Canucks in all three games but have been nearly untouchable in the 3rd period—they've outscored Vancouver 6-1 in the third, and the 'Nucks didn't manage to score a third-period goal until Game 3, when the contest was already out of reach.
San Jose has also done a marvelous job shutting down Vancouver's top players. Henrik and Daniel Sedin have both been limited to two assists apiece. Ryan Kesler did some heavy lifting in Game 2, netting two goals, but it wasn't enough to put his team over the top.
By comparison, San Jose's top players in Patrick Marleau, Logan Couture and Joe Thornton have combined for seven goals and five assists.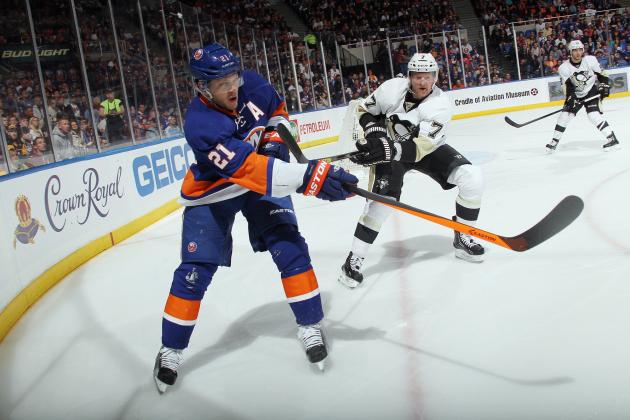 Bruce Bennett/Getty Images

Unlike the San Jose Sharks and Vancouver Canucks series, this one wasn't supposed to be all that close. The Pittsburgh Penguins seemed poised to annihilate the New York Islanders without much of a second thought.
After a dominant performance in Game 1, onlookers could forgive the Penguins for assuming they'd walk all over the Isles and sweep them. A 5-0 victory seemed evident of how the rest of the series would go. Marc-Andre Fleury was awesome in earning the shutout, the Pens weren't missing Sidney Crosby at all and John Tavares was quiet.
The Islanders spoiled the return of Sid the Kid, taking Game 2 in Pittsburgh and stealing home-ice advantage. New York was dangerously close to grabbing a 2-1 lead over the heavily favored Penguins by pushing Game 3 into OT.
The remaining games should be incredibly entertaining, especially if the Islanders win on May 7th.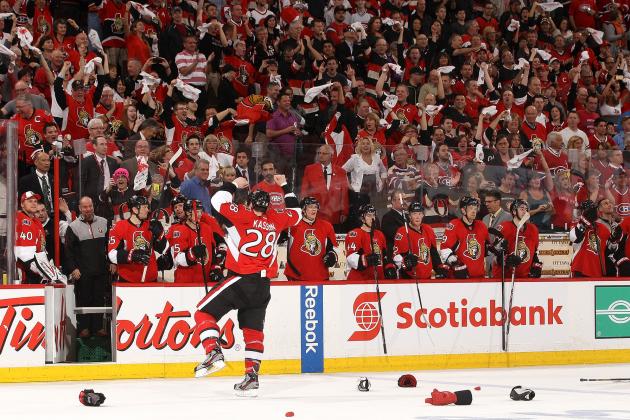 Jana Chytilova/Freestyle Photo/Getty Images

The Montreal Canadiens have been among the darlings of the NHL throughout 2013, as they picked themselves off of the mat and fought their way back to respectability in just one season.
To say all that was thrown out the window on May 5th would be an exaggeration. However, the Canadiens went through a meltdown unlike anything we've seen in quite sometime during Game 2 against the Ottawa Senators.
What started out as a playoff hockey game turned into a UFC or WWE-esque spectacle, with various sideshows stealing the attention from the action out on the ice. What should have been an evening about a hat trick from hometown boy Jean-Gabriel Pageau turned into an evening about anything and everything besides hockey.
The boxscore from the third period tells you everything you need to know. Canadiens players were running all over the ice looking for trouble and typically bit off more than they could chew. Montreal was collectively fed their lunches and embarrassed in the boxing ring as well as on the scoreboard.
The Canadiens didn't make things better for themselves in the media after the game, either. Michel Therrien justified the outright goonery employed by his team by talking about a timeout that Ottawa Coach Paul MacLean called with 17 seconds left.
Long story short: This was a game where Montreal actively and aggressively tried to hurt their opponents. When it finally came to fisticuffs, they were demolished. And all of this on top of getting blown out of Ottawa by a score of 6-1.
Not the proudest moment in franchise history(per deadspin.com).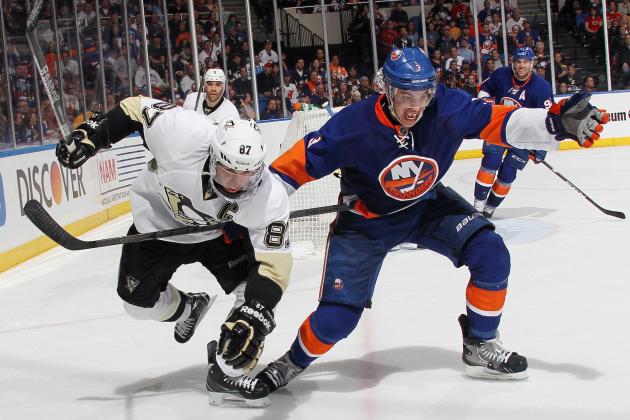 Bruce Bennett/Getty Images

If there was any doubt before, we can all now acknowledge that there is no quit in the Kid. Sidney Crosby missed a month of action before finally making his return in Game 2 against the New York Islanders, where he scored two goals.
He was on the ice for more than 23 minutes despite missing such a large chunk of time and being relegated to milkshakes and smoothies for several weeks.
Crosby just did what he always does, though, and appeared to have never missed any time at all (maybe he should always make his comebacks against the Islanders).
He followed that two-goal effort up with a three-assist performance in Game 3, and there's no doubt that there is just no rink rust ever when it comes to Crosby.