Notre Dame Football: All-Time Best Recruit at Each Position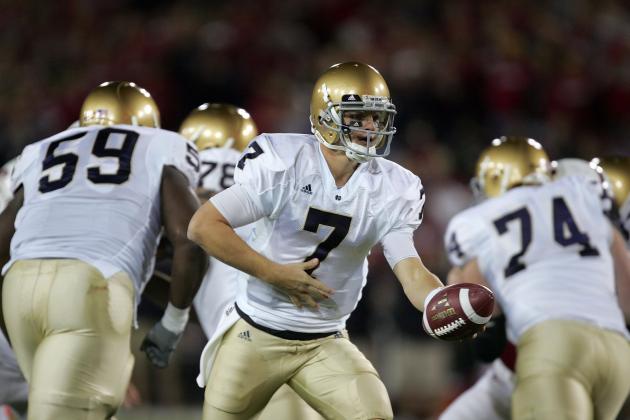 Ezra Shaw/Getty Images

During the modern era of college football, the Notre Dame football program has been synonymous with the most glitzy names budding from the prep ranks.
But among the vast amount of high school stars the Irish have recruited throughout the years, which were the best prospects?
Answering that question isn't a menial task, but one that requires answers.
Please note that this slideshow is not a list of Notre Dame's best all-time players; it is a list of the most hyped recruits the Irish have reeled in.
Begin Slideshow

»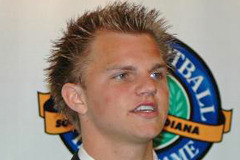 247sports.com
Jimmy Clausen isn't simply the most hyped quarterback recruit in Notre Dame's vaunted history; he is, perhaps, the most celebrated quarterback prospect of the modern era.
As a junior at the Oaks Christian School in Westlake Village, Calif., Clausen was anointed as "The Kid with the Golden Arm" by Sports Illustrated.
That distinction was a byproduct of the astronomical statistics he produced as a starting quarterback, a title he held from the outset of his high school career.
The 6'2", 215-pound Clausen was undefeated during his time at Oaks Christian—he guided the school to 42 consecutive victories—which included leading the school to its first-ever California Division III state title as a senior in 2006.
When the dust had settled on that state title victory, Clausen had finished his prep career having passed for 10,677 yards, and had set the California state record for most career touchdowns with 146.
Scouts nation-wide were enamored with Clausen, as he was honored as USA Today's Offensive Player of the Year, as well as being ranked the No. 1-overall prospect in the 2007 class by Rivals.com.
Mike Farrell of Rivals.com had a gleaming review of Clausen in June 2006.
"Clausen is as mechanically developed as any quarterback in the last decade. He has a very quick release he delivers from ear level, a strong arm and excellent accuracy. Clausen is mobile enough to get outside the pocket when needed and throws well on the run. He has excellent feet, makes quick and smart decisions and displays excellent poise and pocket presence. Clausen throws a nice deep ball, but his strength is in the intermediate passing game where he can deliver the ball with the most zip. He leads his targets well and knows how to throw the ball in tight coverage, putting it where only his receiver can catch it. Clausen gets into his drops quickly and sets well before most of his throws. He has good ball skills but needs to sell play action a bit better. He needs to add strength and fill out his frame."
Clausen ended his whirlwind recruitment during the weekend of the 2006 Blue Gold Game, when he announced his decision to attend Notre Dame at the College Football Hall of Fame.
Arriving to the event in a stretch Hummer limo and declaring that he would lead Notre Dame to four national championships during his collegiate career only piled on the enormous expectations that had been bestowed upon Clausen.
With his announcement, Clausen spurned Michigan, USC and South Carolina in favor Notre Dame.
A significant reason of his choice to attend Notre Dame was the presence of former head coach Charlie Weis, who had coached Pro Bowl quarterback Tom Brady as offensive coordinator of the New England Patriots, as well as former Irish quarterback and current Kansas City Chief Brady Quinn.
Clausen will be entering his fourth season with the Carolina Panthers as a primary backup to starter Cam Newton.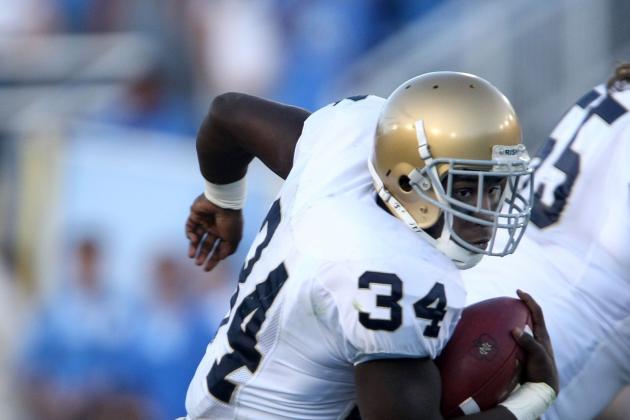 Stephen Dunn/Getty Images

He was destined to be the type of feature back who would have NFL scouts drooling at his breathtaking abilities and potential.
That scenario never played out for former Notre Dame running back James Aldridge.
The 6'1", 215-pound running back narrowed his list of schools to Notre Dame, Iowa, Missouri, Nebraska, Ohio State, Oklahoma State and Purdue, but committed to the Irish on May 2, 2005, seven months prior to his official visit.
Rated as the No. 27-overall prospect in the 2006 class, per Rivals.com, Aldridge, a local product out of Crown Point, Ind., brought with him to Notre Dame monumental expectations unlike any running back before him.
Yet the weight of those expectations seemed to crush him.
During his first three seasons in an Irish uniform, Aldridge rushed for just 962 yard on 249 carries.
His senior season didn't see any improvement, and following graduation, Aldridge took his talents to the game of rugby.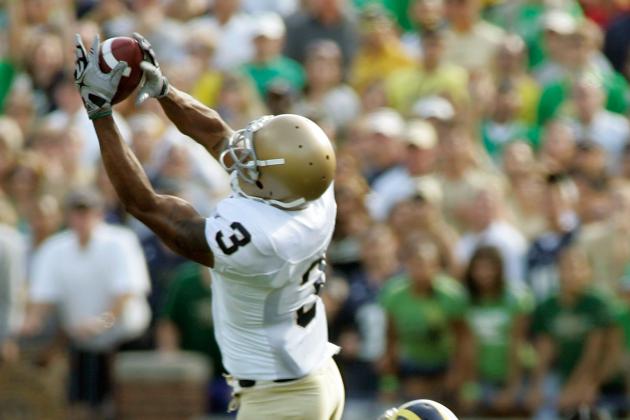 Domenic Centofanti/Getty Images

After recruiting a quarterback who would go on to shatter every Notre Dame passing record, former head coach Charlie Weis secured the commitment of an equally promising wide receiver.
Michael Floyd, rated as the No. 14-overall prospect in the 2008 class, per 247sports.com, was the lethal receiving target Weis had been searching for.
A 6'3", 195-pound prospect at the time of his recruitment, Floyd was a nabbed out of Cretin-Derham Hall in St. Paul, Minn., which also produced current Minnesota Twins catcher Joe Mauer.
Floyd's list of accolades was nearly inconceivable; he was named the Gatorade Player of the Year in Minnesota as well as the Associated Press Player of the Year in both his junior and senior seasons. He was also selected as a U.S. Army All-American.
Those accomplishments caught the attention of schools nationwide, although he narrowed his final list of schools to Notre Dame, Florida, Iowa, Louisville, Miami, Michigan, Minnesota, Ohio State and Wisconsin, eventually committing to the Irish on Oct. 21, 2007.
The timing of Floyd's commitment was peculiar, as he had witnessed Notre Dame fall, 38-0, to USC, bringing the Irish's season record to just 1-7.
However, Floyd was optimistic in his assessment of his decision, despite the Irish's historic struggles.
"It feels real good knowing that I have a school now. I'm going to help them bring this back and I'm going to get a great degree."
Four years later, Floyd followed through on that statement, earning his degree, as well as walking away as the owner of three school career records: Most receptions (271), receiving yards (3,686) and touchdown receptions (37).
Shortly before graduation ceremonies last year, Floyd was selected 13th overall by the Arizona Cardinals in the 2012 NFL Draft.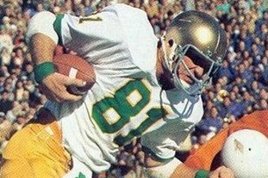 As a high school freshman in Brockton, Mass., Ken MacAfee had not the slightest inkling of the potential he possessed in his massive 6'5", 225-pound frame.
However, after a phone call from Armond Colombo, head coach of the varsity squad at Brockton High School, MacAfee was informed that he would be the varsity's starting tight end.
After the team had lost a few games, and with no clear direction, Colombo realized that it had a secret weapon in the form of MacAfee.
Andy Nesbitt of the Boston Globe described what exactly Colombo had on his hands.
"What Brockton had was a 6-5, 225-pound monster who had the speed of a tailback and the hands of a wideout. He was not only an offensive standout. MacAfee anchored the defense at tackle, punted, kicked off, and did everything and anything Colombo and the coaching staff asked."
After his junior season, MacAfee was selected as a high school All-American, capturing the attention of college coaches throughout the country.
The coveted tight end was visited by such legendary coaches as Paul "Bear" Bryant, Joe Paterno and Woody Hayes, but eventually chose to attend to Notre Dame and head coach Dan Devine.
In 1977, MacAfee was selected to his third All-America team, won the Walter Camp Player of the Year Award and finished third in the Heisman Trophy voting. He finished his Notre Dame career with 128 receptions for 1,759 yards and 15 touchdowns.
MacAfee was selected seventh overall by the San Francisco 49ers in the 1978 NFL Draft, but after being asked to play guard in 1980, he left the game to pursue a dental school degree.
He currently runs his own dental practice in Waltham, Mass.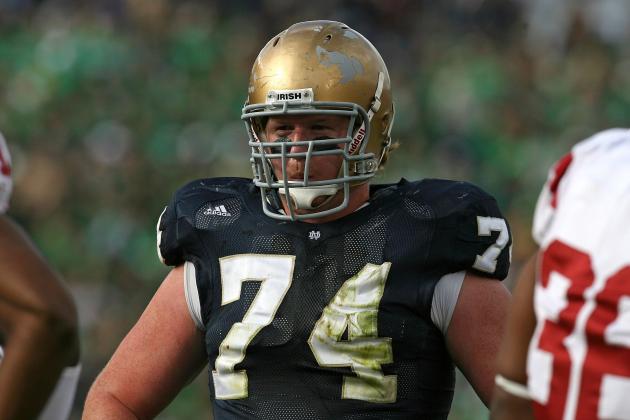 Jonathan Daniel/Getty Images

Only one true freshman has started along Notre Dame's offensive line since freshmen became eligible in 1972.
That player is Sam Young, an offensive tackle who was billed as the No. 8-overall prospect in the 2006 class, per 247sports.com.
A monster of a prospect at 6'8" and 305 pounds, Young narrowed his list of schools to seven—Notre Dame, Florida, Miami, Michigan, Penn State, Stanford and USC—in the latter stages of his recruitment.
He officially visited USC on Dec. 16, 2005, but committed to Notre Dame roughly one month later during his official visit to the South Bend, Ind., campus. Lured by the prospect of playing in former head coach Charlie Weis' pro-style offense and being guaranteed immediate playing time, Young experienced no difficulty in pulling the trigger on his announcement.
Scout.com had high praise for the Fort Lauderdale, Fla., product early in 2005—Young's senior season at Saint Thomas Aquinas High School.
"An ideal frame to play offensive tackle on the college level. Young has size, footwork and strength to be one of the top offensive tackle prospects in the country."
Young did develop into the best offensive tackle prospect in the 2006 class, but that potential never truly panned out at the collegiate level.
The trajectory of his career at Notre Dame was illustrated in his draft stock, as he was selected 179th overall by the Dallas Cowboys in the 2010 NFL Draft.
Young spent his rookie season in Dallas, but was waived on Sept. 5, 2011 after a disappointing fall camp. The Buffalo Bills—Young's current team—claimed him off waivers the following day.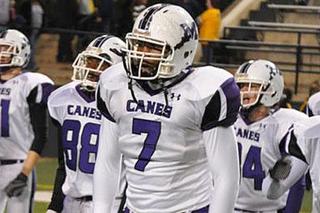 247sports.com
Current Notre Dame head coach Brian Kelly understood the foundation of a national championship-caliber defense begins with a formidable defensive line, and he took the first step in that process by signing Stephon Tuitt in the Irish's 2011 class.
A 6'6", 303-pound defensive end out of Monroe, Ga.,Tuitt was a highly sought-after prospect deep in the heart of SEC country.
Tuitt was rated as the No. 32-overall prospect in the 2011 class, per 247sports.com, and held offers from schools around the country, but narrowed his recruitment to Auburn, Georgia Tech and Notre Dame. The four-star defensive end took an official visit to Georgia Tech—his hometown school—on Jan. 14, 2011 that scared Irish fans, though Tuitt committed to Notre Dame just five days later.
Chad Simmons of Scout.com weighed in on Tuitt's potential roughly one year prior to Tuitt's commitment to Notre Dame.
"Tuitt is a big athlete with great range and speed off the edge. He is raw in technique and needs to add strength to play better against the run, but he has a very high ceiling. His size, athleticism, and versatility make him a top recruit in 2011. He makes a lot of plays now off raw ability, but once he is coached up, watch out."
Notre Dame hadn't had a defensive lineman of Tuitt's caliber on its roster since the days of Justin Tuck and no other defensive end prospect with such tremendous hype had committed to the school in the modern era.
Tuitt is entering his junior season, which will be his third as a starter.
He's projected as a first-round selection in the 2014 NFL Draft, per CBSSports.com.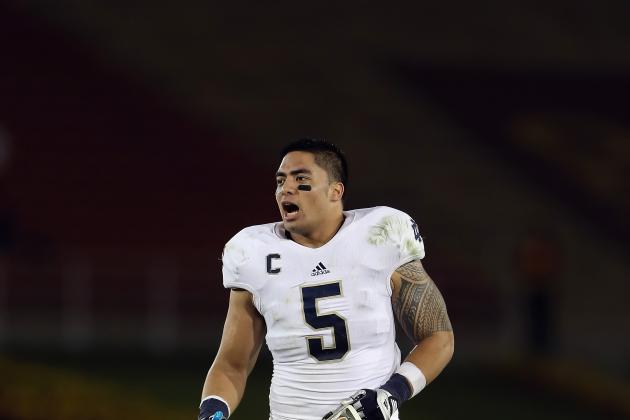 Jeff Gross/Getty Images

The most highly touted defensive prospect to commit to Notre Dame in the modern era didn't even reside in the mainland United States.
Former head coach Charlie Weis and his staff ventured to Hawaii to court Manti Te'o.
Rated as the No. 4-overall prospect in the 2009 class, per 247sports.com, Te'o waited until National Signing Day to make a final decision as to what school he would be attending. Deciding between a final three of Notre Dame, BYU and USC, the 6'2", 255-pound linebacker surprised his friends and family by pledging to the Irish.
While mild-mannered and quiet off the field, Te'o was a force to reckoned with on it.
Te'o's physical style of play as a prep star at the Punahou School was chronicled by Brandon Huffman of Scout.com in 2008.
"Te'o would hit piles and just drive them back or lay them out all together. Most of his coverage seems to be in zone, which he seemed to pick up guys in his zone pretty well. Can peel off his zone to make a nice tackle on his receiver and reads the plays well."
Signing such a heralded defensive prospect had been a priority of the Weis regime, as the first four defenses of his tenure at Notre Dame were suspect, to say the least.
Te'o would be the anchor of a front seven the Irish had lacked in recent years, and he transformed into the consistent, hard-hitting presence fans had envisioned.
Te'o finished his collegiate career ranked third in school history in total tackles (437) behind only Bob Crable and Bob Golic.
His senior season was a swan song for the ages, as Te'o won the Lott Trophy, Maxwell Award, Chuck Bednarik Award, Walter Camp Award, Bronko Nagurski Award, Butkus Award and the Lombardi Award, while finishing second in the Heisman Trophy voting.
Te'o is currently a rookie with the San Diego Chargers, having been selected 38th overall by the team in the 2013 NFL Draft.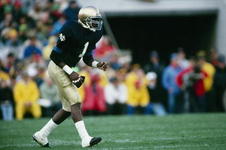 Perhaps the best defensive back of the Lou Holtz regime at Notre Dame, Todd Lyght was an extraordinary player for the Irish from 1987 to 1990.
Recruited during the pre-digital age, Lyght received the most playing time of any freshman during the 1987 season. He recorded 29 tackles, as well as two pass break-ups and an interception.
Following his freshman season, Lyght went on to become a three-year starter in the ensuing seasons, during which he was twice named a consensus All-American (1989, 1990).
Lyght was selected by the Los Angeles Rams—who have since moved to St. Louis—with the fifth overall pick in the 1991 NFL Draft. Eight years later, Lyght was voted as an All-Pro, the same season in which his Rams' squad defeated the Tennessee Titans in Super Bowl XXXIV.
Lyght signed with the Detroit Lions in 2001, but officially retired from the game in 2002.
Most recently, Lyght worked as a defensive intern at Oregon under former head coach Chip Kelly's staff.