Manny Pacquiao: Does Pac-Man Have More to Gain or Lose in Brandon Rios Bout?
Will Manny return to the top?
Ethan Miller/Getty Images
On Monday, sources confirmed that Manny Pacquiao reached an agreement to fight Brandon Rios on Nov. 23, in Macau, China.
Rios is a curious choice for Pacquiao's return. Not a safe one. The Mexican slugger loves to turn a boxing fight into a war and it could prove dangerous for Pacquiao, who was the victim of one of the most devastating knockouts in boxing history last December.
Just one year ago, Pacquiao was arguably considered the best fighter in the world. Then he lost two consecutive fights.
Rios prides himself on making an exciting fight and will apply constant pressure.
How will Manny react and what does he have to gain in victory? For Manny, the Rios fight is not about pride. It's about returning to the top.
Read on to see if Pacquiao has more to gain or more to lose by fighting Brandon Rios!
More to Gain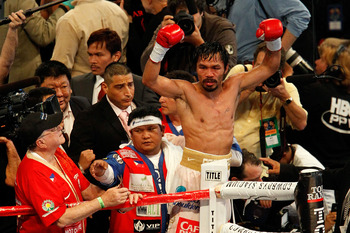 Pacquiao will silence his critics with a convincing win against Rios.
Tom Pennington/Getty Images
The Brandon Rios fight is a confidence builder for Manny Pacquiao.
Rios is the ideal opponent for Manny. The Filipino star has most success with brawlers that are willing to engage. David Diaz and Antonio Margarito came straight to Pacquiao and he tore them apart.
There aren't many tricks to Rios. He has the straight-forward style to make Pacquiao look impressive.
Rios loves to bang and embraces contact, so expect his head to get rocked by Manny's blinding shots. After such a debilitating defeat to Juan Manuel Marquez, Pacquiao could not have asked for a better opponent than Rios to showcase his speed, footwork and wide-ranging punches. Pacquiao fans will find reasons to cheer during this fight.
Pacquiao has more to gain against Brandon Rios because an exciting victory will help to erase the memory of 2012.
More to Lose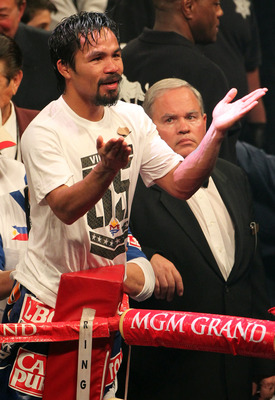 It's back to the drawing board for Pacquiao if he loses to Rios.
Jeff Bottari/Getty Images
No one knows how well Manny will react to taking a solid punch.
All of Rios' fights are rough.
He doesn't have a counter punching style like Marquez. He enjoys a give-and-take war. And Pacquiao has never shied from a tussle in the ring. But a slugfest can spell disaster for Manny at this point in his career.
The memory of the Marquez knockout is fresh in Manny's, and everyone else's, mind. Rios lost his last fight to Mike Alvarado, but Alvarado didn't destroy Rios' will to win and had to go through fire for victory.
Pacquiao is still on the elite level of the sport.
A poor showing against Rios can create more doubt around Pacquiao's future in boxing. Doubters will also jump out the woodwork if Pacquiao goes toe to toe with Rios. This fight is almost a no-win situation for Manny unless he outclasses Rios.
Pacquiao has more to lose in a fight with Rios unless it's a one-sided fight.
Conclusion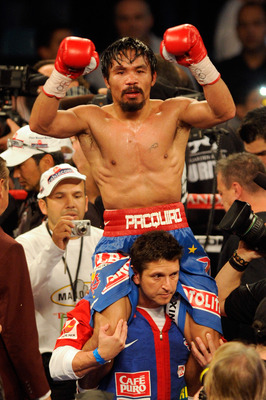 Pacquiao is expected to beat Rios and rebuild his career.
Ethan Miller/Getty Images
It's gut-check time for Manny Pacquiao.
After losses in his last two fights, one of them by devastating knockout, the boxing world has many questions about what the Pac-Man has left in the tank.
Brandon Rios will give us some answers.
If Pacquiao loses to Rios, he might walk away from the sport. Meanwhile, a win can propel him back near the top of the pound-for-pound list.
Despite his recent downward spiral, Pacquiao is still one of the hottest fighters in boxing. And Bob Arum is smart enough to cash in on Top Rank's brightest star attraction.
Expect Manny Pacquiao to win and return to glory against Brandon Rios.
Keep Reading