Minnesota Twins Prospects Who Have the Highest Ceiling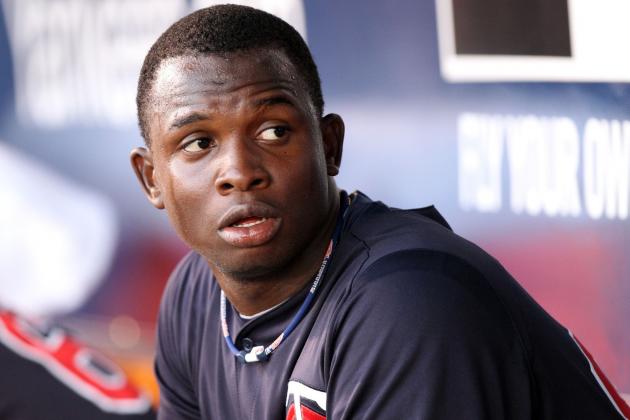 http://i0.wp.com/www.sportsagentblog.com/wp-content/uploads/2013/05/USATSI_7224507_155451184_lowres.jpg
Recently I have been writing a lot about the Minnesota Twins' prospects and how promising the future looks for the organization, but now it's time to get down to brass tacks: Who has the highest ceiling?
Everybody knows one of those guys is going to be Miguel Sano; nobody can ignore the beast he projects to be at the major league level, but how did the rest of the list come about?
Trust me, it's quite the formula: an unhealthy amount of sports talk radio, countless sports sections of the Star Tribune, some statistical analysis and my own gut feeling. It's a delicious recipe for...probably personally jinxing the future of a professional sports team.
My fandom of a sports team is the kiss of death. I'm so sorry for your playoff exit, 2012 Baltimore Orioles.
I am the human Madden cover.
Begin Slideshow

»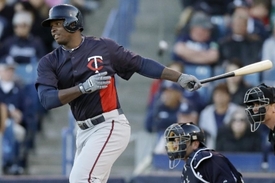 http://emedia.dev-cms.com/twincities/1500espn/images/mainwipe/1367273552-Miguel_Sano_photo.jpg
A witch, wizard and magician could all put a voodoo spell on Miguel Sano, and he'd power through it.
Seriously, if you go to Vegas, put some early money on Sano for the 2017 American League MVP. He is, potentially, that good. He is that good at Single-A Fort Myers right now.
In 29 games this season, the Miracle third baseman has a batting average of .385, with 30 RBI and 10 home runs.
Sano is wonderful. I suggest bookmarking his player profile, then just look at it when you need to be cheered up.
The man is currently in Single-A, but by the beginning of 2014, he may be the Twins' Opening Day starter at third.
Let that sink in for a while and then keep reading.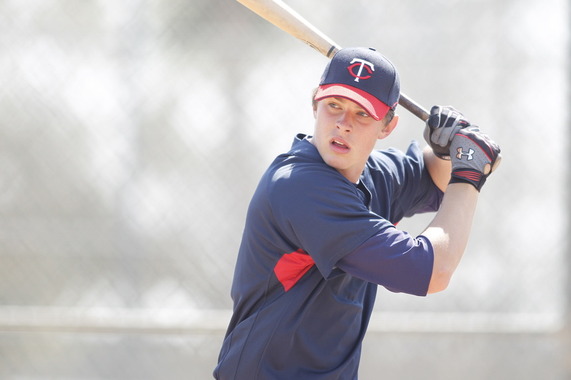 http://3.bp.blogspot.com/-wpbLhpglxFM/US_kBKN6ibI/AAAAAAAAEMk/h-YNYLjPdVY/s1600/MaxKeplerTwins.jpg
Maximilian Kepler-Rozycki, better known as Max Kepler, is a name that is getting mentioned more and more. That being said, Max is still not that well known to Twins fans.
The fast facts are the following: 20-year-old German left-handed outfielder; parents were both professional ballet dancers; Kepler's mother is originally from Texas; first noticed by a Twins scout at the age of 14 and in 2009 signed an $800,000 signing bonus, which is the largest ever for a European player.
Kepler has played three seasons of rookie ball and has shown improvement every year. He broke out in 2012.
As an example, in his first two years of rookie ball, he had a total of one home run. In 2012, he knocked out 10 in 59 games. To get way ahead of ourselves, that projects to be just over 27 home runs over the course of a major league season.
The potential lack of power is one of the knocks on Kepler and the possibility of him being a mainstay as a corner outfielder in the big leagues.
Let's stay positive for one more beat. Kepler's slugging percentage jumped up 173 points from 2011 to 2012, and his on-base plus slugging jumped up 210 points over that same time period.
He is progressing every year and is projected to join the Single-A Cedar Rapids Kernels after he is done rehabbing an elbow injury.
The combination of Byron Buxton and Max Kepler would definitely be worth the drive down to Cedar Rapids for diehard Twins fans.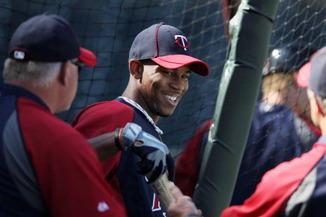 http://twinsdaily.com/blogs/cody-christie/attachments/2402d1348661806-killer-speed-byron-buxton-byronbuxtontwins.jpg
Byron Buxton's stats look to be just a tad bit behind top prospect Miguel Sano, but keep in mind that Buxton is the leadoff man for the Cedar Rapids Kernels. Sano is the cleanup hitter for the Fort Myers Miracle.
In 27 games in that leadoff spot, Buxton has an average of .378 with 24 RBI and five home runs. Throw in 12 stolen bases, and you have an awesome center field prospect.
He's got the tools, all of five of them.
The theory in baseball is to be strong up the middle, and it looks like you can't get much stronger than having Buxton patrol center.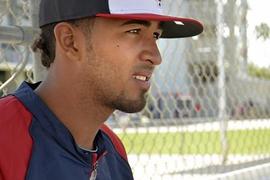 http://extras.mnginteractive.com/live/media/site569/2013/0219/20130219__130220Rosario_400.jpg
Also in the middle would be Miracle second baseman Eddie Rosario. He doesn't have great power, but he hits for a nice average. Rosario had a batting average of .346 before Monday's action.
So far this season, he also has 22 RBI with three home runs and two stolen bases.
Rosario may not blossom into the superstars that Miguel Sano and Byron Buxton might be, but he has the potential to be an All-Star with that consistent of a bat.
I know I touched on this in the last slide, but it is so important to build up the middle. It's no coincidence that the Twins had 90-plus losses in the two years that Tsuyoshi Nishioka was supposed to be a major part of the middle infield.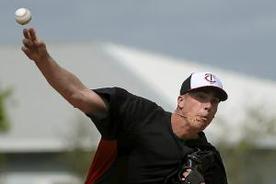 http://extras.mnginteractive.com/live/media/site569/2013/0219/20130219__130220Meyer_300.jpg
It's not often seen that a major league player is traded for one minor league prospect straight up, but that's what occurred when the Twins shipped off Denard Span to the Washington Nationals this past offseason.
That signals general manager Terry Ryan has a lot of confidence in Alex Meyer, currently pitching for Double-A New Britain.
Forget the 2-1 record in 10 starts and the 3.31 ERA. Throw out the 40 strikeouts he has on the season too.
The ceiling is high for Meyer because of one pitch: the knuckle curve.
It's a unique pitch and not too many have conquered it at the major league level. If he can, it will result in a long major league career.
It doesn't hurt that he is also 6'9" and has a fastball in the mid- to high 90s.