NHL Free Agency 2013: Which UFAs Should the Carolina Hurricanes Re-Sign?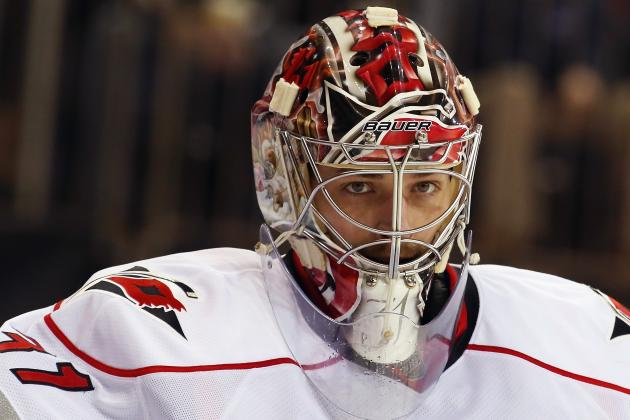 Bruce Bennett/Getty Images

Unlike the groundbreaking summer of 2012, the Carolina Hurricanes' 2013 offseason is on path to be a rather quiet one.
None of the team's key cornerstone players will be faced with the pressure of an expiring contract this coming July. GM Jim Rutherford will have relatively few tough decisions to make, at least regarding the free agency aspect of the offseason.
Only a few second- and third-pairing defensemen, a couple of underachieving bottom-six forwards, a backup goaltender and a swath of minor leaguers will be potentially hitting the market.
Regardless, the 'Canes will still have some choices to make and a few sad goodbyes to push through.
Which upcoming free agents should they seek to re-sign for new deals, and which should go ahead and part ways? Our player-by-player breakdown and prediction falls on the coming slides.
Note: All cap hits and free-agent data courtesy of CapGeek.com. All stats courtesy of NHL.com or BehindTheNet.ca.
Begin Slideshow

»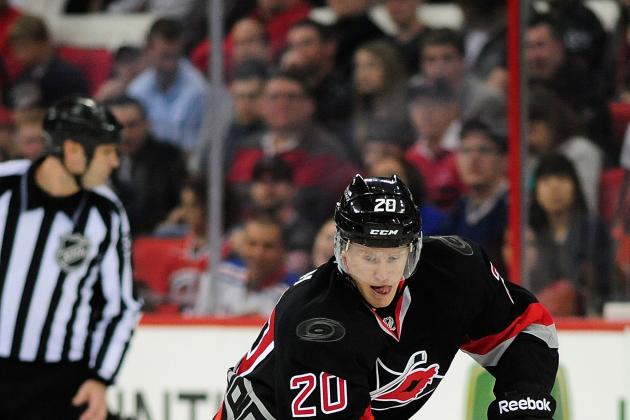 Grant Halverson/Getty Images

Re-Sign: F Riley Nash, F Zac Dalpe, F Jared Staal, F Luke Pither, D Marc-Andre Gragnani, D Michal Jordan, G John Muse
Both Nash and Dalpe should be retained as quickly as possible this summer and penciled in for NHL jobs entering September's training camp.
Nash recorded nine points in 32 games at the top level this season (in addition to 37 points and a plus-14 rating in 51 games for AHL Charlotte) and was an even better fit than those numbers suggest in the Brandon Sutter-vacated third-line center position.
Dalpe, meanwhile, actually led all Hurricanes with 10-plus appearances in Corsi rating and showed some good potential alongside fellow young forward Jeff Skinner in albeit limited playing time.
Jordan and Gragnani made five and one NHL appearances, respectively, in 2013. They'll be valuable depth defenseman moving forward and should each see a few call-ups in their future.
Part Ways: F Zach Boychuk, F Andreas Nodl, F A.J. Jenks, D Justin Krueger, D Joe Sova
After an insane spring of waiver carried him from Charlotte to Raleigh to Pittsburgh to Nashville to Milwaukee and, finally, back to Charlotte, Zach Boychuk faces an expiring contract come July and some serious doubt about his hockey-playing future. The former 14th-overall pick seems destined to be a bust, but GM Jim Rutherford may still be able to squeeze something out of his RFA rights via the trade market.
Nodl struggled through a plethora of injuries in 2013 and, despite a respectable amount of NHL experience on his resume, doesn't have enough of a ceiling to bother keeping around.
Jenks, Krueger and Sova have each essentially timed out of their unimpressive AHL careers.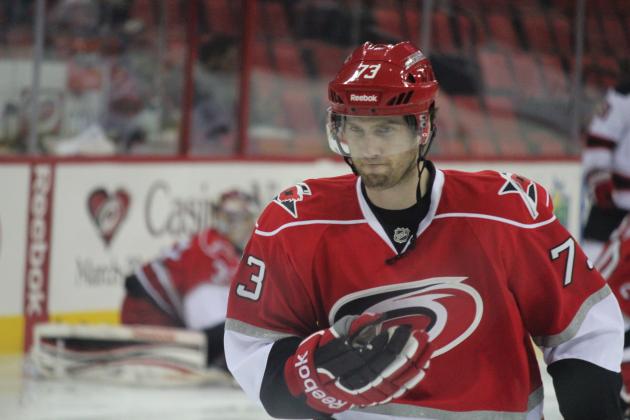 Re-Sign: F Brett Sutter, F Jerome Samson, D Brett Bellemore
Brett Bellemore was one of the Hurricanes' most pleasant surprises of 2013. The longtime lower-pairing AHL blueliner received a rather shocking call-up when the injury bug hit all levels of the franchise in mid-March—and played very well.
Even as the team tumbled down the standings, Bellemore recorded his first two career NHL points (both assists) and was on the ice for just four opponent goals in eight games and over 110 minutes of ice time. In the process, he—being an upcoming UFA—likely also earned himself a new contract, too.
Sutter, 25, possesses the unusual combination of physicality and scoring (ranking second on AHL Charlotte with 48 points this season) that could make him a dark horse for a fourth-line NHL job in the coming seasons.
Samson, 25, had a tumultuous 2013 campaign but did produce five points in 16 big-league appearances the previous year.
Part Ways: Tim Wallace
Rutherford has a difficult decision to make on Wallace.
On one hand, the 6'1", 207-pound winger does bring the checking ability lacking on most of the 'Canes roster (he recorded 69 hits, fourth on the team, in just 28 games); however, the 28-year-old also registered only two points and a minus-nine rating in the NHL this year and is far too old to serve as an AHL-only producer.
His re-signing odds are close to a toss up, but the 'Canes may have too many other, potentially better alternatives for Wallace to stick around another year.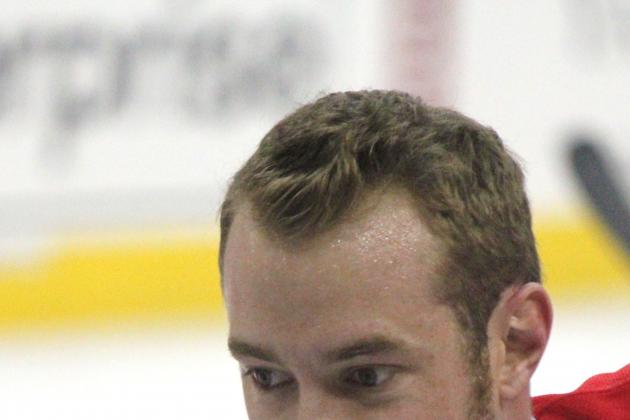 One year after setting a career high with 12 goals and 24 points in 2011-12, his first season in Carolina, Tim Brent dropped completely off the map this past season.
The 29-year-old bottom-six center managed just three points (all assists) in 30 appearances before missing 12 of the team's last 13 games with an injury.
Brent had earned a quarterback position on the power play the previous year, but his severe indecisiveness and Marc-Andre Bergeron's arrival combined to oust him from that role this spring.
Even for his cheap price tag—just $0.75 million this past year—the "good guy factor" probably won't be enough to save Brent from a massive layoff this summer as Rutherford seeks to revamp the third and fourth lines.
Verdict: Part Ways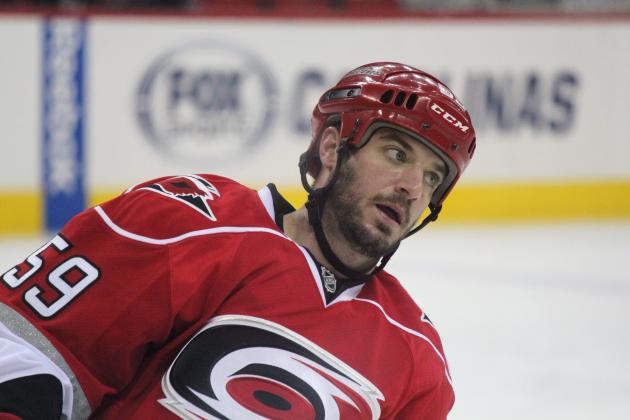 Arguably the most certain decision in the Hurricanes' offseason will regard Chad LaRose—and he probably won't be coming back.
LaRose, now 31, missed 13 games with a concussion and performed atrociously in the other 35, posting just two goals, two helpers and a minus-eight rating. For reference, that whopping total tied Kevin Westgarth and Marc-Andre Bergeron for 18th on the team, behind the likes of Drayson Bowman, Jamie McBain and Tim Gleason.
Even LaRose's chihuahua-like playing style seemed no longer effective—54.2 percent of his shifts began in the Hurricanes' offensive end, but only 51.9 percent of them ended there. His hits-per-game ratio dropped from 1.96 in 2011-12 to 1.69 in 2013. He recorded just eight takeaways. His missed shots percentage trailed only Alexander Semin for the team's largest.
And then, come a disappointing, but in some ways relieving, end to the season, this happened:
A disappointed Rutherford says Chad LaRose did not attend his exit meeting.

— Michael Smith (@MSmithCanes) May 2, 2013
At a generous 5'10", LaRose's feisty play always seemed more ironic than effective, anyway.
Verdict: Part Ways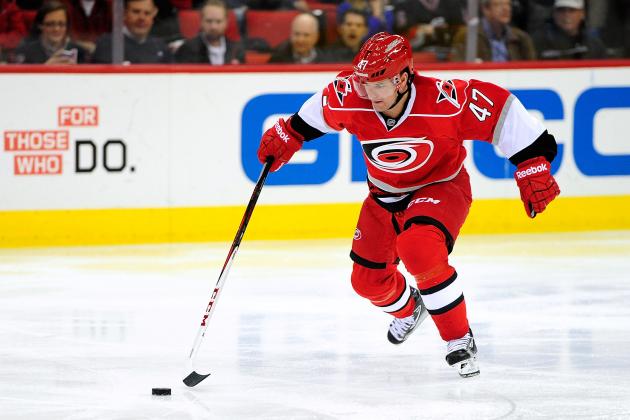 Grant Halverson/Getty Images

Marc-Andre Bergeron was a very late arrival to the Hurricanes' trainwreck-esque season, coming over at the trade deadline from Tampa Bay for the final 13 games.
In the one-month sample size, Bergeron largely lived up to his pre-trade billing, improving the 'Canes dismal power play slightly but also revealing his well-known weaknesses in the defensive zone. An incredible 74.7 percent of his shifts began in the attacking zone; Kirk Muller's use of the veteran blueliner was obvious throughout his brief tenure.
The 32-year-old puck-moving defensive specialist was largely an experiment from day one—Rutherford's one blind attempt to turn around the 'Canes slump before all hope was lost—and, with highly-touted prospect Ryan Murphy expected to make the team next year, Bergeron doesn't have much of a role moving forward.
Verdict: Part Ways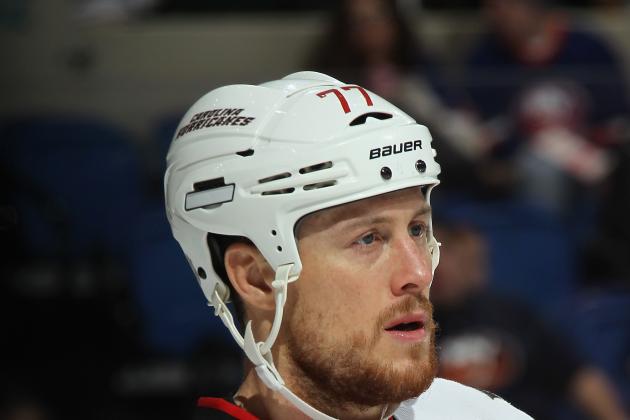 Bruce Bennett/Getty Images

For all his interesting adventures to various corners of North America, Joe Corvo always seems to come back to North Carolina—and he always comes back as the same Joe Corvo.
Eager to pinch or shoot at any time but dangerously impulsive with his defensive reads, Corvo often epitomizes the glaring problem with Carolina's cast of far too aggressive defensemen.
Corvo, approaching his 36th birthday in June, does provide an experienced veteran presence (he's one of surprisingly few players left from the 2009 Conference Finals run) and aids the power play, weak as it is. If he departs, as seems likely, the 'Canes will most certainly need to add a comparable player—such as the Islanders' Mark Streit, 35, or the Devils' Marek Zidlicky, 36—to re-occupy both of those niches.
All things considered, however, Corvo's third and final stint in Raleigh may well be his last.
Verdict: Part Ways
Grant Halverson/Getty Images

Perhaps no 'Canes player showed more improvement over the course of the season than Bobby Sanguinetti, the only true rookie with the team from season's beginning to end.
Sanguinetti went from a jittery, overreactive defensive liability during January and February to a fairly reliable mid-pairing blueliner by April, even as the Hurricanes as a whole trended in the opposite direction.
The 25-year-old former first-round pick recorded two goals, four assists and a minus-four rating in 37 appearances (he also scored six goals and 15 helpers in 36 AHL games during the lockout).
No. 24's in-depth stats are also impressive. Among all skaters with at least 20 appearances, Sanguinetti led the 'Canes in Corsi rating and ranked 39th in the entire NHL in Corsi Relative rating. Moreover, Sanguinetti committed just two minor penalties in over 546 minutes while simultaneously drawing eight.
Although he's hitting the unrestricted free agent market at a young age, Rutherford should be interested in re-signing one of the Hurricanes' longest-running (and, potentially, most successful) project developments before July rolls around.
He'll definitely get a raise over his $0.7 million salary this past year, projecting out between $1.25 to $2 million annually for a new two- or three-year contract.
Verdict: Re-Sign
Rick Stewart/Getty Images

The 'Canes long-running backup goaltender woes were only amplified this spring when those backups suddenly became starters.
Dan Ellis, a UFA come July, finished the year with a 6-8-2 record, .906 save percentage and 3.13 GAA. Justin Peters, under contract for one more painful season, finished the year with a 4-11-1 record, .891 save percentage and 3.46 GAA.
For a team that has employed such superstars as Brian Boucher, Manny Legace, Michael Leighton and John Grahame for the No. 2 netminder slot over the past half-decade, however, perhaps the time has come for some more bold action.
Peters could fetch at least a mid- to late-round draft pick in a trade and would give the team a million times more flexibility to get a truly capable backup for next season.
AHL goalies John Muse and Mike Murphy may deserve a shot; young UFA goaltenders like Toronto's Jussi Rynnas, Boston's Anton Khudobin or San Jose's Alex Stalock and Thomas Greiss could be brought in; Ellis, given his experience and stellar play at times, could be extended for another season.
Too many variables exist to make any predictions about the future of Carolina's backup netminder situation right now, but expect an intriguing decision to be forced upon the franchise's management in the coming months.
Verdict: Undetermined