5 Biggest Questions Surrounding the Philadelphia Flyers This Offseason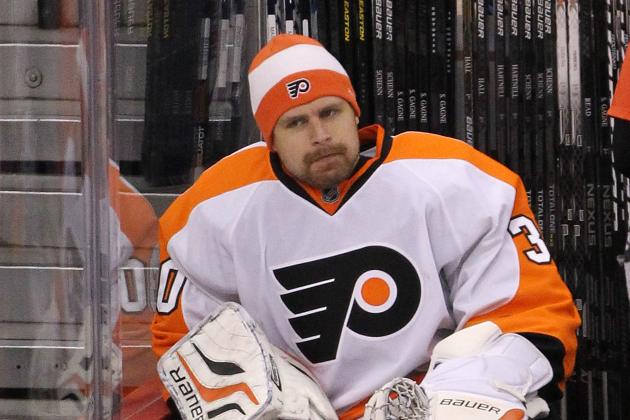 Marianne Helm/Getty Images

The Philadelphia Flyers have more questions than answers as they settle into their offseason.
With half the league currently battling for Lord Stanley's Cup, the other half will use the offseason to rebuild, refocus and reload. Philly is one of those rebuilding franchises.
Not making the postseason is a bit of an anomaly for the Flyers, as they routinely make playoff runs season after season. Yet, for only the second time in 18 years, Philadelphia finds itself watching the playoffs from home and hoping to reclaim glory.
This abbreviated season exposed many weaknesses on the roster and many holes to be filled. To improve, Philadelphia must now make smart but necessary moves to bolster the team's image and status within the NHL.
Here are the five biggest questions surrounding the Philadelphia Flyers this offseason.
Begin Slideshow

»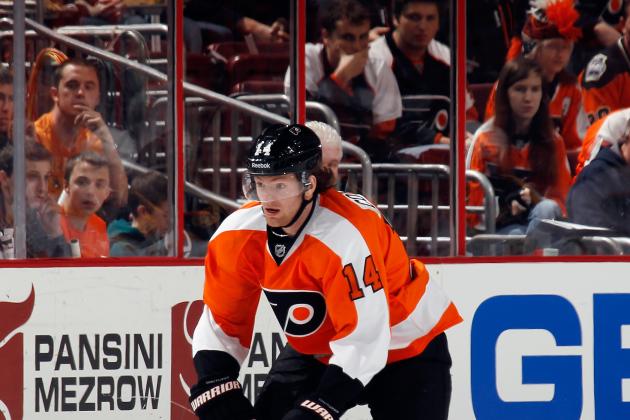 Bruce Bennett/Getty Images

There's no denying Sean Couturier's play took a hit this season. Yes, he primarily played on the penalty kill and was demoted—midway through the season—to the fourth line, but he was nonexistent for a majority of the season.
There is also no denying Coots possesses some of the best two-way skills in the league.
So what should the Flyers do with an underachieving youngster who has big potential?
Philadelphia struggled defensively this season and it may take some time for the unit to be fully repaired. Since Couturier is a valuable defender—and cheap—he may be worth holding onto next season.
During his rookie campaign two seasons ago, the young center proved to be an effective offensive player, totaling 27 points in 77 games. But this past season was a different story, as Coots totaled 15 points in 46 games (six of those points were in the final month of the season).
Therefore, the Flyers have a dilemma. Many teams around the NHL would be interested in the shutdown center, and Philly may be able to package him for a blueliner in return. He won't free up much cap space and due to his lackluster season may sell low.
General manager Paul Holmgren must decide if Coots should be part of the future in Philadelphia, or trade him to quickly improve its weak unit of defenders.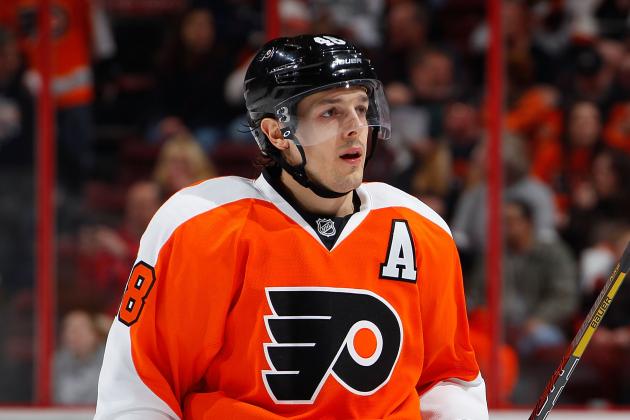 Paul Bereswill/Getty Images

Danny Briere, Ilya Bryzgalov or both will most likely be bought out this offseason.
According to CapGeek, the Flyers are over next season's $64.3 million salary cap by approximately $3 million.
If the Flyers were to buy out Briere, it would open roughly $2.2 million in space next year. If the team were to use amnesty on Bryz, the projected cap space saved would be a whopping $6.3 million.
Obviously, if Philly were to utilize this option on either player, they would automatically become a free agent and need to be replaced.
Philadelphia must now decide which player makes the most sense. Briere, the 35-year-old veteran who is on the downside of his career, or Bryz, the outspoken and inconsistent goalie. Both are two very different cases but the same result.
Briere loves playing and living in Philadelphia. He may not produce, as he did in years past, but plays every game with his heart on his sleeve. Bryz has remained indifferent about remaining a Flyer and his postgame interviews have become more important than his in-game play.
As mentioned earlier, at least one of these players will not return next season and the Flyers will take this offseason to figure it out.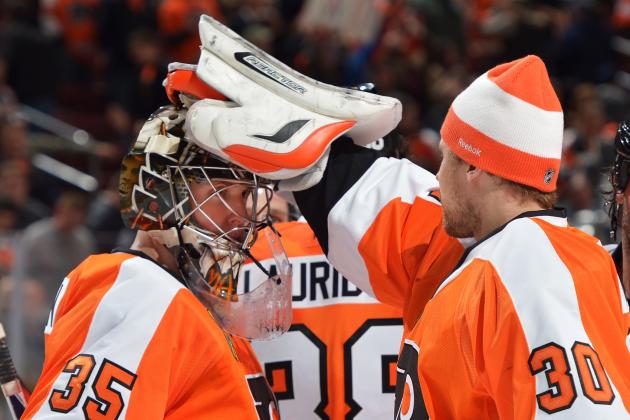 Drew Hallowell/Getty Images

The last question leads us to our next important dilemma: Who will be starting in goal for the Flyers next season?
According to Goalie Archives, since Ron Hextall retired before the 1999-2000 season, the Flyers have used 10 different goalies in net. Compare that to the New Jersey Devils, which have used one.
Needless to say, the Flyers routinely have a "goalie issue" heading into their season, and nothing has changed this offseason.
We all know Bryz has been signed through 2019-20 for an enormous amount of money, but he has yet to live up to his contract. If the Flyers were to retain him next season, he will have some young competition in net.
At this past season's trade deadline, Philadelphia traded goalie Michael Leighton and its 2015 third-round pick to the Columbus Blue Jackets for reserve goalie Steve Mason. The former rookie-of-the-year winner in 2009 appeared in only 13 games this season in Columbus—playing mediocre goal.
Meanwhile in Philly, Bryzgalov was playing in his 35th game of the season with little to no relief—Mason was brought on to help. And he did more than that.
According to Hockey-Reference, in seven games played—six starts—Mason went 4-2 with a .944 save percentage and 1.90 GAA, quite impressive for a role player. As for Bryz, after the trade he went 2-3 with a .894 save percentage and an inflated 2.80 GAA.
The Flyers will need to choose between Bryz, their massive investment, or Mason, the potential future in net.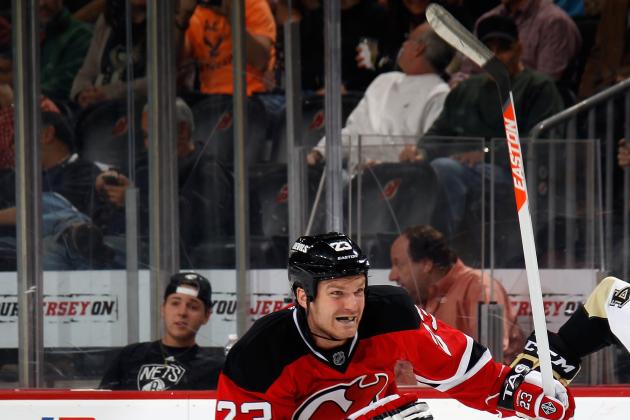 Bruce Bennett/Getty Images

The Flyers may have to test the free-agent market if they want to improve their roster next season.
Two areas the team may focus heavily on are defense and a scoring forward. Unfortunately, Philadelphia will be limited with its salary space and must enforce amnesty on Briere or Bryz to free room.
According to the NHL, Philly ranked ninth in the league during the season with 2.75 goals per game. Not a bad stat, but down from second last season. If the Flyers decide to add another scorer to the roster, they may show interest in the New Jersey Devils' David Clarkson, the Detroit Red Wings' Damien Brunner or the Boston Bruins' Nathan Horton—who may be too expensive.
Here is a list of possible free-agent forwards the Flyers may target (via CapGeek).
Philly also needs to focus on defense and may need to search the market for immediate help. The team could desperately use a veteran blueliner who could make a sudden impact. Such players that could help: the Edmonton Oilers' Ryan Whitney, the Los Angeles Kings' Rod Scuderi or even St. Louis Blues restricted free agent Kevin Shattenkirk.
Here is a list of potential free-agent defenders Philly could chase (via CapGeek).
The Flyers will need to decide if free agency will play a priority role in the team's plans this offseason.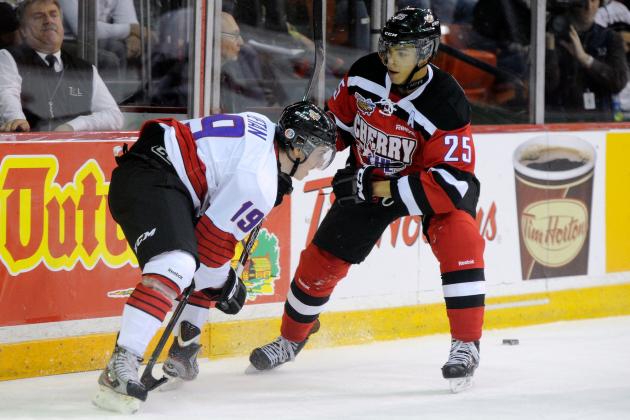 Richard Wolowicz/Getty Images

The Flyers will have the 11th pick in this year's NHL draft, and may have a decent amount of blueliners to choose from come their selection.
That's if Philadelphia decides to draft a defensemen.
Earlier, I wrote an article predicting the top-five players on the Flyers' draft board; four of them were defenders. But if Philly takes a "best player available" stance, they may indeed draft a forward.
Yet, it might be imperative for them to select a blueliner—someone to build a defense around. Players such as Darnell Nurse, Ryan Pulock or Rasmus Ristolainen may not make an immediate impact next season but could very well be the future of the organization.
Currently, the Flyers have some young and talented defenders who proved their worthiness toward the end of this past season. Building a defense around these younger players, along with a first-round pick, may be the best plan this offseason.