5 Players Who Need Huge Turnarounds to Help Save Angels' Season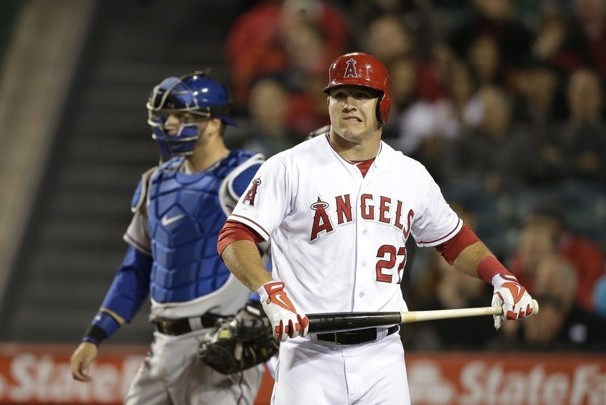 The first five weeks of the season have been a tremendous disappointment for the Los Angeles Angels.
The Los Angeles Angels (11-20) currently sit in fourth place in the A.L. West with a winning percentage of .355 (third worst in the American League).
To say that the team has underachieved through the first five weeks of the season would be a giant understatement. Prior to the 2013 campaign, fans and analysts alike had the Halos slated as true World Series contenders.
But winning hasn't come easy.
When looking at the season statistics, it becomes rather apparent that the Angels pitching staff is the main reason why.
The Angels staff currently has a team ERA and team WHIP of 4.78 and 1.48, respectively, which both rank second worst in all of baseball. They have allowed 129 walks through 31 games, the highest number of any team. In addition, Halo pitchers have had a hard time closing out games, converting on only four out of nine save opportunities.
If the Angels want to be playing meaningful games throughout the summer, the aforementioned numbers need to improve.
On offense, the Angels have been inconsistent at best. While Mark Trumbo and Howie Kendrick have been pleasant surprises, the rest of the lineup has underachieved.
The following five players need huge turnarounds in order for the Angels to have any chance of making a run at the playoffs this season.
Begin Slideshow

»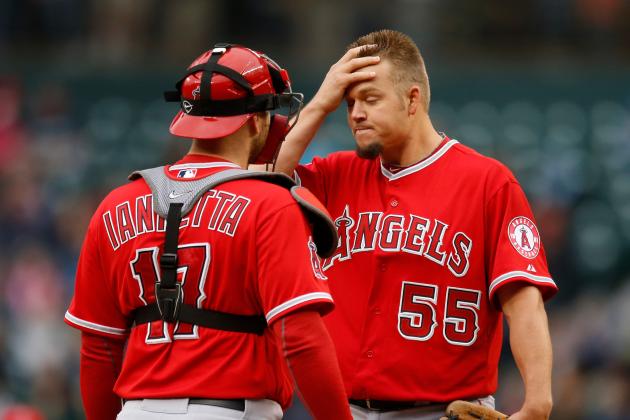 Otto Greule Jr/Getty Images
Joe Blanton's first month with the Angels was abysmal.
Joe Blanton has a career record of 83-80 with a 4.41 ERA. With that in mind, the Angels surely weren't expecting Cy Young stuff from their No. 3 starter when they signed him in the offseason to a two-year, $15 million deal.
But they surely did expect better than what he has brought to the table so far.
Joe Blanton is currently 0-5 with a 5.97 ERA in six starts. He has made it past the seventh inning only one time. His strikeouts/walks per nine innings stand at 4.15 and 2.86, respectively.
According to FanGraphs.com, Blanton's pitches are not hitting their spots like they were last season. A year ago, Blanton struck out 20.6 percent of the total batters he faced. This year, his strikeout percentage is down to just 9.5 percent.
Against Blanton, opposing batters (when swinging) are hitting balls that he throws inside the strike zone at a 93.1 percent clip. Going forward, Blanton will need to find a way to hit his spots better in order to lower this percentage. With an average fastball velocity of 89.3 miles per hour this season, Blanton cannot afford to keep his contact percentage in the upper 90s if he wants to have a legitimate shot at lowering his ERA.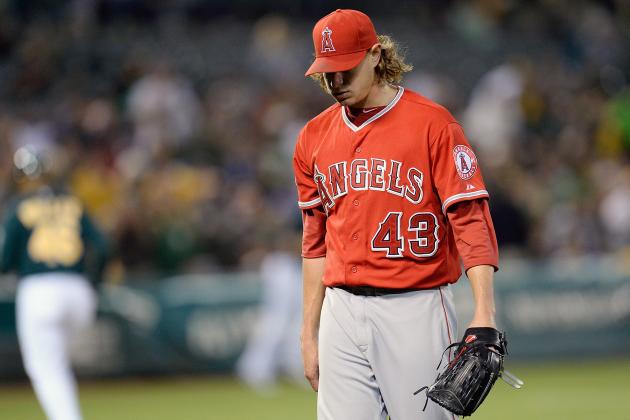 Thearon W. Henderson/Getty Images
Garrett Richards has worked both as a starter and a reliever for the Angels in the first month of the season.
Garrett Richards has worked both as a starter and a reliever for the Angels in this young season.
In four starts for the Halos, Richards has allowed 16 earned runs in 25.3 innings. In relief, he's been better, allowing only two runs in six appearances.
Richards' split-stats reveal two different stories. When pitching in home games, he has a respectable ERA of 3.07. But when on the road, that number inflates to 6.88. During day games, Richards also finds success, allowing only 1.64 runs per nine innings. At night, that number jumps to 6.97.
With a batting average against of only .236, the 24-year-old has shown some promise. If he can find some consistency going forward, look for the Angels to rely on Richards often in an otherwise talent-less bullpen.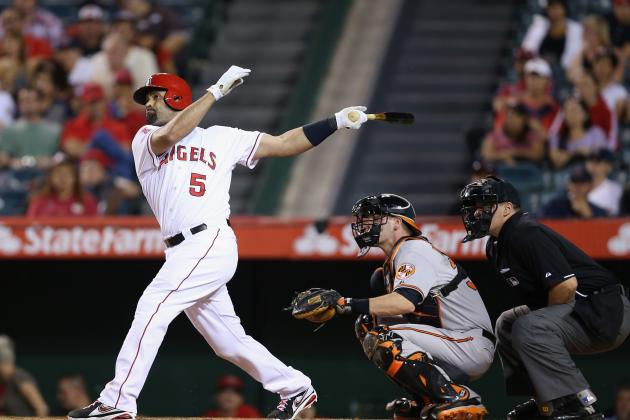 Jeff Gross/Getty Images
Albert Pujols has yet to get passed his nagging plantar fasciitis.
Albert Pujols has had a ho-hum start to the season. Not bad, but also not great.
Through 30 games, Pujols' triple-slash line reads .237/.319/.407. Although his numbers are not where they need to be, they are far ahead of where they were at this time last season. Pujols currently has five home runs, 19 RBI and a team-best 15 walks.
While Pujols is certainly contributing, he is only doing so on occasion. His nagging plantar fasciitis inflammation has caused him to miss some games and has limited his speed on the bases. If Pujols can manage the pain of his injury, look for his numbers to begin to start rising in the month of May.
A turnaround in Pujols' performance could go a long way in helping Mike Scioscia and the Angels right the ship in Anaheim.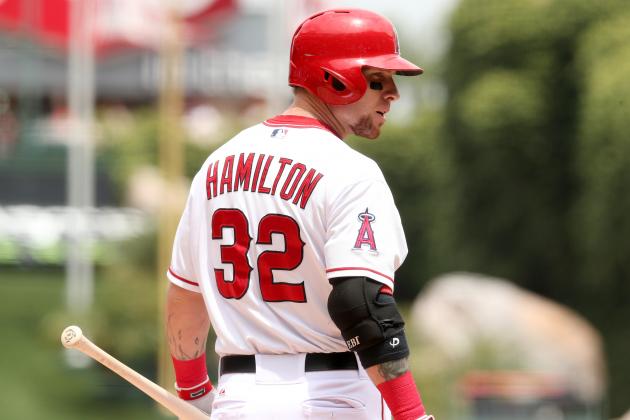 Stephen Dunn/Getty Images
Josh Hamilton has been mired in a season-long slump.
Josh Hamilton's early-season form leaves much to be desired. The left-handed slugger is batting a miserable .208 with an on-base percentage of .255 and a slugging percentage of .296. In addition, he has 38 strikeouts and only seven walks. Against left-handed pitching, Hamilton is batting .182 this season.
What's worse, Hamilton's plate discipline is again among the poorest in the league. Per FanGraphs.com, Hamilton swung at pitches outside of the zone 45.4 percent of the time last year, which was the highest in all of baseball.
This season, Hamilton is third worst in baseball with his plate discipline, swinging 44.2 percent of the time at balls thrown outside of the strike zone. The league average this season is 29.2 percent.
Not only does Hamilton's lack of discipline lead him to swing at bad pitches, but it also raises the incentive for opposing pitchers to throw him balls outside of the zone.
So far this season, the overall percentage of pitches Hamilton sees inside the strike zone sits at 43.0, which is below the league average of 46.4 percent.
In a nutshell: Hamilton is swinging at a lot of bad pitches because he is seeing a lot of bad pitches.
Through 31 games this season, Hamilton has two home runs and nine RBI. A Josh Hamilton turnaround in production is imperative if the Angels have any shot at making the playoffs this season.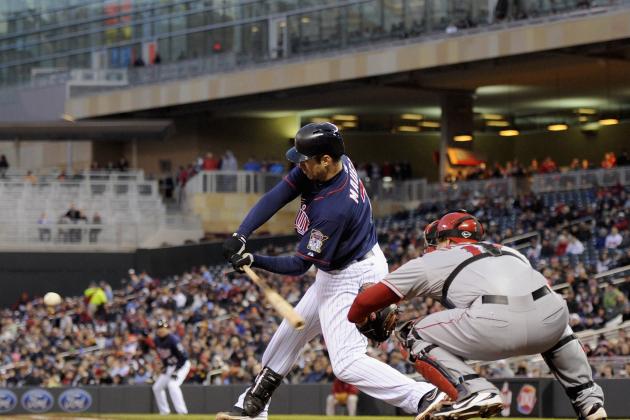 Hannah Foslien/Getty Images
Chris Iannetta's early season defensive struggles have been unexpected.
Chris Iannetta opened the 2013 season with a scorching-hot first week. Through the first four games, the 30-year-old right-hander was batting .375 with two home runs and five RBI.
Since then, however, his numbers have taken a nosedive.
Ianetta's most recent split-stats reveal that he is only batting .159 in the last month. In particular, he is struggling considerably against right-handed pitching, hitting an anemic .186. The last 10 games have been especially troublesome—Ianetta has managed only two hits and one RBI in his last 28 at-bats.
The starting catcher's defense has also been down this year. Opposing baserunners have stolen successfully on Ianetta 21 out of 23 times for a .913 stolen base percentage. In addition, he has allowed two passed balls.
Ianetta won the starting job over Hank Conger in spring training primarily due to his defensive superiority. He needs to clean up his defense and raise his .203 batting average if he wants to hold on to his job. If he remains in his current slump, look for Hank Conger to eat into his playing time.
Follow me on Twitter: @webb5008.