Stock Up, Stock Down for Dodgers' Top-10 Prospects for Week 5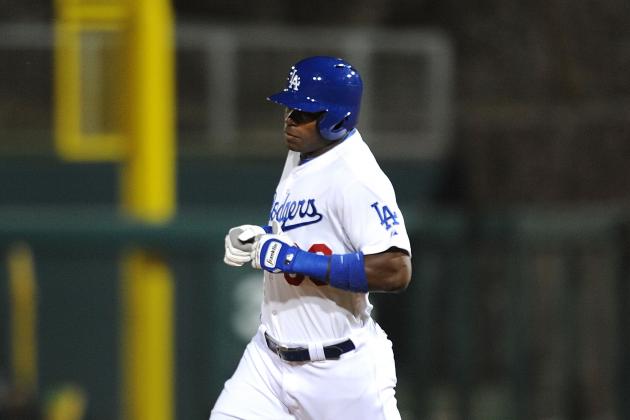 Norm Hall/Getty Images

I have an idea. Let's just swap these top-10 prospects with 10 players on the big league team, so we never have to suffer through another sweep at the hands of our rivals again, huh?
Just kidding. Sort of.
As disheartening as this past weekend was, let's remember that the Dodgers have yet to play a single game with a fully healthy lineup. Yours truly is still convinced that this is a playoff team despite all the setbacks thus far.
But speaking of the setbacks, we have a disabled list chock full of superstars right now and more potentially on the way. That means some prospects might be looking at a call-up fairly soon.
Is Yasiel Puig going to see some big league at-bats in the next few weeks? Is Joc Pederson going to continue mashing his way into consideration for a spot?
Let's check on the farm system and see how the reinforcements have fared since last week.
All stats taken from MiLB.com unless otherwise indicated and current as of 5/5/2013.
Begin Slideshow

»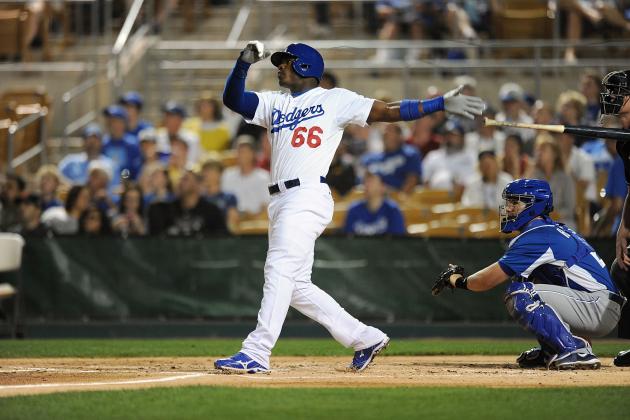 Norm Hall/Getty Images

Stats: 19 G, .306 BA, 5 HR, 15 RBI, 4 SB, .964 OPS
STOCK: EVEN
In five games this week, Puig had a bit of a rough go, hitting just over .200 with a homer and four RBI, but 75 percent of his hits and RBI came in a three-for-four, three RBI performance on Sunday. Puig had a monster game, also racking up two steals.
His batting average and OPS have dropped a bit, but his overall numbers are still staggering. Puig has been the most exciting prospect in the Dodgers system and still has massive Cespedes-ian potential when called up.
However, unless pressed into duty by a DL stint from one of the starting outfielders (god forbid) at the major league level, I'd prefer to see him stay in Double-A. He has struck out nearly three times more than he's drawn a walk, which will definitely balloon in the big leagues.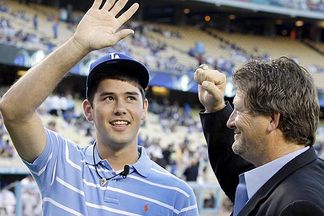 http://a.espncdn.com/photo/2010/0818/la_a_z_lee_b3_576.jpg
Stats: 6 GS, 2.56 ERA, 31.2 IP, 33 H, 13 R, 9 ER, 8 BB, 25 K
STOCK: UP
I went a little bit hard on Lee last week even though he has very good numbers. The strikeout-to-walk ratio is very promising, and scattering nine earned runs over six starts is incredibly impressive.
My only worry with Lee right now (aside from the small sample size, of course) is that he has seen his numbers get slightly worse with each start. When one has such a hot start though, this is bound to happen. Still, I'd like to see another dominant start out of him next time out.
Lee has to be on the radar of the Dodgers front office, what with the injuries to half the starting rotation and Josh Beckett's early-season struggles. I still don't think he's getting a call for at least a couple months, but each good start brings Lee that much closer.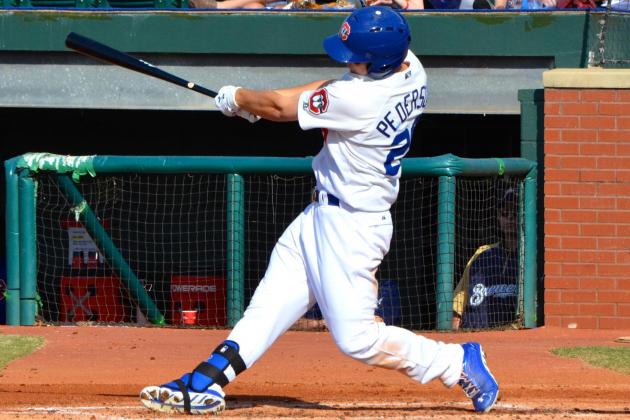 http://www.dodgersnation.com/wp-content/uploads/2013/04/41813-Joc.jpg
Stats: 29 G, .301 BA, 7 HR, 17 RBI, 7 SB, .958 OPS
STOCK: DOWN
Pederson had a rough go at it last week despite a four-for-six effort in Sunday's game (he and Puig combined to go 7-for-10 in that game). Before that, he had two hits in 15 at-bats over his previous four games.
The numbers are still there, and it says something when you have a bad week and see your average stay above .300 and maintain an absurd OPS. We'll have to see if this was a one-week thing or if Pederson will recover and stay hot in the next couple of series.
I like that Pederson is getting on base and swiping bags, and the power numbers are pretty hefty as well. But I'm most impressed with his 67 total bases in just 29 games. Pederson clearly has the speed and power to play at the major league level--it's just a matter now of when he'll get a chance.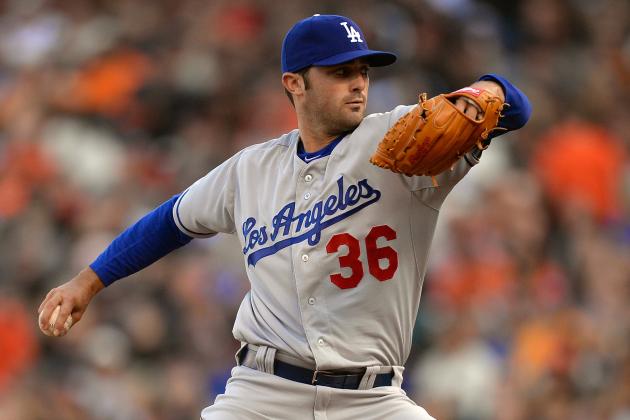 Thearon W. Henderson/Getty Images

Stats: 4 GS, 2.84 ERA, 19 IP, 13 H, 7 R, 6 ER, 14 BB, 23 K
STOCK: DOWN
Keep in mind that this stock "down" is purely based on him likely being demoted back to Triple-A following a horrid second career big league start on Saturday. Chris Capuano is due to return soon, and the logical move is to move Magill back to the minor leagues.
In Triple-A, his numbers have stayed put for the past two weeks, but they are stuck in a very good spot. Magill showed that his awesome first start may have been fluky though as he got shelled for five earned over just an inning and a third in San Francisco this weekend.
It'll be interesting to see how Magill bounces back from that trouncing from a mental standpoint and if he can continue to progress in Triple-A for another inevitable call-up later in the season. This is all part of the learning experience for the hard-throwing 23-year-old.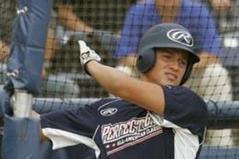 http://cdn.bleacherreport.net/images_root/slides/photos/002/282/017/seager_display_image.jpg?1338656834
Stats: 28 G, .267 BA, 3 HR, 15 RBI, 5 SB, .752 OPS
STOCK: EVEN
I don't like the dip in batting average or OPS from Seager, and he didn't improve on his power numbers at all over the last week. But he did swipe three bags since last we checked and was riding a 10-game hitting streak until Sunday.
Seager is still striking out too much for my liking, and he hasn't quite found his power stroke in the early goings, but we have to keep in mind that the kid is just 19-years-old and playing in his first full professional season. For my money, these are pretty solid numbers given the situation.
That being said, the Dodgers could really use a third baseman since the big league level is experiencing a rotation of players who aren't producing at all right now. I don't expect Seager to pull a Anthony Rendon and sail through the minors, but seeing some bigger strides would be very comforting.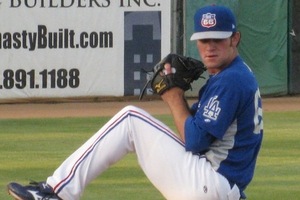 http://walloffamesports.com/wp-content/uploads/2012/05/Chris-Withrow-Dodgers-Pitcher.jpg
Stats: 9 G, 0.00 ERA, 10.1 IP, 8 H, 4 R, 0 ER, 6 BB, 14 K
STOCK: EVEN
You may be asking how a guy with a spotless ERA can not be climbing the stock boards here. Well, Withrow was flawless until his most recent appearance in which all four of those unearned runs were scored against him.
It's hard to hold a pitcher accountable for runs that weren't even charged to him, but he did allow four hits and a walk in those two-thirds of an inning. All that being said, this is truly the first blemish on an otherwise unbelievable start to the season for Withrow.
With all the turmoil in the big league bullpen, I have to think Withrow is also on the front of Ned Colletti's mind right now for a call-up. His strikeout numbers aren't Kenley Jansen-esque or anything, but he's clearly got the chops to make it at the big league level eventually. I hope it's sooner rather than later.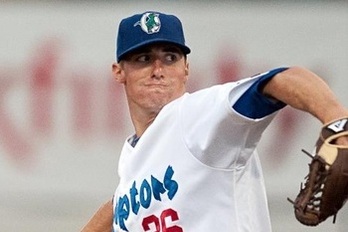 http://cdn.bleacherreport.net/images_root/slides/photos/003/141/591/RossStriplingDodgers2_display_image.jpg?1367305272
Stats: 6 GS, 2.94 ERA, 33.2 IP, 24 H, 11 R, 11 ER, 11 BB, 34 K
STOCK: UP
Stripling keeps climbing his way up this list every single week and is making a case for promotion here with the Single-A advanced team in Rancho Cucamonga. Early on, it's looking like the Texas A&M product might be one of those college arms who just rips through the system on the way to the majors.
His most recent start was arguably his best of the season as Stripling posted an eight-inning effort and allowed just three hits, one run, no walks and six strikeouts. It was also a nice response to his worst outing of the season the start before.
At the very least, Stripling deserves a shot at facing Double-A competition this year, and I'm personally chomping at the bit to see this guy perform at a higher level. If he continues to prosper, it's not far-fetched that we see Stripling in the major leagues in the second half of 2014.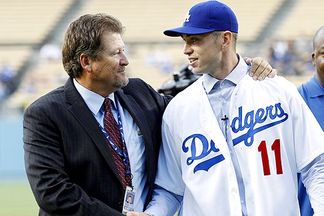 http://www.feelingdodgerblue.com/wp-content/uploads/2012/05/la_a_reed_b1_576.jpg
Stats: 6 GS, 4.41 ERA, 34.2 IP, 35 H, 19 R, 17 ER, 11 BB, 17 K
STOCK: DOWN
I have a hard time keeping Reed on this list after he got rocked in his last start, and there may be lesser-known players who are performing better so far in 2013. But I have to give Reed credit because his four starts before this most recent one were very solid.
The lefty has been up and down for most of the season, so if the path is any indication, we might see a couple more rough starts before he settles down again. Reed does have very good stuff, but it seems like he's struggling to adapt to Double-A in full.
Meaning, Reed has proven that he can pitch at that level and make a case for a promotion down the line, but we've got to see some consistency out of him before the thought even crosses the Dodgers' mind. To this day, his best season was at Rancho Cucamonga in 2011, and we've yet to see him fully dominate at this level.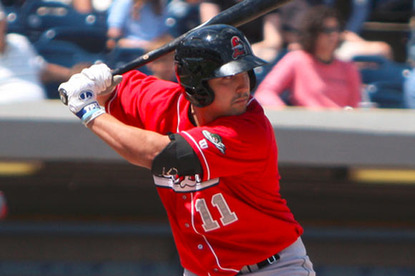 http://milbprospective.files.wordpress.com/2013/04/ogle_580.jpg
Stats: 28 G, .310 BA, 4 HR, 15 RBI, 2 SB, .952 OPS
STOCK: EVEN
I know Ogle got bumped up a spot to number nine, but that's not because he's had some monster week in Single-A. It just means that last week's number nine (Blake Smith) was dropped off the list entirely after a horrid week for himself.
Ogle is still doing good things with the bat, but he's now been caught stealing three times to go with the two successful attempts (not unexpected from a catcher, I suppose) and seen his average and OPS dip again.
But as long as Ogle and his now-.469 OBP continue drawing walks (23 this year compared to 18 strikeouts) at a ridiculous rate and making his impact felt in that sense, he's going to have a place at the end of this list.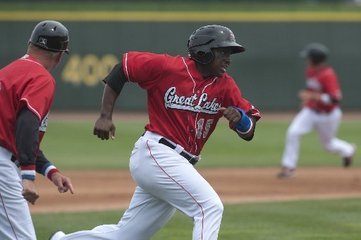 http://media.mlive.com/loons_impact/photo/bl-memorialbaseball03jpg-c06f037762cc89d7.jpg
Stats: 30 G, .289 BA, 4 HR, 17 RBI, 0 SB, .839 OPS
STOCK: UP
Dickson edged out the rest of the fringe prospects to make his debut on this list. He is in the midst of a modest four-game hitting streak but seems to have some pop to go with a good contact rate. Dickson is a big, stocky first baseman who could develop really nice power down the line for the Dodgers.
To stay in this spot, I'm going to need to see a little bit of a jump in average and OPS over the next week as well as a better eye at the plate (he has just six walks all season long compared to 14 strikeouts). Granted, those 14 K's in 30 games is not bad at all for a Single-A hitter.
I like the tools Dickson has, and the raw potential is there, so I'll definitely be keeping my eye on him as the season progresses. He's at Class-A+ right now and could earn himself a promotion to Double-A later in the year if he continues to make progress.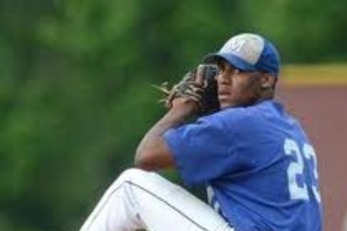 Zachary Bird, via: http://cdn.bleacherreport.net/images_root/slides/photos/002/294/451/ZacharyBird_display_image.jpg?1338932696
This week, we saw very little movement, though we can expect Matt Magill back in Triple-A very soon. Ross Stripling continues to climb the board as he leapfrogged Chris Reed this time around, and his sights are set on slugger Corey Seager.
Also, we saw O'Koyea Dickson break into the top 10 and a few of the more promising "just missed" players from last week flame out in their games this past week. So here is a shorter list of players to keep an eye on for next week's edition:
- Blake Smith, OF (Double-A)
- Yimi Garcia, RHP (Double-A)
- Michael Thomas, LHP (Single-A+)
- Zachary Bird, RHP (Single-A)
Don't forget to check in next week for another version of Dodgers Stock Up, Stock Down.