Stock Up, Stock Down for Mariners' Top 10 Prospects for Week of April 29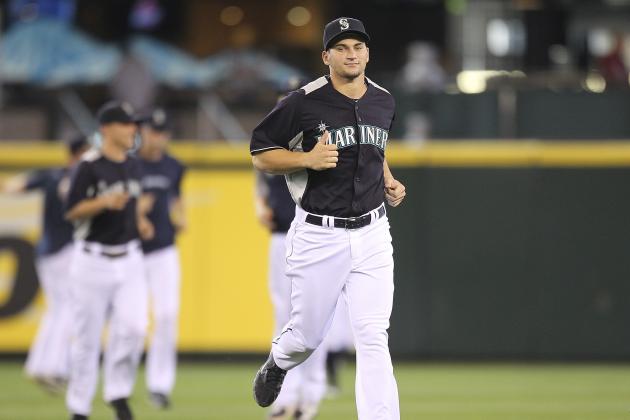 Otto Greule Jr/Getty Images

With another week in the books for the 2013 season, the Mariners farm system continues to flex its muscles as one of the deepest in the league.
This list was helped put together from the rankings over at MLB.com, and covers some Mariners who are still in the minor league system, as well as some who are contributing at the major league level already.
Some of these players are not very far away from the big leagues, and it wouldn't be that far-fetched if you saw the majority of these players get some time with the big league club late in the season.
With that in mind, let's take a look at how the Mariners' prospects did this past week.
Begin Slideshow

»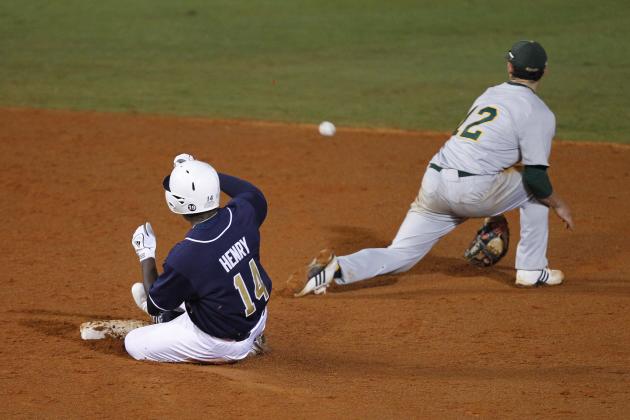 Joel Auerbach/Getty Images
Jabari Henry in college for Florida International
So this will be a new addition for the stock report each week, as some Mariners who are not listed in the top 10 have earned the right to be included on a week-to-week basis. This slide will be dedicated to those select few who had standout weeks at each minor league level for the M's.
Jabari Henry - Clinton Lumberkings (A)
Jabari Henry has been a man possessed for the 2013 season, and after another strong week has earned his right to be listed. Last week, Henry batted 9-for-22 with two doubles, two homers and 11 RBI.
For the season, Henry has an eye-popping .370/.480/.605 line to go along with four homers and 18 RBI. His .370 batting average leads the Mariners farm system and will most likely earn him a promotion sooner rather than later.
Stephen Shackleford - High Desert Mavericks (High A)
Shackleford has been the bright spot for the Mavericks pitching staff so far this season, and it was much of the same this week. Shackleford made three appearances, recording a save in each of them while only allowing one hit.
He has yet to give up a run this season in 14.0 innings pitched, and he has a sparkling .098 BAA to go along with it. It doesn't matter what level you pitch at, those numbers are downright impressive.
James Jones - Jackson Generals (AA)
James Jones only played in four games this past week for Jackson but was still able to take full advantage. Jones went 8-for-14 with four doubles and five RBI for the week, including a 4-for-4 game against Jacksonville. On the season, Jones is batting .322 with two homers, 16 RBI and six stolen bases.
James Gillheeney - Tacoma Rainiers (AAA)
With all the offensive firepower in Tacoma this season, it is easy to forget about just how good the pitching staff has been as well. Gillheeney, who was recently promoted from Double-A Jackson, was solid for Tacoma this week, going 2-0 with a 2.84 ERA and 16 strikeouts in 12.2 IP.
Gillheeney is doing his best to make sure his name is included with the other big-name pitching prospects on the Rainiers staff.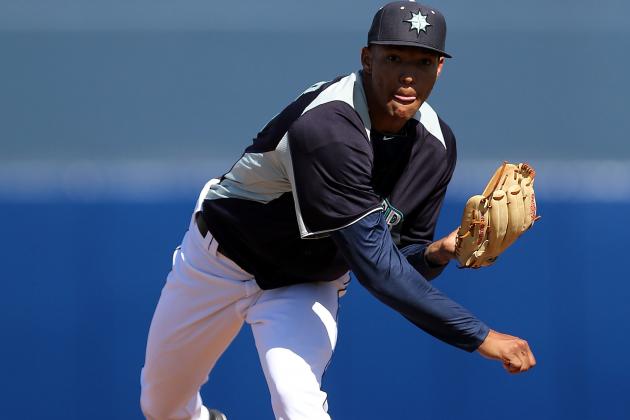 Christian Petersen/Getty Images

Taijuan Walker continues to show the world that he may have outgrown the competition in Double-A Jackson this season.
Walker only made one start this week, but he made sure to make it an emphatic one. Walker got the win against Jacksonville, throwing six innings while only allowing one run and three hits while striking out seven.
His command continues to be an issue, as he has issued 20 walks over 35 innings pitched this season, but that is essentially the only blemish on what has been an otherwise fantastic 2013 season for Walker.
It would be a shock if Walker doesn't find himself in Tacoma soon.
Stock: Up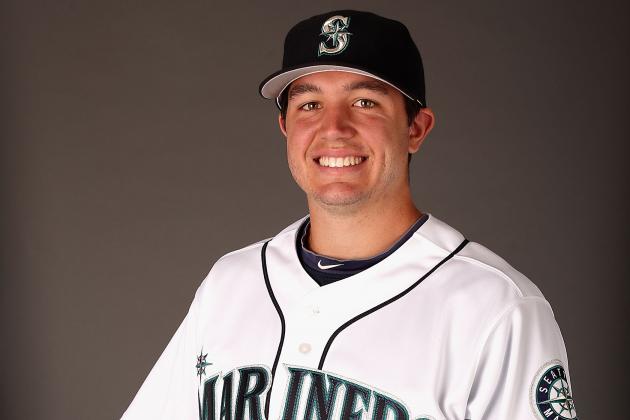 Christian Petersen/Getty Images

Danny Hultzen had been nothing short of spectacular at Triple-A Tacoma, that is, until he got scratched from a start with some shoulder discomfort.
After getting checked out, Hultzen was put on the shelf with a rotator cuff strain and tendinitis in his left shoulder which will keep him out for at least a month.
Not the best news for Mariners fans, especially with the struggles in Seattle's rotation. Mariners fans can now only hope that Hultzen heals up well over the next month.
Stock: Down
Christian Petersen/Getty Images

Zunino has been an interesting case this season.
Zunino's splits are bizarre, as he is batting .050 (2-for-40) in Tacoma this season, but is hitting .341 (15-for-44) on the road. There really is no explanation for this, it's just one of the odd quirks that makes baseball the game that it is.
This past week, Zunino went 2-for-20 with a triple and two RBI. Normally this would be frowned upon and warrant a downward stock report, however, those two hits were Zunino's first at home this season. Mariners fans are hoping that those hits will be just the beginning of many for the young catcher.
Zunino has all the talent in the world, so don't expect his current .202 average to stay that way for long.
Stock: Hold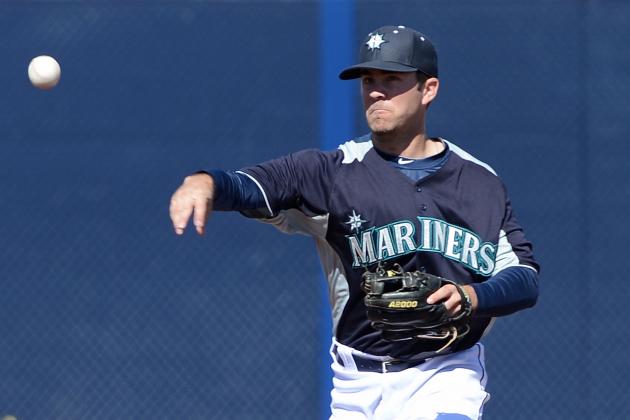 Jennifer Stewart/Getty Images

Nick Franklin may be the most polarizing prospect the Mariners have right now.
With Brendan Ryan and Robert Andino's continued offensive struggles, many people are calling for Franklin to get the call to the big leagues as soon as possible.
Franklin isn't making it easy for the Mariners either as he continues to crush Triple-A pitching. His recent tear has earned him recognition across baseball, and he even made his debut on Jim Callis' Top 10 Prospect List on ESPN (Insider Only).
Franklin did slow down a little this week as he hit just 5-for-25 with one RBI and no extra-base hits, and has failed to record a hit since May 1 against Tucson. Just consider it a little bump in the road on what has otherwise been a great start to the 2013 campaign for Franklin.
Stock: Hold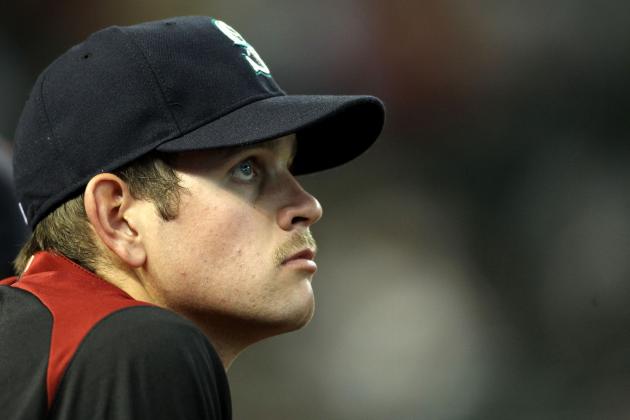 Christian Petersen/Getty Images

It has been a tough start to 2013 for James Paxton, but things are finally starting to look up for the hard-throwing lefty.
Paxton still has a 5.19 ERA on the season for Tacoma, but he is coming off his best start of the season this past week. Paxton shut down the Reno Aces over five innings, allowing just one run on two hits while striking out a season-high nine batters.
More importantly, Paxton only walked one batter in that start, which was the fewest he had issued since his first start of the season. People would obviously like to see Paxton pitching deeper into games, but his last start was a good sign that Paxton is finding his rhythm again.
Stock: Up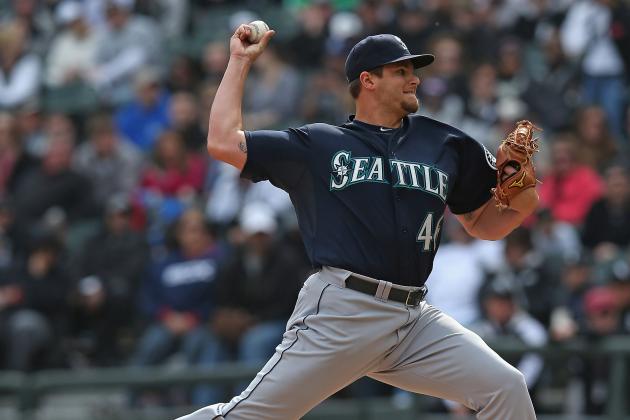 Jonathan Daniel/Getty Images

Stephen Pryor remains on the DL after tearing a muscle in his back in the middle of April.
Before getting hurt, Pryor was lights out for the M's, appearing in seven games and not allowing a run in 7.1 innings.
The Mariners bullpen has been solid all season, and the return of Pryor will only make it better. That being said, Pryor has no reason to hurry back, as the Mariners would rather him heal up 100 percent before seeing him back on the mound.
Stock: Hold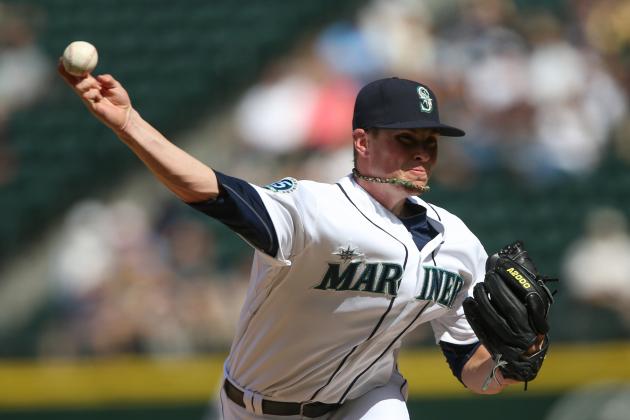 Otto Greule Jr/Getty Images

The hard-throwing 22-year-old from Kinston, N.C., has been solid for the M's so far this season and has responded nicely after a pair of rough outings back in April.
Outside the five runs Capps allowed in those two appearances, Capps has only given up two runs in 9.1 innings pitched over eight appearances.
Last week, Capps threw 3.2 innings, allowing only one run and striking out five. He has emerged as the primary set-up man for Tom Wilhelmsen and has continued to dominate against right-handed hitters, striking out 18 of the 46 he has faced.
Capps is quickly establishing himself as one of the Mariners' best options out of the bullpen.
Stock: Up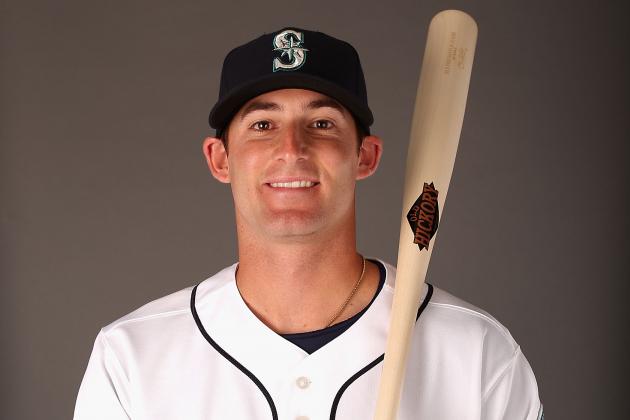 Christian Petersen/Getty Images

Brad Miller started off the season on fire, but has cooled off a little bit as of late.
Over the last week, Miller went 2-for-8 with no extra-base hits. However, Miller did score five times and was able to work five walks, including three in one game against Jacksonville.
Miller's big flaw right now continues to be his struggles against left-handed pitching, as he is hitting .194 for the season against them.
For the season, Miller is batting .281 with four homers and 18 RBI. If Miller can progress against lefties, it would not be a shock to see him in Tacoma before the end of the season, especially if Nick Franklin gets the call to the big leagues.
Stock: Hold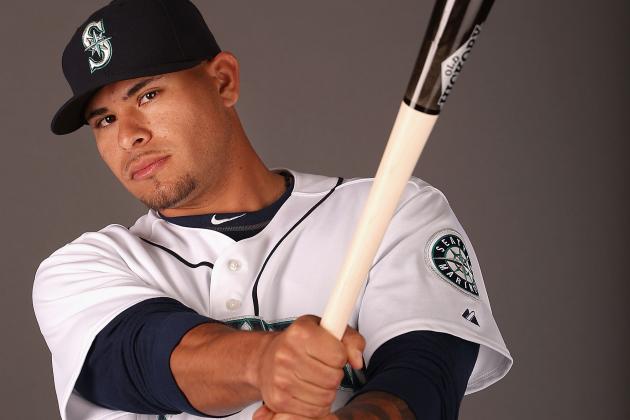 Christian Petersen/Getty Images

For a man who started the season on the disabled list, Stefen Romero is doing his best to quickly remind everyone just how dangerous he is with a bat in his hands.
Romero didn't have his best week as he only went 4-for-21, but three of those hits were for extra bases, including one home run. On the season, Romero is batting .294 with two homers and eight RBI in 13 games for Tacoma.
Simply put, Romero can flat-out hit, and could make for some very difficult decisions for the Mariners in the future. If not for his lack of a true position, Romero may have already hit his way to Safeco. Until then, Romero will continue to work in Triple-A until a roster spot becomes available.
Stock: Hold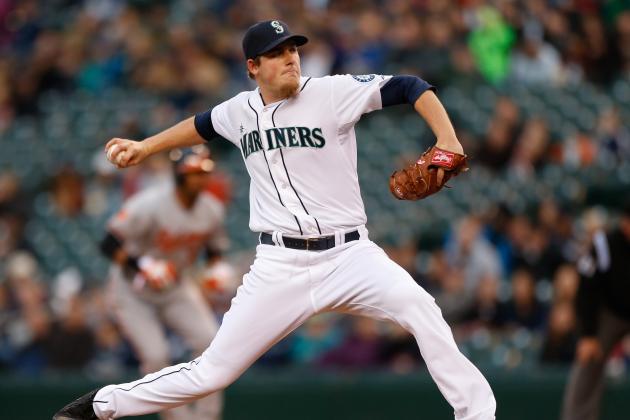 Otto Greule Jr/Getty Images

It has been a season of ups and downs for Brandon Maurer so far in 2013. After a tremendous spring training that earned him a spot in the rotation, Maurer was roughed up in his first two big league starts.
Maurer rebounded to record three consecutive quality starts before running into some issues against Baltimore this week.
Maurer lasted only four innings against Baltimore, allowing four runs on six hits while only striking out two. Maurer will undoubtedly experience some bumps this season, but the experience will be valuable moving forward for the young right-hander from Newport Beach, Calif.
In all reality, his start against Baltimore could have been a lot worse as he worked himself out of a few jams and actually helped keep the Mariners in the game. For now, Maurer stays put.
Stock: Hold