The Best Videos of Athletes Getting Hit in Face with a Ball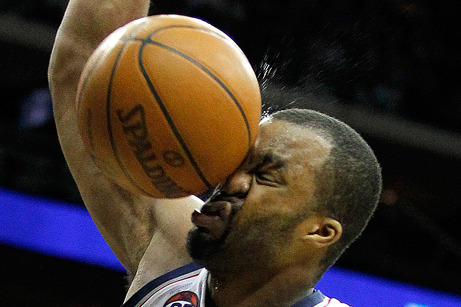 AP
Hey, it's bound to happen, right? Laws of probability. You got x number of athletes in a space that's y feet long by z feet wide. You have an average of q number of passes per game, r number of shots, s number of rebounds and t number of deflections. Then there are b number of instances of daydreaming (always a contributing factor), and c number of intentional, hot-tempered facially-directed lobs. It all adds up, folks.
Proof is in the slides that follow.
Begin Slideshow

»
Just a little visual FYI here so we can all better appreciate both the pliability and the resilience of the human face as we watch the coming videos.
OK, so not a terrific video. Yet, worth mentioning for two reasons: 1) Williams trots off after the basket, half proud for the dunk, half dazed from the impact, and half wondering if anyone noticed the self-inflicted facial. (Oh, we noticed Shelden. We noticed.) 2) Though this game was just after the New Year in 2012, it produced the most spectacular sports still shot of 2012.
And she remains standing! How about that!
Hey, time we all give cheerleaders their due props. They might wear mini-skirts and carry pom-poms, but these ladies are soldiers.
The "wall"—a sadistic and desperate defense. But often effective as Celtic striker Gary Hooper proves here.
Orlando's Kyle O'Quinn served up this Spalding sandwich to Nets' Andray Blatche in a January 28, 2013 matchup.
Former Arsenal defender Martin Keown suffered this indignity on live television while discussing the soon-to-be-played Arsenal vs. Leeds match for ESPN.
The alleged sniper, Leeds' Michael Brown, might need to work on his targeting skills though; Keown later claimed the shot was actually intended for the man beside him, Robbie Savage.
In this December 2011 USC vs. Illinois game, 6'2" Trojan Katie Fuller used her towering height to hammer a spike down on the Illinois squad.
Too bad for Fuller, Fightin' Ilini Liz McMahon has four inches on her and sent that wrath right back from whence it came.
Caroline Wozniacki got up close and personal with a service return in a February 2004 doubles match. She later tweeted about the incident:
Got a pretty hard ball in my face today in the doubles, hopefully i will not have a black eye tomorrow!

— Caroline Wozniacki (@CaroWozniacki) February 4, 2011
Told in comic book form:
Panel Frame 1: Messi rocketing down the field. [Fwooooosh!]
Panel Frame 2: Colombia player #13 knocking into him... [Thunk!] ...and knocking him down. [Oof!]
Panel Frame 3: Colombia player #8 clearing the ball... [Pip!] ...into Messi's face. [Whumph!]
Panel Frame 4: Messi assuming the fetal position. [Eeeeeeeeee!]
A cautionary tale about negative returns on investments starring Jarrad McVeigh of the Sydney Swans as the foolhardy protagonist and Nathan Fyfe of Freemantle as the enterprising villain.
Nadal got a bit hungry during the second round of the 2004 US Open. Roddick obliged his opponent with a tapa served at about 140 mph.
Proof that volleyballs are sentient and they hate mankind.
A goalkeeper saves face by making the easy saves. He saves with his face to make the tough saves.
The best part of this is Jameer Nelson (Orlando #14), who apparently didn't see the facial, windmilling his head in search of the vanished ball.
Scary, this video with the stretcher and all. Seems like MacKenzie of the West Coast Eagles may have shuffled off the mortal coil. Turns out he was fine—didn't even show any concussion-like symptoms.
Just a clean, straight up KO by the football with an assist by its kicker Rhys Stanley of the St. Kilda Saints.

White team player #27 has got some chutzpah. Love how after delivering the second facial she tries to zip off with the ball, then acts surprised when the ref blows his whistle.
While some use a machete to cut a trail through thick coverage, Iverson finds an inflatable rubber orb to be far more effective.
Keep your eye on the ball Francisco, and you'll snag that rebound. Don't keep your eye on the ball Francisco, and the ball will get in your eye.
Lehmann once said he knew the secret to shutting Ronaldo down on the field. Ronaldo hit back with this:
"The reason he knows me is because I keep knocking goals past him."
All that nasty banter makes you wonder if Ronaldo's shot in this video found its true mark after all.