5 Biggest Questions Surrounding the New Jersey Devils This Offseason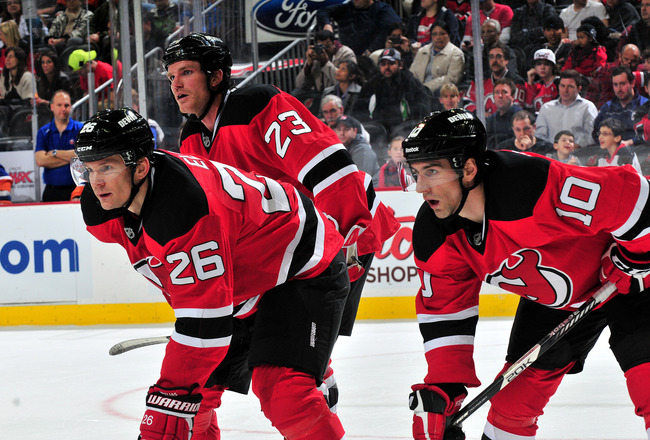 Norman Y. Lono/Getty Images
The New Jersey Devils have a long wait ahead of them while they sit idly by as the playoffs progress this season. An extremely disappointing season resulted in the club missing the playoffs for just the second time since 1996.
With lots of players becoming free agents and a number of question marks around the team, management should have their hands full for the next two months, but some questions are more pressing than others.
What's going to have the biggest long-term effect on the team? Whom can they afford to lose? These are the five biggest questions facing the Devils this offseason.
5. With Which Veterans Should the Team Cut Ties?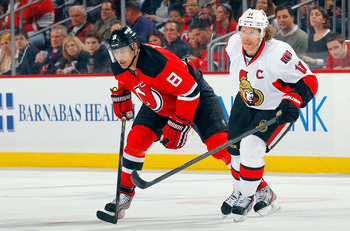 Jim McIsaac/Getty Images
The Devils are an aging team. This is best exemplified by the 80-year-old goalie tandem, but all over the roster, skaters past their peak are slowly losing their ability to keep competing.
A handful of these vets will be free agents: The contracts of forwards Dainius Zubrus (34), Alexei Ponikarovsky (33), Steve Sullivan (38) and defenders Marek Zidlicky (36) and Peter Harrold (29) are all set to expire.
On top of them, there are veterans like Bryce Salvador and Anton Volchenkov who still have contracts with the team, but whose play has been unsatisfactory.
General manager Lou Lamoriello will have a lot of tough choices to make, especially while trying to ensure all his talent hit under the salary cap. Odds are, though, that at least a couple of the older free agents make their ways to other teams as the Devils search for up-and-comers to fill the roster holes.
4. What Magic Is Lou Going to Do?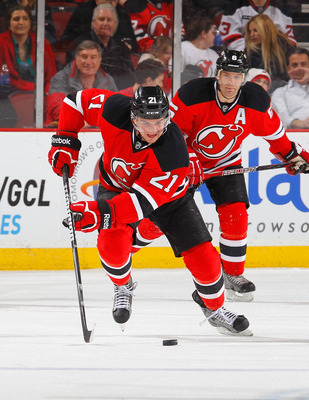 Jim McIsaac/Getty Images
Lou Lamoriello has worked up quite the reputation. A member of the Hockey Hall of Fame and the U.S. Hockey Hall of Fame, the Devils' longtime GM has pulled off a number of deals during his tenure that greatly benefited the team. After all, this is the man who built three Stanley Cup teams; he knows a few tricks.
Well, fans could really use one of those tricks now. After the 2011-12 season, the Devils lost their captain and best player, Zach Parise. The team clearly felt his absence this season, and the inability to fill the holes in scoring and two-way play left by Parise is a large reason why the team did so poorly.
Now, the Devils are facing the possibility of losing a top offensive player for nothing again, with free-agent David Clarkson hitting the market.
The window for a cup is closing quickly, and Marty is no longer the goalie who could steal a cup; soon he may not be able to steal a series. Something dramatic needs to happen soon, and that's where Lou comes in.
It could be a trade, it could be a signing, it cold be a prospect. It doesn't really matter where it comes from, but something needs to rejuvenate this team and give it the fire to play one more season for Marty.
The team came close by making the finals last year, but Lou can't be happy with second place.
Simply put, Lou needs to pull off something to boost the team before everyone gets too old and the time has passed. He needs a wild card, and he's just the man who can usually find them.
3. What Is Patrik Elias' Future with the Team?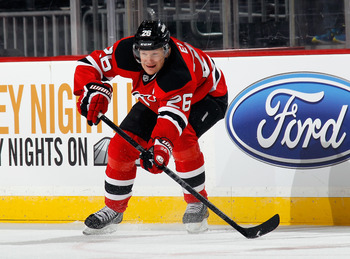 Bruce Bennett/Getty Images
Patrik Elias has had a glorious career with the Devils.
As part of the A-line, alongside Jason Arnott and Petr Sykora, Patrik enjoyed great success on one of the best lines in the league. The line was together for the 2000 Stanley Cup run and the 2001 finals run. And though the line broke up, and Arnott and Sykora moved on (and returned, and moved on again), Elias stayed a crucial part of the team. He helped segue the team from the Scott Stevens, Ken Daneyko era into the Brian Gionta, Jamie Langenbrunner Devils and then into the Zach Parise and Travis Zajac period.
Indeed, if all of those times weren't also overseen by Martin Brodeur, Elias would be known around the league. Though not born with world-class talent, Elias has exceeded through a combination of determined, great work with a brilliant head for the game.
And now Elias will be a free agent.
It's not the first time Elias has faced free agency, and there isn't particular cause to worry he might depart, but it won't necessarily be easy. Elias currently has a cap hit of $6 million per season, and while that's sure to go down, Elias needs to be reasonable in his expectations. He's a very old player, and on top of that, he should be trying to help the team.
Assuming things can be worked out though, this question should be resolved fairly quickly. There's no doubt Elias likes playing in New Jersey.
2. Do the Devils Need to Make Any Goalie Changes This Season?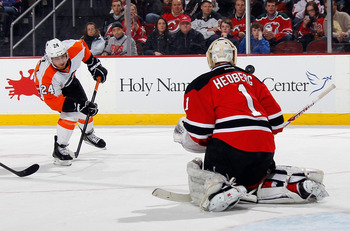 Bruce Bennett/Getty Images
It's a perennial question for the Devils: Is this the year they start to transition away from Martin Brodeur?
Well, it would make a bit of sense. Brodeur will be turning 41 soon, and his ability is starting to reflect his age. Marty put together a decent season in 2013, but that was in an already shortened season during which he missed time to injury.
Brodeur is under contract for another season and will almost certainly stick around. The larger question should be around backup Johan Hedberg, who, after signing a two-year deal at the same time as Brodeur, looked significantly worse this season. After a year where his save percentage was well south of .890, Hedberg has shown that he's not the goalie he used to be.
The team should be looking at other options, and probably already is. The question is, who will be the man who emerges as the next starting goalie once Marty is gone. That doesn't necessarily have to be answered this season, but they're running out of time.
1. What's Going to Happen to David Clarkson?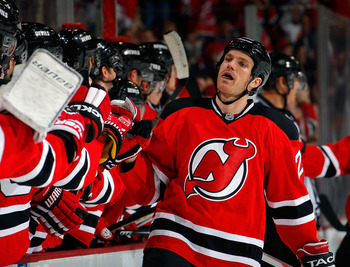 Paul Bereswill/Getty Images
Before everything else, there is a pressing matter that could affect the team for years to come.
David Clarkson scored 30 goals last season, and started out on an even hotter pace this season. After years of playing the role of enforcer and tough guy, Clarkson has developed a scoring touch that makes him a dangerous threat whenever he's on the ice.
Additionally, his toughness and physicality give him a mix that few in the league can boast. He's as gritty as they come, and he fights hard for those goals.
And now he's becoming a free agent.
Clarkson has benefited heavily from playing for the Devils. He grew as a player under Jacques Lemaire and then dramatically improved his game under the next Devils head coach, Pete DeBoer, who coached Clarkson in juniors.
Clarkson is also a fan favorite for the Devils, as his rugged play and ability to agitate endear him to many hardcore fans.
But as much as Clarkson benefits from playing for the Devils, they also benefit from having him.
After Zach Parise left, Clarkson became one of the players who would be relied on for offense. He needs to fill in some of those 30-plus goals that Parise would be adding each season. And should the Devils lose him, it would simply be too much talent leaving the team too quickly. The Devils would be left unable to compete with the real teams.
David Clarkson might not spend the whole season as a Devil, but it is crucial to the stability of the team that management re-sign the forward for more than a season or two. They need to ensure that the Devils are still a team worth rooting for.
Keep Reading

New Jersey Devils: Like this team?