Biggest Lessons Learned from Start of Pittsburgh Penguins' Playoff Campaign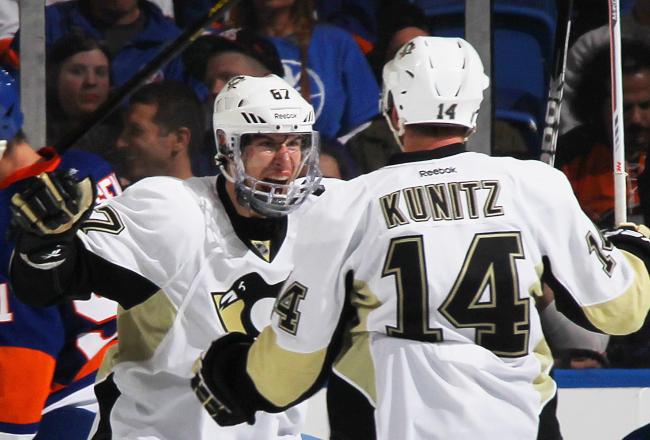 Sidney Crosby and Chris Kunitz celebrating.
Bruce Bennett/Getty Images
They've struggled to contain the hungry New York Islanders, but the Pittsburgh Penguins own a 2-1 lead in their first-round series. Among the biggest lessons learned through three games is that the top-seeded Penguins cannot coast through this series.
Even without Sidney Crosby, the Penguins dominated Game 1 in Pittsburgh. Beau Bennett opened the scoring in the series with a power-play goal just three-and-a-half minutes into the first game.
Pascal Dupuis, Kris Letang and Tanner Glass all lit the lamp to lead the Penguins to a commanding 5-0 win in the first game.
The Islanders fought hard. They matched the Penguins' 26 shots and out-hit them 35-33, but Marc-Andre Fleury turned away all of their chances. A big reason for the Penguins' series-opening shutout was the shutdown of star Islander John Tavares.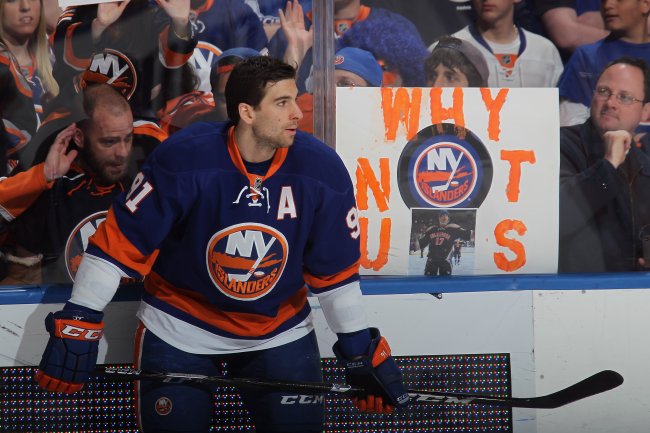 Bruce Bennett/Getty Images
In Game 1, Tavares was on ice for over 17 minutes and didn't register a single shot on goal. Compare that to Game 2 and Game 3 where Tavares totaled nine shots on goal, as well as an assist in Game 2 and a goal in Game 3.
Instead of allowing the Penguins to continue to dominate after Game 1, Tavares and company willed their team back into contention.
Kyle Okposo, for example, was a big factor for the Islanders in Games 2 and 3. He scored the game-winning goal to tie the series at 1-1 and scored a crucial shorthanded goal in Game 3—all after registering a single shot and no hits in Game 1.
The Penguins may have the most star-studded roster in the NHL, but that isn't enough to win the Stanley Cup. If these first three games are any indication, a key to success is shutting down the opposition's stars and allowing their own to shine.
The other biggest lesson the Penguins have learned in the first bit of their Stanley Cup campaign has been the importance of special teams.
Throughout the first three games of the series, the Islanders have had 11 power-play opportunities. Of those, they've only converted on one. Matt Moulson scored his team's first goal of the series 7:04 into Game 2 while Deryk Engelland was in the box for cross checking.
Continued success on the penalty kill is necessary for the Penguins to thrive in the playoffs. They're playing a much tougher and hard-hitting game than in years past. That could prove to be a key adjustment in their game, but it also means they'll be taking more penalties.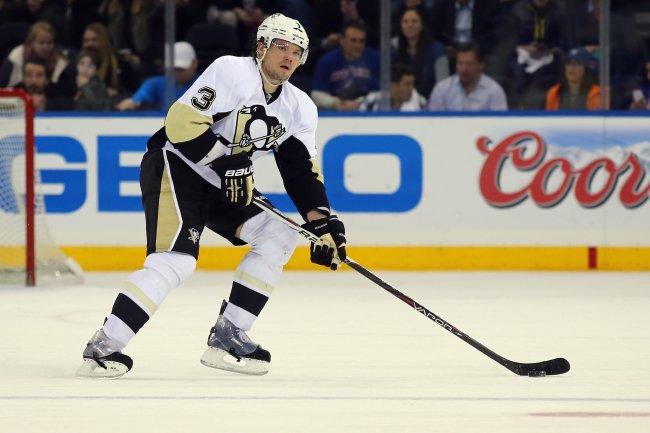 Bruce Bennett/Getty Images
Douglas Murray and Matt Cooke are among the team's leaders in hitting and have been key in wearing down the Islanders' top players. At the same time, they've also taken plenty of the team's penalties.
The Islanders' power play hasn't been very lethal this season, though. It will be interesting to see how these penalties affect the Penguins later in the playoffs.
Their power play has seen just as much success. Of the 13 power plays they've had, they've scored on six. During the regular season, their 24.7 percent conversion rate on the man advantage was second best in the league. With that in mind, it's not likely they'll continue to score on nearly half of their power plays.
With all their scoring and playmaking talent, it's going to be hard to slow the Penguins' outstanding power play.
Evgeni Malkin and Crosby have been driving forces on the man advantage. They combine for eight power-play assists so far—three of which are primary assists. Jarome Iginla has also shown he can either finish the play or make the pass that turns into a goal in power-play situations.
Chris Kunitz's game-winning overtime goal in Game 3.
It was the power play that helped the Penguins rebound in Game 3. After the Islanders took Game 2, they came storming out to take a 2-0 lead within six minutes of Game 3. However, Iginla and Chris Kunitz answered with two power-play goals 19 seconds apart to tie the game.
A loss in Game 2 might have been good for the Penguins. They're clearly favorites in the playoffs, but they cannot play on autopilot. The Penguins have what it takes to win the Stanley Cup, they just have to be consistent with their efforts.
Michael Prunka is a Bleacher Report Featured Columnist. Stay up to date with him by liking his Facebook page and following him on Twitter.
This article is
What is the duplicate article?
Why is this article offensive?
Where is this article plagiarized from?
Why is this article poorly edited?

Pittsburgh Penguins: Like this team?