Early Projections for the Tampa Bay Buccaneers' Final 53-Man Roster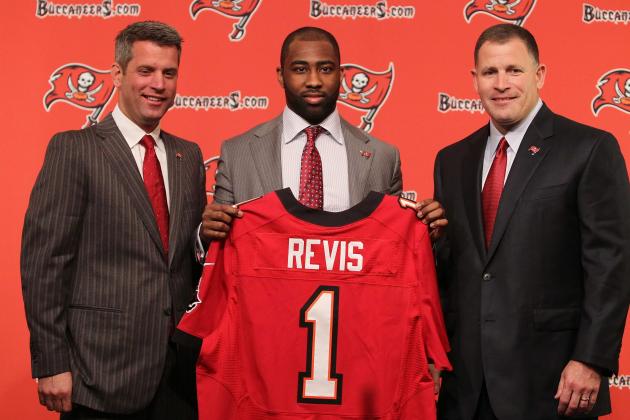 Kim Klement-USA TODAY Sports

It's only May, but it's never too early to make predictions for what the Tampa Buccaneers roster will look like in September. Nice cuts have been made and the total number of players has been trimmed down to 53.
The following slideshow goes over one man's predictions for how that 53-man roster will shape up, complete with analysis of each position.
And with that, it's time to sit back, relax and enjoy.
Begin Slideshow

»
Kevin C. Cox/Getty Images

Josh Freeman
Mike Glennon
Freeman and Glennon both making the roster is a no-brainer, as Freeman has been the Bucs starting quarterback for three full seasons (not including his rookie year when he did not start a game until November) and Glennon was selected in the third round of the 2013 draft by Tampa, so the team clearly thinks he's got some talent.
Unless the rookie has an incredible performance in training camp, Freeman will be the Week 1 starter. But since this is "Free's" last year under contract with the Bucs, it's possible that it could be Glennon starting in 2014 for Tampa.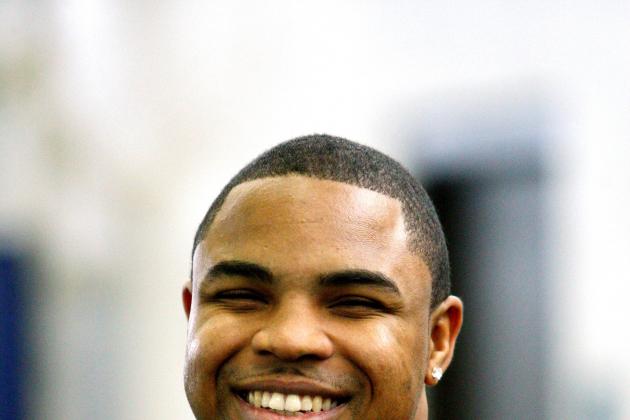 Brian Losness-USA TODAY Sports

Doug Martin
Brian Leonard
Michael Smith
Mike James
Jeff Demps
Erik Lorig (Fullback)
As of this article's publication, the Bucs have a whopping 10 running backs and fullbacks under contract (seven named on the team's official site, plus three undrafted rookie free agent RB/FBs that for some reason are not listed there).
No matter how you look at it, 10 running backs are just too many too carry on your 53-man roster.
Cuts are going to be made, but even then, the Bucs have too much talent at the position to want to go below six RBs.
Minus four UDFAs, who might make the practice squad, we'll have the six men listed above.
Doug Martin looks to use his sophomore season to move from being a fantasy darling into a bona fide superstar. He'll be backed up by free-agent signee Brian Leonard, sixth-rounder Mike James and second-year speedsters Jeff Demps* and Michael Smith.
*With Jeff Demps, there's always a chance he quits football to commit to running track full time. His desire to be both a track star and a football player is why the Patriots traded him.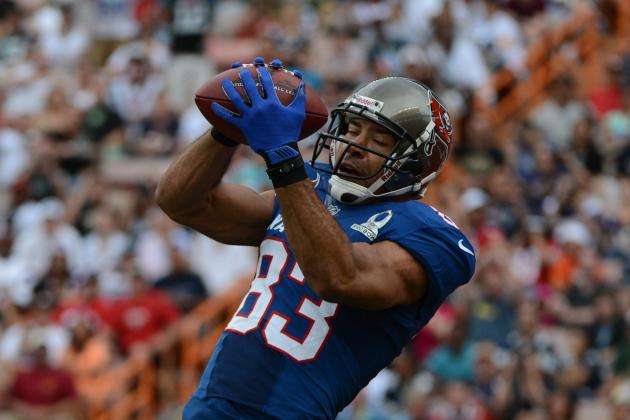 Kyle Terada-USA TODAY Sports

Vincent Jackson
Mike Williams
Tiquan Underwood
Kevin Ogletree
Steve Smith
Chris Owusu
At wide receiver, the Bucs have a rather top-heavy group of players.
The top is made up of Vincent Jackson and Mike Williams. Jackson joined the team last during free agency. His first year in Tampa was the best season of his career, at least statistically. Williams benefited from Jackson's presence, recording career highs in receiving yardage and yards per reception. Together, they provide Josh Freeman with two great options on the outside.
The rest of the receiver corps is rounded out with less-noteworthy names. Tiquan Underwood played the slot last year for the Bucs, but didn't have much chemistry with Freeman. Owusu appeared in five games in pewter.
In free agency, Tampa added ex-Cowboy Kevin Ogletree and the other Steve Smith, as in the one who was on the Rams in 2012.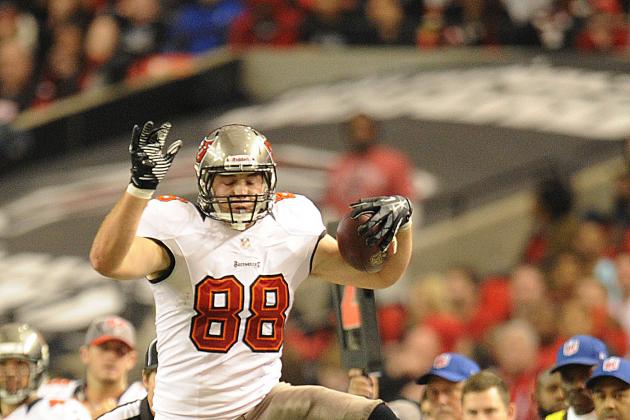 Kevin Liles-USA TODAY Sports

Luke Stocker
Zach Miller
Tom Crabtree
Danny Noble
Tight end is far and away the Bucs' weakest position.
The likely starter is Luke Stocker, who has a meager 28 receptions in his NFL career. He's a good blocker, though.
Then we have Zach Miller, a former Jaguar, Tom Crabtree, an ex-Packer and sophomore Danny Noble, who flashed potential in the preseason but was injured after four games in the regular season.
Because of the lack of a true starter at tight end, there's no way of knowing for sure what the position will look like in Tampa come September.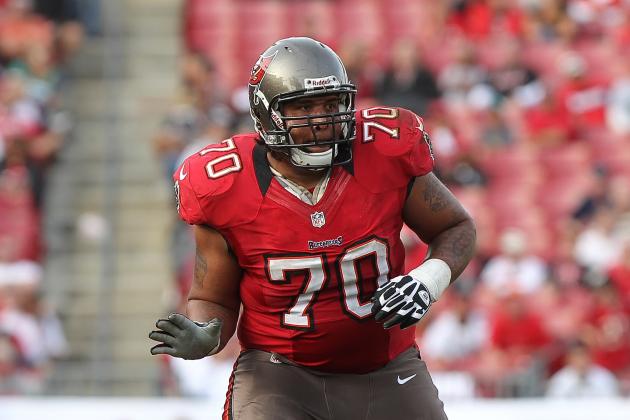 Kim Klement-USA TODAY Sports

Donald Penn
Demar Dotson
Jamon Meredith
Derek Hardman
Donald Penn is a top-10 left tackle, and right tackle Demar Dotson seemed to improve each time he stepped on the field. He won the starting job in 2012 after Jeremy Trueblood was demoted.
Jamon Meredith and Derek Hardman provide versatility, as they can play guard or tackle.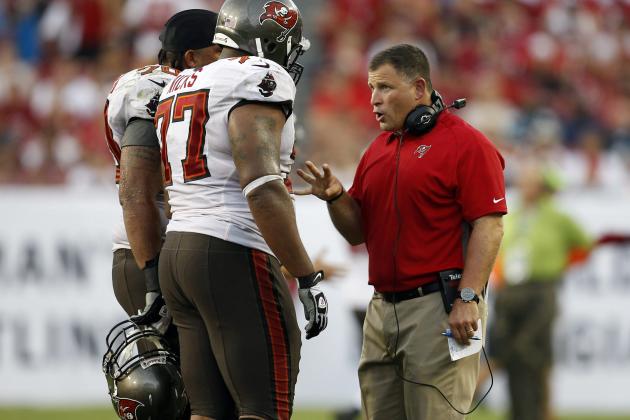 Matt Stamey-USA TODAY Sports

Carl Nicks
Davin Joseph
Desmond Wynn
Last year, the Bucs had one of the league's best guard tandems in Carl Nicks and Davin Joseph.
Unfortunately, Joseph landed on the injured reserve list in the preseason, and Nicks suffered a season-ending injury in the middle of the season.
With both of them healthy, the offensive line will improve exponentially.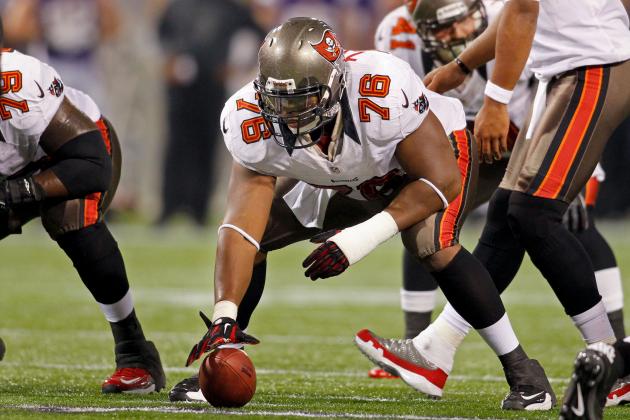 Bruce Kluckhohn-USA TODAY Sports

Jeremy Zuttah
Ted Larsen
When the starting guards fell to injury, it was Jeremy Zuttah who had to step up and take charge of the offensive line. He and Donald Penn were the only two O-linemen to begin and end the season as starters.
Ted Larsen is versatile, as he can fill in at either guard or center.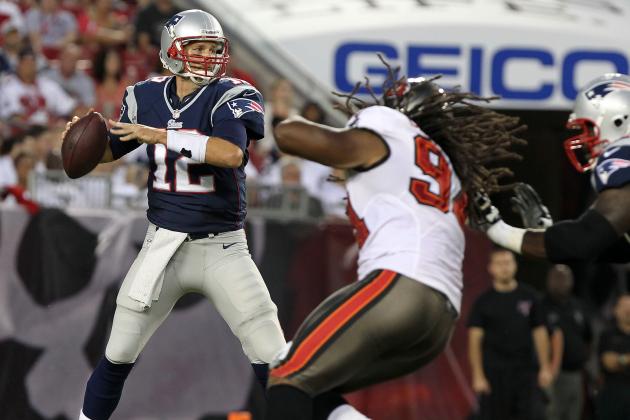 Kim Klement-USA TODAY Sports

Adrian Clayborn
Da'Quan Bowers
Daniel Te'o-Nesheim
William Gholston
Steve Means
The Bucs have a lot of potential at defensive end, but not a lot of certainty.
Adrian Clayborn had a fantastic rookie season in 2011, then had a season-ending injury early in 2012. When healthy, he brings a good balance of run-stuffing and pass-rushing to the table.
His replacement at right end was Daniel Te'o-Nesheim, who filled in nicely in his absence. Te'o-Nesheim's improvement over the course of the season was very apparent.
Da'Quan Bowers hasn't played a lot in his two-year career, but the potential is there, just as it is with rookies William Gholston and Steve Means, both Day 3 picks who can contribute in the rotation.
Kyle Terada-USA TODAY Sports

Gerald McCoy
Gary Gibson
Akeem Spence
Corvey Irvin
In Gerald McCoy, Tampa has one of the league's best defensive tackles—behind Geno Atkins, but able to make a strong case for No. 2. His ability to move the line of scrimmage backwards even when double-teamed makes him special.
Starting opposite him will be either Gary Gibson, who played all 16 games for the Bucs in 2012, starting one, or Akeem Spence, the team's fourth-round draft selection.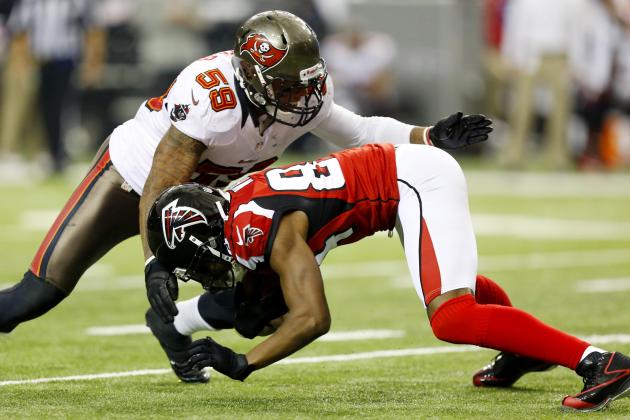 Josh D. Weiss-USA TODAY Sports

Mason Foster (Middle linebacker)
Lavonte David (Weak-side linebacker)
Jonathan Casillas (Strong-side linebacker)
Adam Hayward
Dekoda Watson
Najee Goode
Lavonte David is a prototype for the weak-side linebacker position, a true standout. In his rookie season, he recorded 139 total tackles, two sacks and an interception. His has a penchant for generating tackles in the backfield.
Mason Foster took some steps forward last year at middle linebacker and should continue to do so in 2013.
New addition Jonathan Casillas, a former New Orleans Saint, looks to capture the starting job at strong-side linebacker.
Solid depth is provided by Adam Hayward, Dekoda Watson, and Najee Goode.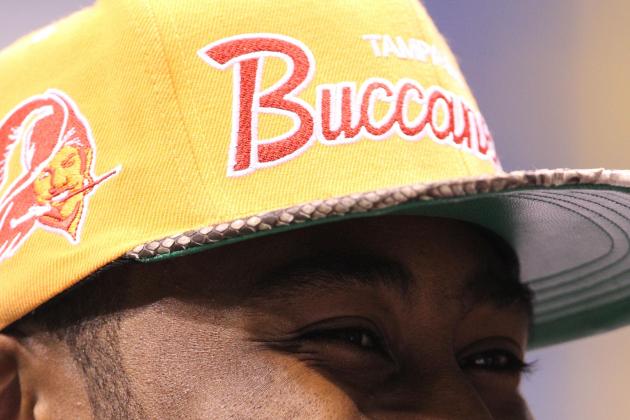 Kim Klement-USA TODAY Sports

Darrelle Revis
Johnthan Banks
Eric Wright
Leonard Johnson
Danny Gorrer
Anthony Gaitor
After the Bucs landed Darrelle Revis in a trade with the Jets, the entire defense improved exponentially.
He is, after all, far and away the best cornerback in the NFL, assuming he can get back to even half strength after recovering from his ACL tear.
Either second-round draft pick Johnthan Banks or Eric Wright will be starting opposite Revis. In nickel packages, it'll likely be Revis and Banks on the outside and Wright in the slot, where he plays best.
Leonard Johnson, Danny Gorrer and Anthony Gaitor will all see the field as backups, and in the event of injury, can step in and play significant time, as Johnson and Gorrer both did last year.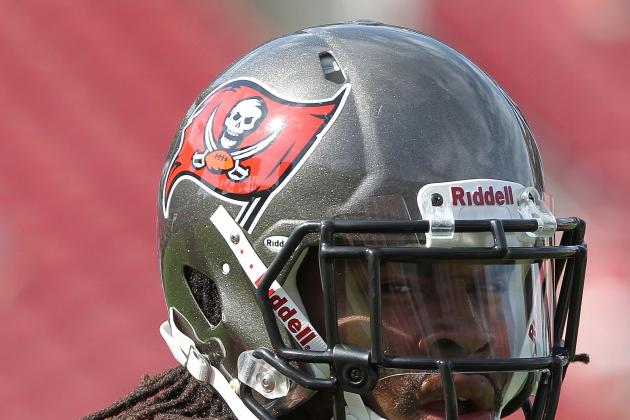 Kim Klement-USA TODAY Sports

Mark Barron (Strong Safety)
Dashon Goldson (Free Safety)
Ahmad Black
Cody Grimm
One of the most important moves in free agency 2013 was Tampa signing Dashon Goldson, the ex-49er. He's fresh off an All-Pro selection and has made the Pro Bowl two years running.
Mark Barron started all 16 games last year as a rookie. He can improve in coverage, but his run-stopping talent is incredible.
Ahmad Black and Cody Grimm look to see time in sub-packages.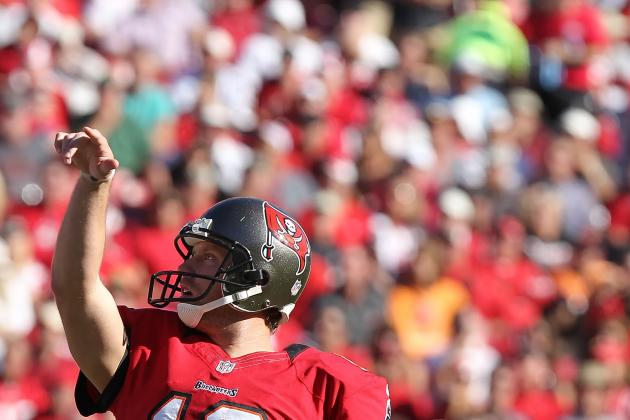 Kim Klement-USA TODAY Sports

Connor Barth (Kicker)
Michael Koenen (Punter)
Andrew Economos (Long snapper)
Connor Barth was 16th in the NFL in field-goal percentage last season, scoring on 28 out of 33 attempts. Three of those misses came from beyond 50 yards.
Michael Koenen continues to be a solid punter who can also do kickoffs.