Who's Hot and Who's Not for Toronto Maple Leafs in 2013 Stanley Cup Playoffs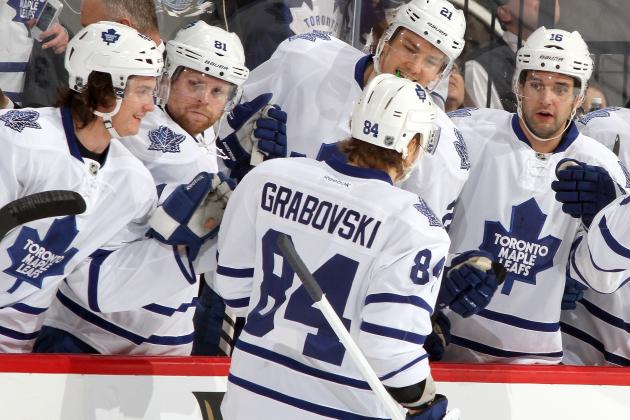 Jana Chytilova/Freestyle Photo/Getty Images
Despite a less-than-stellar opener for the team, some players have looked good throughout both games.
Two games into the 2013 NHL playoffs, and the Toronto Maple Leafs have accomplished their goal. The Buds managed to steal a game away from home and claim home-ice advantage from the Boston Bruins.
Games 1 and 2, however, were night-and-day performances for the Leafs.
Game 1 saw just about the whole team pull a disappearing act, while Game 2 provided the fans with just about all they could ask for.
Through the first two contests, some players have found themselves playing near the top of their game, while others have struggled early on.
Here are Toronto's hottest and coldest players through the first two installments of this Original Six series.
Begin Slideshow

»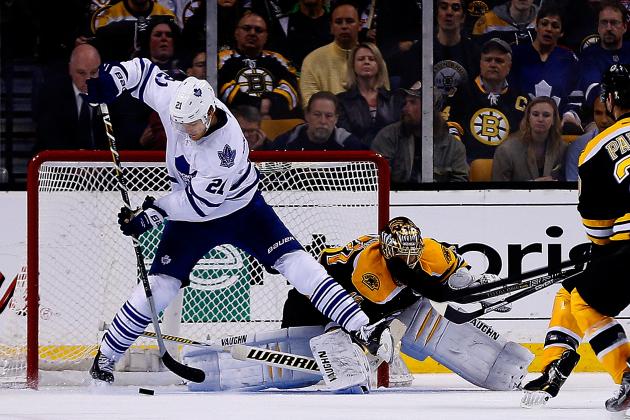 Jim Rogash/Getty Images
James van Riemsdyk has been Toronto's best player so far this postseason.
There's no denying that James van Riemsdyk has been great in Toronto's first two tilts with Boston.
The 24-year-old winger was the only Leafs player to tally a goal in Game 1, and he added another for insurance in the dying minutes of the second game, pretty much icing it for the Leafs.
Being one of the only Leafs who showed up in Game 1, plus his goal in Game 2—as well as the other chances he helped create—proves that van Riemsdyk is one of the hottest players on the team early on.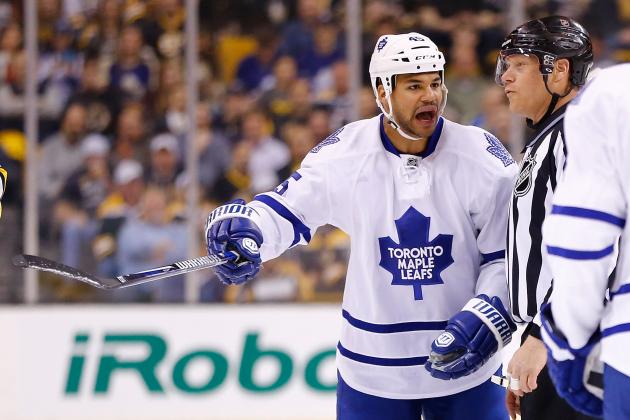 Jared Wickerham/Getty Images
Mark Fraser has struggled early on in the postseason, despite having a solid 2013 campaign.
After finally establishing himself as a top-six-type defenseman in the NHL during Toronto's regular season, Mark Fraser has had a rough go in the early stages of the postseason.
After placing second on the team in hits—and first in blocked shots, as well as plus-minus during the shortened 48-game campaign—Fraser has cooled off in a big way.
From turning the puck over, to being embarrassed by opposing forwards, Fraser is struggling (he's given the puck away more than any other Leafs defenseman).
James Mirtle of the Globe and Mail summed it up best:
Mark Fraser not looking comfortable in postseason so far.

— James Mirtle (@mirtle) May 4, 2013
Hopefully, Fraser can get back to what he does best, staying back and using his size to clog the Bruins' shooting lanes and taking them off the puck in his own end.
The 2013 postseason has provided Mikhail Grabovski with a fair amount of vindication.
After struggling in the regular season and finding himself in head coach Randy Carlyle's dog house (though it's not cut and dry that he deserved to be there), Grabovski has been a consistent performer for Toronto through two games.
Easily the Leafs' top forechecker thus far, he found his way onto the scoresheet, assisting on James van Riemsdyk's insurance tally in Game 2. Thanks to his speed, Grabovski was able to get by most of the Bruins defense and then feed JvR for his second goal of the postseason (which can be seen above).
Grabovski's efforts can show up in the team's shot totals, where he ranks third, behind only Joffrey Lupul and James van Riemsdyk.
All this despite, taking a vicious head shot in the series opener and his fair share of hits throughout both games. As Bruce Arthur of the National Post tweeted, it seems like he isn't even fazed:
Theory: Mikhail Grabovski is made of a metal-like substance that draws other players to hit him, but makes him impervious to hits.

— Bruce Arthur (@bruce_arthur) May 5, 2013
If Grabovski can continue to play this kind of high-energy game, the Leafs could be a real threat to make a deep postseason run.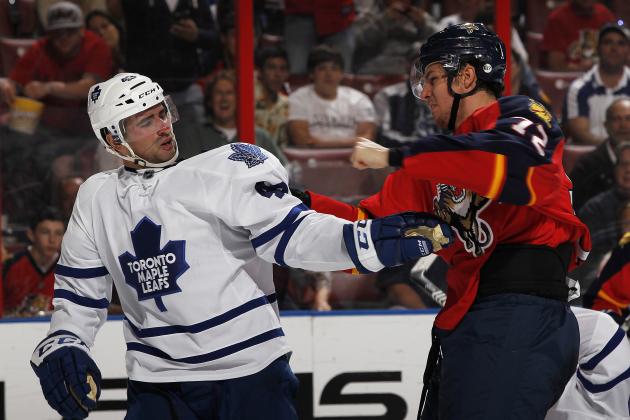 Joel Auerbach/Getty Images
While he improved his game Saturday night, Kadri still showed some errors in judgement.
While Nazem Kadri did have a decent bounce-back game on Saturday night, he still showed some signs of inexperience.
Picking up his first career postseason point and drawing a penalty proved that Kadri showed he was back on his game in a way.
He did, however, badly overskate a pass from Jake Gardiner early in the first period, as well as a pass from Phil Kessel on a Leafs odd-man rush.
Was Game 2 a bad one for Kadri? Not necessarily.
But when you couple it with Game 1's performance, there are still some kinks he needs to work out in his game.
In the next two slides, we'll include multiple players who only played in one of the team's first two playoff games.
For the "hot" slide, a tip of the hat must be extended to Matt Frattin and Ryan Hamilton for their emphatic returns to the Maple Leafs' top 12.
Both provided energy, as well as production, with both players notching an assist.
For Frattin, he was great with the puck, absorbing just about all contact thrown his way from the Bruins, and even managed to create a three-on-two down low, which ended up turning into Joffrey Lupul's second goal of the night.
The peanut gallery was unanimous in their praise for the youngster:
Great play by Matt Frattin sets up Joffrey Lupul for his second goal of the night.

— Chris Johnston (@reporterchris) May 5, 2013
Lupul again, and what a rush by Matt Frattin.

— Bruce Arthur (@bruce_arthur) May 5, 2013
That was quite a pass by Matt Frattin. #Leafs

— Tony Ambrogio (@SNTonyAmbrogio) May 5, 2013
Hamilton also found his way onto the scoresheet, assisting on Phil Kessel's breakaway goal, as he fed the puck to Nazem Kadri, who was able to send Kessel to the races with a beautiful stretch pass.
He was also involved in front of the net during a flurry of action that saw Toronto pick up a few really good opportunities in the second period.
Both Frattin and Hamilton made it tough for Randy Carlyle to justify sitting them again in Game 3.
Jared Wickerham/Getty Images
Clarke MacArthur's trobules in Game 1 earned him a spot in the press box for Game 2.
On the other hand, we have Clarke MacArthur and Mike Kostka.
While Kostka was sidelined thanks to an injury, it may as well have been because of his play.
Along with Mark Fraser, Kostka looked like the most overwhelmed player on the ice in Wednesday night's opener.
In Game 1, Kostka was an abysmal minus-three and could not clear the puck from the defensive zone.
As for MacArthur, he was limited to less than 13 minutes of ice time (see link above), while taking a penalty and providing absolutely no energy to a team that looked lethargic on the whole.
And thanks to the performances of the aforementioned Hamilton and Frattin, I wouldn't be anticipating returning to the lineup anytime soon if I was Clarke MacArthur.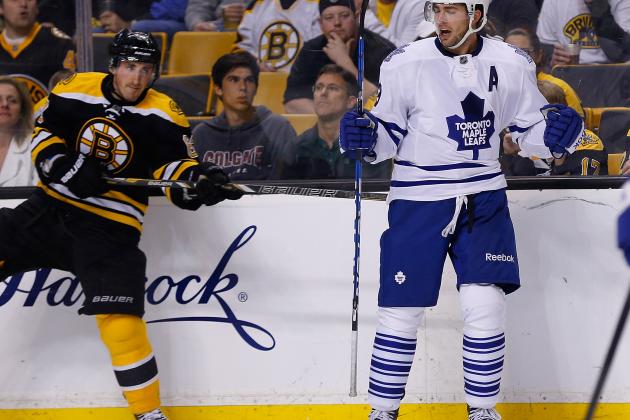 Jim Rogash/Getty Images
Joffrey Lupul's emphatic Game 2 propelled him to a spot on this list.
While Nazem Kadri wasn't quite good enough to escape the "not" title for me, Lupul did more than enough in Game 2 to find his way into the "hot" column.
After a forgettable Game 1, in which he posted a minus-two player rating, and only managed two shots on goal, Lupul was by far the best player on the ice on Saturday.
Lupul was constantly moving, rarely coasting, and ended up tallying two goals on eight shots, with a plus-two player rating by the time the final horn had sounded.
With Lupul being one of the oldest forwards on the team and one of the club's emotional, as well as production leaders, Toronto needed him to step up in a big way.
Him answering the call in the manner that he did has given Leafs Nation renewed hopes for this series as the battle shifts to Toronto.
Disagree with this list? Let it be known in the comments section below, or get at me on Twitter at Follow @JawnReid.
If you're on Twitter and want to talk Leafs, be sure to tweet #TMLtalk and tweet #Leafs.