Odds of Each Top 10 UFC Featherweight Capturing the Title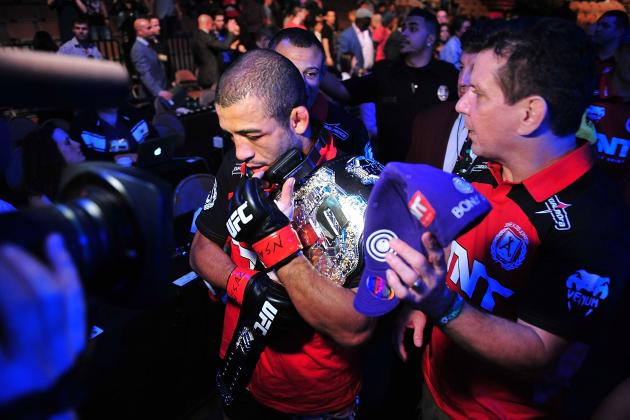 Gary A. Vasquez-USA TODAY Sports

The UFC currently employs a number of dominating champions, but few rule so absolutely as Jose Aldo rules the featherweight division.
Aldo won the WEC title back in 2009, became the first UFC champ at 145 pounds when the promotions merged in 2010, and has looked near-invincible over that span.
But of course, he's not invincible, and there is a capable stable of fighters are champing at the bit for their chance to dethrone him.
Here we assess the UFC featherweight class' current landscape, examining the title aspirations of each of the division's top 10 fighters, as ranked by the UFC.
Each contender has been tagged with a probability that identifies the likelihood of them ever gaining the strap. That probability is based on a number of factors, including ability, age and current station within the division.
Please note that while Anthony Pettis is scheduled to fight Aldo this summer; he is not ranked as a featherweight fighter, and consequently is not on the list.
Also note that each fighter's chances are informed by the speculation that Aldo may one day leave the division for lightweight. This means youth is especially valuable, since the road to the title five years from now may lack the biggest obstacle currently blocking it.
Read on to see who is most likely to don featherweight gold before they call it quits.
Begin Slideshow

»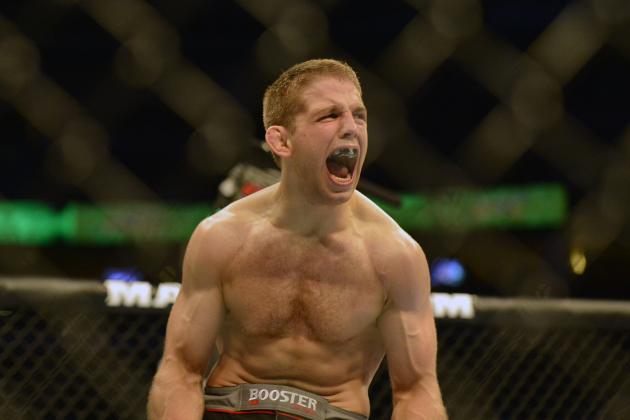 Ron Chenoy-USA TODAY Sports

For a guy who avoided defeat during his first seven Octagon appearances, Lentz has never received much attention. Granted, a draw and no-contest mean there are only five wins on that seven-fight unbeaten streak, but that's still an impressive way to get things rolling.
Lentz did eventually lose, twice in a row in fact, which prompted him to drop from lightweight to featherweight, where he has since posted a 2-0 record.
When you look at results in isolation, there is no reason to think Lentz isn't a title contender. But when you consider competition, and that Lentz has never shown the kind of athletic ability to make us think his ceiling is all that high, his odds diminish significantly.
How significantly? Well, here's how I see it.
Odds of capturing UFC featherweight title: 5 percent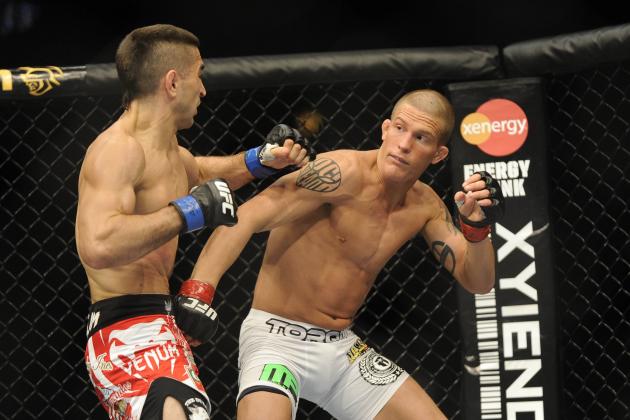 David Banks-USA TODAY Sports

In January, Koch returned to the Octagon for the first time in 17 months, losing to Ricardo Lamas. He fared well until the fight-ending sequence was enacted but now has some recovery work to do before launching a proper title run.
The good news is that Koch has tons of potential and ample time to make a charge, and those are two invaluable tools. At 24, he is just scraping the surface of his ability, and that's saying a lot considering the test he gave Lamas after such a lengthy layoff.
The landscape of any UFC division can change in the blink of an eye, but I expect Koch to be a mainstay on the featherweight rankings for years to come.
I also give him a legitimate shot at one day capturing the title. And since he'll be in his prime after Jose Aldo moves to lightweight, if that move ever becomes reality, so his chances are only amplified.
Odds of capturing UFC featherweight title: 33 percent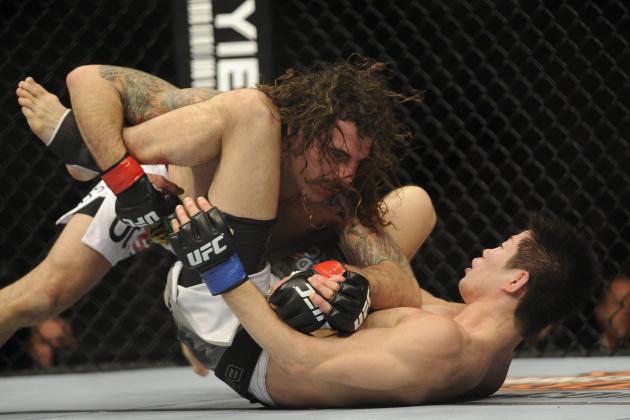 David Banks-USA TODAY Sports

Guida came just short of earning a title shot at 155, so there is reason to believe he could work his way into one at 145. His debut in the division was victorious, though it was a split decision, and one against Hatsu Hioki, who has hardly looked a top contender.
If Guida gets back to his old pressuring, grinding self, he is a legitimate title threat. If, however, he continues to temper his pace, it's only a matter of time before someone cuts his title run short.
Of all the fighters on the list, Guida may be the hardest to place. He's looked ordinary lately, but we know there is much more there.
Odds of capturing UFC featherweight title: 15 percent
Rafael Suanes-USA TODAY Sports

Poirier is 5-2 in the UFC, but each time he's been given a step up in competition, he's failed to capitalize. Still, he's only 24, so if he keeps developing, he could finally break through to that next level.
He's a well-rounded fighter who does everything adequately but nothing perfectly. With that kind of skill set it's usually the intelligence with which the fighter approaches each match that determines his overall success. So more than anything else, how Poirier matures as a mixed martial artist will inform his future in the UFC.
Perhaps Poirier's greatest asset for his title chase is youth. He has plenty of time left to make multiple runs, and if Jose Aldo eventually makes the jump to 155, he'll likely do so when Poirier is in his prime.
Odds of capturing UFC featherweight title: 22 percent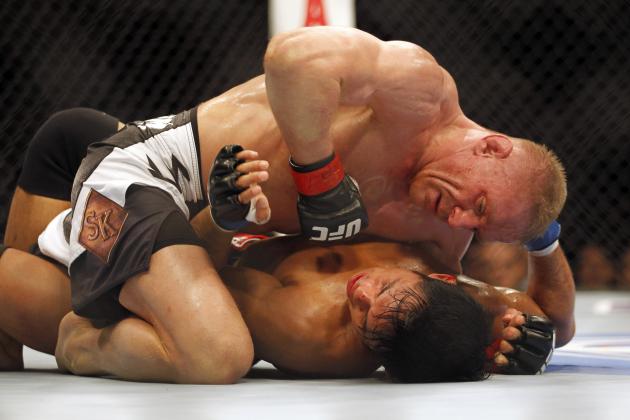 Joe Nicholson-USA TODAY Sports

There are a few featherweights who can already make a reasonable case to fight for the title in 2013, and if Siver defeats Cub Swanson this summer, he'll become one of them.
Since making the move from lightweight to featherweight, Siver has looked great. He's won two decisions at 145, but both have been over solid opponents, and both have been one-sided.
The German's striking acts as his primary weapon, but he's developed some impressive wrestling of late and employs a serviceable, if not spectacular, submission game as well.
Siver is 34, though, so any run at the title will likely end with Jose Aldo as the last stop, which could be something of an issue.
Odds of capturing UFC featherweight title: 12 percent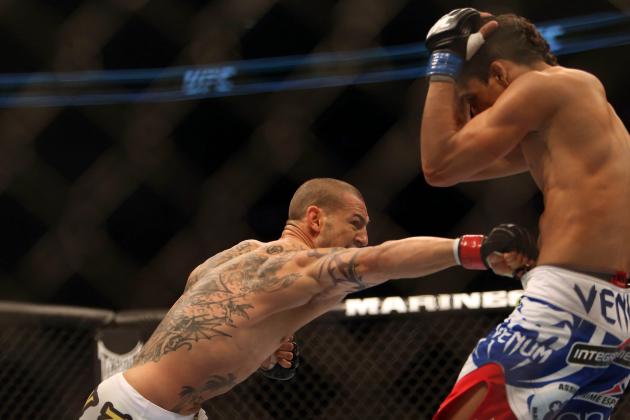 Tom Szczerbowski-USA TODAY Sports

Swanson has been a good fighter for a long time, but it wasn't until 2012 that he really became an impact competitor.
Now he is riding a four-fight win streak and has established himself as one of a handful of potential challengers to Jose Aldo's strap. Perhaps all that's left to do is defeat Dennis Siver this July?
Swanson wields a very complete skill set, but it's his explosiveness that really makes him special. Whether wrestling, striking or grappling, he approaches everything with a ferocity that debilitates opponents and ends fights.
Odds of capturing UFC featherweight title: 20 percent
Tom Szczerbowski-USA TODAY Sports

It's been nearly a year since Chan Sung Jung last competed, but an end to the layoff is in sight. On July 6 he will compete opposite Ricardo Lamas in what looks very much like a title eliminator.
"The Korean Zombie" burst into MMA's mainstream consciousness in 2010 by putting on one of the most reckless and aggressive performances in recent memory. Unfortunately, he lost the bout. His encore was also a loss, but the results incited him to adopt a more methodical and effective style.
Since tweaking his game, The Korean Zombie has looked outstanding, posting a 3-0 record inside the Octagon, all finishes.
He really seems to have hit his stride, and at just 26, he could remain a title threat for a long while—perhaps even after Jose Aldo exits the division for a move to lightweight, if that much-speculated day should ever come.
Odds of capturing UFC featherweight title: 33 percent
Gary A. Vasquez-USA TODAY Sports

How is it that a fighter with a 1-3-1 record over his past five contests, and one who is winless at featherweight, ranks as the division's No. 3 competitor?
A lot of very close title fights. That seems to have done the trick for Edgar.
Whether the former lightweight titleholder will ever replicate his success a division down remains to be seen, but given that his entry bid against Jose Aldo was not too successful, the odds of "The Answer" dethroning the current champ seem pretty long.
But then again, Edgar has made a career of beating long odds.
He's 31, which means he has a little time to return for another crack at the gold, but there is a good chance that any subsequent title run he makes will still end with Aldo, which is problematic.
Odds of capturing UFC featherweight title: 28 percent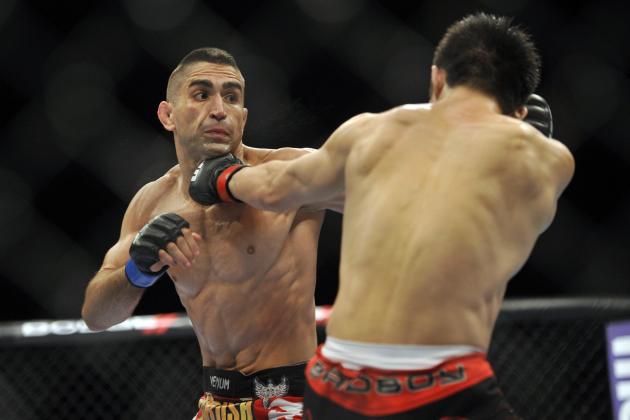 Joe Camporeale-USA TODAY Sports

Lamas' rise through the featherweight ranks has been relatively quiet, but he'll have the chance to really stamp his title application this summer when he takes on Chan Sung Jung.
A win there would make five straight, most of which have come over above-average opponents.
Lamas is 30, so a loss in July doesn't put his title aspirations to bed for good, but it's not like he has all the time in the world, either. His road to the gold will never be as clear as it is right now, so his chances in his upcoming match, and the potential title fight afterward, strongly inform his chances.
Odds of capturing UFC featherweight title: 24 percent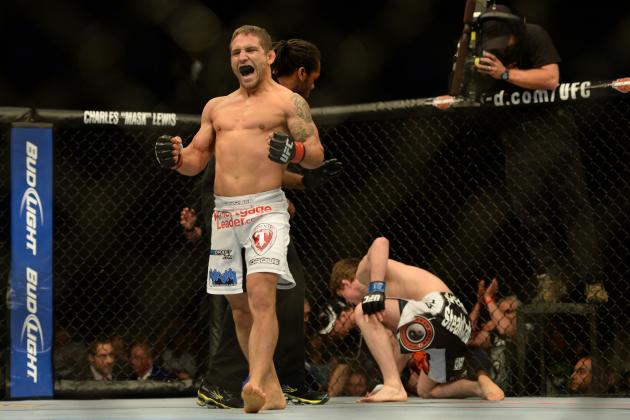 Kyle Terada-USA TODAY Sports

The only time Mendes has met failure during his MMA career was when he was knocked out by Jose Aldo in 2012.
With a trio of first-round knockout wins since the defeat, he has put together a pretty strong case that he deserves the opportunity to right that wrong.
With developing stand-up and dominant wrestling, Mendes looks like the ideal foil to Aldo. In fact, he may be the only current featherweight who has a legitimate shot at dethroning the champ. He may have been quickly knocked out by Aldo, but he was faring far better than most when things went south.
At 28, Mendes will factor into the featherweight title scene for the foreseeable future.
Odds of capturing UFC featherweight title: 50 percent