Kentucky Derby Results 2013: The Biggest Lessons Learned in Run for the Roses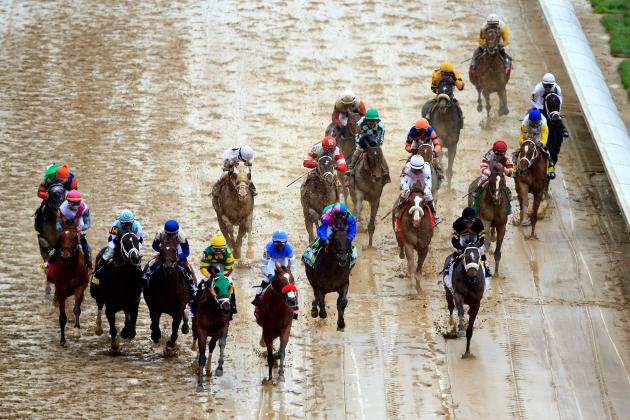 Jamie Squire/Getty Images

The day after the Kentucky Derby often feels like the walk of shame.
"I can't believe I bet on him last night. I'll never make that bet again. Never." Then it's off to IHOP to rehash what the heck happened.
The Derby only comes around once a year, so that gives us a chance to replay the previous night's festivities and possibly learn a thing or two to be better prepared for next year's melee.
So, c'mon, take a few aspirin, grab a Vitamin Water, put on your favorite pair of sweatpants and listen up, so you don't make the same mistakes next year.
Begin Slideshow

»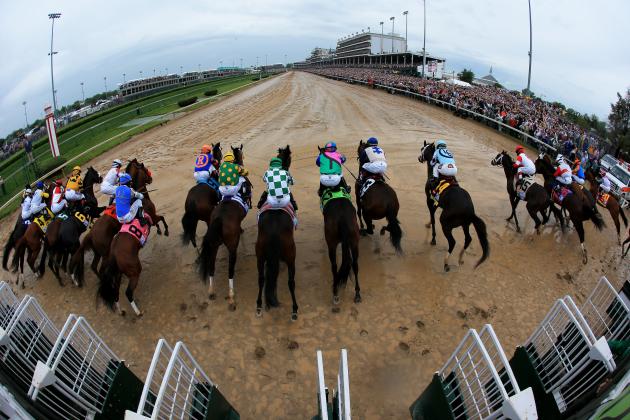 Doug Pensinger/Getty Images

Mud.
Many of these horses never ran in the slop before Saturday. Many never trained in the slop, but because it's the Derby, the trainers will not scratch. Why would they? It's the Derby.
How the horses will handle the mud is anyone's guess. There are Tomlinson figures that give you an idea of how a horse will handle the goop, but you just never know.
Some quality horses clearly don't care for the mud and may run gangbusters on a fast track but throw in complete clunkers on an off-track. Verrazano is your perfect example. He hated this track—not to mention he was towed along in a suicidal pace scenario. This once-holy horse finished ahead of only five horses.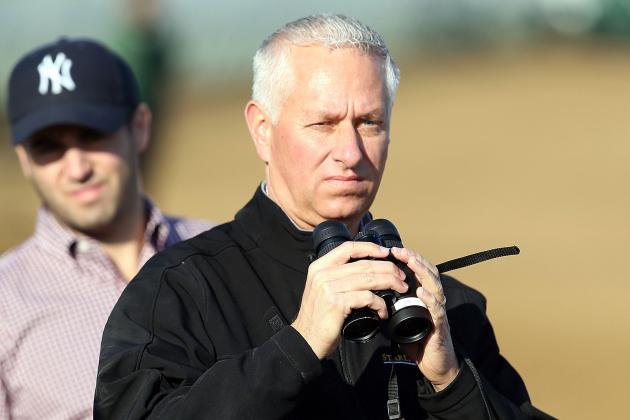 Andy Lyons/Getty Images

Todd Pletcher, trainer of five Derby starters on Saturday, saddled 25 percent of the field. His best finish was a spirited third by Revolutionary, thanks in part to a rail-riding trip by Calvin Borel.
Pletcher saddled five back in 2007, with his best finishing sixth. What does this say? He's able to get pretty mediocre horses into the Derby field—no short order.
Pletcher is now 1-for-36 with his Derby starters, but he'll tell you he's 1-for-13, as in he's been to 13 Derbys and won one.
The Pletcher Industrial Complex hinges on many things, but two-year-olds and three-year-olds are where his bread is buttered. Still, having all those horses in the field, while increasing his personal odds of winning, does little for his ability to reach the winners circle.
One A+ horse always beats several B horses.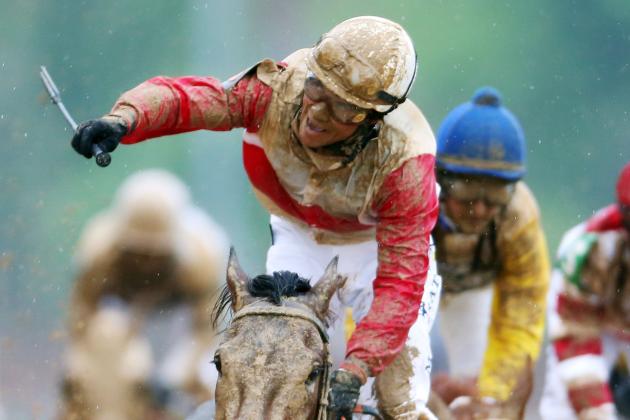 Andy Lyons/Getty Images

Joel Rosario just sat back and waited. And waited. And waited. Then boom! Sling shot to the lead.
A quarter of a mile into the race, Orb was in 16th place. Three-quarters of a mile into the race—with only a half-mile left—he was 17th.
In the next two furlongs, Orb passed 12 horses. When he straightened for home, he had just one more horse to pass—Normandy Invasion.
Rosario and Orb blew by him to win by 2 1/2 lengths.
Rosario knew the pass was hot but didn't panic. He sat chilly in the saddle, trusted in his horse and uncorked him when the time was right.
Not unlike Orb's trainer, Shug McGaughey...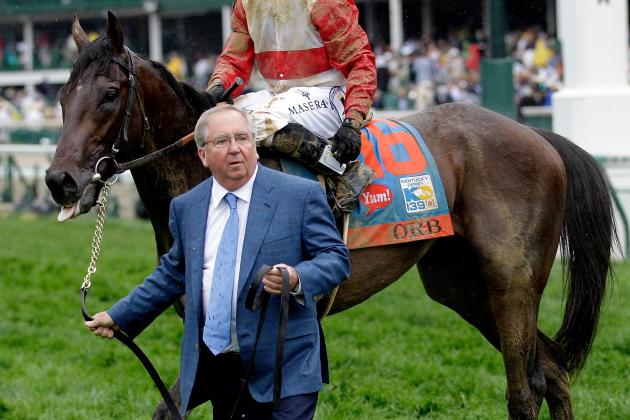 Rob Carr/Getty Images

Shug McGaughey, trainer of Orb, has had few Kentucky Derby starters since 1989, when Easy Goer began his epic rivalry with Sunday Silence. Some trainers are pressured to get to the Derby. McGaughey is immune to that pressure.
McGaughey repeatedly told reporters during the NBC broadcast that the horse dictates when he's ready to run. Shug is blessed to train for the Phipps family and they're none too eager to run a horse if he's not ready.
Shug even said he wasn't convinced Orb was going to the Derby unless he proved it in the Florida Derby, an impressive win that told the trainer and the owner all they needed to hear.
Stuart Janney, one of Orb's owners, said in the post-race news conference, via HorseRacingNation.com, "Take your time. Let the horse bring you to the race."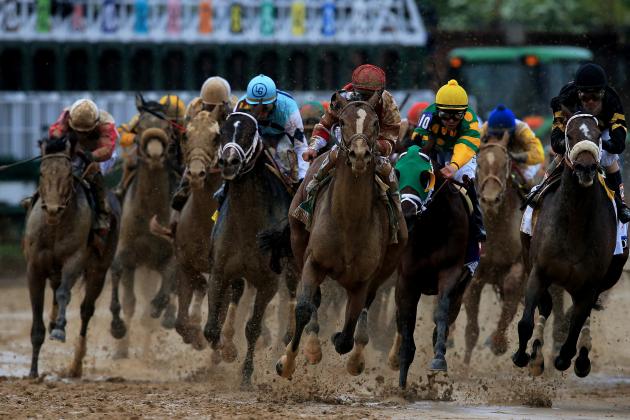 Doug Pensinger/Getty Images

I've maintained that 20 horses breaking all at once is too much. Too much chaos, too much traffic, just too much.
I get why Churchill Downs Inc. does it:
1. It drives betting handle up—way up.
2. A distant second is the spectacle of watching this cavalry charge go off in the first quarter mile.
It's an amazing sight—amazingly loud and kinetic. But it doesn't make for a fair race. For any who have watched the remaining Triple Crown races or the Breeders' Cup Classic, 14 is the maximum. Trust me, that's still an amazing stampede to behold.
Six horses every year have no business being in the starting gate. This is America's premier race, the race every trainer on the planet wants to win, and putting 20 horses of moderate ability waters down the sauce.
Fourteen horses would make for a truer race that's no less thrilling to watch. But it won't happen. Not when handle is $184 million for the day's card.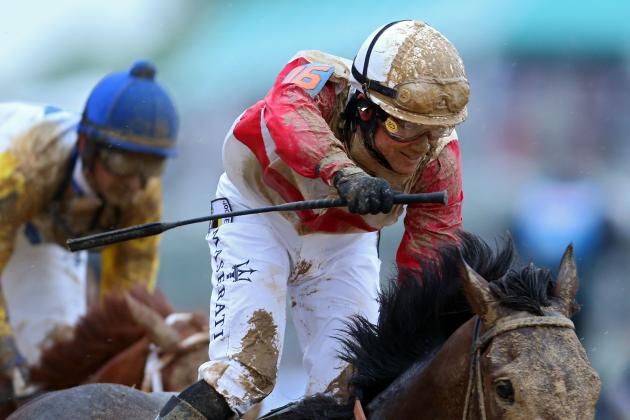 Andy Lyons/Getty Images

Joel Rosario is straight ballin'.
He won the jockey title at the prestigious 2013 Keeneland Spring Meet. In March, he won the Dubai World Cup aboard Animal Kingdom. He won five races on Churchill Downs' Opening Day card. Now, he won his first Kentucky Derby.
Yes, even jockeys get in the zone. Without sounding too zen, jockeys can transfer much of their confidence to their horses. If they feel strong, the horse often runs strong. If they feel nervous, the horse feels reason to be nervous.
Rosario possesses the kind of confidence only rivaled by Gimli with an axe.
This could be the year...I'm referring to the Triple Crown. We haven't seen one since 1978.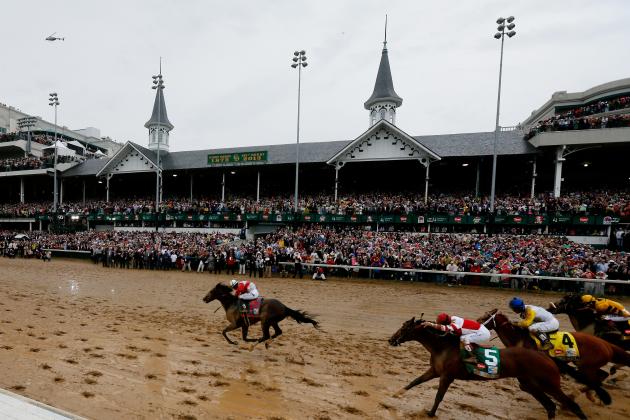 Rob Carr/Getty Images

Yeah, Orb won from Post 16, but let's look at the next five finishers:
Second: Golden Soul, Post 4
Third: Revolutionary, Post 3
Fourth: Normandy Invasion, Post 5
Fifth: Mylute, Post 6
Sixth: Oxbow, Post 2
If nothing else, it proved these horses were able to take the shortest way around the oval and weren't compromised or stressed by wide starting positions.
With the exception of Oxbow, they were all in the last flight of horses. By virtue of their post, they didn't feel rushed and relaxed in the back and made strong moves late, having plenty in the tank.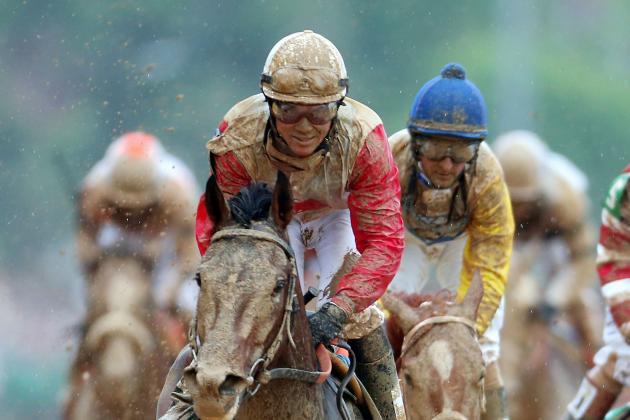 Andy Lyons/Getty Images

Favorites, as a rule, win 1/3 of the time.
And in the Derby, while they don't always win, they almost always show their class.
Orb was the 5-1 favorite Saturday and proved to be the best.
In 2012, the favorite was Bodemeister and he ran a gutsy second. In 2011, Nerho (who just died yesterday of colic) was the second choice and ran second. In 2009, Pioneerof the Nile ran second as the third choice, and in 2008 and 2007, Big Brown and Street Sense won as favorites.
What does that mean? Key a favorite on top then...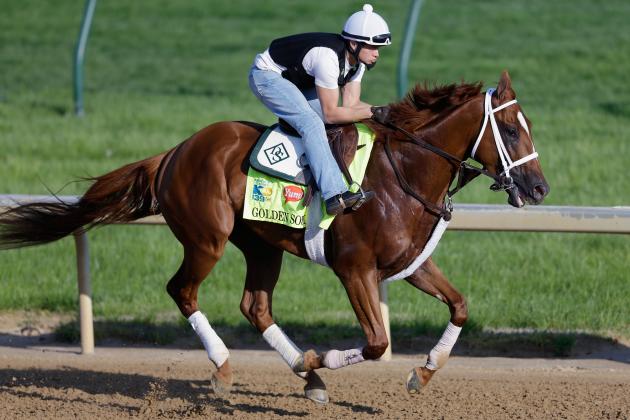 Rob Carr/Getty Images

Once you've keyed the favorite, anything can happen, but a bomb always gets up for some piece of the superfecta.
This year, that was Golden Soul at 35-1 and he was the runner up. In 2012, Went the Day Well finished fourth at 31-1. In 2011, Shackleford finished fourth at 23-1 (not to mention Animal Kingdom won at 21-1). In 2010, Make Music for Me finished fourth at 30-1.
You see the pattern.
Favorites run like favorites, but you make your bank off the bombs filling out the exotics.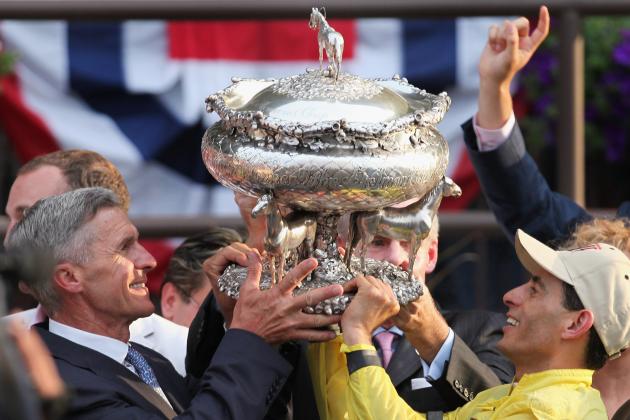 Rob Carr/Getty Images

There won't be many horses running in the Preakness on May 18, but a small handful will be happy to wait five weeks and take a shot at the "Test of a Champion." That list could include Todd Pletcher's Revolutionary and Overanalyze.
The Belmont Stakes is a quarter-mile longer than the Derby—1 1/2 miles total—which exacts its toll on horses running in all three legs.
Last year, Union Rags finished up the track in the Derby but came back to win the Belmont Stakes. In 2011, Stay Thirsty ran a gutsy second in the Belmont after finishing 12th in the Derby five weeks prior.
It's these types of horses that make winning the Triple Crown near impossible. They rest while the one vying for the Triple Crown runs 1 3/16th miles in the Preakness Stakes.