4 Signs Orioles Are Destined to Reach the Playoffs/the World Series
Jeff Gross/Getty Images

For the first time in a long time, the Baltimore Orioles entered a season as a contending team right off the bat.
A successful 2012 season, one in which they won 93 games, beat the Texas Rangers in the Wild Card Game and forced a Game 5 against the New York Yankees in the ALDS, set the O's up as a team to consider as a playoff contender.
While the O's have gotten off to a solid start, they're showing signs that they will yet again make the playoffs and possibly make a serious run at playing in the World Series.
The following slides are examples as to why the O's will be playing baseball this October.
Begin Slideshow

»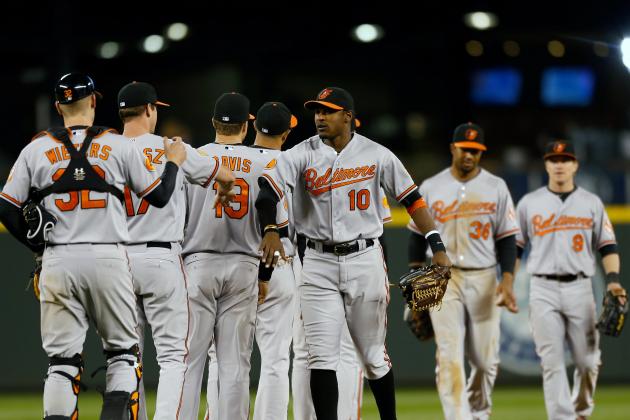 Otto Greule Jr/Getty Images

The one thing that may make the O's fanbase worry is that the team has been both amazing and horrid so far this season.
When they win, they look like worldbeaters. When they lose, it's usually sloppy play that does them in.
Luckily, they've won more than they've lost this season. And last year, they started sloppy as well, then cleaned up their act as the season went on.
The team showed a serious stretch of dominance during its last homestand as well as the first three games of the four-game set in Oakland. If the O's are able to capture that ability on a consistent basis, they'll be a much scarier team than they already are.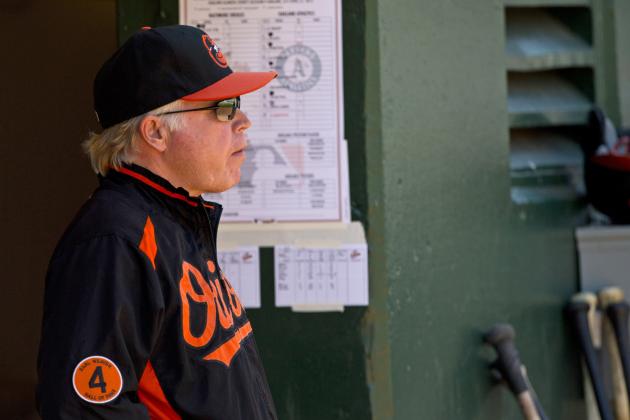 Jason O. Watson/Getty Images

The Orioles have arguably one of the best managers in baseball in Buck Showalter. And what he's done with the Orioles since his arrival has been amazing.
He knows his team. He manages the starting pitchers and the bullpen brilliantly. His lineups are rarely flawed.
Every manager makes mistakes. Buck seems to make only a few every season.
He's got the O's playing as a team, playing for each other and seeing the bigger picture. He's finding ways to win with struggling starters, no player stepping up and nailing down the second base job and an All-Star center fielder in a fielding slump (that he'll surely break out of relatively soon).
He has his team believing. And sometimes, that's all a team needs.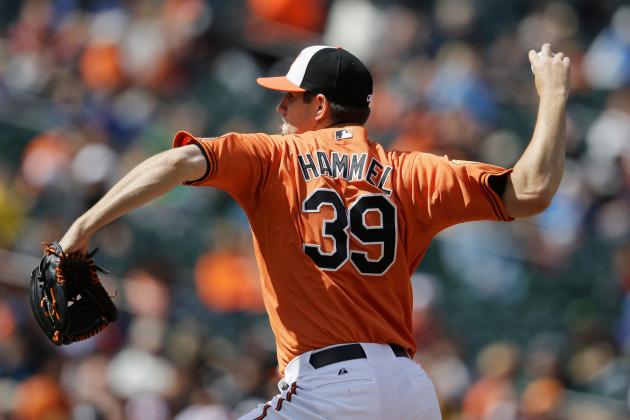 Rob Carr/Getty Images

The O's starters haven't been the best this year. They've already gone through four No. 5 starters, with only one of them having success in Freddy Garcia.
However, the O's are still just a few games back of the Boston Red Sox and New York Yankees even with the rotation struggles. The team is finding ways to win even when the pitching doesn't hold up.
Being a contender, the O's will do whatever they can to find a rotation that works. Once they get that fixed up, they should be winning even more games, putting them in prime position to catch their division rivals in the AL East standings.
Guys like Jason Hammel and Chris Tillman look like their starting to straighten out their struggles, and if Wei-Yin Chen can provide the consistent presence that he has since his arrival last season, this team won't be far off from dominance.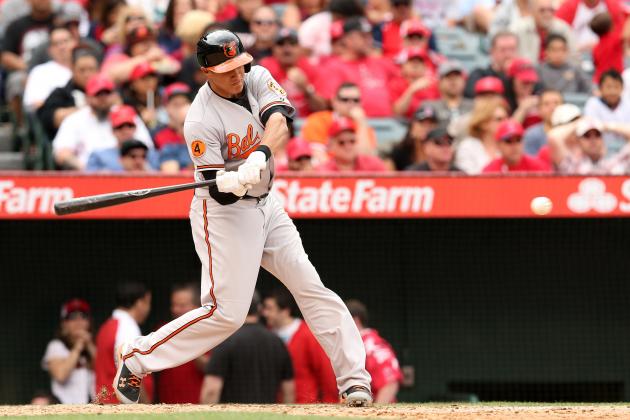 Stephen Dunn/Getty Images

Manny Machado is on fire.
The young third baseman hit his fifth homer of the season on Sunday, a two-run shot, driving his season RBI total up to 21. Machado is hitting .309 with a .352 OBP to go along with those very good power numbers.
Manny seems to be growing up right before our eyes, and should he keep this up, he'll likely become one of the more dangerous hitters in the game by season's end, which can only be a plus for the O's.
Plus, Machado's defense at third base has been of the Gold Glove caliber, already being compared to the likes of Evan Longoria and Adrian Beltre.
Machado's arrival to the team in August of last season was a huge driving force in helping the O's win the American League Wild Card. This season, his presence will again be a driving force in making the O's reach the postseason.