Floyd Mayweather vs. Robert Guerrero: Most Dazzling Images from Full Fight Card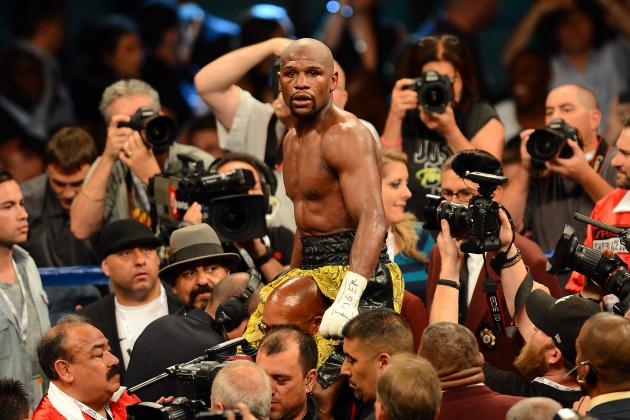 Ethan Miller/Getty Images

On May 4 at the MGM Grand in Las Vegas, Nevada, undefeated boxing superstar Floyd Mayweather returned to action against the tenacious Robert Guerrero. It was the 36-year-old Mayweather's first time in the ring in almost exactly a year, two months of which were spent serving time on a domestic assault charge.
It was only natural that the question would be asked: Would the pound-for-pound kingpin still be able to bring his A-game?
Guerrero looked to make the fight a rough affair from the opening bell, and it took a couple of rounds for Mayweather to fully find his exquisite timing and expert footwork. But by Round 3 he was landing his lead right hand with brutal accuracy. Tough guy Guerrero finished the fight on his feet and proud, but bloodied and bruised all the same.
The undercard featured three highly entertaining fights and overall, it was a terrific night for boxing.
Begin Slideshow

»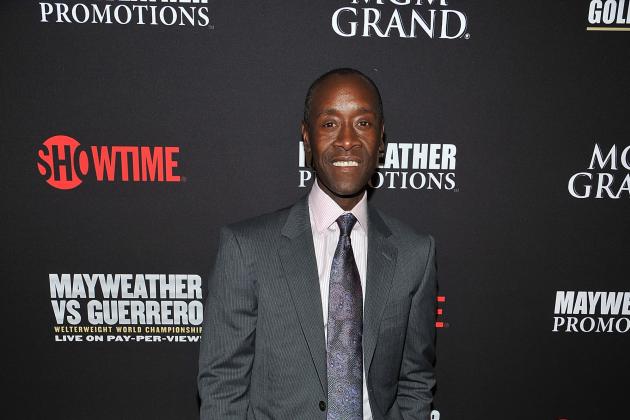 Jeff Bottari/Getty Images

Iron Man III co-star Don Cheadle was one of the many Hollywood stars who turned out to watch the Money May Show. A Mayweather fight weekend means an extra $200 million in revenue for the city of Las Vegas.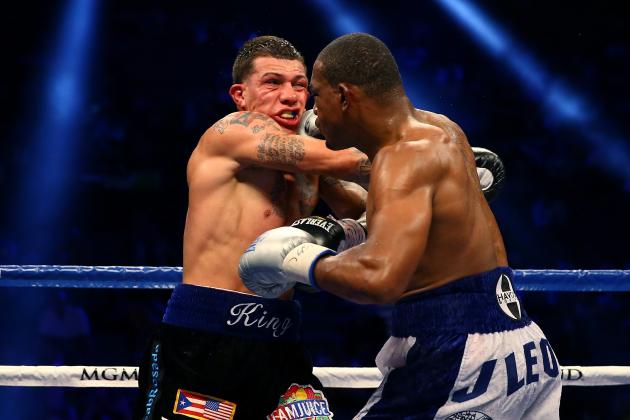 Al Bello/Getty Images

Undefeated middleweight prospect, and Floyd Mayweather protege, J'Leon Love took a major step up in competition, facing the tough and experienced Gabriel Rosado. Love got knocked down in Round 6 and barely escaped with a split decision that was booed by the fans.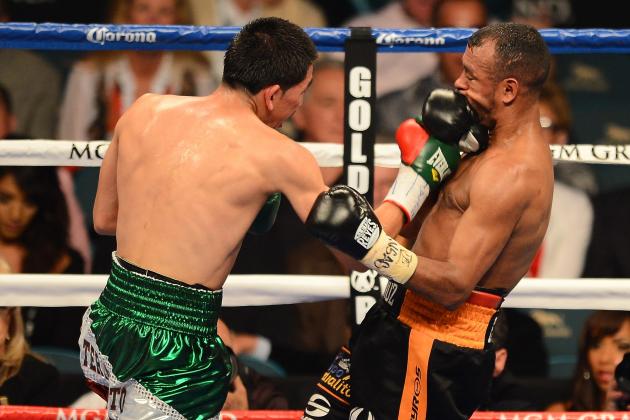 Ethan Miller/Getty Images

Undefeated 24-year-old sensation and former bantamweight champion Leo Santa Cruz made a smashing debut at 122 pounds, knocking down the brave, but badly over-matched Alexander Munoz twice before TKOing him in Round 5.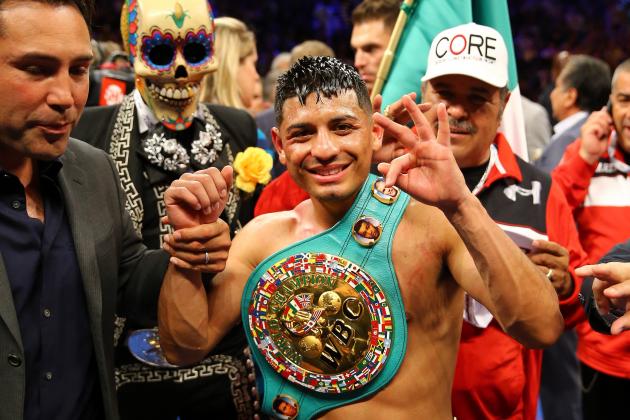 Al Bello/Getty Images

Abner Mares built a reputation as a relentless brawler at 118 and 122 pounds. Against 126-pound champion Daniel Ponce De Leon, the former Olympian reminded everybody that he is a technically solid boxer at heart, using brilliant lateral movement and counterpunching to TKO the larger man in Round 9.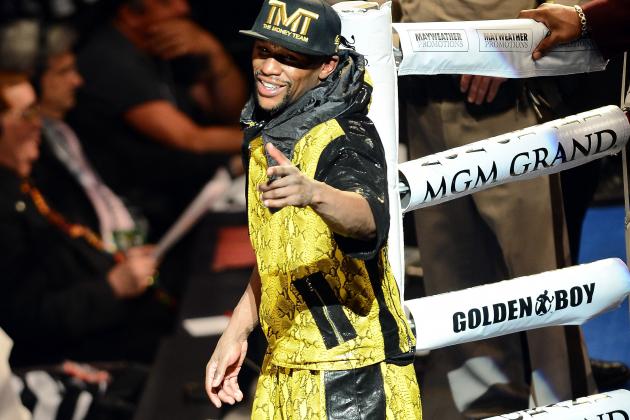 Ethan Miller/Getty Images

Love him or hate him, no other current United States boxer could headline an event this big.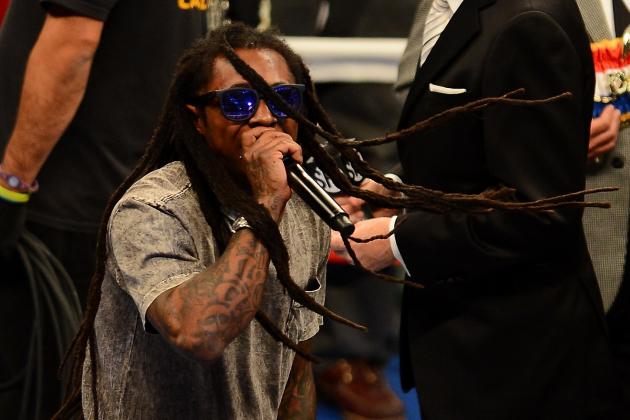 Ethan Miller/Getty Images

There is always a lot of speculation over who will accompany Mayweather for his ring walk. Sure, Lil Wayne's "Got Money," but on Saturday night Money had Lil Wayne.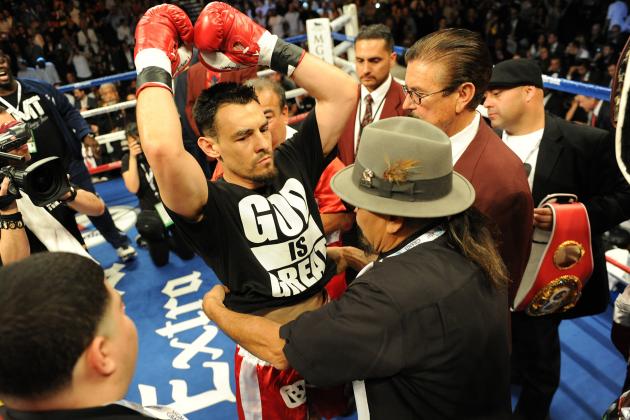 Jayne Kamin-Oncea-USA TODAY Spor

Challenger Robert Guerrero nearly lost his wife to cancer while still in his 20s. Saturday night was his opportunity to take care of his family for the rest of his life, and he showed up determined to succeed.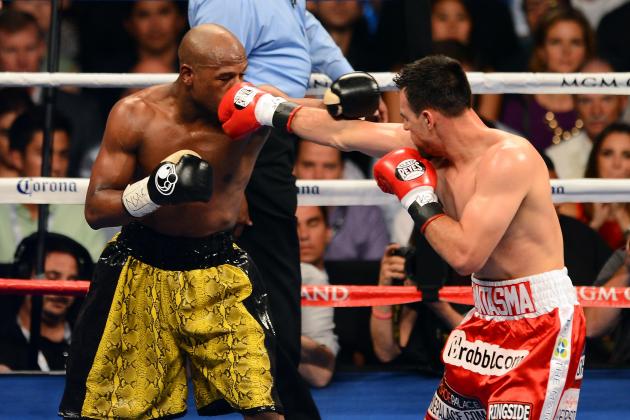 Ethan Miller/Getty Images

Robert Guerrero landed some decent punches against Mayweather, especially in the early rounds. The ferocious Guerrero would be a tough night for any other welterweight in the world.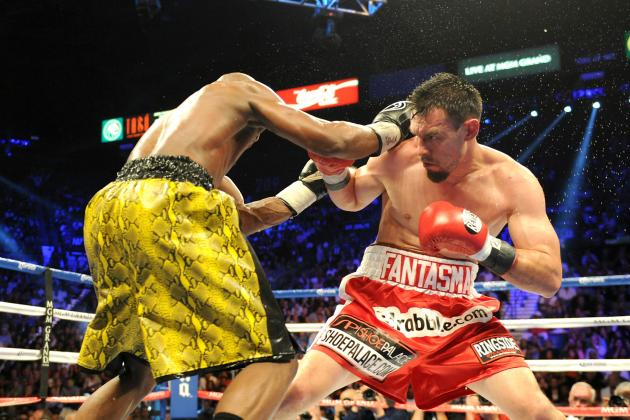 Jayne Kamin-Oncea-USA TODAY Spor

Guerrero had a clear idea of what he needed to do to beat Mayweather, including banging away at the champ's torso. But like the 43 fighters who came before him, Guerrero ultimately found out that imposing a game plan on Mayweather is easier said than done.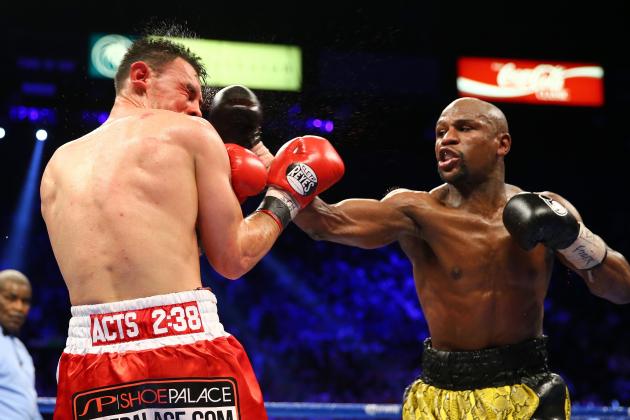 Al Bello/Getty Images

Mayweather is one of the most accurate punchers in boxing history. Once he recognized Guerrero was vulnerable to his lead right, he battered the challenger with it all night long.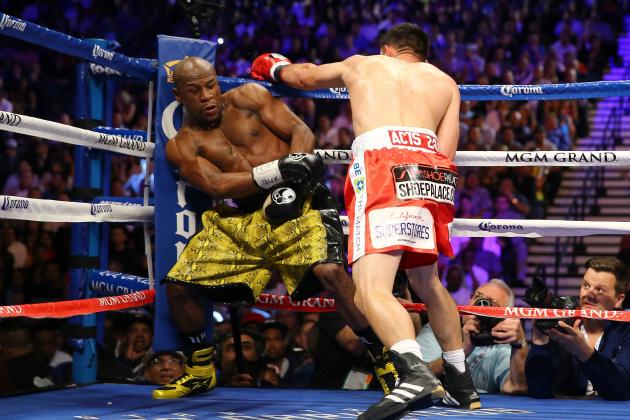 Al Bello/Getty Images

In his post-fight interview, Guerrero commented with admiration that Mayweather "just kept squeaking away from my punches." Like so many before him, Guerrero discovered that even when he is standing right in front of you, Mayweather can be extremely difficult to hit.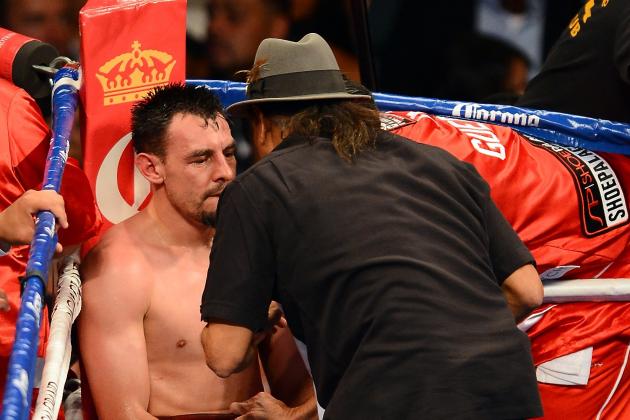 Ethan Miller/Getty Images

Robert Guerrero's father, Ruben, rubbed many the wrong way during the buildup to the fight. But his loyalty to his son cannot be questioned. Fighters and trainers truly go to war together, and this can be particularly emotional when they are also father and son.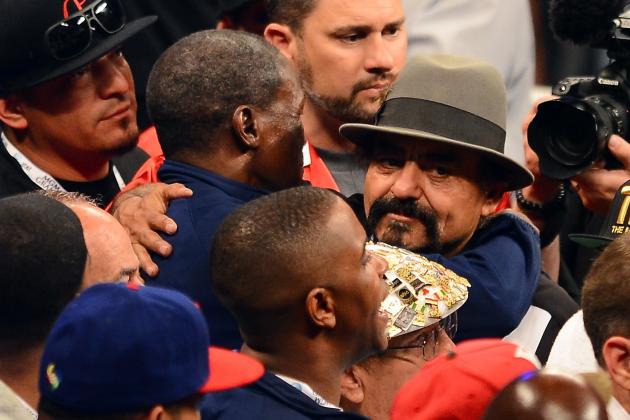 Ethan Miller/Getty Images

Ruben Guerrero and Floyd Mayweather Sr. nearly came to blows at the final press conference. Here they embrace post-fight, perhaps somewhat reluctantly.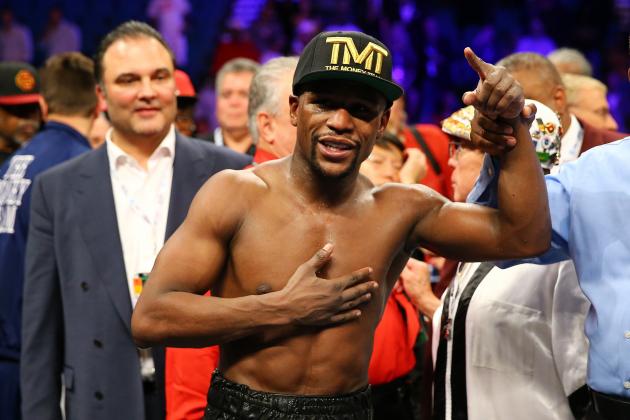 Al Bello/Getty Images

Mayweather entered his fight Saturday night a polarizing figure in the sport, and nothing that happened will change that. But only a fan blinded by hatred for him can deny that at this point in time, he truly is No. 1.