QPR vs. Arsenal: 6 Things We Learned from the Gunners' Win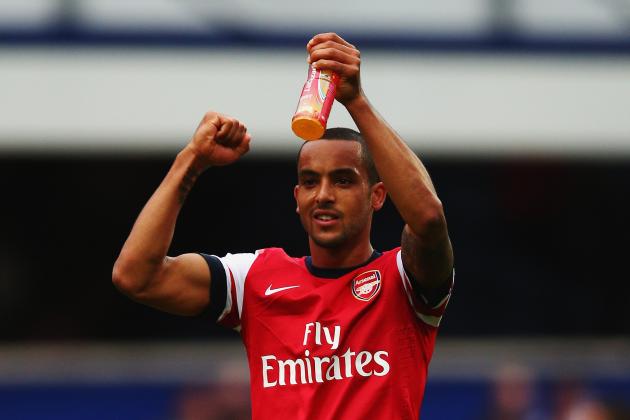 Clive Rose/Getty Images

Arsenal will only care about the three points they took from their 1-0 win over QPR, because the performance that produced the result was mediocre at best.
One cannot be sure whether Rangers played out of their skin or the Gunners' lackluster play simply made their relegated crosstown rivals appear better than they are. Regardless, the home side never gave up after conceding less than 20 seconds in.
But three points and a poor performance is infinitely better than zero or one point and a scintillating display. Let's try to keep that in mind while looking back at six things we learned from this game.
Begin Slideshow

»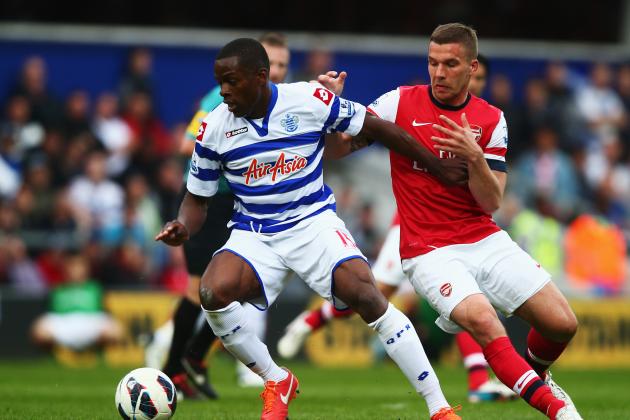 Clive Rose/Getty Images

I am not willing to accept that Arsenal cannot get themselves up to play second-tier opponents like QPR. The old cliche about every game at this point in the season being a cup final is accurate: The Gunners need to win out to have a realistic chance of qualifying for the Champions League.
That is not to accuse Arsenal of letting their guard down for a game that ended with a win and a clean sheet. But the intensity that they showed in all areas of the pitch against the likes of Manchester United and Bayern Munich earlier this season was clearly lacking.
But for Wojciech Szczesny's outstanding save at the end of the game, they would have been punished for it, too.
It's simply inexcusable. There is no reason why Arsenal could not have asserted their dominance over a QPR side that are so obviously inferior. If they do not change this in their final two games, luck will need to be on their side.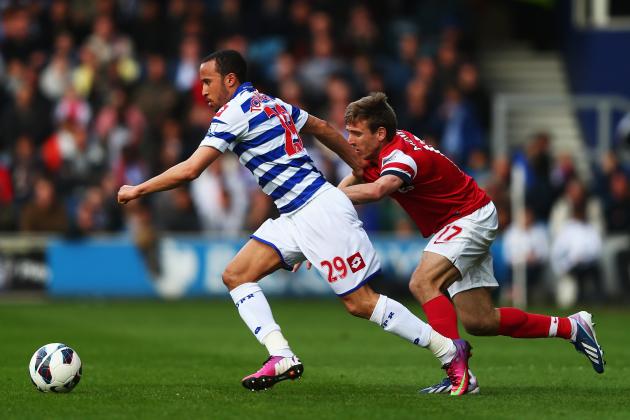 Clive Rose/Getty Images

This will be an Arsenal-centric article, but I would be remiss if I did not mention Andros Townsend after a brilliant performance.
If he had scored a goal for QPR, I could hardly deny that it would be deserved. Whereas many Rangers players were willing to simply throw anything at Arsenal's defense and see if it would stick, Townsend went right at them and really worried the Gunners on multiple occasions.
Arsenal could have used a player like him in their team.
At one point, he disquieted Wojciech Szczesny with a dipping, swerving effort that the Pole struggled to deal with. At another, he forced Nacho Monreal to pick up a yellow card after blowing past him on the right wing.
Every relegated team has players who are immediately sold because their obvious quality does not befit the Championship. Townsend, who is on loan from Spurs, certainly won't be sticking around.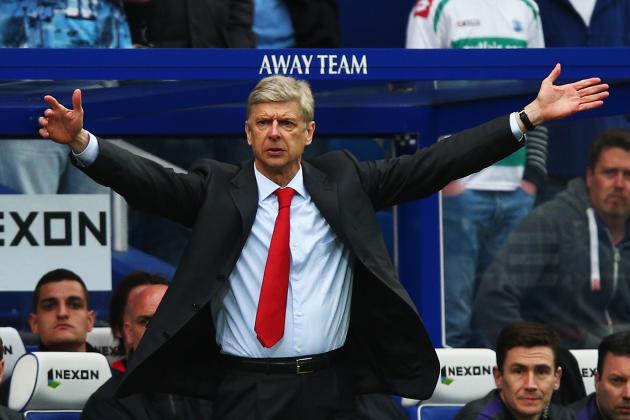 Clive Rose/Getty Images
"Where's the fourth official?"
Substitutions have never been Arsene Wenger's greatest strength. But he was lucky that they were not his undoing against QPR—or, more accurately, the lack thereof.
When the boss finally did use his three changes, they were not difficult to justify: Alex Oxlade-Chamberlain for an ineffective Lukas Podolski, Jack Wilshere for Santi Cazorla (you can never go wrong there) and Thomas Vermaelen for Tomas Rosicky to seal the win in stoppage time.
But why did it take so long for Wenger to make the switches?
If "The Ox" had come on earlier, perhaps, Arsenal could have kept more possessions and attacked with more directness. Wilshere is excellent at dribbling his way out of pressure, and Vermaelen barely got a touch of the ball.
Wenger needs to be a bit more flexible about who he will substitute, and, especially, when he will substitute them. Once again, luck was on his side.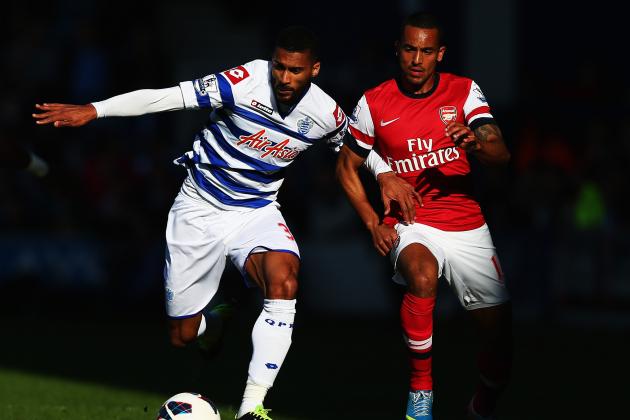 Clive Rose/Getty Images

I'm not a hypocrite just yet. But in the absence of Olivier Giroud, Theo Walcott should be Arsenal's striker.
One wonders whether Lukas Podolski is really fit enough for the role. This was his second consecutive ineffectual performance up top, after disappearing against Manchester United a week ago. He also looked out of it during his only other start at striker: the season-opener against Sunderland.
In contrast, Walcott was very lively when he drifted toward the middle and linked up with the midfield. When he does that, Bacary Sagna is left without support on the right flank, and Arsenal's attack suffers.
An easy way to remedy that problem is by sticking him at striker and seeing what he can do, at least against a mediocre side like Wigan, who are Arsenal's next opponent.
When Giroud returns, though, the torch should be passed right back to him.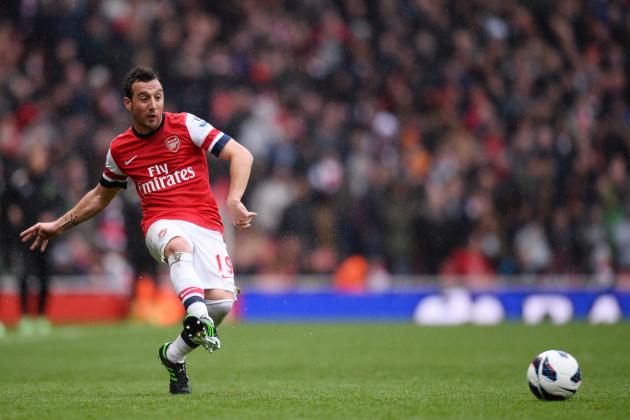 Mike Hewitt/Getty Images

A significant reason why I love Santi Cazorla is his willingness to simply have a go at goal when no one else wants to.
As prominent Arsenal blogger Arse2Mouse tweeted during the game:
That's what I was talking about first half. All flicky dicky. If it goes in it's a wonder goal, but it's such eye of the needle stuff.
— Arse2Mouse (@arse2mouse) May 4, 2013
There was some real truth behind his frustrations. While most of their shots sailed over the bar, at least QPR were willing to take risks to score. Surely, Arsenal, a far superior side, could hit the target a few times.
If someone was willing to just shoot the ball, like Cazorla, perhaps, Arsenal could have gotten a second goal. The Spaniard's dipping shot was certainly not easy for Rob Green to deal with.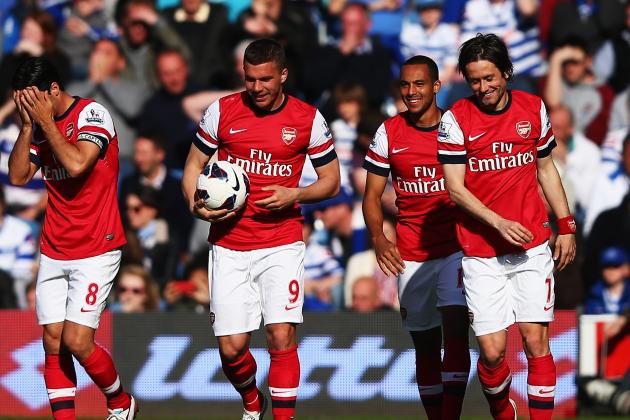 Clive Rose/Getty Images

Arsenal fans are accustomed to reveling in the beautiful football that their team prides itself on playing. Recently, though, the Gunners have thrown much of their up-tempo passing and possession-based style out the window.
And they've gotten results.
Really, that's all that matters, especially at this late stage of the season. There will be plenty of time over the summer for Arsene Wenger to retool his tactics and restock for a title challenge—he's even recently hinted at doing so (via The Guardian).
Until then (and, frankly, even afterward) Gunners fans will have to trade the quality of their team's performances for an attractive scoreline at the end of the game.
That is a deal that almost all Arsenal supporters would be willing to make.