Wladimir Klitschko vs Francesco Pianeta: Live Round by Round Updates & Analysis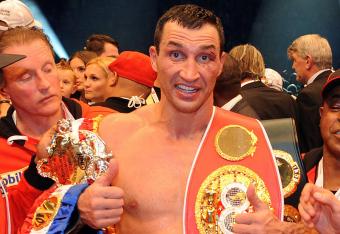 Witters Sport-USA TODAY Sports
Wladimir Klitschko had no trouble dismantling the previously unbeaten, Francesco Pianeta over six brutal rounds. Pianeta—who was totally out-classed—was knocked down three times in the fight. He showed a lot of grit, but from the beginning of the fight simply couldn't hang with Dr. Steelhammer.
Klitschko used his superior boxing skills in every round and landed a great jab-cross combo with ease throughout the night. Klitschko knocked Pianeta down in Round's 4, 5 and 6, before the referee—Ernie Sharif—called a halt to the bout at minute 2:52 in Round 6.
Klitschko retains his Ring lineal title, IBF, WBO, IBO and "super" WBA titles as well. The win sets up a potential fight with undefeated heavyweight and fellow Olympian, Alexander Povetkin.
After the fight, Klitschko spoke with Epix Sports' Bruce Beck and said that Pianeta was very tough and landed with power. Perhaps that was Klitschko being nice and trying to give the young Italian some praise, because it didn't look like that at all. Klitschko also said that he will continue to do what Emmanuel Steward told him to do, which is keep going and keep knocking people out.
It's easy to dismiss this performance as just another hand-picked sparring session for Klitschko, but to be fair, the fact is that there aren't many challengers out there that will do much better.
The 37-year old Klitschko will look to fight two more times this year, and said he hopes to return to the United States soon. He stated before the fight that he respects up-and-coming heavyweight Deontay Wilder, and that perhaps a fight between the two giants will happen in the future.
With the win over Pianeta, Wladimir earns the 52nd knockout of his impressive career, improving to 60-3 overall. Francesco Pianeta loses for the first time in his career, falling to 28-1-1.
Follow me on Twitter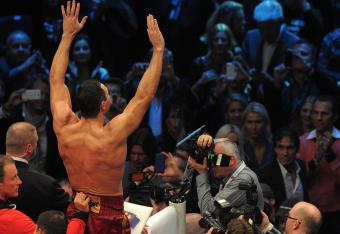 A dominating performance by Wladimir Klitschko. Thanks for following along with Bleacher Report. Once again, Wladmir Klitschko knocks out Francesco Pianeta in Round 6.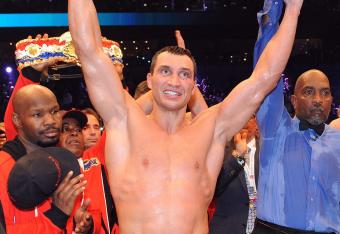 Pianeta got up but the referee calls a stop to the bout. Wlad dominates, doesn't lose a round and this one is a wrap! Wlad get's the knockout in Round 6.
Wlad is bouncing around looks really good up to this point.Huge shot landed and that could be it.
Midway through Round 6 and Pianeta isn't doing anything but surviving.
Pianeta is tough. His corner might have to do something and stop this beating.
Every title seems to be on the line.. but none of them are in danger.
10-8 for Wlad in rd 5. Just beating the living you know what out of this dude. #boxing

— Dan Rafael (@danrafaelespn) May 4, 2013
Pianeta survives Round 5. 50-43 for Wlad
Pianeta not showing much in the way of offense. Wlad walking him down.
Wlad is measuring his shots laying the left jab on Pianeta's head.. an illegal move by the way
Pianeta is game.. he's back up but this won't go much longer.
Pianeta getting hit with the jab-cross combo all night. Pianeta down again
Lem: Pianeta dropped in fourth, but gets through it. #boxing

— Michael, Doug or Lem (@ringmagazine) May 4, 2013
Klitschko is easily winning. Through Round 4, 40-35 with the knockdown in Round 4.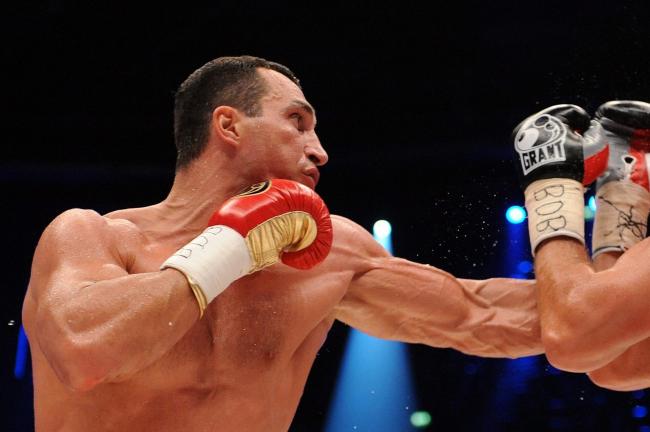 Wlad landing at ease now
Round 4 more of the same. Wlad lands a huge one two combo and Pianeta is down but gets up
We aren't the only ones that are happy!
Hayden Panetierre in the crowd

— EPIXsports (@EPIXsports) May 4, 2013
Pianeta is game. He's jumping in trying his best to land big looping shots
Dibella wants Wlad to snap the jab

— EPIXsports (@EPIXsports) May 4, 2013
Through three rounds 30-27 Klitschko
Wlad likes to push Pianeta's head down and lean on him has done it about three times that has to tire the Italian
Pianeta getting hit as we walks in. He's tough, maybe too tough for his own good.
Easy rd 2 for Wlad. Pianeta tough but Wlad controlling everything. Stuffing jab in his grill over and over over and nailing him with rights.

— Dan Rafael (@danrafaelespn) May 4, 2013
R2: This is another sparring round for Wlad's right hand as he keeps landing at will. Pianeta jabs to the body. Klitschko hits left hook big

— ESPN Boxing (@ESPNBoxing) May 4, 2013
This article is
What is the duplicate article?
Why is this article offensive?
Where is this article plagiarized from?
Why is this article poorly edited?