Grading Every Cubs Player Through the 1st Month of the Season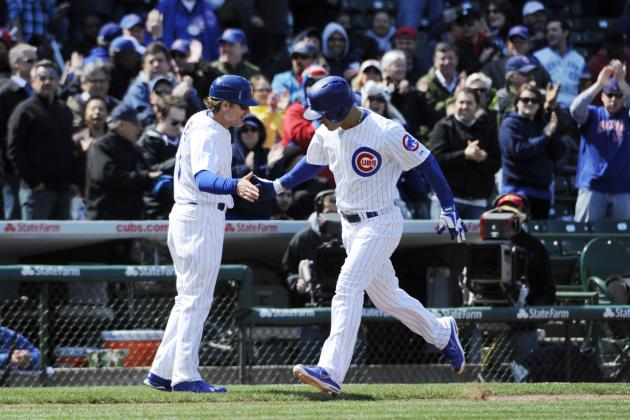 David Banks/Getty Images

Unfortunately for the Chicago Cubs, eight isn't exactly a lucky number. They find themselves eight games behind the first-place Cardinals and eight games under .500. While a few players like Nate Schierholtz have shined, many others have struggled through the first month of the season.
There have been few bright spots in the 2013 Cubs season thus far, with the most obvious being the team's starting pitching. But just how good (or bad) are they?
Here we grade each Cubs player through the first month of the 2013 MLB season.
Begin Slideshow

»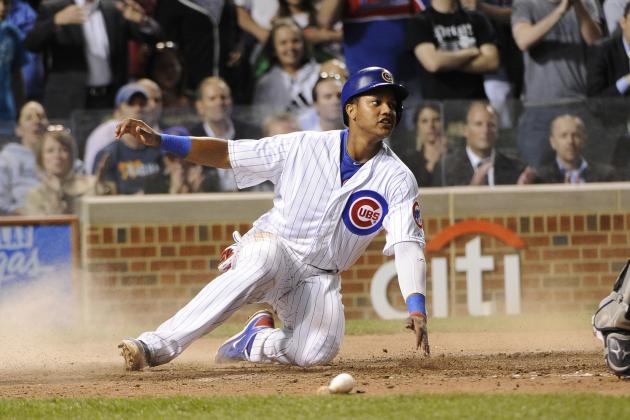 David Banks/Getty Images

Offense: Starlin Castro's offense has been critical to the Cubs, although there is still much room for improvement. Castro has a hit in all but five games this season, with a .273 average. However, his plate patience is very low, as he swings at 51 percent of all pitches seen. Because of that, he has 21 strikeouts to only four walks.
Defense: Not so much. Castro has five errors already, putting him on track to match his consistent high-20 total that he has posted in his first years in the league
Grade: B-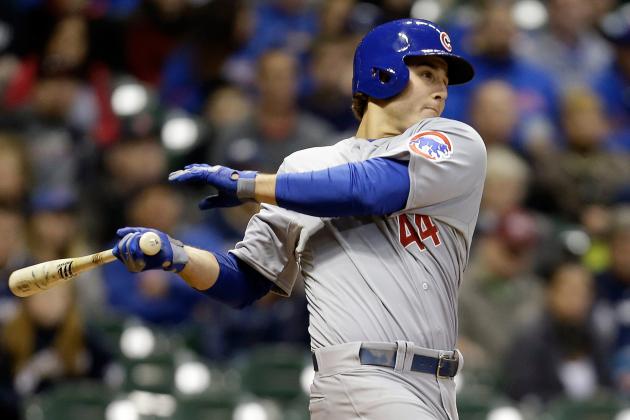 Mike McGinnis/Getty Images

Offense: Anthony Rizzo has showcased his power at the plate thus far, cranking eight home runs in 29 games. Although his average is a bit low at .243, his on-base percentage is quite impressive at .323 thanks to 11 walks.
He also has four stolen bases, which is quite impressive for a 240-pound athlete.
Defense: Rizzo's defense is nothing spectacular, as with many first basemen. He has an error to his name, but also nothing spectacular.
Grade: B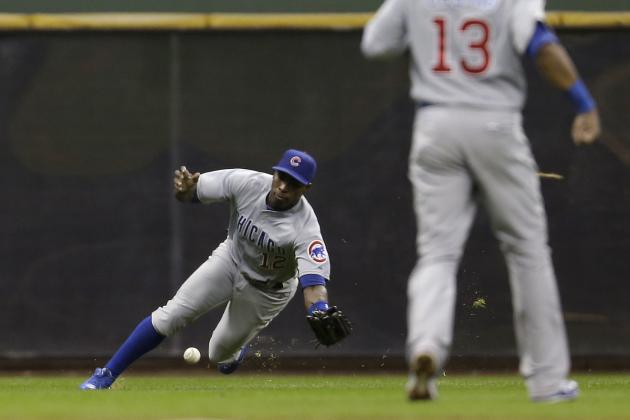 Mike McGinnis/Getty Images

Offense: After a rather cold start, Alfonso Soriano's average has been creeping up. He now sits at .269 with a .295 on-base percentage. However, he only has one home run in 111 at-bats. Also disappointing is the fact that he only has three walks to 21 strikeouts.
Defense: What defense?
Soriano's biggest problem is his lack of hustle. He can often be seen prancing through the outfield like it's a field of poppies, letting would-be outs drop for sometimes extra-base hits.
Grade: C-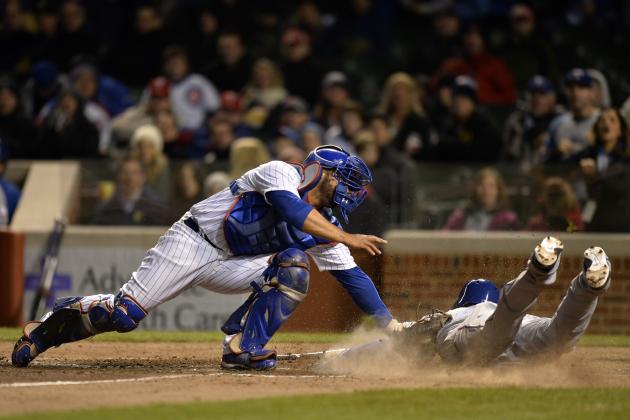 Brian Kersey/Getty Images

Offense: Welington Castillo has been surprisingly impressive on offense thus far. His .314 batting average and .419 slugging percentage are among the highest on the team. He is third in batting average among NL catchers who have played more than 10 games.
Defense: Castillo's biggest strength is his arm. He has thrown out seven baserunners in 23 attempts. Not to mention, quite a few successful attempts came in the freezing cold of Chicago's opening series.
Castillo allows too many balls to get by him. He has allowed three passed balls, not to mention quite a few "wild pitches" that should have been stopped. He also has four errors to his name.
Grade: B-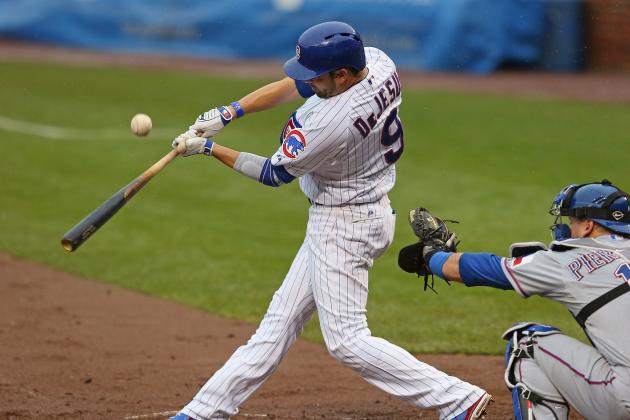 Jonathan Daniel/Getty Images

Offense: David DeJesus has looked good at the plate, hitting .281 with four home runs. He also hit the game-winning hit to sink the Marlins last week. DeJesus is often good for a baserunner, with a .347 on-base percentage.
Defense: Despite narrowly missing a would-be spectacular catch in Milwaukee, DeJesus has played well on defense.
Grade: B+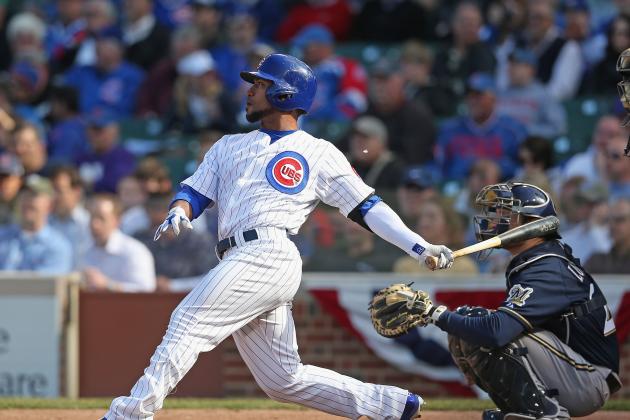 Jonathan Daniel/Getty Images

Offense: I'll be as polite as possible here and let Dave Sappelt's .190 batting average speak for itself.
Defense: Nothing spectacular. Despite having no errors, Sappelt has also done nothing memorable while platooning the outfield. His time in the majors is quickly running out, and he will soon be demoted to Triple-A Iowa.
Grade: F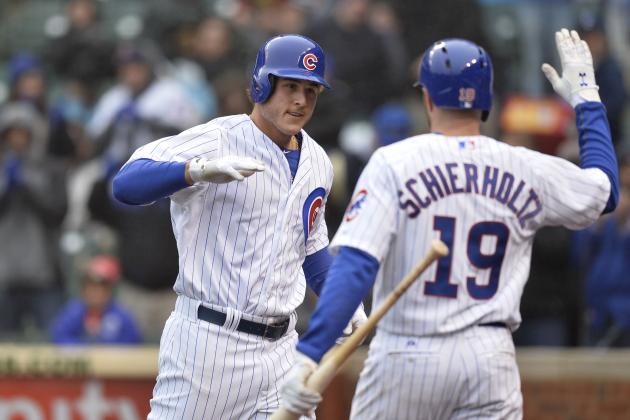 Brian Kersey/Getty Images

Offense: Nate Schierholtz has been a very pleasant surprise thus far in 2013. He is hitting .305 with 11 doubles to his name. He also leads the team in extra-base hits. Even more impressive is Schierholtz's consistency. He has been batting over .300 almost all season.
Defense: Schierholtz's defense has been acceptable thus far, with no errors and an assist.
Grade: A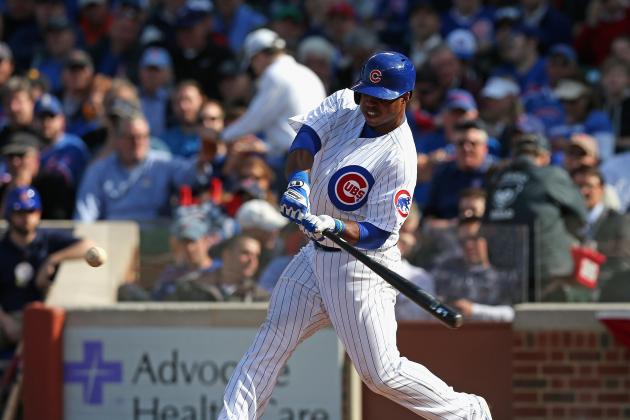 Jonathan Daniel/Getty Images

Offense: Luis Valbuena has been a good batter, but unfortunately not the best hitter. He is hitting .253, although he has a .344 on-base percentage thanks to his 10 walks in 89 plate appearances.
Defense: Valbuena needs a lot of work at the hot corner. He has three errors already, and his range is also not as good as it could be for a young, quick player like himself.
Grade: C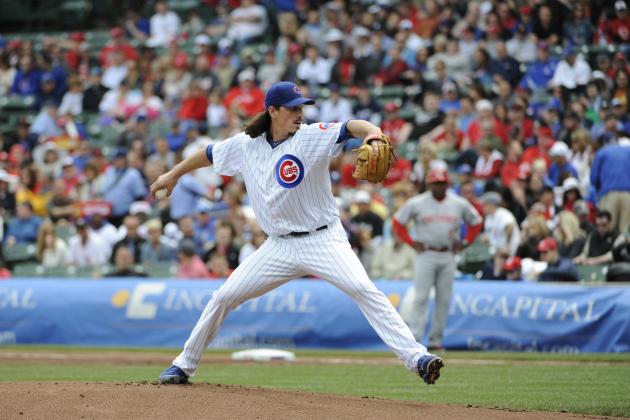 David Banks/Getty Images

Thank gosh Jeff Samardzija opted to play in the MLB instead of the NFL.
Despite his 1-4 record, Samardzija holds a 3.06 ERA. His record is a result of poor run support and a pitiful bullpen. Samardzija is second in the NL in strikeouts with 52 and is one of the few bright spots on the 2013 Chicago Cubs.
Grade: A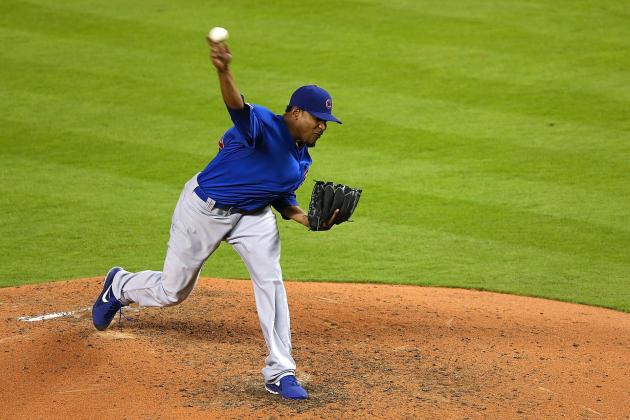 Mike Ehrmann/Getty Images

Unfortunately, Edwin Jackson's disappointing record cannot be credited entirely to his supporting cast. Jackson has a 6.07 ERA and has allowed 23 earned runs. That's good for fourth most in the National League.
Jackson has also had problems with his command.
Grade: D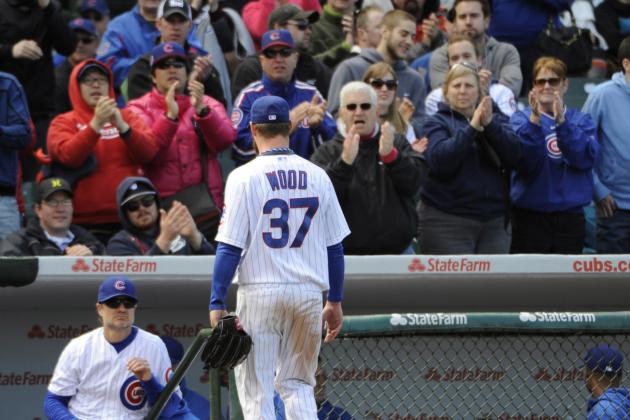 David Banks/Getty Images

Travis Wood started the season off with a bang, tossing a one-hitter against the Pirates. Since then, he has been rather consistent, allowing less than three earned runs and no more than seven hits in each start, going at least six innings.
Grade: A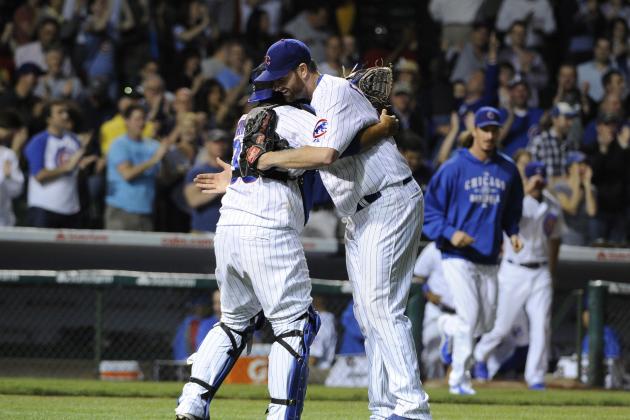 David Banks/Getty Images

Scott Feldman has also been rather consistent since his first start, although it was nothing like Wood's first start. Feldman allowed four earned runs on five hits in 4.2 innings pitched, earning the loss to the Braves.
Feldman has not allowed more than two earned runs since, giving him a 3.34 ERA and a 1-4 record.
Grade: B-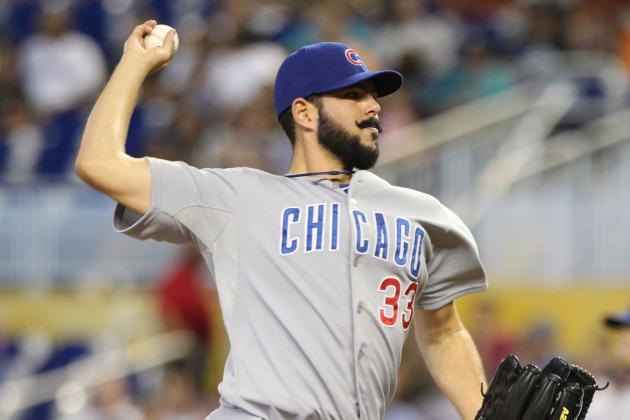 Marc Serota/Getty Images

Carlos Villanueva is looking to be a very solid addition to the '13 Cubs roster. Villanueva has a 2.85 ERA that was below two before his previous two starts in which he allowed four earned runs. He has allowed only 11 walks to 33 strikeouts, but once again has a losing record thanks to his surroundings.
Grade: A-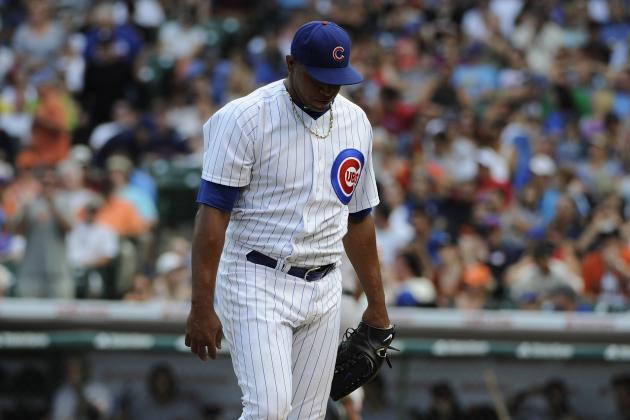 David Banks/Getty Images

In order to avoid calling out, well...everyone, let's just say the bullpen has been far from satisfactory for the Cubs. While the first name that comes to mind is Carlos Marmol, let's remember that he accounts for only two of the Cubs' eight blown saves.
The combined 4.61 ERA for the Cubs bullpen is ahead of only the Cardinals, Dodgers and Mets in the National League. They are also last in the National League with only 66 strikeouts.
Grade: F