Why Juan Mata Is the Best Player in the Premier League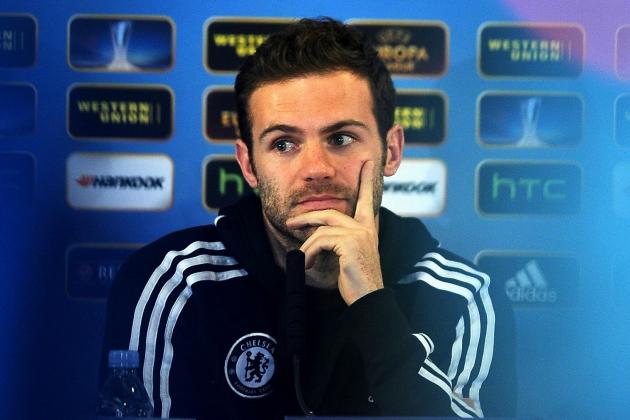 Christopher Lee/Getty Images

Juan Mata was voted Chelsea's player of the year in his first season in the Premier League. Although he missed the first penalty of the Champions League final shootout, he was still key to the team's greatest triumph.
Rather than spend the summer resting after a successful season, he was part of the Spain squad that cemented its dominance of international football by winning Euro 2012. He then joined up with the Olympic squad as an over-age player. The group-stage exit was disappointing, but it allowed Mata to rejoin his Chelsea teammates for the Community Shield match at Villa Park on August 12.
All of this has meant that he has not had a significant break since the summer of 2011. Does he complain? No. He has continued his excellent form into the 2012-13 Premier League season, playing some sublime football with a huge smile on his face, scoring 10 goals and assisting a further 12 in the league.
That fact, along with the following five reasons, are what make him the best player in the Premier League.
Begin Slideshow

»
Without labouring the point, Juan Mata has played 3,852 minutes of football for Chelsea in the 266 days since the start of the Premier League season. That averages out as 14 minutes of competitive football every single day, including Christmas.
Despite this, he is still full of energy both on and off the pitch, finding time to do a video tour of London as well as keeping a personal blog updated. You can't knock that for effort.
Mata's overall passing accuracy stands at 86 percent for the 2012-13 season. He averages 53 passes per match and two of those will be key attacking passes. Compare that to PFA Player of the Year Gareth Bale, whose accuracy is an average of 77 percent from 33 passes per game.
Whilst the Welshman has scored twice as many Premier League goals as Mata, he has only assisted four efforts for his teammates, which is an exceptionally low number for a midfielder at this stage of the season.
Mata's vision allows him to pick out his teammates' runs before they have even set off, and the ease with which he combines with Eden Hazard in particular is nothing short of remarkable when you remember that the two joined forces just last August.
Having been denied by David De Gea in 2011-12 when the Manchester United 'keeper managed to get his hand to a shot that was heading for the top corner, Mata was looking for some payback at the second time of asking.
Just watch the way that this shot bends through the air. All Patrice Evra can do is watch as it goes over his shoulder, appearing to be heading wide before twisting at the last second to end up just inside the post. It's a beautiful thing.
Everybody loves a bit of football trickery, and Mata provides it in spades. He has the Brazilian knack of making the ball look like it's attached to his foot, enabling him to bamboozle defences up and down the country.
Mata's humble nature sees him ensure that his teammates get an equal share of the praise that is frequently heaped upon him. He is not an aggressive player by any means, and you would never see him bite a fellow professional.
As one of a number of Spaniards within the squad, Mata has taken it upon himself to look after the younger Oriol Romeu, as well as supporting beleaguered striker Fernando Torres.
That kindness, combined with his work ethic and insane skills, leaves no doubt that he is the best player in the Premier League right now.