Dream Matchups for the Remainder of the 2013 NHL Stanley Cup Playoffs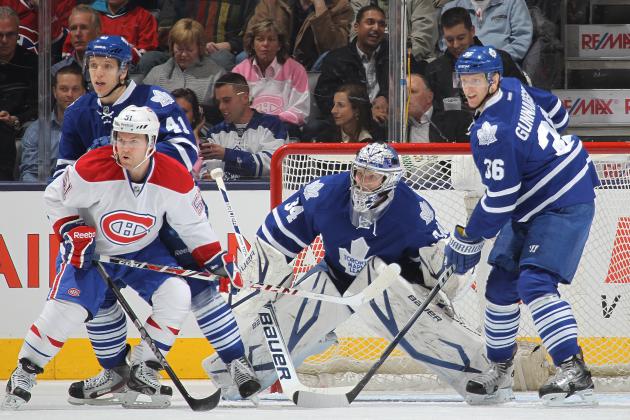 Claus Andersen/Getty Images

The 2013 Stanley Cup playoffs are only in the quarterfinals, but don't doubt that some fans are looking ahead to see if dream matchups like the Chicago Blackhawks vs. the Detroit Red Wings, the New York Rangers vs. the New York Islanders or the Toronto Maple Leafs vs. the Montreal Canadiens would be possible in the later rounds of the playoffs.
There have been tons of great matchups through the ages, and there could be some great ones in the later rounds. Here are some of the top dream matchups for the remainder of the 2013 Stanley Cup playoffs that fans would love to see.
Begin Slideshow

»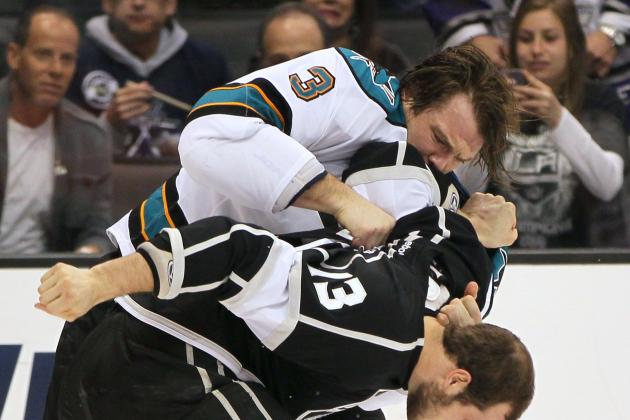 Victor Decolongon/Getty Images
Both teams like to play physical hockey.
The San Jose Sharks and Los Angeles Kings are two California teams that have only met once during the playoffs. Both teams have elite players, solid goaltending and rosters that would make for an interesting matchup.
The two teams haven't been able to develop a major rivalry, but another quality playoff matchup would make things interesting. This series would be great for fans because travel would be lighter than other potential playoff series.
Watching Antti Niemi go up against Jonathan Quick would be fun to watch, and it would make for a low-scoring series.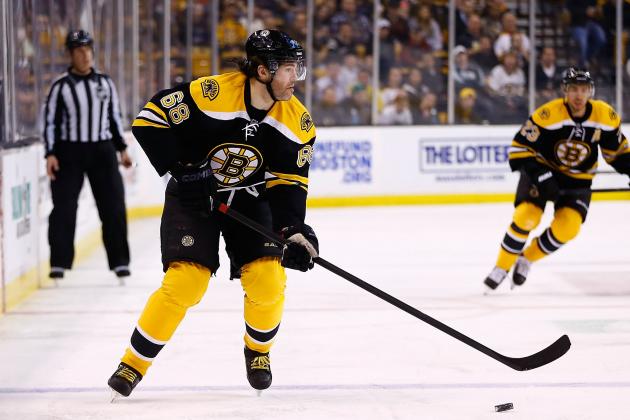 Jared Wickerham/Getty Images
Jagr would have a chance to eliminate his former team.
There is still bad blood between the Pittsburgh Penguins and Boston Bruins stemming from the Marc Savard incident, and this would add intensity to this incredible playoff matchup. This series would feature two of the best teams from the Eastern Conference, and it would be a battle of strengths.
The offensively charged Penguins would be put to the test against a balanced two-way team like the Bruins. This series would make for must-see television, and when you consider that Jaromir Jagr would make a playoff return to Pittsburgh, this series' intensity would be taken to the next level.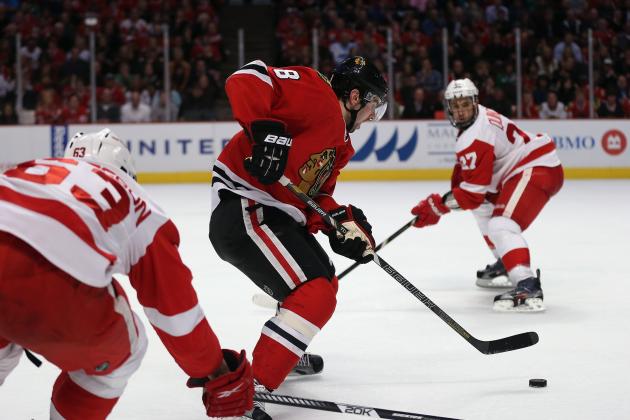 Jonathan Daniel/Getty Images
This Original Six series would be amazing.
The Chicago Blackhawks and Detroit Red Wings have a storied rivalry, and a playoff matchup this year would be great to watch. The Blackhawks are the reigning Presidents' Trophy winner, and the Detroit Red Wings are a team in transition.
This year, the Red Wings had contributions from many different players, and they have been playing some of their best hockey in recent weeks. They are finding ways to battle through adversity, and a series that would feature Jonathan Toews going head-to-head with Pavel Datsyuk would be amazing.
Any time you can have two balanced teams square off in the playoffs, it is enjoyable to watch, and the history between each team would make this a memorable series.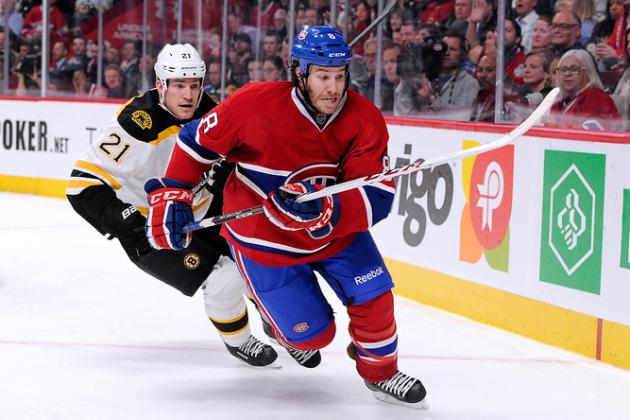 Richard Wolowicz/Getty Images
This series would be full of physicality.
The rivalry between these two Original Six franchises has existed for eons, and both teams are always physical when they get together. This series has a good chance of happening, and it would be a dream series for hockey fans.
The infamous Zdeno Chara-Max Pacioretty incident would be a main storyline of this potential matchup, but this would be an intense series full of amazing hockey. If this series were to happen this year, it would be one of the best series of the 2013 Stanley Cup playoffs.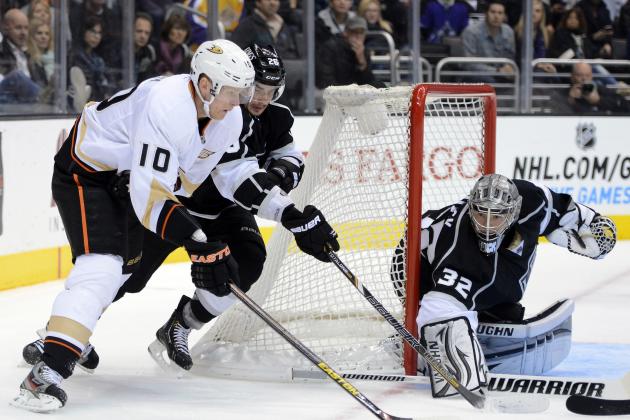 Harry How/Getty Images
A battle featuring two Hollywood teams would be great.
The Anaheim Ducks and Los Angeles Kings have had championship success in the last decade, and a playoff matchup between the two teams would enhance their in-state rivalry. The Ducks and Kings have played some meaningful games against each other in the last few seasons, but they have never squared off in the playoffs.
This series would feature well-rested teams playing amazing hockey and would be amazing for each team's loyal fanbase.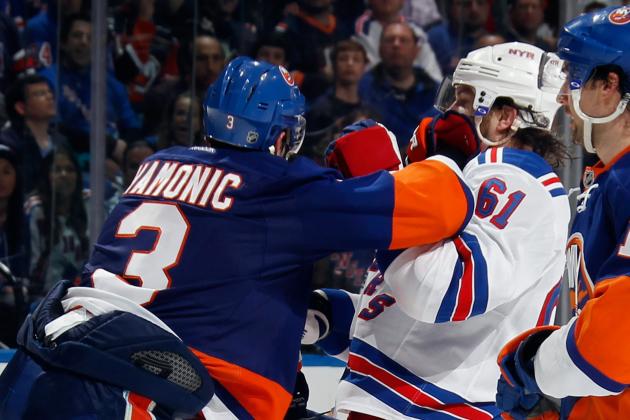 Bruce Bennett/Getty Images
There is bad blood between both teams.
The New York Rangers and the New York Islanders have an intense rivalry that goes back a few decades, and their 2012-13 season series was full of intensity and amazing play. If these two teams were to meet in the playoffs, both Madison Square Garden and Nassau Coliseum would be electric.
The Rangers vs. Islanders matchup in April was one of the best games the two played together in over five years, and playoff hockey would take this rivalry to a whole new level. The Rangers and Islanders seem to elevate their games whenever they square off during the regular season, so one could only imagine what a playoff series would be like.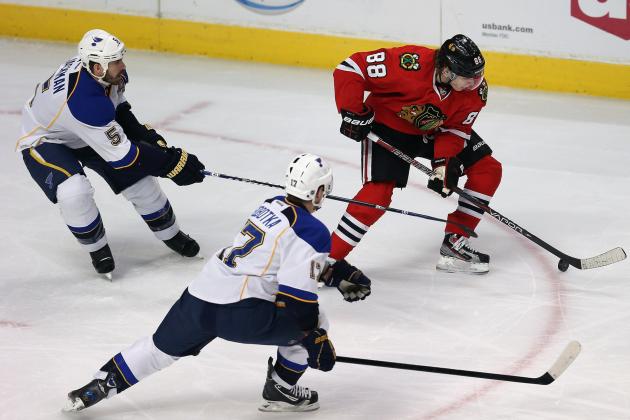 Jonathan Daniel/Getty Images

The Chicago Blackhawks were the best team in the NHL in 2012-13, and the St. Louis Blues were one of top teams in 2011-12. The rosters of these two teams are similar, and it would be great to see two of the league's best two-way teams face off in the playoffs.
The Blackhawks and Blues also have solid goaltending, so this would be a tightly contested series with tons of physicality and intensity. David Backes and Jonathan Toews have a rivalry that goes back to the 2010 Winter Olympics, and it is safe to say that both have unfinished business between each other.
Claus Andersen/Getty Images
The Leafs and Habs love to play each other.
The Montreal Canadiens and Toronto Maple Leafs have a historic rivalry, and both teams love to play against each other. There seems to be extra intensity when these teams do battle, and a playoff matchup would only add to the rivalry. This could be a potential second-round matchup, and it would be amazing to see these two teams match up in the playoffs again.
If the Leafs beat the Boston Bruins and if the Canadiens beat the Ottawa Senators, there is a good chance they could square off in the second round.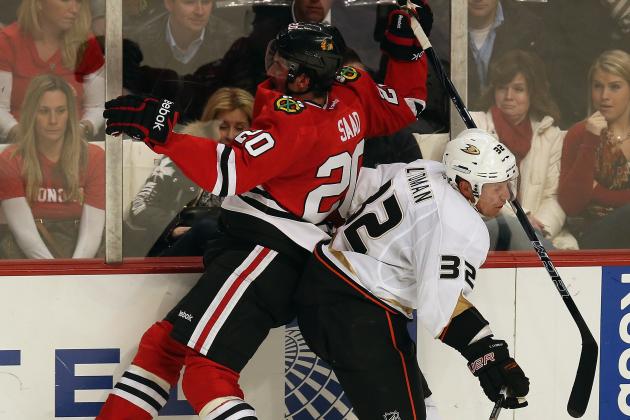 Jonathan Daniel/Getty Images
This would be a fun series to watch for many reasons.
These two teams finished No. 1 and No. 2 in the Western Conference in 2012-13, and they had an amazing season series. Both teams have top-end talent, solid secondary contributors and it would be a very fun matchup to watch.
The two teams have similar rosters, and that would allow for some interesting player matchups. This series could only take place in the Western Conference final, and it would be fun to watch Marian Hossa, Jonathan Toews and Patrick Kane go head-to-head with the Ducks' Ryan Getzlaf, Bobby Ryan and Corey Perry.
When you consider that this series would be for the chance to play for the Stanley Cup, it becomes must-see television.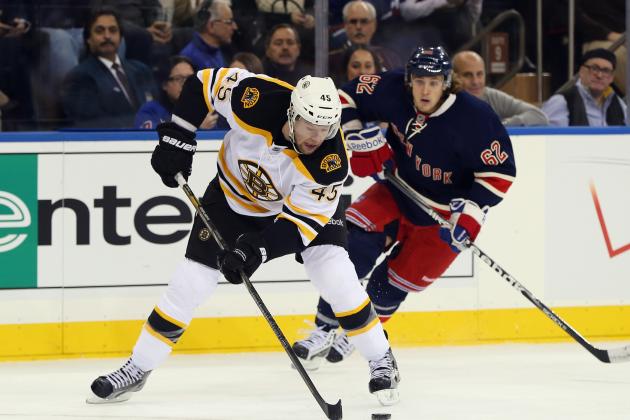 Bruce Bennett/Getty Images
It has been over 30 years since these two teams met in the playoffs.
Many critics thought these teams would face off in the Eastern Conference final in 2012, but the Boston Bruins were upset in the first round against the Washington Capitals. The two teams have not faced each other in the playoffs since their 1972-73 Eastern Conference quarterfinal matchup. If they faced off this year, it would be an amazing series.
It would feature two balanced teams with great goaltending, it would feature star power players like Rick Nash and Zdeno Chara and Jaromir Jagr would make a long-awaited playoff return to Madison Square Garden.
This could be a possible Eastern Conference final matchup this year, and it would be a dream matchup for fans of both teams.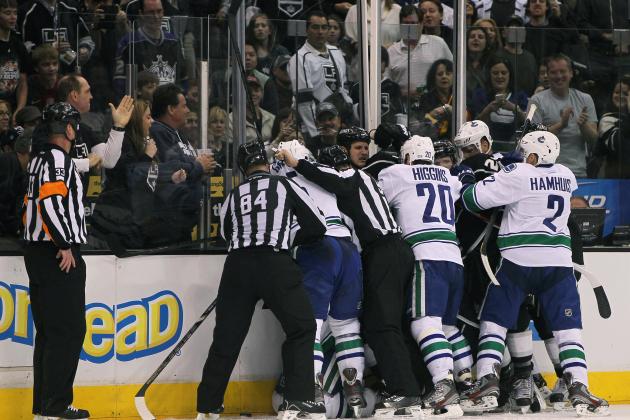 Victor Decolongon/Getty Images
These teams like to play physical, and intense hockey.
This would be a matchup from last year's playoffs, and it would give the 2011-12 Presidents' Trophy winners a chance to get payback. The Canucks were upset in the first round of last year's playoffs, and the Los Angeles Kings would eventually win the Stanley Cup.
Both teams have impressive rosters, solid goaltending and it would be entertaining to see these two teams square off again in the playoffs.
This series may not happen this year when you consider both teams are currently down 2-0 in their respective series, but it would still make for an interesting and entertaining series.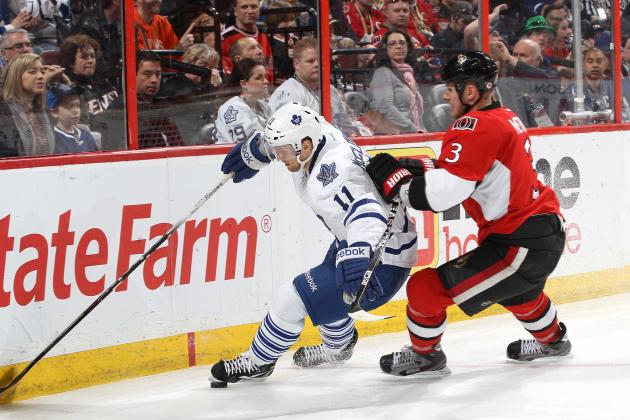 Jana Chytilova/Freestyle Photo/Getty Images

The Battle of Ontario is a famed rivalry between the Ottawa Senators and Toronto Maple Leafs, and a playoff matchup between these two teams would be amazing. There is ton of history between both teams, and the current rosters battled with intensity against each other in 2012-13.
Whenever these teams meet in the regular season it is very special, and a playoff battle would be great to watch. This series would embody what the playoffs are about, and it would be a series that could draw casual fans into the playoffs.