Texas Football: All-Time Best Recruit at Each Position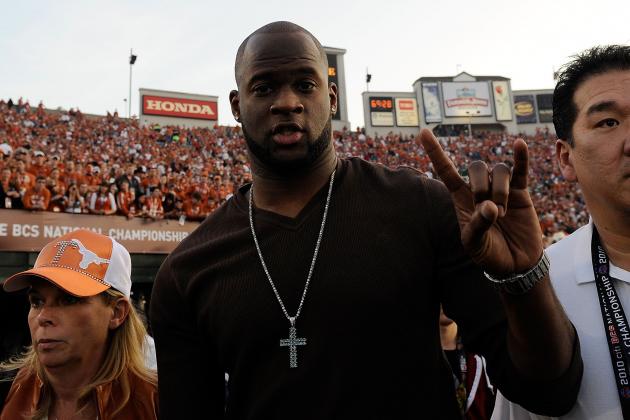 Kevork Djansezian/Getty Images

In the grand scheme of things, the Texas Longhorns are one of the more recognizable brands in college football.
But despite the recent funk, one that is slowly getting ironed out, the Longhorns still have had and continue to pursue the top-level recruit, especially in the Lone Star State.
Hype-generating athletes like Vince Young, Marquis Johnson and Justin Blalock immediately come to mind, but the 'Horns have had a number of hype-worthy recruits.
Which ones make the cut as the most-hyped athletes coming out of high school?
Rankings from 2002-present taken from 247sports.com. Others based off of comparisons to others at similar position.
Begin Slideshow

»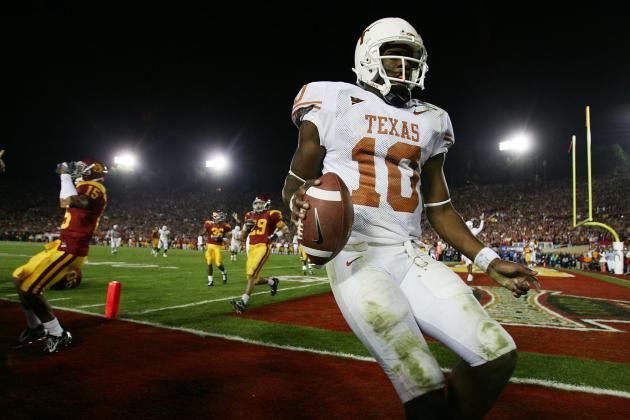 Donald Miralle/Getty Images

Ranking: No. 1 QB, No. 1 Overall (2002)
Context
The Longhorns picked up the country's top overall player and a dual-threat quarterback that, in the coaches' minds, could create extra offensive dimensions that would revolutionize how the position would be played. Young also considered Arkansas and Miami (FL).
Quotes
"An amazing athlete, Young could be a superstar at the next level at several different positions." —Rivals.com

"Young could easily play another position on the college level. But his athleticism at the quarterback position gives him another dimension." —Rivals.com
Contributions

Young helped to redefine just how the quarterback position can be played at the college level, preceding a number of super-athletic, dual-threat signal-callers to raise the standards of an elite college quarterback. Young made waves before the likes of Terrelle Pryor, Cam Newton and Robert Griffin III.
Young led the Longhorns to consecutive Rose Bowl victories following the 2004 and 2005 season, with the latter coming in the BCS National Championship Game against the top-ranked USC Trojans.
Young contributed one of the most memorable and impressive individual performances against the Trojans, amassing 267 passing yards and 200 rushing yards and three touchdowns, including the game-winning score on a 4th-and-5 with 19 seconds to play.
Currently, Young is a free agent in the NFL after failed stints in Tennessee and Philadelphia.
Honorable mention: Garrett Gilbert, Chris Simms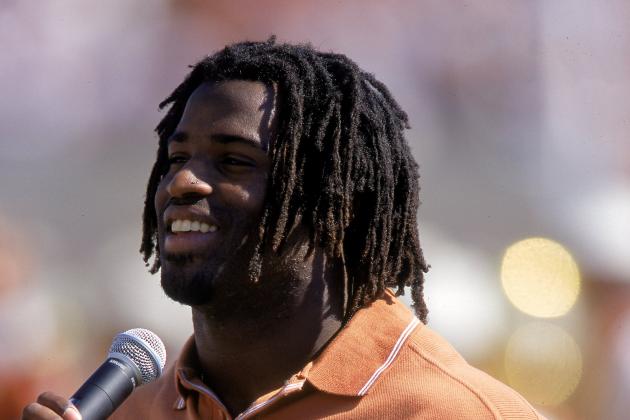 Jonathan Daniel/Getty Images

Ranking: Top 5 RB, Top 20 Overall (1995)
Context
Coming into the picture a handful of years before high school recruiting took off, Ricky Williams left San Diego for Austin as part of the 'Horns 1995 recruiting class. Williams did not take long to shine, culminating in a Heisman-winning campaign during his senior year. Williams was expected to become a significant component to the Texas offense even before the Mack Brown era.
Quotes
Contributions
Williams holds or shares 20 NCAA records and set the record for career rushing yards in 1998 with 6,279 yards. Williams rushed for at least 1,000 yards in each of his four seasons in Austin, including a 2,327-yard season in 1998.
Williams was selected fifth overall in the 1999 NFL draft, going to the New Orleans Saints before seeing stints in Miami (twice), Toronto (CFL) and Baltimore before retiring after the 2011 season.
Honorable mention: Johnathan Gray, Malcolm Brown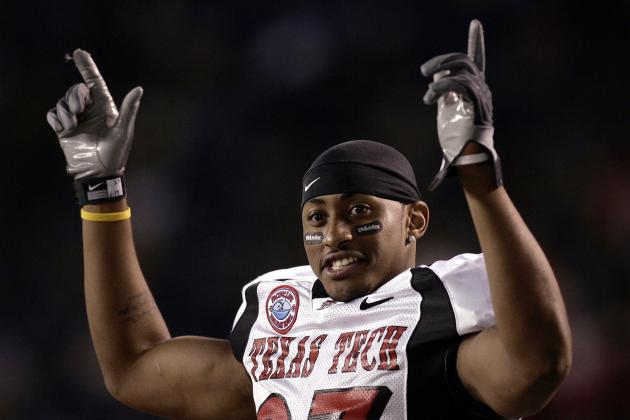 Donald Miralle/Getty Images

Ranking: No. 3 WR, No 25 Overall (2002)
Context

Marquis Johnson was the top-ranked player in the state of Illinois and chose to take his football efforts to the Lone Star State. However, Johnson never made it to Austin and instead wound up at Texas Tech, where he caught just 21 passes over two seasons, after a stint in junior college. Johnson also considered Michigan, Purdue and Arizona.
Quotes
"Great size, strong hands, good speed and terrific concentration." —ESPN.com
"One of the nations finest wide receiver prospects. Named 1st team all state by the Chicago Tribune in 2001. Was Player of the Year in Central Illinois." —Scout.com
Contributions
Johnson whiffed on all of his expectations at Texas, since he never set foot on campus as a player.
Instead, the Illinois native enrolled at Hutchinson Community College before transferring to Texas Tech.
Johnson would get drafted in the seventh round of the 2010 NFL draft, going 211th overall to the St. Louis Rams where he appeared in five games. Johnson signed with the New Orleans Saints in May 2010, but failed to make the 53-man roster.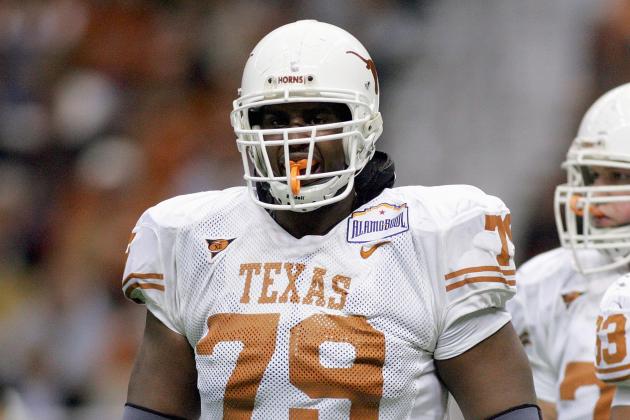 Ronald Martinez/Getty Images

Ranking: No. 1 TE, No. 7 Overall (2003)
Context
Despite being listed as a tight end in high school, Tony Hills made a permanent move into the interior after arriving in Austin. For those purposes, he is the most hyped tight end prospect recruited by the Longhorns. Coaches and fans alike pinned Hills as the most important recruit in Texas' 2003 recruiting class, and his efforts were instrumental in building a formidable offensive line in front of Vince Young. Hills also looked at Colorado, Florida and LSU.
Quotes
"At 6-6, 260 pounds, Hills is a dominating blocker and has the type of athleticism to be a potent downfield receiver." —Rivals.com
"During his senior season at Elsik, Hills recorded nearly 100 pancake blocks and posted 15 receptions for 275 yards." —Rivals.com
Contributions
Hills established himself as a force as soon as he arrived on campus, eventually becoming a big piece to an offensive line that simply thrived during the golden era of Texas football.
Hills was drafted 130th overall to the Pittsburgh Steelers in the 2008 NFL draft. He also had stints in Denver in 2011 before signing with Indianapolis in 2012, where he is still on its active roster.
Honorable Mention: Jermichael Finley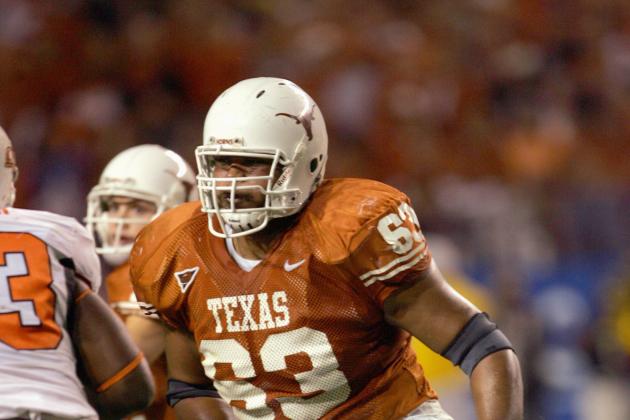 Stephen Dunn/Getty Images

Ranking: No. 2 OG, No. 19 Overall (2002)
Context
Justin Blalock had been expected to become an integral part to an offensive unit that would eventually realize its elite potential. Blalock took a redshirt season before exploding onto the scene as one of the more reliable offensive linemen in the country. Playing alongside big-timers like Will Allen and later Vince Young, Blalock would turn into a cornerstone and standard that would exist beyond his playing days at Texas. Blalock also considered Oklahoma, Michigan, Florida, Nebraska and Miami (FL).
Quotes
"The 6-foot-4, 325-pounder graded out at 95 percent this season with 125 pancakes on an offensive line that allowed less than 10 sacks this season." —Rivals.com
"One of the best offensive lineman not only in Texas, but the entire country. Has an upper-body that looks like a body-builder, but he also moves well. He is a smash-mouth run blocker." —Rivals.com
Contributions
Blalock started 51 games for the Longhorns in his four-year career after taking a redshirt his freshman season. He was named a Lombardi Award and Outland Trophy Award finalist in 2006 to go along with a unanimous first-team All-American selection.
Blalock was drafted 39th overall in the 2007 NFL draft to the Atlanta Falcons where he is still on their active roster.
Honorable Mention: J'Marcus Webb, Tray Allen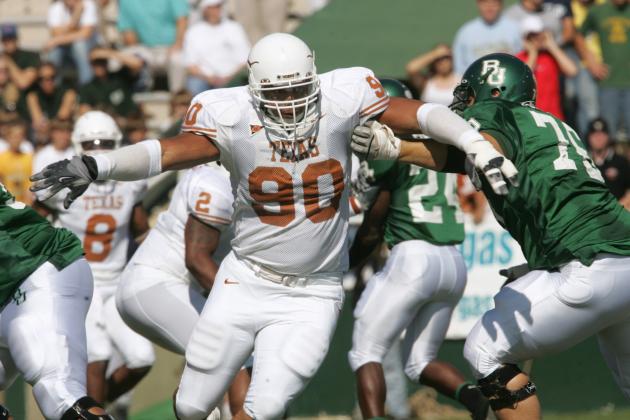 Stephen Dunn/Getty Images

Ranking: No. 1 DT, No. 6 Overall (2002)
Context
The Longhorns were expected to recruit heavily on defense, and Rod Wright filled that need extensively as the top-ranked defensive tackle in the country. As it turns out, Wright was a part of a 2002 Texas class that would become the cornerstone to its 2005 championship team. Wright also considered Oklahoma and Texas A&M.
Quotes
"Wright is just plain big. He's broad-shouldered with a tree trunk for a lower body. To think that he's only going to get stronger is frightening." —Rivals.com
"Wright is oftentimes the first guy off of the ball. He rarely lets his blocker beat him to the point of attack. He's not the fastest guy you'll see of the ball, but he's much quicker than most." —Rivals.com
Contributions
Wright was a 2005 Lombardi Award finalist, spending four seasons at Texas as a four-year starter. He was also on the watch list for both the Outland Trophy and Nagurski Awards. Earned first-team All-America honors in 2005. Wright was selected 226th overall by the Miami Dolphins in the 2006 Draft. He was a practice squad member for the New York Jets and also spent a season in the CFL.
Honorable Mention: Eddie Jones, Frank Okam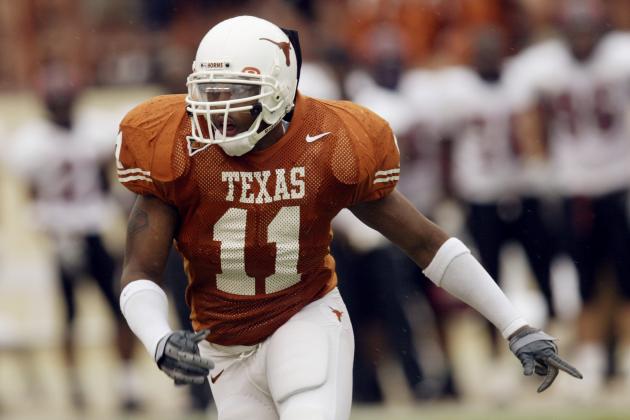 Stephen Dunn/Getty Images

Ranking: Top 5 LB, Top 25 Overall (2001)
Context
The Longhorns were looking for a difference-maker in the middle of the defense, and they landed just that in Derrick Johnson, a rangy, tall athlete who would become one of the best defensive players in Texas football history. Johnson selected Texas over Oklahoma, Florida State and Miami (FL), among others.
Quotes
"If you had to clone a player, you'd want [Johnson's] qualities with the size, speed and desire to get to the football. And the fact that he is tall and rangy and fast, that combination made him difficult to deal with. By and large, he's the complete package." —Waco Coach Johnny Tusa via hornfans.com
Contributions
Johnson became a four-year starter, posting 458 tackles over his career in Austin. Earned the Nagurski Award and the Butkus Award. He was a finalist for three other defensive recognitions. Johnson was the Big 12 Defensive Player of the Year in 2004. Johnson was selected 15th overall in the 2005 draft by the Kansas City Chiefs, where he still plays today.
Honorable Mention: Sergio Kindle
Brian Bahr/Getty Images

Ranking: No. 3 CB, No. 27 Overall (2007)
Context
After seeing some uneven results stemming from their 2005 and 2006 recruiting classes, the Longhorns sought a big-name get in their 2007 class and snatched one of the top cornerbacks in the country in Curtis Brown. Brown would have a hand in 52 games for the Longhorns, but hardly made the big-time splash that everyone had been expecting. Nevertheless, he continued the "DBU" tradition and landed in the NFL. Brown chose Texas over Oklahoma, Texas A&M and Texas Tech.
Quotes
"Brown has super speed, great hips and super agility for a corner, and is not afraid to the lay the wood. There are few who can match the physical skills of Brown." —Scout.com
"The 6-foot, 174-pound blue-chip can line up at several different positions, and he's primarily being recruited as a cornerback and wide receiver. As a junior for Gilmer, he caught 63 balls for 974 yards (15.5 yards per catch), while adding 750 yards (16 yards per carry) on the ground, mostly on reverses." —Rivals.com
Contributions
Brown appeared in 52 games for the Longhorns over his four-year career, including 28 starts. He earned second-team All-Big 12 honors in 2010 and was a part of a hefty Texas secondary that included the top-draft selection Earl Thomas at safety. Brown was selected 95th overall in the 2011 NFL draft by the Pittsburgh Steelers, where he still plays today.
Honorable Mention: Edorian McCullough