Ranking the 10 Prettiest Swings in Golf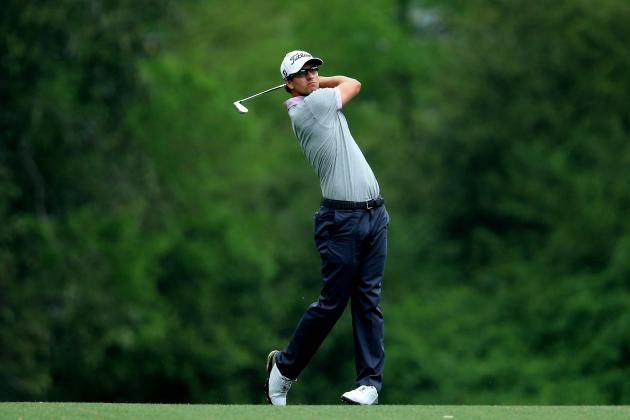 David Cannon/Getty Images
There's not a better swing in golf than the one Adam Scott owns.
It's a lot like being a judge in a beauty contest.
The mission is to rank the 10 prettiest swings in golf.
Not the most powerful, the most accurate or the most athletic.
No, we're talking pretty and there are plenty of those.
Finding the 10 prettiest, well, there has to be some subjectivity involvement and, with that, I give you the list.
Begin Slideshow

»
Retief Goosen was once one of the elite players in the world, winning the U.S. Open in 2001 and 2004.
He was never one of the longer players and isn't the player today he was then after struggling with injuries and back surgery.
But he still has that silky swing, one that he bases on "making a nice smooth swing."
As with all the best swingers of a golf club, Goosen tries to adhere to the idea of swinging at 80 percent, better for balance and consistency.
And that leads to better rhythm and timing.
Luke Donald has spent time as the No. 1 player in the world and a large part of the reason for that is what appears to be his very natural swing.
You watch him swing and you seriously question why he hasn't won a major championship.
There's plenty of pretty in that swing, which appears to be the most natural thing in the world for him to do.
The smoothness of the swing appears to have eliminated any sense of mechanics and that's what makes it such a beauty.
Another long, fluid swinger in the mold of Fred Couples, DL III's action created massive distance in his prime, putting him in the top tier of drivers. That allowed him to go at holes with shorter approach shots and led to the 20 wins and $42 million in earnings.
Couples was another of those who didn't depend on mechanics as much as he did timing and rhythm. That swing also played a role in a short game that was one of the game's best for many years.
The words mechanical and Davis Love III will never appear in the same sentence.
What makes Tom Watson's swing pretty? Well, there's always the simplicity, the solidness and consistency.
But in my opinion, the fact that he won an Open Championship in 1975 and, with basically the same swing, almost won another at age 59, that is a very pretty thing.
Here's how the website (www.perfectconnectiongolfswing.com) describes the six-time major champion's swing: "Tom swings perfectly up the brick wall on the backswing, puts the club on the shoulder plane on the way down, and back up the wall on the way through."
The young man from Northern Ireland, who'll turn 24 in a couple days (May 4), has brought with him to the big leagues a swing as good as any that have come across our television screens in years.
It's a pretty one because of how simple it is. Again, nothing forced, just a one-piece motion that goes from A-B with a lot of power and grace.
McIlroy told Golf Digest how simple his swing is to him.
"I like to swing with no fear," he said. "I'm a grip it and rip it guy. . . . Over the ball, I think about nothing other than the target. I don't focus on technique."
You'd have to say mission accomplished to the young man who was No. 1 in the world for 32 weeks.
His swing doesn't look technical and that's part of why it is one of the prettiest.
Beauty is in the eye of the beholder, right?
Well, so is pretty in this case.
Tiger Woods has never had one of those long, flowing swings that's smooth as butter. Woods brought extreme athleticism to the golf swing and that was a beautiful thing to watch.
His swing has gone through three major changes over the course of his career and while it's still a powerful move, injuries caused by that massive lash he takes at the ball has made adjustments necessary.
Regardless of that, he's still a crowd-pleaser not only for how the power he possesses but for the way he channels that aggression into a pretty swing.
This man from South Africa burst into prominence by winning the 2011 Masters, fueled for certain by his picture-perfect swing, but was clinched by his record-setting four straight birdies to end the round.
Had you not known he was playing in the final round of the season's first major, you wouldn't have guessed it by the way Schwartzel repeatedly unleashed a swing rich with tempo, rhythm and smoothness that's rarely seen in those circumstances.
He's not called the Big Easy for nothing!
There is no swing in golf that looks as easy Els'. Smooth, without tension and seemingly effortless is what golf fans see. But the native of South Africa creates tremendous power with that swing that is not overly technical or mechanical.
Els looks very loose and supple at all stages in his swing and that allows him to let his instincts and muscles take over. His coach, David Leadbetter, has worked with him getting his swing a bit shorter and he believes the consistency that has come with that will allow him to be a factor well into the future.
Golf's reigning "Mr. Cool" also has one of the coolest swings, too.
Couples has suffered with back problems throughout his career and has had to make adjustments as a result. His long-flowing swing has been the envy of 16-handicappers for years, those who couldn't possibly find the tempo and timing in a golf swing like Couples has.
Not only has that swing helped him keep his career alive (even though it's on a somewhat limited basis), it has helped him earn the nickname "Boom Boom" as a result of the prodigious length he has gained off the tee.
The fact that he contended at the Masters this year at age 53 is a tribute to that swing.
Even before 2004 when Adam Scott broke into the PGA Tour spotlight by winning the Players Championship, his swing was being talked about in terms of comparisons to some of the other great swings in the game.
As he has progressed as a player, that swing has not only gotten better but has become even more pretty. It is a swing that seems effortless but creates great power. It's obviously repeatable (as shown by his steady play Sunday at the Masters) but it never seems rushed or forced.
Tiger Woods' swing was always mentioned as the one Scott tended to emulate, but Scott's is more graceful now, with Woods' having become more technical.