Swansea City vs. Manchester City: 5 Key Battles to Watch at Liberty Stadium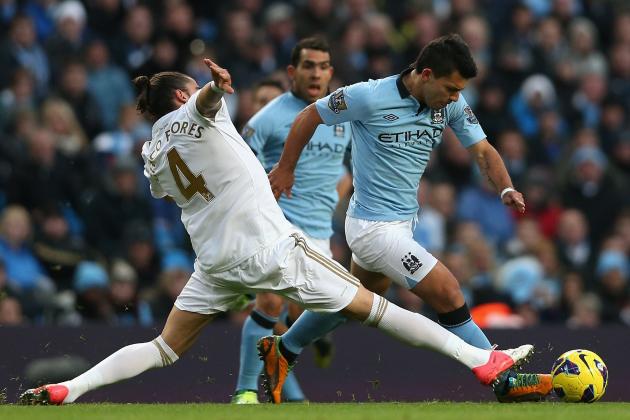 Clive Brunskill/Getty Images
Even if City has little to play for, the Swans are still plucky and apt to get stuck in.
The recent turn of the calendar to May means that in many places, school is winding down to its sweet end. If you are one of those lucky students nodding happily as you read this, mazel tov.
So too is the Barclays Premier League schedule winding down. Manchester City has but three league matches left after the weekend's trip to Wales to face Swansea City. One of those matches is away to already relegated Reading. Pretty dour stuff.
If Manchester City's season was a school year, it would be called a largely successful year that was damned by, er, Great Expectations.
The first semester trip abroad was a complete debacle, and the classmate they hate the most has already been named valedictorian.
But City can still grab a prize or two before the windows are shut and the doors are locked for the summer.
Here, then, are the battles that City will need to win to claim three more points against Swansea City.
Begin Slideshow

»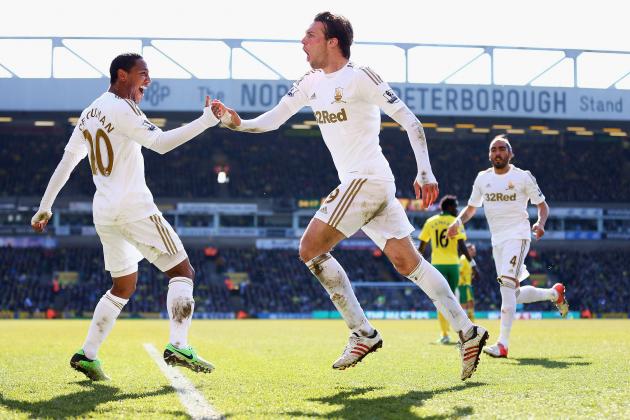 Matthew Lewis/Getty Images
When the Swans get on the board, it is usually through Michu.
The defensive scouting report for Manchester City might be laid out over 1,000 words and many pages. But only two words are needed.
Stop Michu.
Swansea City has scored 43 goals this season in Premier League play. Michu has 17 of them. The next most prolific Swans (Wayne Routledge and Jonathan de Guzman) have five apiece.
If City can just remember to keep the ball away from No. 9, one point should be no problem and three points could be within reach.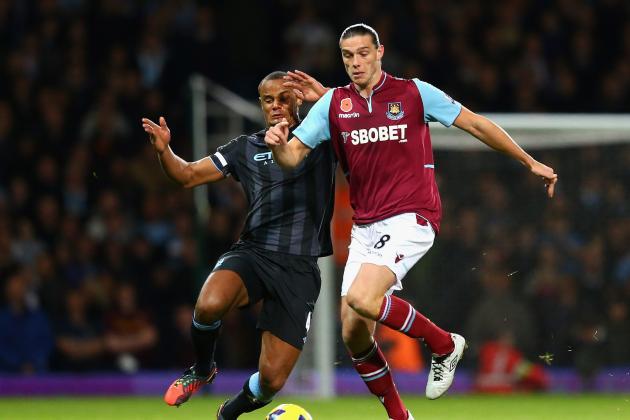 Matthew Lewis/Getty Images
West Ham United's only offensive idea last week was to lob it over the top to Andy Carroll.
Manchester City dominated play against West Ham United last week. The Sky Blues had 62 percent of the possession and more than twice as many shots on target.
One thing West Ham did worked, however. West Ham kept sending Andy Carroll forward and chipping long, high ball after long, high ball in the hope that Carroll could get free and make a play.
And he did, but fortunately for Manchester City, the game was already decided when Carroll finally scored.
Count on Swansea City to have seen last week's game tape and do remarkably similar things to try to get the ball to Michu in space behind the Manchester City defense.
If that happens, look out.
Andy Carroll is an adequate striker. Michu is an assassin.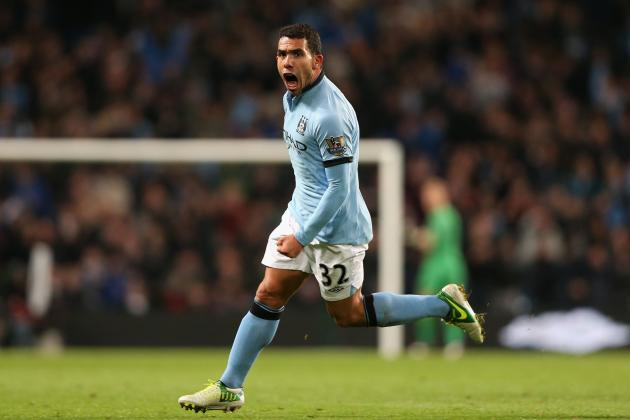 Clive Brunskill/Getty Images
Here is what Carlos Tevez looks like after he scores a goal that injures the opposing keeper in the process.
When these clubs last met, Swansea City held Manchester City scoreless at the Etihad for 60 minutes and looked well on their way to at least one point.
The strike from Carlos Tevez was a wonder on its own. But to score from that distance with such precision while at the same time putting the opposing keeper on a stretcher?
Keeping the school metaphor going, for Michel Vorm that had to be like leaving the prom with no date and a bloody nose.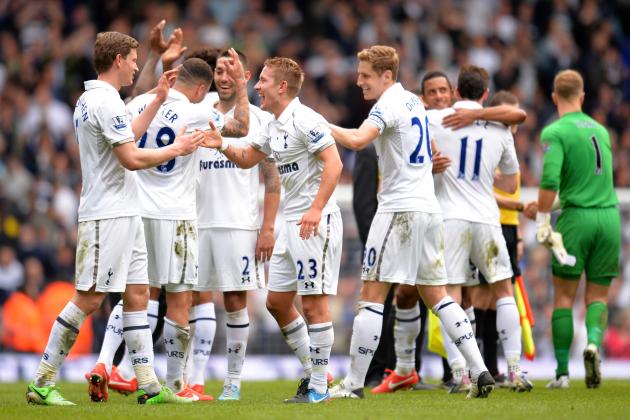 Shaun Botterill/Getty Images
City can count on both Tottenham Hotspur and Arsenal running rampant this weekend.
Manchester City enter the weekend looking like a comfortable candidate to salt away a second-place finish in the Premier League table.
City will lead Chelsea by six points, Arsenal by seven and Tottenham Hotspur by nine as the weekend commences. Comfortable.
But the schedule has other ideas, at least this week.
The good news for City is that Chelsea head to Old Trafford for a date with the new champions. Sir Alex Ferguson has already decreed that his side is not going to give anything away in the closing run. His word was true last week at the Emirates.
The bad news for City is that both the Gunners and Spurs have dates with soft opposition coming up.
Southampton will visit White Hart Lane; the Saints have won only three times in 17 trips away from home. Arsenal are on the road at least, but the visit to Loftus Road to take on doomed Queens Park Rangers does not figure to test Arsene Wenger's side too terribly.
So City can count on their pursuers making up some ground if they leave Wales empty-handed.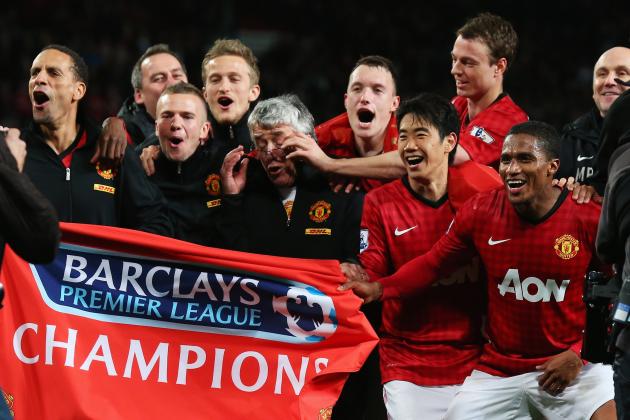 Alex Livesey/Getty Images
You could almost forgive City for easing off the gas knowing that this happened. Almost.
Ultimately, Manchester City's biggest battle of the weekend has precious little to do with Swansea City.
Their European campaign is a sad, shattered memory. The Premier League trophy is already at rest on the red—i.e., wrong—side of Manchester.
One of the many definitions of being a professional is giving your best effort when you do not feel like it or up to it.
Manchester City would have to lose their last four straight to some decidedly average competition to be even at risk of not qualifying for the Champions League. So the temptation will be there for the remainder of the season to, as the old Milton Berle joke goes, just show them enough.
City must summon up the courage and the fortitude to finish this season and secure second place with the same resolve and determination they showed in winning the league last season.
That will be the hardest part.