Report Card Grades for Dallas Cowboys' Undrafted Free Agent Signings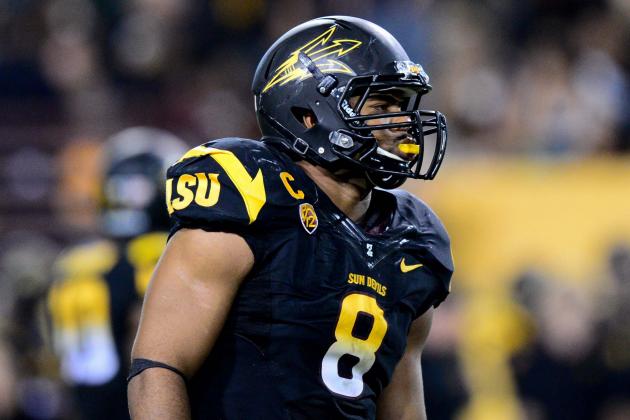 Matt Kartozian-USA TODAY Sports

Sometimes the best kept secrets on NFL rosters aren't products of getting drafted. These players often take different routes to the NFL, but they are tied to one common link and that is going undrafted. Fortunately for the Cowboys, they have been quite successful in this area.
Tony Romo and Miles Austin are current examples of the flaws of the draft process. Neither player had character issues, arrest warrants or bad attitudes, but whether it's coming from a small school or lacking a certain measurable, the scouts failed to see beyond the stop watch.
But that's the beauty of the NFL and the proof that if you can play, they will find you. Sometimes I think that an UDFA often has a certain advantage because they can exploit weaknesses in team's rosters and set themselves up for greater success.
Last year the Cowboys were able to add Lance Dunbar, Ronald Leary and Cole Beasley to their list of free-agent findings and 2013 will certainly present these players with many opportunities.
Can the Cowboys add a few more this year? Early indications are that might be the case. Let's check out this year's collection of free agents.
Begin Slideshow

»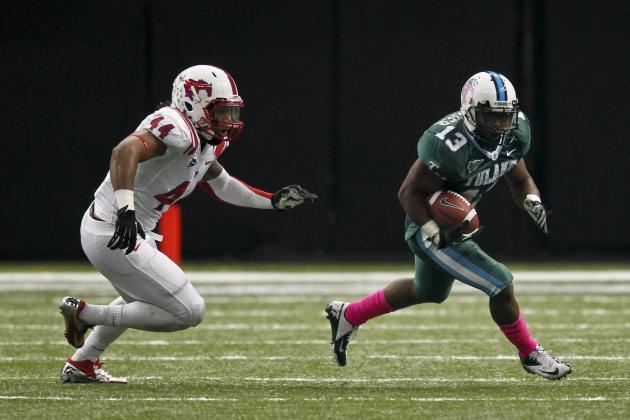 Derick E. Hingle-USA TODAY Sports

Reed decided to stay in his own backyard and sign with the Cowboys. The SMU product, who stands 5'11" and 240 pounds, could be very well in the mix at inside linebacker. The Cowboys will be looking for depth in this area and his 97 tackles and six and half sacks as a senior are nothing to sneeze at.
He possesses nice speed and his 14.5 tackles for loss are a clear demonstration that he knows how to pursue a play. When you watch him play that's what stands out the most. Hopefully he stands out in training camp in an area of need as he battles players like Caleb McSurdy.
Grade: B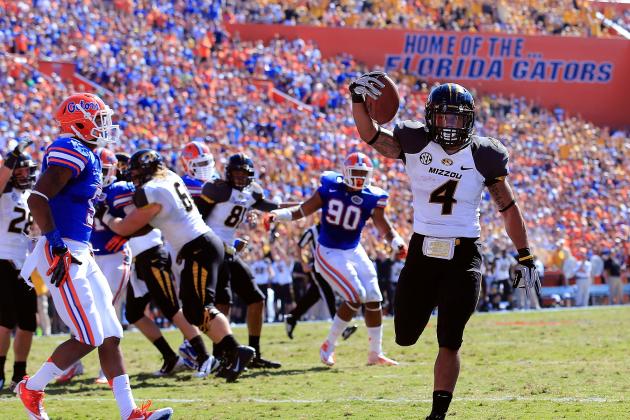 Sam Greenwood/Getty Images

Sometimes it's about the intersection of timing and team need when it comes to UDFAs. In the case of Kendial Lawrence, that may just be the case. He will definitely give Lance Dunbar and Phillip Tanner a run for their money, and this might be a player to keep an eye on.
He's a 5'9", 194-pound running back with explosiveness and speed who has the capability of contributing as a change-of-pace back. His game footage clearly shows the type of burst that NFL teams are looking for and this could be a fit.
I think as long as he plays within himself and does what the coaches ask of him, he could hang on as a fourth back if the Cowboys elect to ditch the fullback position.
Grade: B+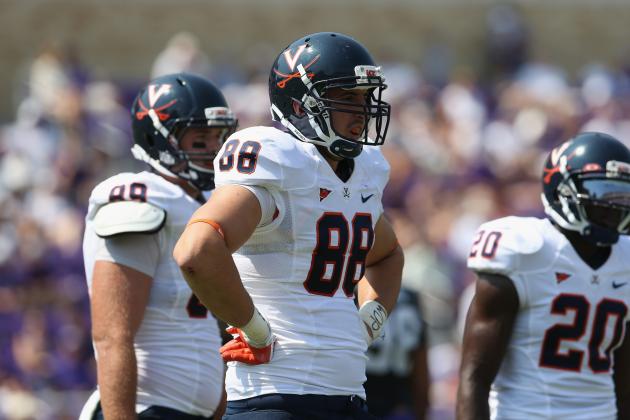 Ronald Martinez/Getty Images

Freedman has nice size at 6'6" and 265 pounds and would really only have a chance to make this roster as a fourth tight end who has blocking prowess. I don't see that with happening even if he can play H-back or even fullback.
He had six receptions for 48 yards and a touchdown for the Cavaliers last season so this is purely a camp body in my estimation that would have to provide an off-the-chart performance to have any consideration.
Grade: C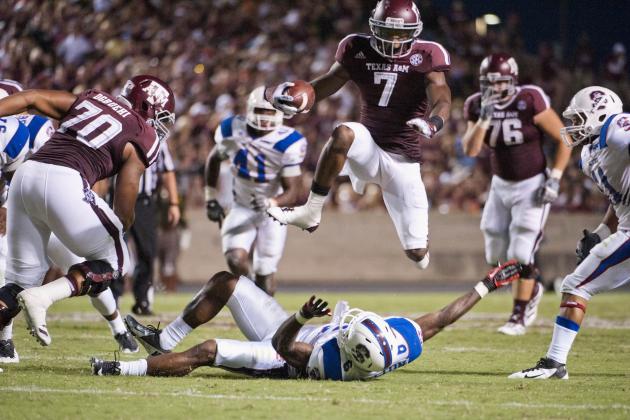 Brendan Maloney-USA TODAY Sports

Hamilton was a pre-draft visitor for the Cowboys and his signing could make for an interesting competition at the safety position. With the drafting of J.J. Wilcox that adds to a group of Barry Church, Matt Johnson, Will Allen and Danny McCray, Hamilton does face tough odds.
He plays with solid fundamentals, he tackles well in space, holds up well in coverage and does a nice job reading the quarterback. But he's not a better prospect than Wilcox and that shows as well. Hamilton doesn't quite possess the same athletic ability, but he could make his case on special teams.
Hamilton initially played at Georgia, which does speak to his talent, but roster spots will be uber-competitive this season. More likely a practice squad candidate.
Grade: C+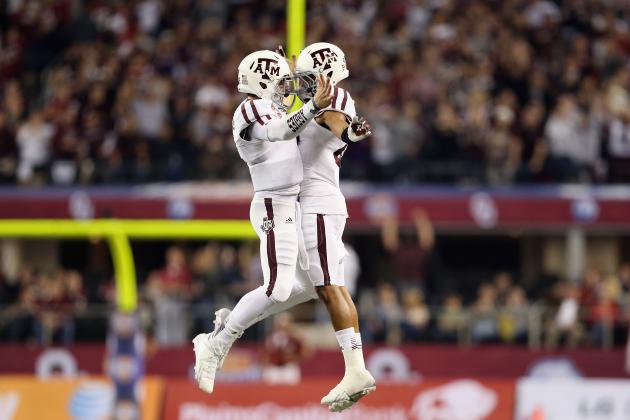 Ronald Martinez/Getty Images

If Harris has a chance to make this roster on a legitimate level then it will have to be in the return game. He led the NCAA in punt returns in 2011 and if you want to get an idea of what he can do then watch his highlight reel against South Carolina State.
In that contest he ripped off a 96-yard punt return that was pretty electrifying. Beyond the return game he will have a chance to compete for the practice squad, but with a pretty well-stocked secondary, he will be a long shot to make the team.
Grade: C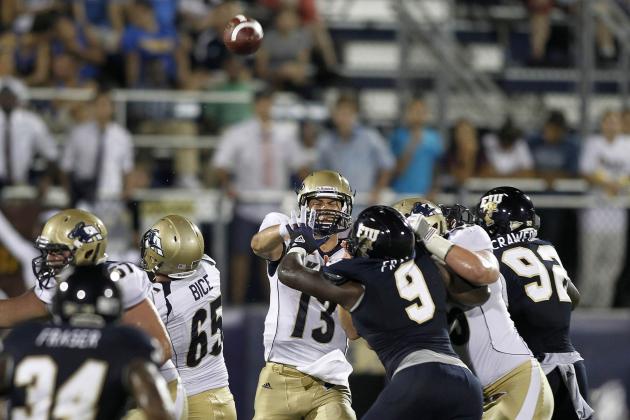 Robert Mayer-USA TODAY Sports

Right off the bat I like his size at 6'4" and 215 pounds. But I didn't know that much about this player so it was off to find some footage. From the game footage I saw Dalton was primarily playing from a shotgun formation and he's sort of an athletic, read-option player with some ability.
I saw some decent throws on shorter routes and some inconsistency in the intermediate and deep passing game. He does have some ability but I felt that there may have been some better options out there.
This is not the direction I thought the Cowboys were going to move in if they are ultimately looking for a developmental type of quarterback. It's hard to imagine why Tyler Bray was not a consideration after the draft, especially while an opening exists on the Cowboys depth chart.
Dalton is a true project who will probably be a practice squad candidate. Eventually the Cowboys must address the quarterback position with more thought. Dalton is not the answer.
Grade: D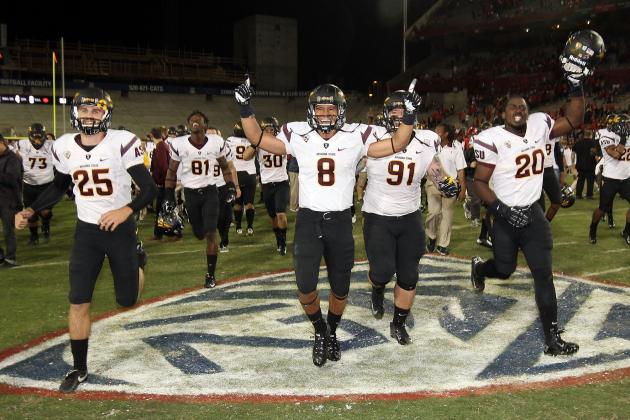 Christian Petersen/Getty Images

Magee represents the first UDFA with a realistic chance at the 53-man roster. The fact that the Cowboys made a $70,000 guarantee to secure his services tells a lot about what management thinks of him.
I was pretty convinced that Magee would be the Cowboys' sixth-round pick over DeVonte Holloman, but I think you have to consider Magee more of a seventh-round pick versus an undrafted prospect when over 10 teams were vying for his talent.
After suffering an Achilles tendon injury in 2011, Magee returned to the Sun Devils in 2012 and went on to record 113 tackles while enjoying a nice bounce-back season. Magee is a nice fit in the Cowboys' 4-3 scheme and he can use his speed, agility and tackling ability to cement his place on this roster.
Magee is a legitimate candidate to make this team at a need position. Being able to find another young player with upside who can contribute will also help out this franchise in the salary cap area as well.
Landing Magee was a major coup for this franchise and maybe he can replicate the success of his former undrafted teammate Vontaze Burfict. I really like this pickup.
Grade: A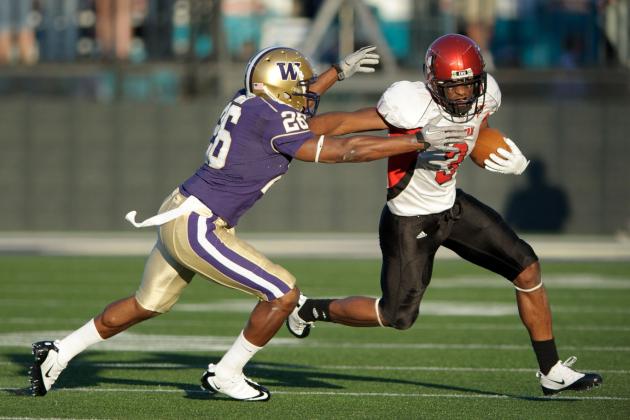 Steven Bisig-USA TODAY Sports

Herd is a big, 6'3", 200-pound receiver with decent speed that could be a nice developmental player for the Cowboys. Finding game footage on some of these players was a little tough but I managed to find some on Herd and he has some upside to his game.
Against UC Davis, Herd hauled in a 51-yard touchdown and I saw a receiver who ran nice routes. He was able to separate from the defender and he made himself available when the quarterback was under duress.
But Herd will be competing with a talented group of receivers with little to no room for roster spots. The logical thought would be the Cowboys keeping five receivers to allow depth at other areas and I believe this will be the case.
This has practice squad written all over it.
Grade: C+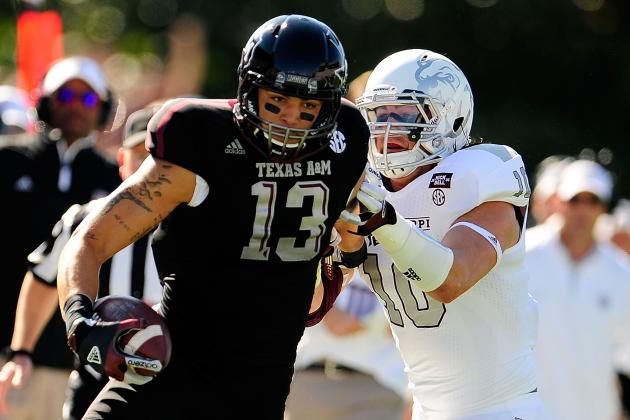 Stacy Revere/Getty Images

Lawrence is an interesting prospect at the linebacker position. He's 6'3" and 230 pounds, which automatically makes you assume he needs to add some mass to his frame. But what I saw on tape is a tackling machine. In 2011 he compiled 123 tackles to lead his team.
The key here is his athletic ability and how it can help the Cowboys in coverage situations. He's very athletic, he fights through traffic to sniff out runners, and you just see a player who is not afraid to throw his body around. I see him as the classic overachiever who maximizes whatever he has.
And that's a good thing. But the bottom line here is that special teams will have to be his ticket and he needs to add some size to his build. The fact that linebacker is a need on this team at least puts him in a very good mix and right in the middle of the competition. I will be keeping my on Lawrence.
Grade: B
Jonathan Ferrey/Getty Images

Smith is more of a zone corner who was a leader in the Badgers' secondary. He will have more than an uphill battle to make this team in a deep, talented secondary, but he does have some ability and could make the practice squad.
He's a 5'11", 182-pound corner who's built like B.W. Webb, but Webb is clearly a better athlete. Smith will have the benefit of an NFL training camp to further his game, but this looks like a good candidate for the practice squad as I mentioned.
Grade: C
Brian Spurlock-USA TODAY Sports

Heath is a virtual long shot to make this roster but he is an intriguing 6'1", 210-pound safety prospect. He enjoyed a nice 2012 season compiling 77 tackles, five interceptions and a fumble recovery. He's a strong athlete, solid tackler and does a nice job in coverage.
Heath was not a combine invitee but had a nice pro day while running a 4.48 forty-yard dash and what jumped out at me was his 22 bench press reps. But beyond the practice squad there just isn't much room on this roster for Heath. He would have to leapfrog a host of players who are simply better.
Grade: C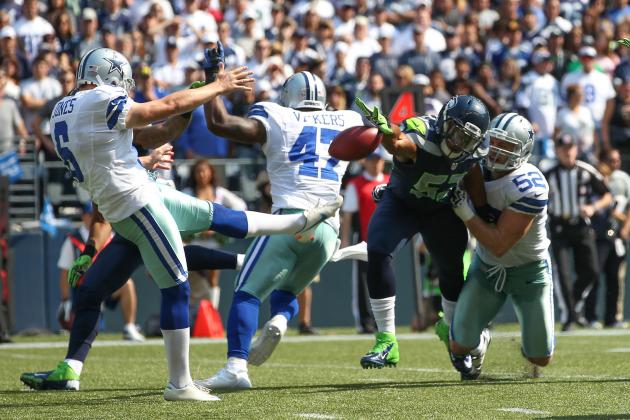 Otto Greule Jr/Getty Images

Benton will be in a direct competition with Cowboys punter Chris Jones. Jones was injured during the 2012 season, but with Brian Moorman no longer in the picture it's his job to lose. The question is whether Benton will do enough to cost Jones his job or will he just be a camp body.
Benton did kick a 61-yard field goal in Clemson's win against Ball State in 2012 so it might give you a little insight as to his ability and versatility as a punter, kicker and kickoff specialist. Chris Jones should not underestimate this prospect.
Grade: B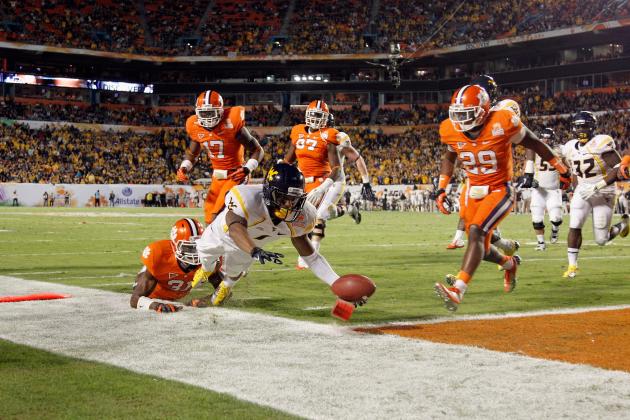 Mike Ehrmann/Getty Images

Brewer faces the same battle that Devin Smith faces in a very crowded secondary although he was one of the best cornerbacks in the ACC. Brewer also played safety while at Clemson so he has an element of versatility to his game.
He was a very productive player for the Tigers and in watching him play you can see his outstanding tackling ability. One game in particular, against South Carolina, he was all over the field and led both teams in tackles with 12.
I see Brewer as someone who can compete a little more due to his versatility but he would have to catapult his way up the chart and really standout in camp and preseason. He might be a player that the Cowboys need to have on their practice squad if he fails to make the team.

Grade: B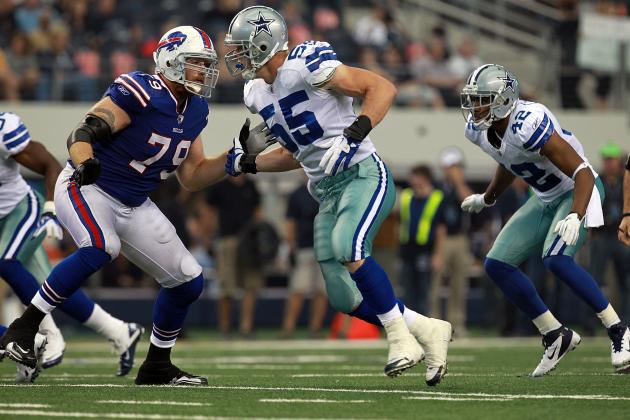 Ronald Martinez/Getty Images

Lacey will have a chance to compete at the linebacker position both at the strong and inside positions. His tackling ability and tackles for loss are what immediately jump out at me. West Alabama is an under-the-radar football program but Lacey represents some of the talent they do have there.
A consistent double-digit tackler, Lacey still faces a battle among the linebacker corps but his size at 6'2" and 229 pounds make him an ideal future candidate to fit into the 4-3 defense. Having the ability to develop another 4-3 linebacker with some speed and tackling ability might just make this a good find.
Grade: B-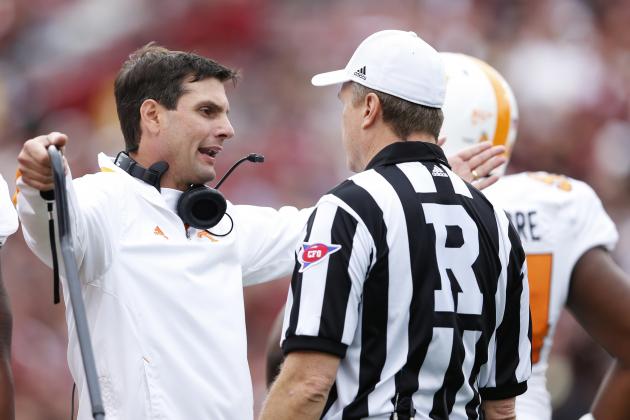 Joe Robbins/Getty Images

Derek Dooley will have another receiver prospect to work with as he enters his first campaign with the Cowboys. Rogers is a big, 6'3", 205-pound receiver who posted 1,298 yards and 18 touchdowns this past season for CLU.
Rogers was the 2012 SCIAC Player of the Year and the School's all-time leading receiver. Rogers is simply a player who has production written all over him and he's someone I will be watching closely to push players like Cole Beasley, Danny Cole and Dwayne Harris.
Grade: B+