2013 Kentucky Derby Horses: Ranking Every Contender at Churchill Downs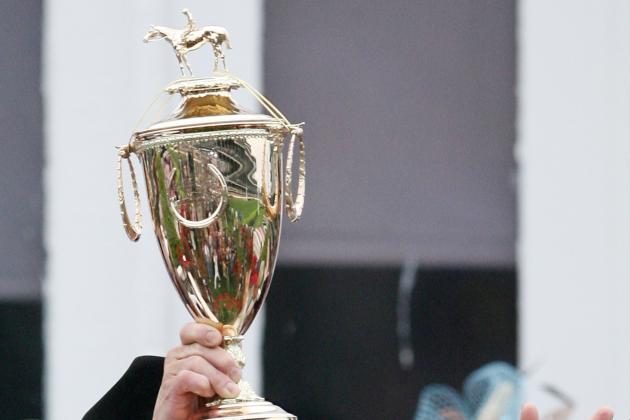 Andy Lyons/Getty Images
Who will take home the trophy this year?
A field of 20 of the finest three-year-old thoroughbreds are scheduled to head to the starting gate on Saturday in the 139th Run for the Roses.
With a field size that large, it can be difficult to separate the contenders from the pretenders. While there are several horses that have an equally good chance of winning in this wide-open field, there are just as many that seem like they are in way over their heads.
Here they are, ranked from last to first. By Saturday night, one will have taken their place in the history books.
Begin Slideshow

»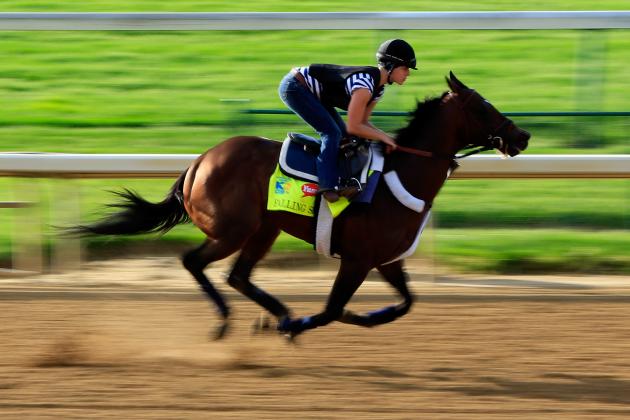 Jamie Squire/Getty Images
Falling Sky
Strengths: Speedball front-runner
Weaknesses: Speedball front-runner with distance limitations
Outlook: Falling Sky has regressed with each start this year and has given no indication that things will be turning around. Though he did win going 1 1/16 at Tampa early in the year, he was drifting out significantly at the end (a sign that a horse is getting leg-weary) after setting soft fractions.
He will be heard from early on the front end, but that will likely be it.
Strengths: He has speed and a good post position
Weaknesses: Off the board in only attempt on off track; has never won against open competition
Outlook: I had to stare at his past performances for 10 minutes to find something to say as a strength. While everyone deserves a chance to Run for the Roses and make their Derby dreams come true, I would be shocked if this horse can pull it off.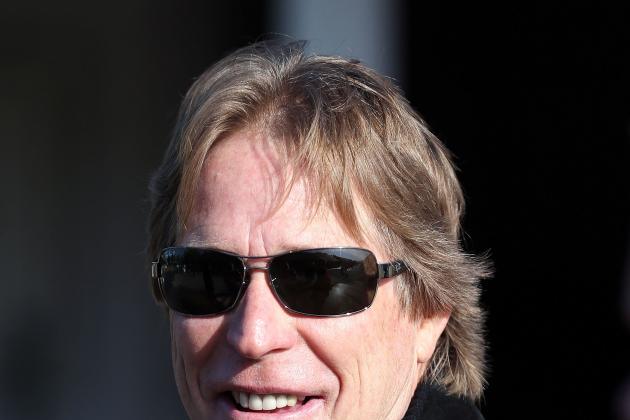 Andy Lyons/Getty Images
Golden Soul's trainer, Dallas Stewart
Strengths: May improve over an off track
Weaknesses: Only win was against maiden company; off the board in last two races; bred to be a turf miler
Outlook: Golden Soul looks like he is in a little deep here. He has not been on the board against graded stakes company in his last two Kentucky Derby preps, though his fourth-place finish in his last start was not awful.
His best finish against stakes company was a well-beaten second to Oxbow all the way back in January, and he will need to do better than that to be a factor here.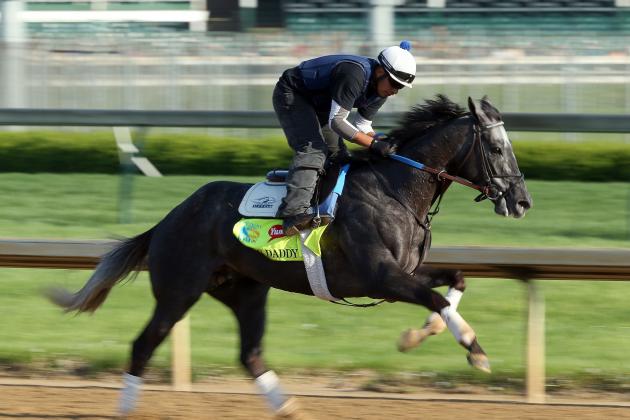 Andy Lyons/Getty Images
Frac Daddy trains at Churchill
Strengths: Plenty of stamina; loves an off track
Weaknesses: Has not won a race this year; inconsistent
Outlook: Frac Daddy has had a troubled sophomore year so far and was able to show a glimmer of hope last time out with a good runner-up finish in the Arkansas Derby. He does have enough tactical speed to land in a good position, and then it just depends on if he is good enough or not.
Though his record this year has been unimpressive, he did have an excuse for one of those poor performances. In the Holy Bull Stakes, he grabbed a quarter pretty badly and was fortunate to only have a superficial injury. No excuse whatsoever in the Florida Derby, but his race last time out was at least a step forward. He needs another big leap forward here.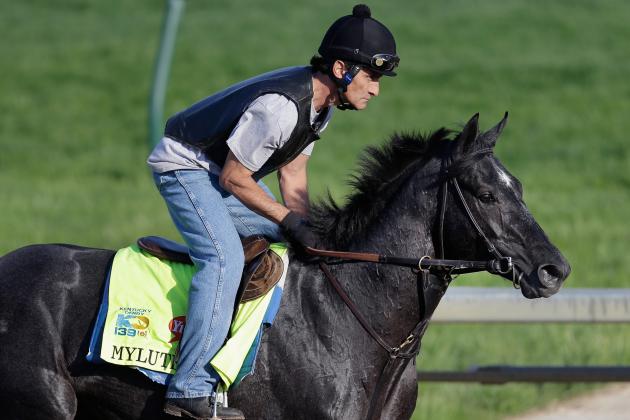 Rob Carr/Getty Images
Mylute prepares for the Derby
Strengths: Rosie Napravnik; off-track pedigree; experienced
Weakness: Ability to get 1 1/4 miles is doubtful; has never won a stakes race
Outlook: Mylute is one of the more experienced contenders in the field, and that works in his favor. However, his only other win besides his maiden victory came against soft optional claiming competition, and he will be facing some serious stakes horses here.
From only two starts this year as a sophomore, he has one good effort and one forgettable one. At this point, he doesn't seem consistent enough to be that much of a threat.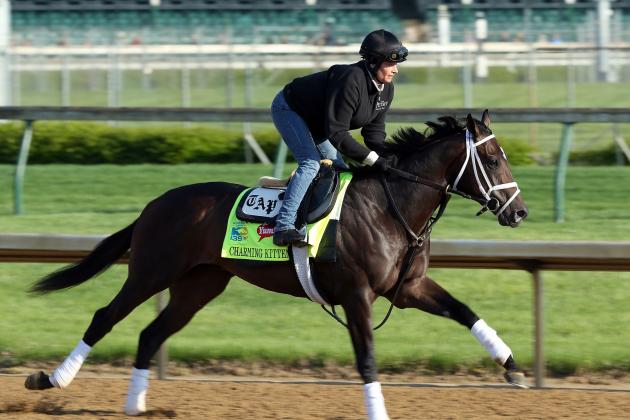 Andy Lyons/Getty Images
Charming Kitten
Strengths: Should excel on off track; very talented horse with plenty of stamina
Weaknesses: Much better suited to turf; untested on dirt
Outlook: Kenneth Ramsey is probably doing a rain dance right about now.
His horse, Charming Kitten, who he and his wife Sarah bred as well as own (along with his sire, their beloved Kitten's Joy) is a horse who only really has a chance to bring home the roses if the skies open up and the track becomes wet.
Charming Kitten is a seriously talented turf horse with a bright future on the lawn. While he has never run over an off track, his pedigree implies that he has a good chance to really take to it. That is likely his only hope of having an impact here.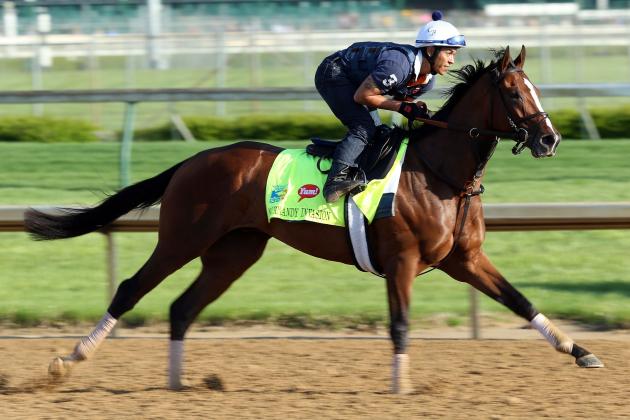 Andy Lyons/Getty Images
Normandy Invasion
Strengths: Battle tested; big late run; galloped out strongly after the Wood
Weaknesses: Only one win from five starts; running style sets him up for traffic issues
Outlook: Normandy Invasion wound up being jockey Javier Castellano's top choice after a game runner-up finish to the undefeated Verrazano in the Wood Memorial. This well-bred colt galloped out strongly after the race, and that must have been enough to convince Castellano to stick with him over Revolutionary.
Though he was off the board two starts back, that race was much more competitive than it appears on paper. He missed the win by under two lengths after a terrible trip. With a full field of 20, his running style puts him again at the mercy of a fast pace and a decent trip.
This colt moves up significantly with an off track. His sire, Tapit, is known for producing horses that love the mud, and there is a ton of wet-track influence on his dam side as well.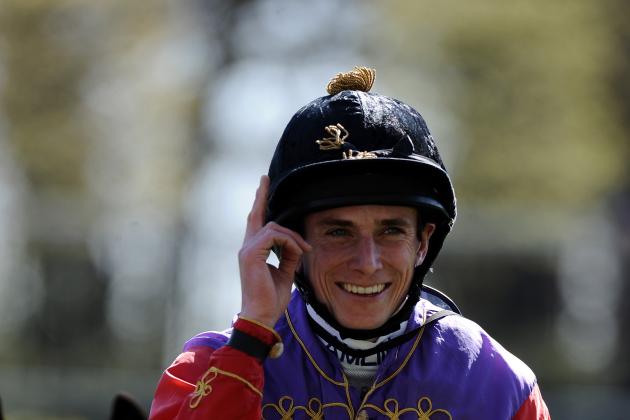 Tony Marshall/Getty Images
Jockey Ryan Moore will be aboard Lines of Battle
Strengths: Despite sprint-oriented pedigree, he has ample stamina
Weaknesses: Unproven over conventional dirt; European shippers have not been successful in Derby
Outlook: Lines of Battle will try to give Aiden O'Brien, one of the best and most successful trainers overseas, his first Kentucky Derby win. While Lines of Battle does have several glaring faults, the most important being that he has never raced over conventional dirt, he could be an interesting long shot as he is bred to excel on dirt.
His race in the UAE Derby was a powerful one, especially considering it was this colt's first race since his first trip to the United States to race in the Breeders' Cup Juvenile Turf. Though his effort in California for the Breeders' Cup was lackluster, he redeemed himself in the UAE Derby with an authoritative, comfortable victory. He looked like he finished with plenty left in the tank and may surprise on Saturday.
Strengths: Big closer; good form right now
Weaknesses: Better suited to turf or synthetics; 0-of-2 at Churchill Downs
Outlook: Java's War pulled off a thrilling finish in the Blue Grass Stakes to earn his spot in the Kentucky Derby starting gate, but he will have several obstacles to overcome. Though at first glance, his career record is very respectable—on the board in five of his seven starts with three wins to his credit—his two worst efforts both came at Churchill Downs.
Though he was able to translate his turf and synthetic form to Tampa Bay Downs in the Tampa Bay Derby, that is a very different sort of conventional dirt track than Churchill. At this point, he looks like one of those horses that just does not handle the Churchill surface.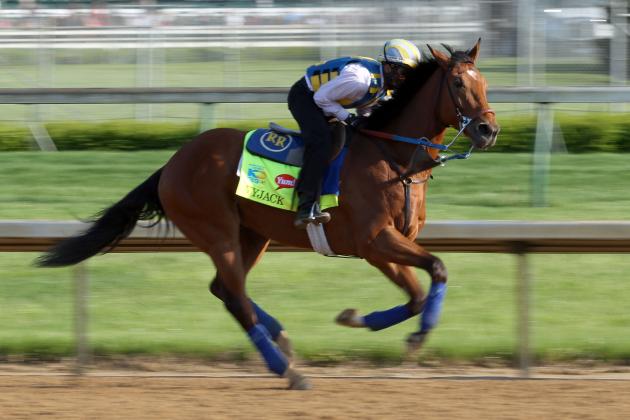 Andy Lyons/Getty Images
Vyjack wearing a hackamore, which is a bitless bridle
Strengths: Huge acceleration
Weaknesses: Has been facing soft competition; behavior is unpredictable; outside post is a detriment
Outlook: This horse was three or four places higher on my list until he was dealt the outside post in the field of 20 at Wednesday's post-position draw. His difficult behavior is well-known, and he will have to deal with the deafening sounds of the Derby crowd which may be too much for him to handle.
Vyjack suffered his first career defeat in the Wood Memorial, but he came out of that race with a reported slight lung infection. You try running your fastest with a cold and see how well you do. Since then, he has been training strongly and from all accounts seems to be poised to redeem himself.
His trainer, Rudy Rodriguez, is a former jockey and also exercise rides this colt in the morning. That kind of familiarity with a horse is invaluable. His closing kick in the Gotham Stakes was incredibly impressive, and this lightly raced gelding is capable of brilliance, but he is his own worst enemy.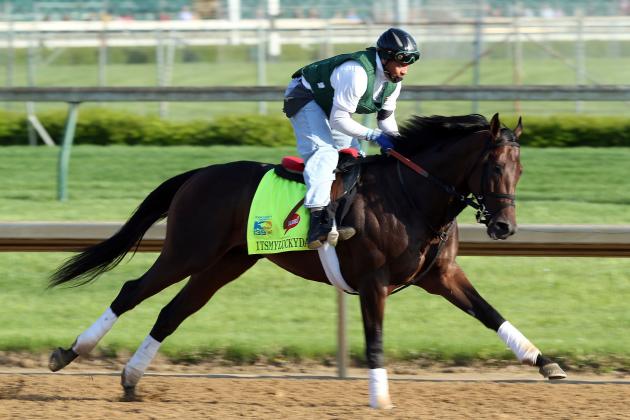 Andy Lyons/Getty Images
Itsmyluckyday
Strengths: Tactical speed; versatile; loves an off track
Weaknesses: Hinted at distance limitations in Florida Derby
Outlook: Itsmyluckyday deserves some credit for his versatility. As one of the more experienced horses in this year's Kentucky Derby field, this colt has won half of his 10 career starts and been successful both sprinting and going long as well as holding his own on both turf and dirt. He seems like the kind of horse who shows up and runs his race every time, and that is commendable.
His losing effort behind Orb in the Florida Derby was a flat performance, and he may find the distance of 1 1/4 miles a little bit further than ideal. But he is tactical enough to be forwardly placed early, yet he is also able to rate and avoid the likely speed duel between Goldencents and Falling Sky. That kind of professionalism gives him modest appeal.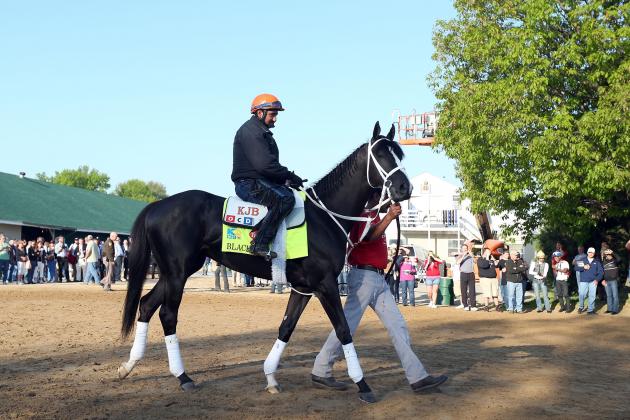 Andy Lyons/Getty Images
Black Onyx heads to the track
Strengths: Triple threat has won on turf, dirt and synthetics; steadily improving
Weaknesses: Inexperienced; inside post position is difficult to overcome
Outlook: Black Onyx was dealt a major blow when he drew the least desirable inside post position. With his stalking running style, he will need a clean break to have any chance of securing a decent position and will inevitably have to endure some bumping as horses jostle for position. The upside is he, like his father Rock Hard Ten, is a big horse with a lot of physical presence and should be able to hold his own.
While he has at this point defeated pretty suspect competition, this is a lightly raced colt with ample stamina in his pedigree, and he seems to be steadily improving with each start. He is a huge long shot but not a totally hopeless one.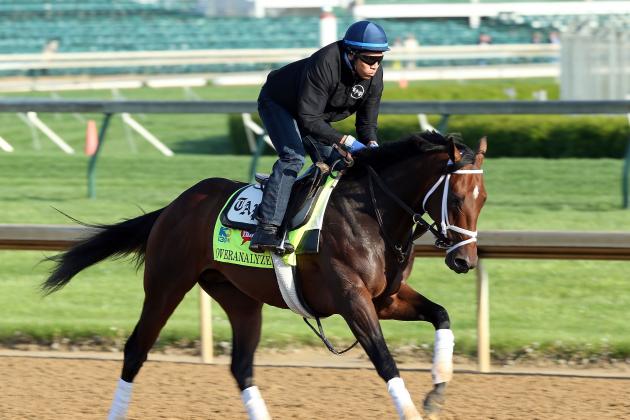 Andy Lyons/Getty Images
Overanalyze has quietly done everything right
Strengths: Stamina; effective running style
Weaknesses: Defeated a dubious field in his last race in a slow time; inconsistent
Outlook: Though Overanalyze was emphatic in victory in the Arkansas Derby in his last start, he has not been a model of consistency this year.
Which Overanalyze will show up? If he can repeat his last effort, he has a shot. But there is a chance that the horse that finished a lackluster fifth as the favorite two starts back in the Remsen will make an appearance.
For me, Overanalyze has been the forgotten horse in my handicapping. He has been so nondescript in his races and his training that he has flown under my radar, overshadowed by Todd Pletcher's more noteworthy horses. These are the kind of horses that sneak up and surprise you.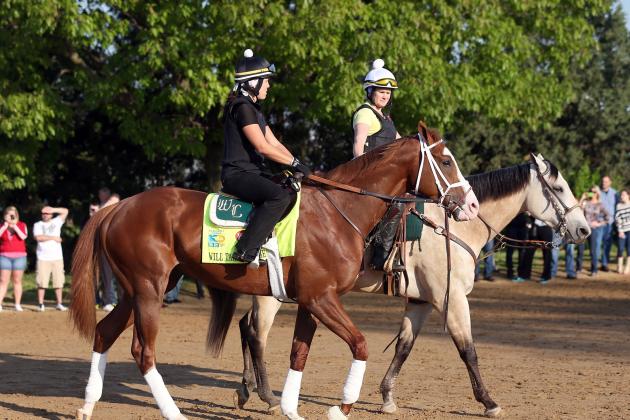 Andy Lyons/Getty Images
The big and flashy Will Take Charge
Strengths: Impeccably bred; massive stride
Weaknesses: Comes in off a seven-week layoff; poor effort over sloppy track
Outlook: I really wanted to like Will Take Charge. I was a fan of his mother, Take Charge Lady, and she has been a terrific producer as a broodmare. This colt is a physically impressive specimen, standing 17 hands, and his winning effort was very game.
However, the more I look at him, the harder it is to make a legitimate case. D. Wayne Lukas is a masterful trainer, but getting a horse of his stature fit enough off a seven-week layoff is a daunting task. In addition, this colt has had two really poor performances in his career—one came over an off track, one under the twin spires at Churchill Downs. With rain in the forecast, he will need to run the race of his life to be a factor.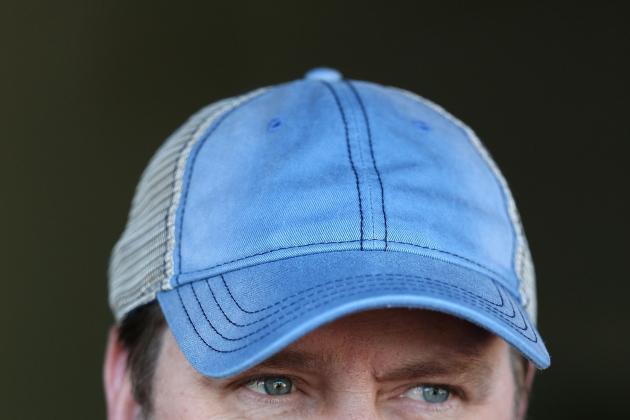 Andy Lyons/Getty Images
Trainer Doug O'Neill will try to win consecutive runnings of the Kentucky Derby
Strengths: Plenty of speed
Weaknesses: Inconsistent; one-dimensional running style; will have sharp company out front
Outlook: At this point, Goldencents is the best of the West, solely because he is the only one left in contention of the top California-based horses. With the highly regarded Hear the Ghost getting sidelined, along with the talented Flashback, Goldencents is the top threat from the West Coast.
He showed significant improvement in the Santa Anita Derby after a disappointing front-running effort two races back in the San Felipe. Doug O'Neill will try to repeat history and win his second consecutive Derby after sending I'll Have Another to victory in 2012. This will be jockey Kevin Krigger's first-ever mount in the Kentucky Derby.
There is no question that this horse does his best running on the front end. The real question is how long can he last on the lead?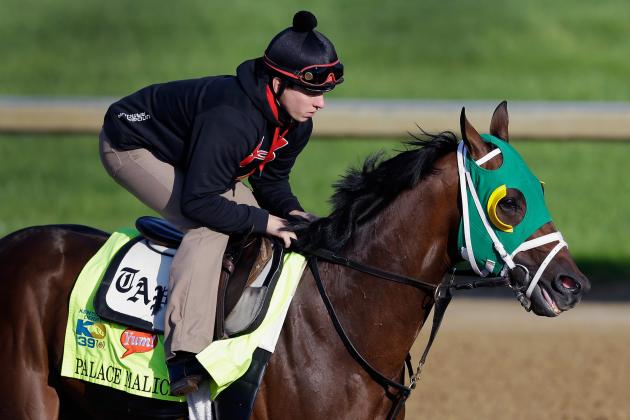 Rob Carr/Getty Images
Palace Malice trains in blinkers and will wear them for the first time Saturday
Strengths: Stamina; strong last effort; stalking style should be effective
Weaknesses: Has never beaten winners
Outlook: Palace Malice is a horse that, despite the fact that he has never won a race other than his maiden victory, has gotten some attention both in the prep races and heading toward the Kentucky Derby. He will get a significant equipment change for the Derby, adding blinkers, and that will likely cause him to be more involved early in the race.
He is a son of Breeders' Cup Classic winner Curlin and has plenty of depth and stamina in his female family as well. In addition to being incredibly well bred for an off track, he has already proven he can be competitive over one back in January.
As a handicapper, I do have a major qualm with considering horses that have only a maiden win to their credit, but he has proven at this point that he can at least be competitive against top company.
Strengths: Can easily get the 1 1/4-mile distance; chances improve significantly over off track
Weaknesses: Running style sets him up for traffic trouble; post position
Outlook: Oxbow remains a big mystery. This is a horse that has not won since January and has only been on the board in one of his last three starts. However, he has gained some respect even in his defeats with strong rallies despite bad trips and unlucky post positions.
Though he was fifth last time out, he turned in a strong effort from off the pace, and it was jockey Gary Stevens' first time aboard. Second time in a race with this colt, he may know his gears and buttons a little bit better. This is not the first time at this rodeo for the veteran Stevens, and he and trainer D. Wayne Lukas know how to win the Kentucky Derby.
I know it is taking a flyer to put this horse so high on my list, particularly with his unfortunate luck extending to the post-position draw on Wednesday. However, Lukas has kept the faith in this colt, and his confidence is enough for me.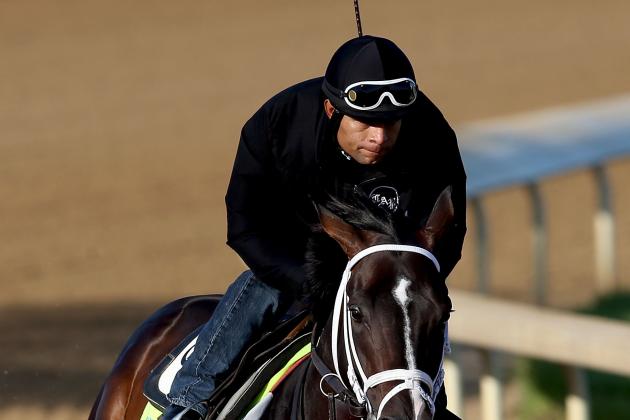 Matthew Stockman/Getty Images
Verrazano trains at Churchill
Strengths: High cruising speed; undefeated record; ideal post position
Weaknesses: Potential distance limitations; inexperience
Outlook: Verrazzano is a perfect 4-of-4 and will try to keep his undefeated streak intact. Though his victory in the Wood Memorial was not a visually impressive one, his record must be respected. There is a good chance trainer Todd Pletcher did not have him cranked to full throttle for that race.
By drawing the 14 hole in the starting gate, he will have a little bit more space between himself and the horse breaking to his left, which may help him avoid contact with other horses out of the gate. That slight advantage can make a big difference, as those first few strides out of the gate are crucial.
The real question is how good is he? He may have some distance limitations, but does have enough depth in his female family, and tactical speed, to make him a top contender?
Strengths: Battle tested; plenty of stamina
Weaknesses: Seems to find trouble in races
Outlook: Revolutionary may have lost his regular rider, Javier Castellano, when he opted to ride Chad Brown's Normandy Invasion. But this colt picked up the ideal clutch rider for Derby day, Calvin Borel.
While this horse has shown a predisposition toward finding trouble and getting a tight spot during a race, Borel is a master at navigating a large Derby field and should be able to put this colt in the best possible position to be successful.
If you have any doubts of Borel's (sometimes referred to as "Bo-Rail" for his tendency to come up the rail) ability to weave through traffic, then watch Mine That Bird pull his epic upset in the 2009 Kentucky Derby.
Revolutionary has proven already that he has the heart and competitiveness to win, and with a clean trip, he is a top threat.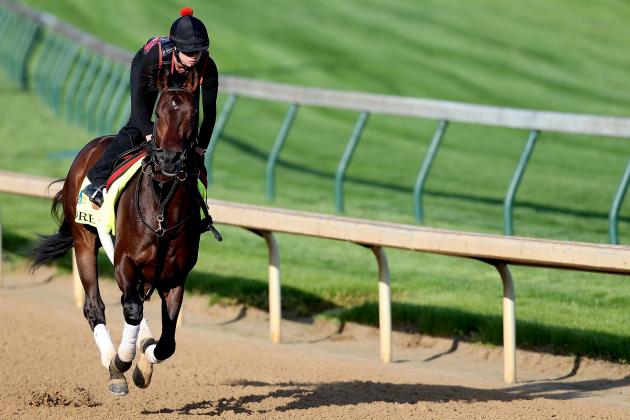 Matthew Stockman/Getty Images
Orb has been training sharply
Strengths: Pedigree; peaking at the right time; should excel on off track
Weaknesses: Tendency to get washed out in the post parade
Outlook: Orb has everything going for him. He is trained by one of the most respected men in the business, won a marquee prep race and has the pedigree to handle the grueling Derby distance of 1 1/4 miles. Though this crop of sophomores is not an incredibly fast bunch, he has a running style to be very effective and should get an honest pace to shoot at from off the pace.
It has been over a decade since his heralded trainer, Claude "Shug" McGaughey, saddled a horse in the Kentucky Derby, and this conservative horseman only will send a horse he thinks has a huge chance at taking home the big prize.
The only concern with him is that he has proven to be a handful in the paddock and post parade, and those behaviors can be exacerbated by the epic crowds on Derby Day.
The possibility of an off track does change the complexity of the race, and this is one colt who is bred up and down to handle sloppy going.