Report Card Grades for Carolina Panthers' Undrafted Free-Agent Signings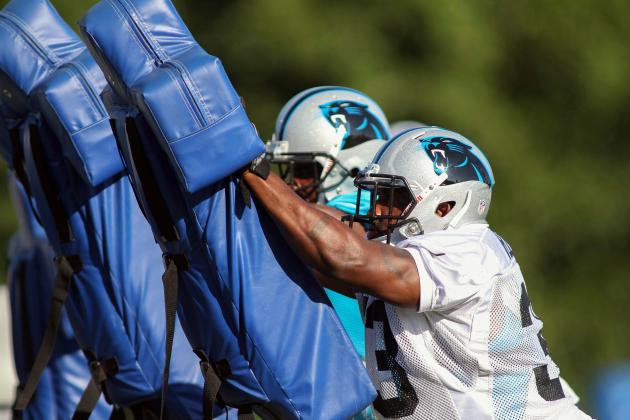 Jeremy Brevard-USA TODAY Sports
Will any of Carolina's undrafted free agent signings find a home on the final roster?
The Carolina Panthers wrapped up their draft last weekend and jumped right into the free-agent pool once the final pick was made. A week after the first round of the draft ended, the Panthers signed 13 undrafted free agents. Some may find a spot on the final roster. Most will either be cut or placed on the scout team.
Carolina signed six offensive players, six on defense and a kicker.
While the odds are low for any of them making the depth chart let alone cracking a starting position, a lot of these signings are for the purpose of training-camp battles. As the old adage goes, "competition breeds excellence."
These players may have been undrafted, but that doesn't mean we should write them off. Each one should bring their own style to the team, and if they are lucky, could find themselves suiting up each Sunday.
In order to best understand what each signing represents, it warrants breaking them down and grading the signing. Here are the grades for each of the 2013 Carolina Panthers' undrafted free-agent signings.
Begin Slideshow

»
It seems a bit unusual the Panthers would sign an undrafted free-agent quarterback who lacked the kind of size exhibited by their starter. However, the Panthers don't want to limit the identity of their quarterback to being mobile.
That being said, Colby Cameron looks to be the ideal signal-caller to learn the ropes and possibly assume the third-string position on the depth chart when Jimmy Clausen is gone.
Cameron was overlooked, and most of that is likely due to him playing in the very weak WAC conference. The good news is he took home All-WAC honors at quarterback during his senior year.
The even better news is that he is a competitor.
He has good mobility, as his quick feet allow him to be versatile in the pocket, which is a decent trade-off since he lacks a strong arm to throw it deep downfield. Cameron is a smart player and is very good about protecting the ball.
While the extent of his playing time may be limited to a preseason appearance before being assigned to the practice squad, Cameron should find himself in a position to play for one of the two backup spots on the roster in 2014. If he impresses in camp, however, don't be surprised to see the coaching staff consider dropping Clausen in favor of the Louisiana Tech product.
Grade: B+
USA TODAY Sports

Taylor Cook has great size for a receiving tight end, standing at 6'7" tall. While he should be given an opportunity to compete for a backup role as a tight end, he could very well get a few looks as a punter. He handled punts during his senior year at Rice, averaging 36.4 yards per punt on 37 attempts.
While it's doubtful he will present a challenge in the punting game (incumbent Brad Nortman averaged 43.0 yards on 76 attempts last year), he will definitely compete for a job as a reserve tight end.
He didn't do too much while at Rice, catching only 18 balls for 267 yards. The smart money has him going to the scout team, assuming he isn't cut before the season begins.
Grade: C-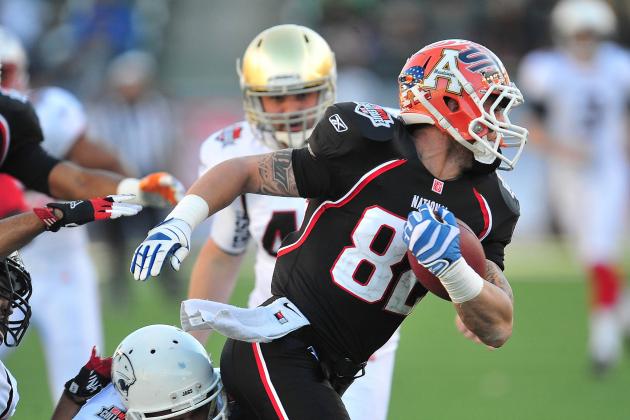 Gary A. Vasquez-USA TODAY Sports

Trey Diller didn't get much playing time until his senior year at Sam Houston State, where he appeared in 15 games. He put up decent numbers as a wide receiver, catching 62 passes for 927 yards and four scores. He even put in some time on special teams returning kicks and punts.
This signing seems to be a move that will allow Carolina to look at some of its younger receivers like Armanti Edwards and Kealoha Pilares, and perhaps serve as a means to make a few more cuts. The fact that Diller is familiar with the return game is telling because it seems as though the Panthers are serious about finding a return man who can be an asset and not a liability.
Diller doesn't figure to be a part of the long-term plans, but he does carry some dark-horse potential. He did average 35.2 yards on kick returns and 23.6 yards per return on punts during his final year in school. If he can give the Panthers decent starting position, it's possible he secures a spot as a special teams player.
Grade: C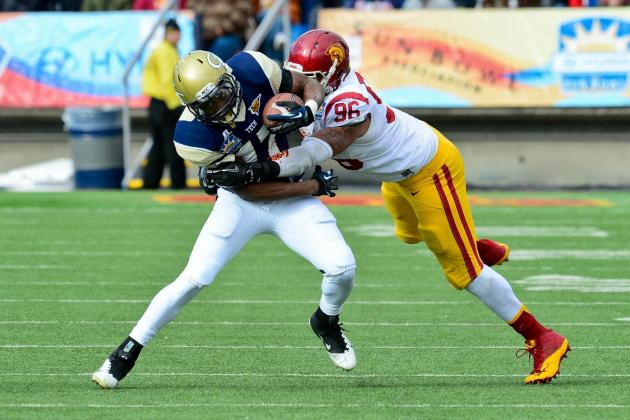 Matt Kartozian-USA TODAY Sports

It's difficult to imagine Wes Horton getting any serious looks during camp with the likes of Charles Johnson, Greg Hardy and Frank Alexander on the team. If anything, he could be getting a look as backup to a backup in case the team is ravaged by injuries at the defensive end position.
Horton was a mediocre player while at Southern California and didn't do too much to warrant much attention. That isn't to say he lacks potential.
His strong upper-body strength, coupled with a great motor, could bode well for him during OTAs and training camp. He has the tools to get into blockers, but he needs to work on making the stops. Horton is a very raw recruit but with some help in his tools and mechanics, could turn into a decent backup during his career.
Grade: C-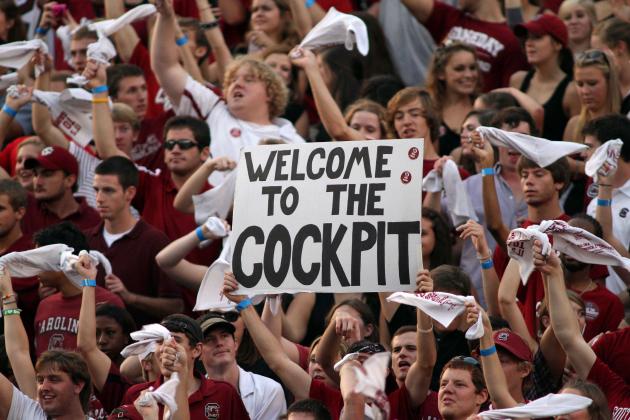 Jeremy Brevard-USA TODAY Sports
It's pretty telling about a player when you can't find him on images. However, here are some South Carolina fans.
Carolina signing former South Carolina linebacker Demario Jeffrey could be interpreted as a means to motivate and encourage the backup linebackers to play hard in camp. While every position is technically up for grabs in the preseason, the Panthers may be interested in what Jeffrey brings to the table.
He was underwhelming in school, as he played sparingly. His best game last year was against Tennessee where he recorded a season-high five tackles.
Jeffrey shouldn't be viewed as a member of the opening day roster. In fact, he will probably be cut before the season begins. Unless he outplays the other backup linebackers on the team, his tenure in Carolina should be short-lived.
Grade: D
There doesn't seem to be too much information available about Robert Jones. The offensive lineman from East Carolina sat out the 2011 season due to injuries, and any record regarding his playing time in school has been nearly non-existent.
However, Jones has good size that fits in line with general manager Dave Gettleman's philosophy. He is a big man at 6'3" and 309 pounds. Another interesting tidbit about Jones is that he used to play on the defensive side of the ball.
His signing may not mean anything in the long run, and after everything is said and done, Jones looks to be an afterthought of the Carolina Panthers' 2013 season.
Grade: F
Robert Lester is perhaps the only undrafted free agent who could seemingly find a spot as a starting safety when the season opens in September. Considering he was a part of some talented Alabama teams while in school, it's amazing he wasn't picked up by anyone during the draft.
That being said, Carolina may have landed a prize and possible solution to its secondary woes by signing him. Lester had a breakout year as a sophomore where he recorded eight interceptions. During the course of his final two seasons with the Crimson Tide, he only picked off six passes.
He has the skills to be a ball hawk at the pro level but still needs to work on his tackling and learn to adjust to the speed of balls in the air. He is still young, which makes him very coachable, and if he can make the necessary adjustments, don't be surprised if he wins a training-camp battle in August.
Grade: A
Adding a kicker to the team was probably more of a message to Graham Gano to not get complacent as the team's kicker. Since releasing John Kasay following the 2010 season, the Panthers have gone through three different kickers.
Morgan Lineberry will be that guy to push Gano and remind him that his job isn't safe.
Lineberry could have a legitimate chance at making the kicker battle a close one. While at Abilene-Christian, he had 50 career field goals, 21 of which came in a single season. He has shown the ability to kick from 50-plus yards and finished second in kicking points (via field-goal and point-after attempts).
He has youth and hunger on his side, which makes him a viable threat to Gano. The kicking game hasn't been as effective as it was in years past, but the Panthers could be getting closer to shoring up that aspect of the team, too.
Grade: B+

No legitimate picture of Tori Mobley could be found, so here is JSU's logo instead.
Tori Mobley last played in 2011 and is eager to find a home on an NFL roster. He could find one with the Panthers but could be a bit undersized for the guard position, checking in at 6'3" and 280 pounds. That didn't stop him from helping Jacksonville State from being the second-best rushing offense in the Ohio Valley Conference in 2011 and becoming a top-five offense.
He has displayed durability while in school, as he started all but one game in his last two years at Jacksonville State. The good news for him is the Panthers don't discriminate when it comes to small-school talent, as they have Amini Silatolu (Midwestern) starting, and newly drafted Edmund Kugbila (Valdosta State) who could compete for the other guard position.
Mobley enters training camp with a good chance at making a name for himself, but he probably won't make the starting roster.
Grade: C+
Unlike Wes Horton, Craig Roh offers the Panthers a bit of uncanny versatility. He has played a number of positions while at Michigan, playing defensive end, linebacker and defensive tackle. Essentially, he gives Carolina a jack-of-all-trades kind of player.
He recorded 10.5 sacks during his collegiate career but saw a drop from his first to last year in school. The inability to capitalize on his talent probably led to his low draft stock, which in turn saw him go undrafted.
There is no question about Roh's work ethic, as his motor is always going. He is always in on plays and doesn't give up. He will need to work on his hands and learn how to get away from blocks if he is to find a place on the Panthers roster. His versatility will work to his benefit, as a great training camp could prompt the coaching staff to reward him with a spot on the team.
It wouldn't be a bad thing to see a roster spot taken up by a player with the capability to play more than one position.
Grade: B-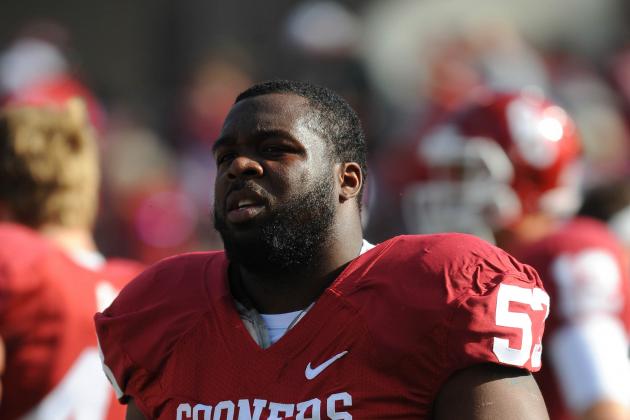 Denny Medley-USA TODAY Sports

Casey Walker looks to be one of those hit-or-miss kind of players. Hit, because he has the ability to be a decent player; miss, because there could be questions regarding how important the game is to him. Walker missed the first two games of last season because of personal issues.
Whether or not that will come into play during his professional career remains to be seen.
For the time being, let's assume he is on the right track and wants to contribute for the Carolina Panthers. He is a big man, tipping the scales at over 300 pound and could be an asset on the scout team if he is good enough to avoid being cut but not good enough to make the final roster.
Grade: C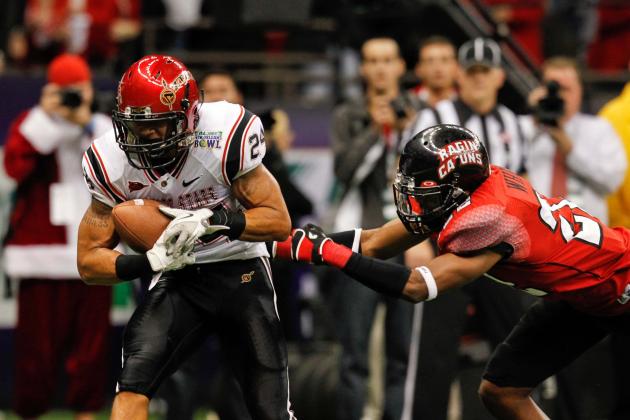 Derick E. Hingle-USA TODAY Sports

One thing that many fans can possibly agree on about the secondary is that the Panthers cannot do any worse in finding corners or safeties to shore up a weak unit. Melvin White could find himself in a very favorable position when camp opens up.
While he may lack blazing speed, he makes up for it in size and could be useful on the outside or perhaps at free safety. White has great physicality during the play and has the ability to be effective on the jump ball. He isn't afraid of contact as he has a reputation for getting to the ball-carrier after the catch and even applying a hard hit on the receiver.
He draws comparisons to Richard Sherman, which by all accounts is flattering, especially for a guy who went undrafted. If he plays well enough, Carolina could consider him starting at cornerback and allowing Captain Munnerlyn to return to the corner slot position; but that is a big "if."
Grade: B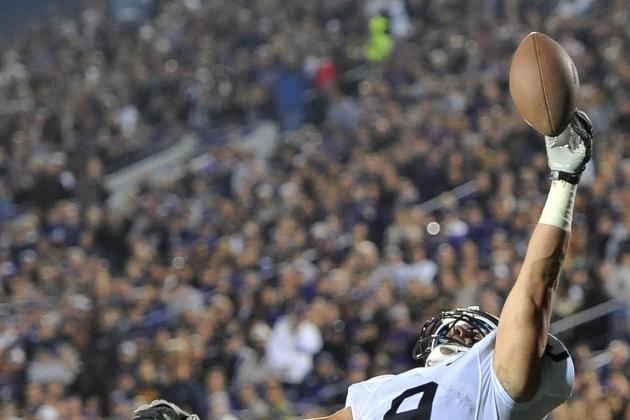 Mike DiNovo-USA TODAY Sports

Michael Zordich doesn't figure to be an integral part of an offense that usually employs a single-back formation, but he should find himself in a position to challenge Richie Brockel for the backup role to Mike Tolbert.
Zordich is a strong and versatile fullback who can rush, block and catch passes. Considering what he is able to do on the field, it wouldn't be surprising if the Panthers gave him a few looks at tight end. However, if he is to be an effective tool for the offense, he will need to do for DeAngelo Williams and Jonathan Stewart what he did for Silas Redd at Penn State—open some running lanes.
Not only can he help the running game, he could provide Cam Newton with some extra protection, as he was part of a Penn State offense that gave up the fewest sacks in the Big Ten in 2011. There are a lot of positives to take away from this young man, and he could find himself with a real shot to get on the team.
Grade: B-