Florida Football: 5 Bold Predictions for Individual Gators in 2013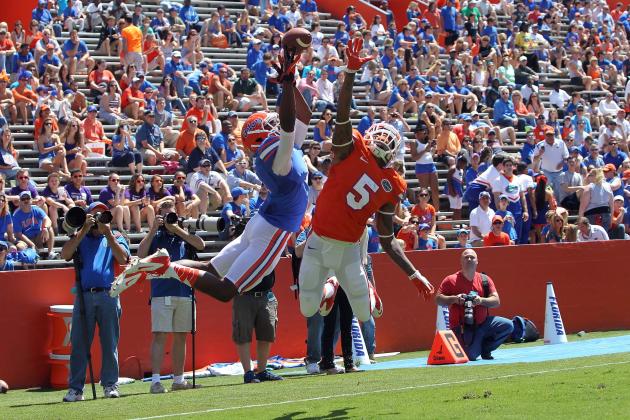 Kim Klement-USA TODAY Sports

At this time one year ago, a prediction that the Florida Gators would win 11 games and challenge for a national championship would have been seen as extremely bold. In fact, some might have considered it downright crazy.
As the college football season seemingly proves every single year, however, even the boldest of predictions can be accurate by the time the clock runs out and a BCS champion is crowned. The forecast mentioned above turned out to be right on the mark, as the Gators earned a Sugar Bowl berth.
In the same prophetic spirit, predictions are already being made about the Gators' expected performance as a team and as separate individuals during the 2013 season. They range from the completely pessimistic to the purely idealistic. Sprinkled throughout are a few bold predictions that, although unlikely, can become a reality under the right circumstances.
Here are five bold predictions of my own for some of the key members of the Gator football team in 2013.
Begin Slideshow

»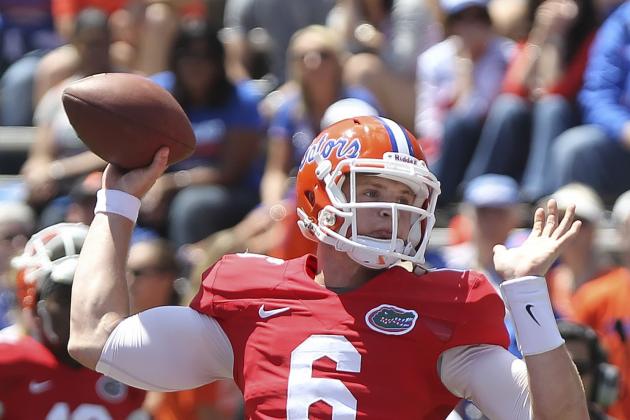 Kim Klement-USA TODAY Sports

For a quarterback, 3,000 yards is no longer the significant accomplishment that it used to be in the world of college football. That makes Jeff Driskel's final tally of 2,059 total yards last season seem somewhat paltry.
However, he had no idea he would even be the Gators' starter until the first game on the schedule. With full spring and fall camps as the lead signal-caller and a full season of experience under his belt, Driskel could see his numbers spike to that 3,000-yard plateau by the end of the 2013 campaign.
Despite his well-documented struggles as a passer in 2012, Driskel still ended the year with a respectable completion percentage and turnover number. If he can develop his touch on long-range throws and maintain his apparent threat as a scrambler, the Gator offense can once again begin to resemble its former self from the Urban Meyer era.
The two foreseeable hindrances to this prediction would be his durability and the team's reliance on the running game. If Driskel can stay healthy and make the necessary progress to improve his game, however, he can overcome a heavy dose of Matt Jones and Kelvin Taylor and become a feared offensive weapon.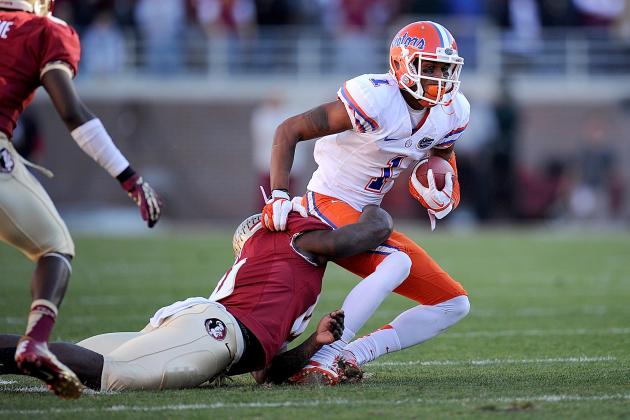 Kevin Liles-USA TODAY Sports

The Gators have not had a receiver eclipse the 1,000-yard mark since Taylor Jacobs did so in 2002. In recent seasons, no one has even come close to that level of production.
Could this be the year that a Gator receiver finally hits quadruple digits? If so, it will be Quinton Dunbar that earns that distinction.
Aside from Jordan Reed, Dunbar was the only Gator that caught passes with regularity last season. After a strong end to the 2012 schedule and noticeably positive performances during spring practice, he is essentially guaranteed the No. 1 role.
The key to Dunbar's success will be Driskel. Dunbar has the quickness and hands to become a lead receiver. If Driskel can find him in open space and make crisp passes, the duo can develop into an effective combination.
After ending this past season with only 383 yards, such a significant jump in production might not seem all that likely. However, Dunbar could surprise a lot of people in the coming months.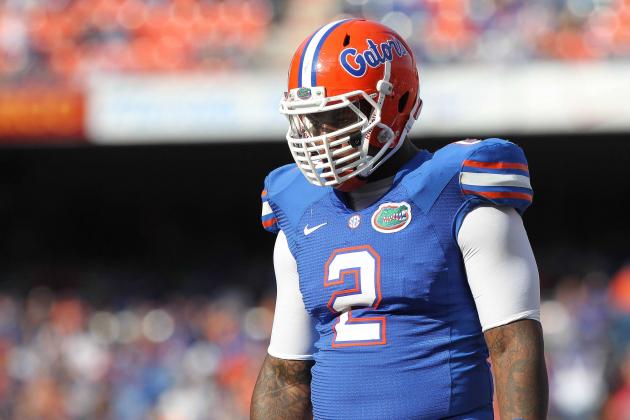 Kim Klement-USA TODAY Sports

One area the Gators need to work on is their pass rush. Despite the presence of Sharrif Floyd and Dominique Easley, they struggled to get to the quarterback at key points during the season.
Floyd may be gone, but Easley has an opportunity to lead this renaissance by doubling his sack total from one year ago.
The former Rivals.com 5-star prospect is big and explosive. Despite missing two full games last season, he recorded more sacks and tackles behind the line of scrimmage than he did in 2011. If he can last the entire season and pick up his numbers once again, eight sacks is not out of the question.
If the Gators want to keep opponents out of the end zone like they did last season, they will have to get timely sacks. Dominique Easley could be first in line to lead the attack.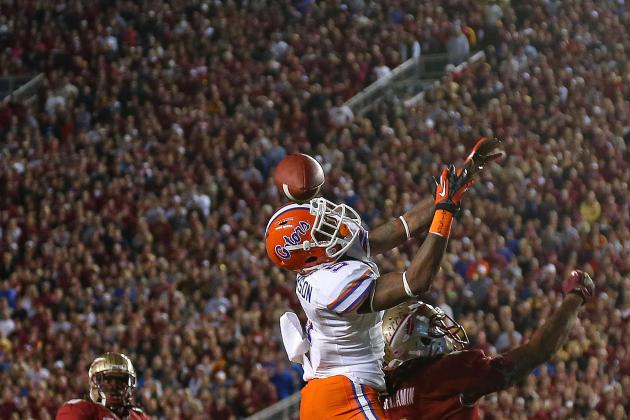 Mike Ehrmann/Getty Images

Five interceptions is a lot to ask from a college player, especially from a corner who will have to defend some of the SEC's best receivers.
After intercepting two passes in 2012, however, Marcus Roberson could be primed for a breakout season.
We know he has the speed and vision to cover his opponents. What we don't know is whether he has the hands to intercept a quintet of passes.
He had 12 pass breakups last season, which was one of the best marks in school history. If he can parlay this tight defense into actual catches, he will cement his name as one of the country's best defenders in any secondary.
Based on talent level alone, Roberson can conceivably match his jersey number with five picks.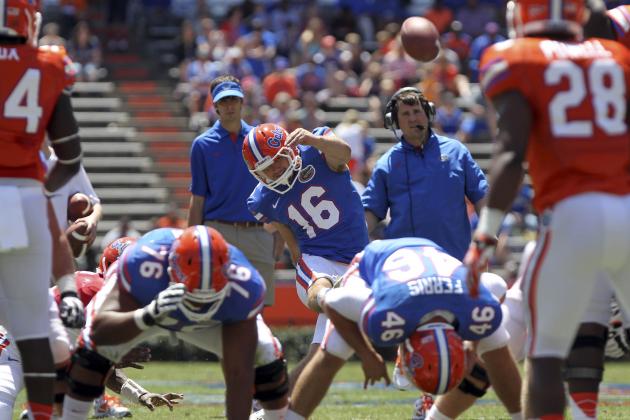 Kim Klement-USA TODAY Sports

I know Florida's kicker race is still wide-open for the most part, but I still firmly believe that Austin Hardin will be the guy by the time the Gators start things off against Toledo.
Assuming he does get picked for the job, Hardin could potentially find himself in a number of pressure-packed situations during the fall. This is why I believe Hardin will play the role of both hero and goat at some point during the season.
When I say "game-winning field goal," I am not talking about a kick in the third quarter that turns out to be the difference in a close matchup. I am talking about a final drive late in the fourth quarter that needs to end with points in order for the Gators to escape with a victory.
With the caliber of opponents that Florida will face in 2013, it is easily possible to end up in this position more than once. Unlike Caleb Sturgis, who was almost automatic, Hardin will not have the killer focus needed to come through with a big kick more than once.
Hardin has the potential to be a star, but right now his inexperience makes it unclear whether he will hurt or help the Gators.