Dortmund vs. Bayern: What You Need to Know About the Champions League Final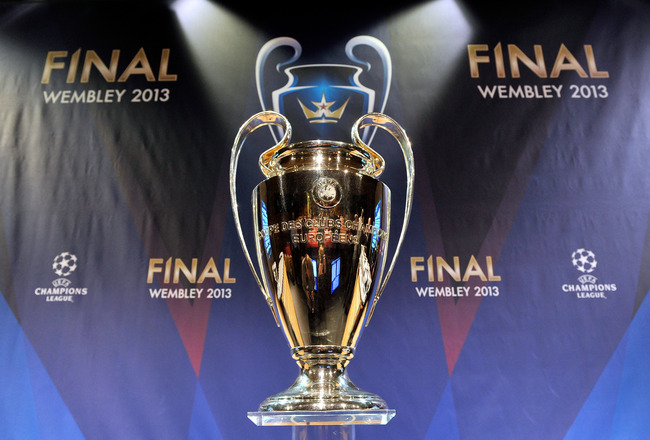 Harold Cunningham/Getty Images
First, the specifics.
The 2012-13 UEFA Champions League final will be played at London's Wembley Stadium on Saturday, May 25 (kickoff 7:45pm BST; 2:45pm ET; 11:45am PT).
The participants, for the first time in history, will be a pair of German teams—Borussia Dortmund and Bayern Munich—and Dortmund, as determined at the April 12 draw, will be the home team.
For the match, itself, UEFA's standard rules will apply: a 90-minute contest followed, if necessary, by 30 minutes of extra time divided into two periods and followed by penalty kicks should a stalemate remain.
Bayern, of course, lost last season's Champions League final to Chelsea on penalties and will be looking to win a fifth European Cup (and first since 2001). Dortmund, on the other hand, are after their second Champions League crown, having previously won it in 1997.
Those are the basics, but there's a lot more you should know about this month's final, and over the next few slides we'll examine the team news, statistics, head-to-head records and other items of interest that will have you prepared for the biggest match of the year.
Let's get to it.
Why Wembley?

Kirby Lee-USA TODAY Sports
Never before has a stadium hosted two Champions League finals in three years, but Wembley will become the first when Borussia Dortmund and Bayern Munich kick off on May 25.
Having welcomed Barcelona and Manchester United under the arch in 2011, Wembley was awarded the 2013 final in recognition of the Football Association's 150th anniversary.
The original Wembley Stadium played host to five finals, none of which involved a German side.
General ticketing for this year's match was completed on March 15, and prices range from £60 to £330.
The 2013-14 Champions League final will be held in Lisbon.
Routes to the Final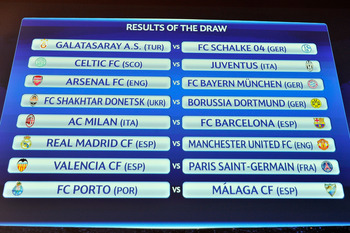 Harold Cunningham/Getty Images
Both Borussia Dortmund and Bayern Munich finished atop their respective Champions League groups, and both lost once during the knockout stages en route to the Wembley final.
Borussia Dortmund's Route to Wembley
WIN: 1-0 at home to Ajax
DRAW: 1-1 away to Manchester City
WIN: 2-1 at home to Real Madrid
DRAW: 2-2 away to Real Madrid
WIN: 4-1 away to Ajax
WIN: 1-0 at home to Manchester City
DRAW: 2-2 away to Shakhtar Donetsk
WIN: 3-0 at home to Shakhtar Donetsk
DRAW: 0-0 away to Malaga
WIN: 3-2 at home to Malaga
WIN: 4-1 at home to Real Madrid
LOSS: 2-0 away to Real Madrid
Bayern Munich's Route to Wembley
WIN: 2-1 at home to Valencia
LOSS: 3-1 away to BATE Borisov
WIN: 1-0 at home to Lille
WIN: 6-1 away to Lille
DRAW: 1-1 away to Valencia
WIN: 4-1 at home to BATE Borisov
WIN: 3-1 away to Arsenal
LOSS: 2-0 at home to Arsenal
WIN: 2-0 away to Juventus
WIN: 2-0 away to Juventus
WIN: 4-0 at home to Barcelona
WIN: 3-0 away to Barcelona
Head to Head

Arjen Robben scored the only goal as Bayern Munich dumped Borussia Dortmund out of the DfB Pokal in February.

Borussia Dortmund and Bayern Munich have faced one another once in European competition, with Dortmund prevailing 1-0 on aggregate in the quarterfinals in 1998. They went on to fall to Real Madrid in the semifinals.
They two have a longstanding domestic rivalry that has rarely been more heated than the last four seasons, in which they won two Bundesliga titles each.
So far in 2012-13 they have met only twice, with Bayern Munich winning in the quarterfinals of the DfB Pokal and the two sides playing to a 1-1 draw at Allianz-Arena back in December. They'll actually contest their second Bundesliga match of the schedule on Saturday at the Westfalenstadion.
Dortmund have dominated Bayern in the Bundesliga since early 2010—which is the last time Bayern took three points from their rivals in the top flight. Since then Dortmund have won four of five matches against Bayern while outscoring the Bavarian giants by a combined margin of 8-2.
Bayern may be the form team heading into the Champions League final, but Dortmund's record against them goes some way towards leveling the scales.
Statistics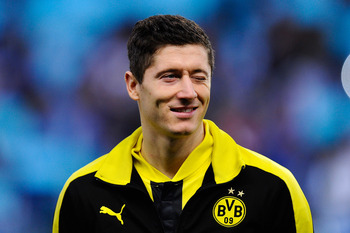 David Ramos/Getty Images
Both Borussia Dortmund and Bayern Munich have benefited from some outstanding individual contributions in this season's Champions League. Here is just a sample:
Borussia Dortmund Statistical Leaders
Goals: Robert Lewandowski (10)
Assists: Mario Gotze (5)
Passing: Ilkay Gundogan (86.6%)
Tackles: Lukasz Piszczek (3.5/game)
Clearances: Neven Subotic (13.3/game)
Save percentage: Roman Weidenfeller (89.1%)
Bayern Munich Statistical Leaders
Goals: Thomas Muller (8)
Assists: Bastian Schweinsteiger & Philipp Lahm (4)
Passing: Dante (89.3%)
Tackles: Bastian Schweinsteiger (3.9/game)
Clearances: Jerome Boateng & Dante (3.4/game)
Save percentage: Manuel Neuer (87.2%)
Statistics courtesy WhoScored.com and TheScore.com
Team News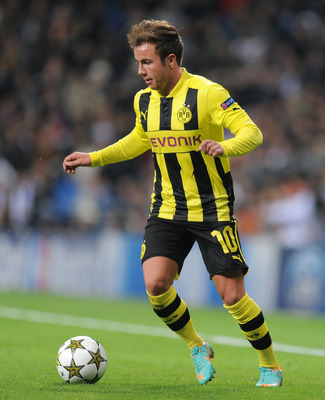 Denis Doyle/Getty Images
The Champions League final is still more than three weeks away, but already we know a thing or two about the starting lineups the managers will put out at Wembley.
The only injury concern for Dortmund boss Jurgen Klopp involves star playmaker Mario Gotze, who sustained a torn hamstring during Tuesday's semifinal second leg against Real Madrid and faces an uphill battle to be fit for the May 25 final.
Gotze, who has already announced he'll be joining Bayern Munich ahead of next season, was replaced by Kevin Grosskreutz at the Bernabeu, and the 24-year-old—who played an important role in each of Dortmund's recent title-winning seasons—could deputize for his teammate should the injury not heal in time.
On the other side of the ball, Bayern manager Jupp Heynckes has nothing new to worry about.
He was never going to have defender Holger Badstuber (cruciate ligament rupture) available until next season and Toni Kroos' knee injury will likely keep the Germany international out of the squad at Wembley as well.
But Thomas Muller has done brilliantly in Kroos' old central role behind Mario Mandzukic, and the shift in positions has also opened up a spot for Arjen Robben, who was excellent in both matches against Barcelona.
Projected Lineups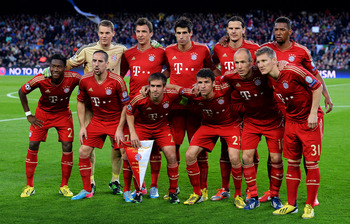 Lars Baron/Getty Images
Borussia Dortmund (4-2-3-1): Roman Weidenfeller; Lukasz Piszczek, Neven Subotic, Mats Hummels, Marcel Schmelzer; Ilkay Gundogan, Sven Bender; Jakub Blaszczykowski, Marco Reus, Kevin Grosskreutz; Lewandowski
Bayern Munich (4-2-3-1): Manuel Neuer; Philipp Lahm, Jerome Boateng, Dante, David Alaba; Bastian Schweinsteiger, Javi Martinez; Arjen Robben, Thomas Muller, Franck Ribery; Mario Mandzukic
Keep Reading