Report Card Grades for Pittsburgh Steelers Undrafted Free Agent Signings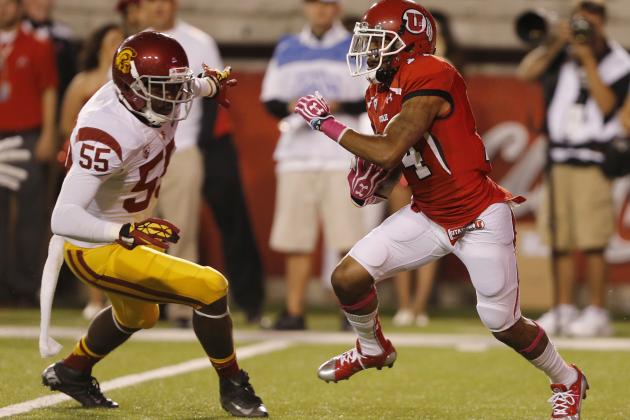 George Frey/Getty Images
Reggie Dunn of Utah returned four kickoffs for touchdowns in 2012, an NCAA single-season record.
The Pittsburgh Steelers' three-day rookie minicamp begins Friday, and among the players attending are 15 undrafted free agents.
The Steelers front office and coaching staff didn't shut off the lights and go home when they made their last selection in the 2013 NFL draft.
After the draft, the Steelers signed those undrafted free agents, and they likely were on the phone with many of them before the draft was over.
Even before the seventh round, teams normally begin calling players expressing their interest in signing them if they go undrafted, according to NFL.com.
When Mr. Irrelevant's name is announced, the mad dash to sign undrafted free agents begins.
Ed Bouchette of the Pittsburgh Post-Gazette once compared the process to a game of "musical chairs."
Every once in a while teams can find hidden gems in undrafted free agency. James Harrison and Willie Parker were undrafted free agents. So was Donnie Shell, who's third on the Steelers' all-time list with 51 interceptions.
Even if none of the following names ring a bell, chances are at least one of them will become a household name for Steelers fans.
Heights and weights are from NFL Draft Scout. NFL Scouting Combine numbers are from NFL.com.
Begin Slideshow

»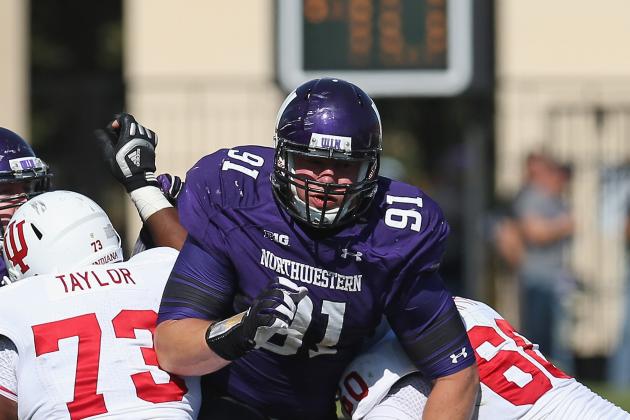 Jonathan Daniel/Getty Images

Height: 6'5"
Weight: 302 pounds
Brian Arnfelt wasn't invited to the NFL Scouting Combine, but he lifted 225 pounds 38 times in the bench press at Northwestern's pro day, according to The Daily Northwestern. That would have tied him for the highest total at the combine.
Arnfelt made 25 tackles, including six for loss, in his senior season. He also posted three sacks, broke up two passes and forced two fumbles.
He'll try to find a job as a defensive end with the Steelers.
Grade: B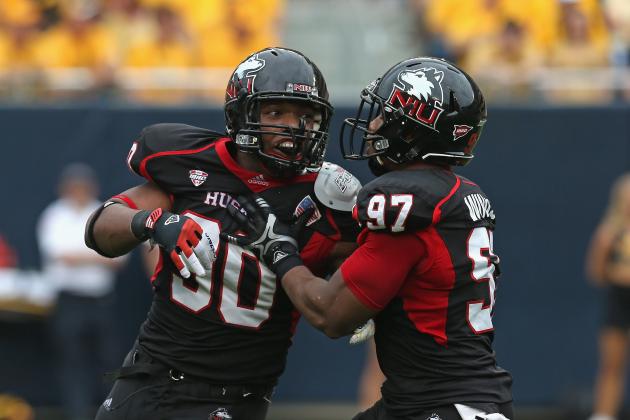 Jonathan Daniel/Getty Images

Height: 6'1"
Weight: 238 pounds
Baxter was an All-MAC first-teamer in 2012, leading the Huskies with 9.5 sacks and 10 quarterback hurries. He also made 12.5 tackles for loss in 2011, and 11.5 tackles for loss in 2012.
Although Baxter had just one solo tackle in the game, Northern Illinois defeated No. 1 overall draft pick Eric Fisher and Central Michigan 55-24 in September.
Baxter was a defensive end in college and likely would have to convert to outside linebacker in the NFL.
While he helped Northern Illinois win the MAC title and posted eye-popping numbers, Baxter didn't always face elite competition. He had just two assisted tackles in the Huskies' 31-10 Orange Bowl loss to Florida State.
Grade: B-minus
Height: 5'10"
Weight: 178 pounds
Undersized kickoff return specialists haven't always worked out in Pittsburgh (remember Stefan Logan), but Dunn has earned a shot with his record-breaking performance in college.
Dunn set an NCAA single-season record with four 100-yard kickoff returns for touchdowns in 2012. He also owns the NCAA career record with five, according to ESPN.com.
Dunn's two 100-yard kickoff returns for touchdowns in a 49-27 win over California is an NCAA record for a single game.
The 24-year-old Dunn would have led the country in 2012 with his average of 51.3 yards per kickoff return, but his 10 attempts weren't enough to qualify. He ran a 4.25 and a 4.26 in the 40-yard dash at Utah's pro day.
Steelers fans might actually tune in to preseason games to watch Dunn return kickoffs. However, he figures to be limited to special teams, and it's doubtful he'll return four kickoffs for touchdowns at the next level.
Grade: B-plus
Height: 6'4"
Weight: 304 pounds
Nik Embernate made 46 starts at San Diego State, helping the Aztecs rush for more than 2,000 yards in three straight seasons.
Embernate was ejected from a game for throwing a punch during his freshman season, according to the San Diego Union-Tribune, but has since learned to harness his nasty demeanor.
Although Embernate has been tough enough to play through injuries—he had a torn labrum during his junior season and a high-ankle sprain in his senior season—his medical history is a concern.
He also didn't face the highest level of competition in the Mountain West Conference.
Grade: C-plus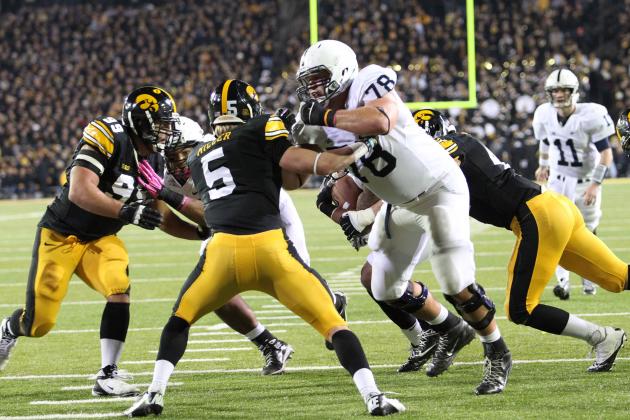 Reese Strickland-USA TODAY Sports

Height: 6'6"
Weight: 303 pounds
Mike Farrell doesn't have to go far to report for NFL duty. He's a Pittsburgh native and a Shady Side Academy graduate.
Farrell came to Penn State weighing 265 pounds, according to NFL Draft Scout. He bulked up and became a starter (nine games at right tackle, three at left tackle) in 2012.
He was named all-Big Ten honorable mention, helping the Nittany Lions lead the conference in total offense with 437 yards per game.
With little depth behind projected starting tackles Marcus Gilbert and Mike Adams, Farrell has a realistic chance of making the Steelers.
Grade: B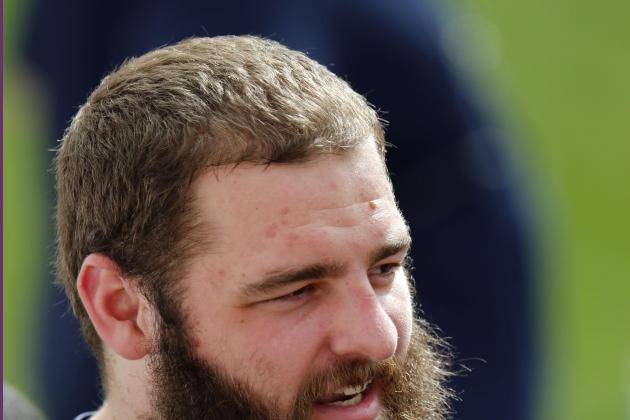 USA TODAY Sports

Height: 6'5"
Weight: 300 pounds
Mike Golic. Jr. has the most name recognition among the Steelers' undrafted free agents. He's the son of former NFL defensive tackle Mike Golic.
Along with Golic's NFL bloodlines comes versatility. He's played both guard and center at Notre Dame.
The younger Golic ran 40-yard dash times of 4.56 and 4.58 at Notre Dame's pro day, according to NFL.com. No offensive lineman ran faster than 4.71 at the NFL Scouting Combine. Golic hoisted 31 reps in the bench press, which would have placed him eighth among offensive linemen at the combine.
Those numbers, as well as Golic's body build, suggest that he's the type of athlete new Steelers offensive line coach Jack Bicknell Jr. is seeking.
The Steelers need depth on the offensive line, so Golic should get every opportunity to make the team.
Grade: B
Height: 6'5"
Weight: 299 pounds
Cordian Hagans registered five sacks and 8.5 tackles for loss in 2012.
National Football Post says Hagans can use his height to knock down passes, although he's never been credited with any passes defended at Louisiana-Lafayette.
Hagans originally went to LSU as an offensive lineman before transferring. He's still "raw" and "unpolished" as a defensive lineman, according to National Football Post.
Grade: C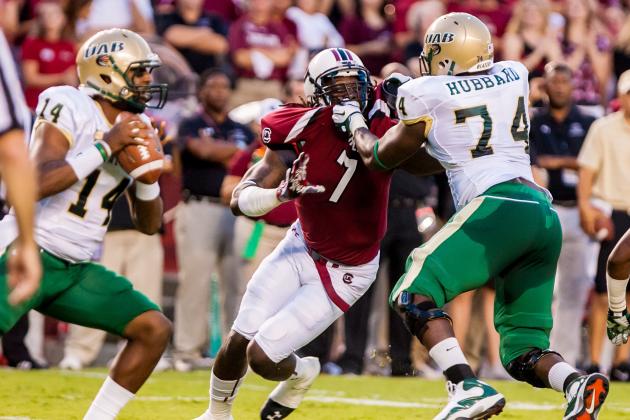 Jeff Blake-USA TODAY Sports

Height: 6'4"
Weight: 286 pounds
Chris Hubbard was voted All-Conference USA first team in 2012, although a couple of numbers on his resume raise eyebrows.
NFL Draft Scout lists Hubbard as 286 pounds, which would make him a featherweight among NFL offensive linemen. Also, Hubbard lifted 225 pounds just 21 times at UAB's pro day, according to Al.com. Of the offensive linemen who bench pressed at the NFL Scouting Combine, only eight had fewer reps.
At Alabama's pro day a week later, Hubbard ran the 40-yard dash in 4.71 seconds, which would have tied him for the honor of fastest offensive lineman at the combine. He also raised his weight to 290 pounds before his pro days, according to Al.com.
Grade: C-plus
Height: 6'1"
Weight: 318 pounds
Omar Hunter provides the Steelers with another body at the nose tackle position. He'll join Steve McLendon, the front-runner to start, as well as Alameda Ta'amu and Hebron Fangupo.
Hunter's finest hour came in Week 4 of the 2012 season. He made a career-high eight tackles, including three solo, in a 38-0 win over Kentucky. It was the first time Florida had shut out an SEC opponent since 2001, and Hunter was named SEC Defensive Lineman of the Week.
In 13 starts last season, Hunter had 40 tackles, four of them for loss, and broke up four passes. He also forced a fumble, recovered a fumble and blocked a field goal during his career at Florida.
It's not hard to imagine Hunter climbing up the Steelers' depth chart. Ta'amu is starting to look like a bust, and Fangupo will turn 28 this summer.
Grade: B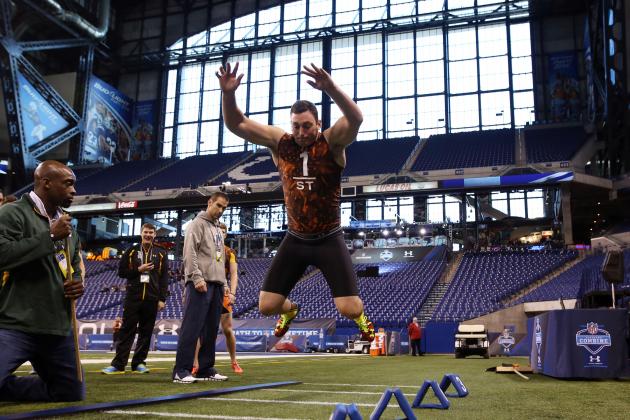 Brian Spurlock-USA TODAY Sports

Year: Senior
Height: 6'5"
Weight: 258 pounds
NFL Draft Scout ranked Luke Ingram the No. 1 prospect among long snappers.
Ingram did 24 reps in the bench press at the NFL Scouting Combine and ran the 40-yard dash in 5.05 seconds.
He'll join 31-year-old Greg Warren in training camp. Warren, who the Steelers re-signed for another year, has been the Steelers' long snapper since 2005.
Grade: B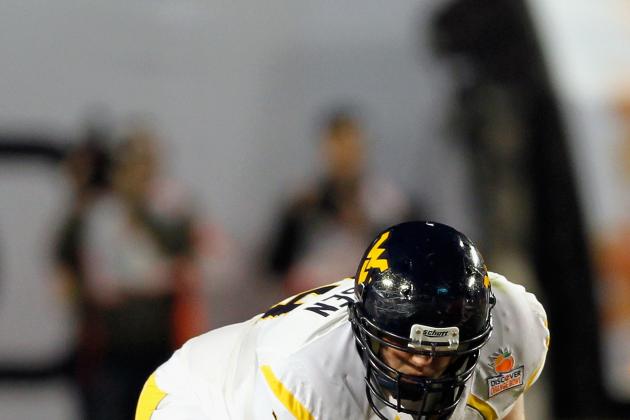 Streeter Lecka/Getty Images

Height: 6'4"
Weight: 310 pounds
Maurkice Pouncey is the only center on the Steelers' roster, unless long snapper Greg Warren counts. Warren is officially listed as a center.
Doug Legursky remains a free agent, so chances are at least one of the Steelers' two undrafted free agent centers will make the team.
Joe Madsen snapped to Geno Smith at West Virginia, mostly in the shot gun. He made 50 starts in his four years as a Mountaineer and was named all-Big 12 second team in 2012.
Madsen has played a little guard, which could help him find a job in the NFL. However, both NFL Draft Scout and NFL.com say he needs to get stronger.
Grade: C-plus
Height: 5'7"
Weight: 191 pounds
Two days after drafting burly running back Le'Veon Bell in the second round, the Steelers signed a much smaller back as an undrafted free agent.
Smaller doesn't necessarily mean faster in this case.
Despite being seven inches taller and almost 40 pounds heavier, Bell ran a faster 40-yard dash at the NFL Scouting Combine than Curtis McNeal did at USC's pro day.
Bell ran a 4.60. McNeal ran a 4.62, according to the Reign of Troy blog.
McNeal ran for 1,005 yards on 145 carries (6.9 yards per carry) in 2011.
He lost his starting job to Silas Redd during parts of the 2012 season, according to Rotoworld, and finished with 701 yards on 116 carries (six yards a carry). McNeal closed out his collegiate career with a thud, carrying the ball three times for five yards in a 21-7 Sun Bowl loss to Georgia Tech.
Grade: C-minus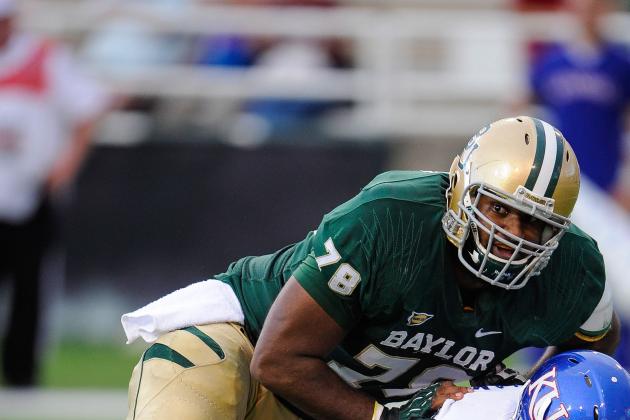 Jerome Miron-USA TODAY Sports

Height: 6'4"
Weight: 313 pounds
Ivory Wade is the most versatile of the Steelers' six undrafted free-agent offensive linemen.
He started 46 consecutive games at Baylor. The first seven came as a guard during his freshman season. Wade moved to right tackle as a sophomore and junior, then took over at center as a senior.
That track record gives Wade a leg up in the competition to be Maurkice Pouncey's backup.
Wade was named second team all-Big 12 by the Associated Press and honorable mention by the coaches, according to the SportsXchange.
NFL Draft Scout says Wade is an athletic and aggressive blocker who can get to the second level. He just needs to work on his balance.
Grade: A-minus
Height: 6'1"
Weight: 335 pounds
Anthony Rashad White is yet another candidate to fill the void left by Casey Hampton, although he could be facing long odds.
White started four games in 2011 and made 25 tackles, including four for loss. He blocked a field goal in overtime to give Michigan State a 33-30 win over Georgia in the 2012 Outback Bowl.
White became a starter in 2012 and had 23 tackles, one for loss. He frequently was occupied by double-teams, according to NFL Draft Scout.
Conditioning could be a problem for White. NFL Draft Scout also says he carries "bad weight" on his frame and that he can wear down too easily.
Grade: C
Height: 6'0"
Weight: 203 pounds
J.D. Woods caught 61 passes for 637 yards (10.4 yards per reception) with four touchdowns in 2012.
Even though it was a breakout year for Woods, he played in the shadow of teammates Tavon Austin and Stedman Bailey, who according to ESPN.com both caught a jaw-dropping 114 passes.
Both Austin and Bailey were drafted by the St. Louis Rams. Austin went in the first round, No. 8 overall, and Bailey went in the third round.
Woods had to wait for the Steelers' call Saturday night. The Steelers drafted two wide receivers, but their lack of depth at the position gives Woods a fighting chance to latch on with the team.
Grade: B