Notre Dame Football: The Key Player in Each 2013 Game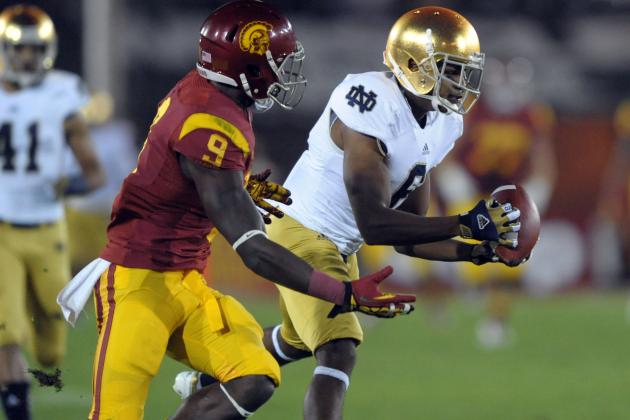 Kirby Lee-USA TODAY Sports

All of Notre Dame's 12 wins last season required a full-team effort, but when looking back on each of the Irish's victories in 2012, often times a specific player comes to mind for a certain game.
Against Michigan, it was Manti Te'o and his two interceptions of Denard Robinson. At Oklahoma, it was Louis Nix's domination of the Oklahoma offensive line that swung the game in the Irish's favor. A week later against Pittsburgh, Everett Golson's unflappable poise was imperative in leading a late rally against Pittsburgh.
I've identified a key player for each of Notre Dame's 12 games in 2013. If you want to argue that player is Golson for all 12 games, that's a rational viewpoint, but doesn't make for an interesting article. Therefore, there are no repeats.
There isn't necessarily a right answer for any game, but different styles of play and opponents' various strengths and weaknesses will place different players or position groups in the spotlight from week to week.
Let's look at the key player each week for the 2013 Fighting Irish.
Begin Slideshow

»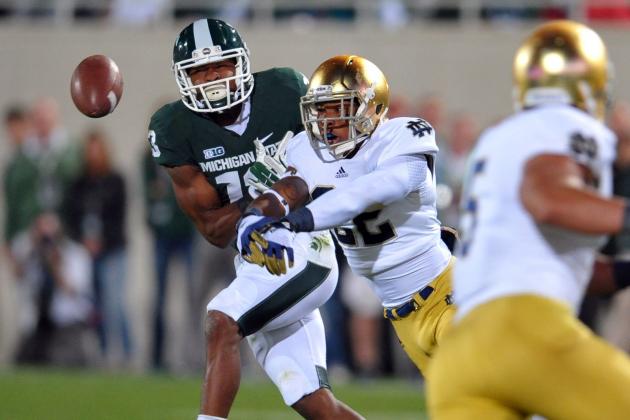 Matt Cashore-USA TODAY Sports

The Owls aren't quite the pushover they were before Al Golden arrived in Philadelphia in the mid-2000s, but Temple shouldn't provide much of a threat to the elite Notre Dame defense.
Shumate's task will be preventing big plays from getting behind him. Temple doesn't have the firepower to sustain long drives against the Irish—meaning quick strikes will likely be its only chance of scoring.
With Notre Dame expected to be a bit more aggressive this year with a more experienced secondary, Shumate and the defensive backs will be held more accountable than in last year's conservative scheme.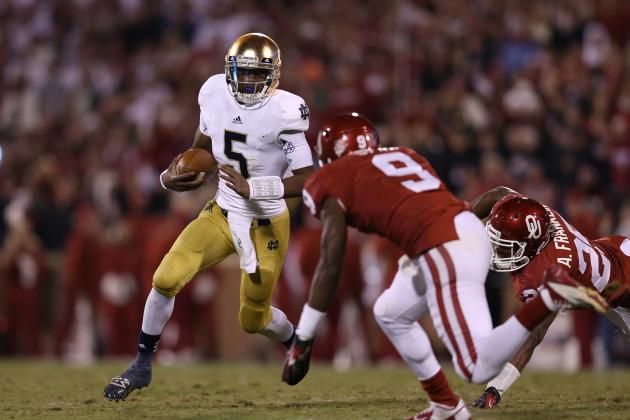 Matthew Emmons-USA TODAY Sports

There's no way to sugarcoat Golson's performance last September against the Wolverines in South Bend. Two early interceptions quickly got him benched, with Tommy Rees having to lead the Irish to their first victory in four years over their bitter rival.
When Notre Dame visits Ann Arbor in Week 2, it'll need the Golson who played such a steady game on the road at Oklahoma last year—not the one who froze up under the bright lights against Michigan.
It's Notre Dame-Michigan, so it's bound to be a close game. Golson's big-game experience compared to that of counterpart Devin Gardner could be the difference in what will be the Irish's final trip to Michigan Stadium before the rivalry goes on hiatus.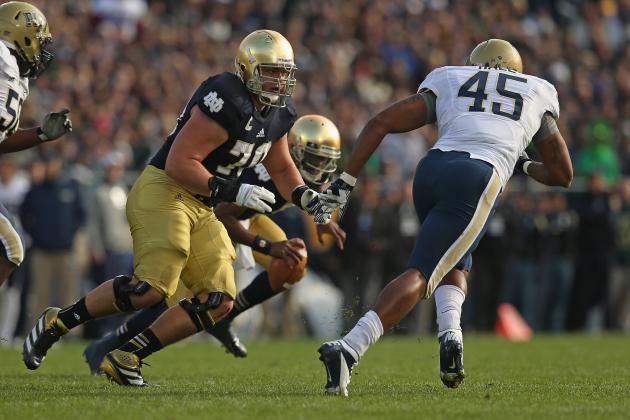 Jonathan Daniel/Getty Images

Purdue limped to a 6-7 season last year as Danny Hope's tenure came to an end, but the Boilermakers nearly upset two teams that went 12-0 in the regular season. They fell to Ohio State in overtime in Columbus and on a last-second field goal to Notre Dame in South Bend.
There is quite a bit of retooling to do in West Lafayette, but defensive end Ryan Russell is poised for a breakout year after a solid 2012—which included a sack against the Irish.
Martin's first start with the Irish came against Purdue in 2010, when he performed admirably against current Washington Redskins defensive end Ryan Kerrigan in a 23-12 Notre Dame win.
He'll again have to fend off a talented Boilermakers pass-rusher when the Irish make the short trip down to Ross-Ade Stadium.
Jonathan Daniel/Getty Images

Michigan State is always one of Notre Dame's most physical games each season. That was the case last year in a 20-3 Irish win in East Lansing, and it should be no different this September in South Bend.
Clock control and sustaining drives will be crucial, and the Irish need Atkinson III to be a chain-moving back—especially early in the season while the young running back corps is still finding its way.
It's been awhile since Notre Dame has had the upper hand at running back in this rivalry. With Le'Veon Bell now a Pittsburgh Steeler, it should finally have the edge this year.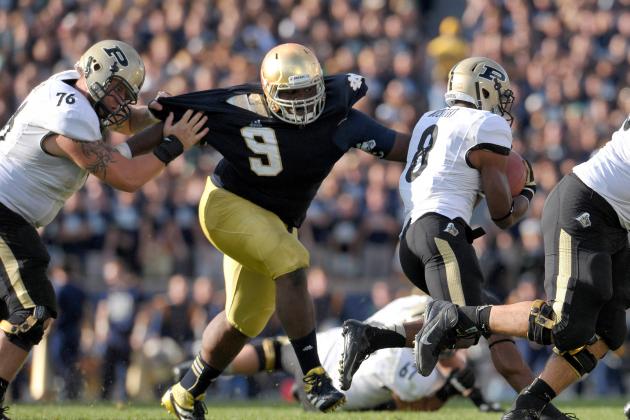 Matt Cashore-USA TODAY Sports

Tempo and rhythm have been staples at Oklahoma ever since Bob Stoops arrived in Norman. Whether it was Josh Heupel, Jason White, Sam Bradford or most recently, Landry Jones, the Sooners offense has been consistently dangerous.
However, last year in Norman, Notre Dame held Oklahoma to just 13 points. Despite Jones being hot early, the Irish defense clamped down in the red zone—and Nix and the defense quickly began to disrupt Jones and throw off his timing.
If Nix can again win the one-on-one battle with Sooners center Gabe Ikard when Oklahoma makes it first trip to South Bend since Stoops' first season in 1999, the result may mirror what happened last October. New quarterback Blake Bell can improvise a bit better than Jones, but it's still Oklahoma.
If you take away its rhythm, you take away most of its firepower.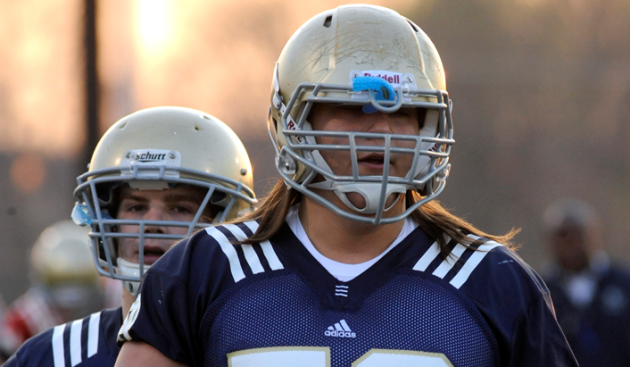 The name Will Sutton may not ring a bell with most Irish fans, but it should. Other than USC's Marqise Lee, Sutton is the most dangerous player on Notre Dame's 2013 schedule.
The Sun Devils nose tackle surprised many by returning to Tempe for his senior season and will test a young Irish interior offensive line when the teams meet at Cowboys Stadium. Martin is taking over for three-year starter Braxston Cave, and Sutton will be his first major test.
Sutton's 13 sacks last season led the Pac-12 and were third nationally. In three games, Sutton registered multiple sacks. If he can do so against Notre Dame, that could be exactly what Arizona State needs to pull off the upset of the Irish.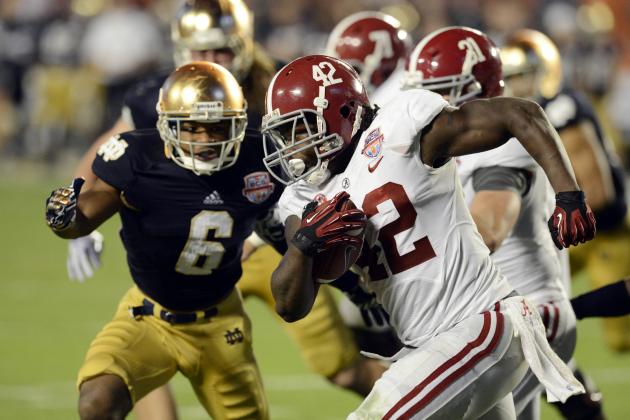 John David Mercer-USA TODAY Sports

Notre Dame has had the luxury of facing backup quarterbacks against the Trojans in two of their past three meetings. USC scored just 29 combined points in the two games—both Irish wins.
The situation under center remains a mystery in Los Angeles heading into the summer, but the Trojans still possess the best receiver in college football in junior Marqise Lee. Russell held Lee to only one big play last season, a drive that ultimately ended with no points for USC.
The sophomore cornerback will likely again be matched up with Lee for most of the night in South Bend this October, and a performance on par with last year may be enough for the Irish to finally end a five-game home losing streak to the Trojans.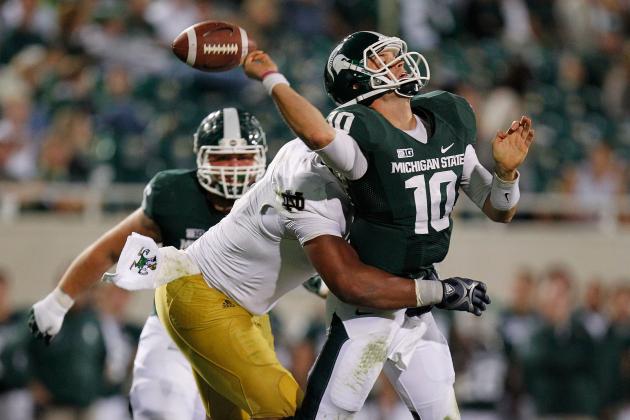 Gregory Shamus/Getty Images

Defending the triple option can be a difficult task in an era that features so many spread offenses. Notre Dame struggled a bit with Air Force in a 59-33 win in 2011, but had no such trouble with Navy last season in Ireland in a 50-10 rout.
Tuitt provided the first of many highlight reel plays last year against the Midshipmen, returning a fumble for a touchdown in the second quarter. The first step in containing the triple option is eliminating the fullback dive up the middle—which Tuitt and Nix were able to do last year.
Playing in the thin air of Colorado Springs, keeping plays short and getting off the field quickly will be imperative. The Falcons offensive line should be no match for Tuitt—even against zone blocking—and the Falcons matching their 33 points from two years ago in South Bend seems highly unlikely.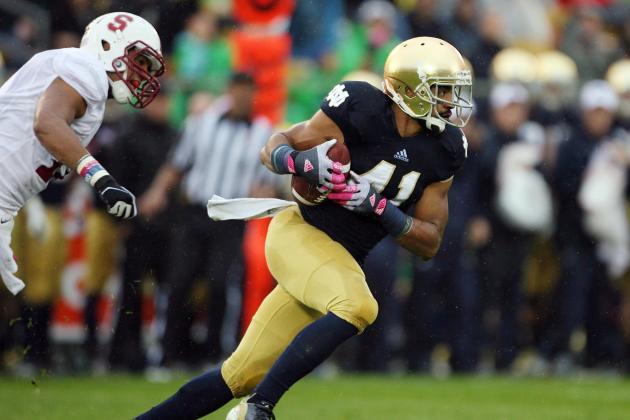 Brian Spurlock-USA TODAY Sports

Farley proved to be a valuable asset both against the run and in coverage last season when thrust into the starting lineup following a season-ending injury to Jamoris Slaughter.
When Navy—who Farley played against only in a reserve role last season—comes to South Bend, Farley's task will be taking away the edge. The offense should have no problem churning out yards against the Mids, but Farley needs to help ensure the Irish have enough chances to do just that.
Bob Diaco's defense has improved dramatically against the triple option since a 35-17 rout by Navy in 2010. Facing it in consecutive weeks this fall bodes well for the Irish—especially with steady, sound and smart players like Farley leading the way.
While there wasn't a coaching change at Pittsburgh, there was still the traditional offseason drama within the Panthers program, as budding star running back Rushel Shell abruptly transferred to UCLA. However, Pittsburgh should again be solid defensively, led by defensive tackle Aaron Donald.
Donald and Tyler Ezell should be one of the ACC's best pairs of defensive tackles, and the Irish's right guard position remains unsettled heading into the summer. It looks to be junior Conor Hanratty's job, but this may be the weak link of what is otherwise another strong Irish offensive line.
Donald isn't the biggest defensive tackle, but has great strength and leverage. His 5.5 sacks last year led the Panthers.
Golson's freelancing ability helps neutralize interior pass rushers, but Hanratty has to make sure Golson has the time to do so when the Irish visit the Steel City.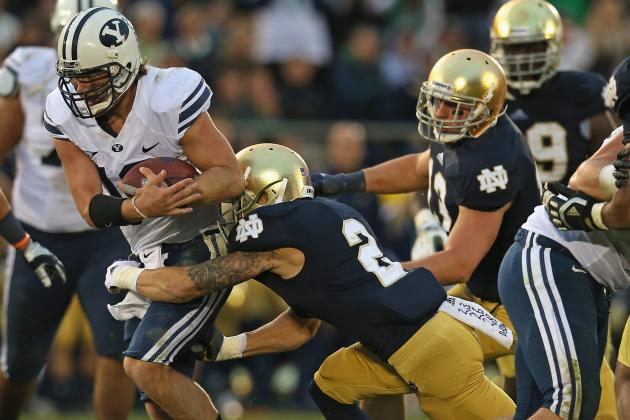 Jonathan Daniel/Getty Images

Cody Hoffman is more than just a good receiver. He's one of the best in the country. Hoffman broke open late in last season's meeting for a potential game-winning touchdown, but Riley Nelson's pass came up well short.
He does most of his damage in short-to-intermediate routes. Senior Bennett Jackson should be matched up against Hoffman for most of this season's clash, also in South Bend.
A big body and a sound route runner, Hoffman is a quarterback's best friend. He takes what the defense gives him and is especially effective on third downs. Jackson is big enough to match Hoffman physically, which he'll have to do to ensure the Irish maintain their perfect record on Senior Day under Brian Kelly.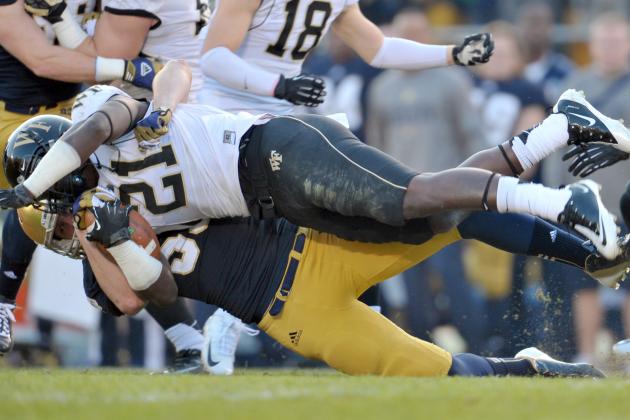 Matt Cashore-USA TODAY Sports

Perhaps no two programs mirror each other more than the Irish and Cardinal. Fittingly, their showdown in South Bend last season went to overtime, with the Irish making a controversial goal-line stand to seal the victory.
Both offenses want to impose their will physically, which places an increased burden on Grace, who will be taking over for Te'o at Mike linebacker. Grace may not be Te'o, but he's a solid tackler. His spring practice performance instilled further confidence in him as Te'o's successor.
Stanford no longer has Stepfan Taylor to carry the ball, but it will have one of the best offensive lines in the country. With Notre Dame's defensive line likely to have its hands full, Grace and the linebackers will be busy ensuring missed tackles don't turn three or four-yard runs into seven or eight-yard runs.