Floyd Mayweather's Hiatus from Boxing Won't Affect Him vs. Robert Guerrero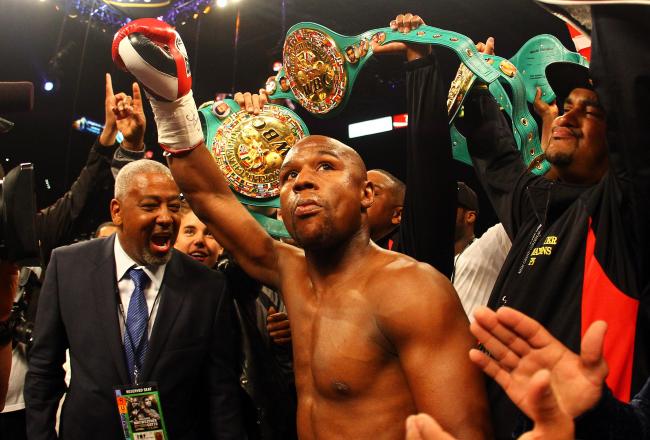 Al Bello/Getty Images
Due to a number of extenuating circumstances, Floyd "Money" Mayweather hasn't fought in nearly one year. Despite his hiatus from the sport, Mayweather will have little trouble taking care of Robert "The Ghost" Guerrero on Saturday night.
With each passing year the whispers get a little louder with regards to whether or not Mayweather is on the down slope of his career. His victory over Miguel Cotto last year seems to suggest that it isn't the case, but a lot can change over the course of a year, particularly since Mayweather is now 36 years old.
Following Mayweather's victory over Cotto, he spent two months in a Las Vegas jail stemming from a misdemeanor domestic battery case. That presumably disrupted his training routine and could have potentially set him back. Mayweather is a physical marvel who seems to get better with age, however, so it's entirely impossible that the break in his routine didn't bother him one bit.
While one year between fights may seem like a long time on the surface, it really isn't uncommon for elite fighters to take a year off. In fact, Mayweather has taken significantly more time off between fights in the past and it hasn't visibly hurt him at all.
After wiping out Ricky Hatton in December of 2007, Mayweather waited 21 months until his next fight against Juan Manuel Marquez. Mayweather dominated the man who has taken Manny Pacquiao to the brink on several occasions and he easily won by unanimous decision.
Then, after taking care of "Sugar" Shane Mosley in May of 2010, Mayweather once again stepped away for an extended period of time. Mayweather fought Victor Ortiz 16 months later and managed to knock out the much younger fighter in the fourth round, despite the fact that many believed his hiatus would cost him dearly.
Perhaps it wouldn't be easy for an average fighter to come back and dominate after a year away, but Mayweather is a far cry from average. He is 43-0 and is arguably one of the greatest fighters of all time. He also has plenty of experience when it comes to returning from a hiatus, so the one-year gap shouldn't hinder Mayweather's chances of beating Guerrero whatsoever.
The only thing that Mayweather has to worry about is the aging process. It hasn't caught up to him yet, but there will obviously come a time when he can't fight on as high of a level as he is accustomed to. Whether or not that time has already come remains to be seen, but if he somehow loses to Guerrero, it won't have anything to do with the fact that he had a year between fights.
Will Mayweather's hiatus affect his performance vs. Guerrero?
If anything, it can be argued that the extended time off will be beneficial to Mayweather. At 36 years of age there is no reason for him to fight every five months like some of the younger fighters. Mayweather has already proven himself time and time again, so he has the luxury of picking and choosing when he wants to fight and who he wants to fight.
Having two fights within months of each other can be incredibly taxing from a physical standpoint. Mayweather is generally quite evasive and doesn't get hit too much, but his body doesn't need that type of abuse. More rest is better for him the older he gets, so it can be argued that the one-year layoff leaves him better prepared and rested for his tilt with Guerrero.
Even if the time off doesn't help him significantly, though, it won't hurt him either. Mayweather has been around the block plenty of times, so he won't allow something so trivial to throw him off his game. He knows his body better than anyone, and there is absolutely no chance that he would enter a fight unprepared.
If Guerrero manages to beat Mayweather it will be because he found a way to execute the ideal game plan and it won't have anything to do with Mayweather having ring rust. With that said, Mayweather is deservedly a heavy favorite, and he shouldn't have much trouble outlasting Guerrero to improve his unblemished record to 44-0.
Follow @MikeChiari on Twitter
This article is
What is the duplicate article?
Why is this article offensive?
Where is this article plagiarized from?
Why is this article poorly edited?