Grading Every Member of Liverpool's Squad This Season from A to F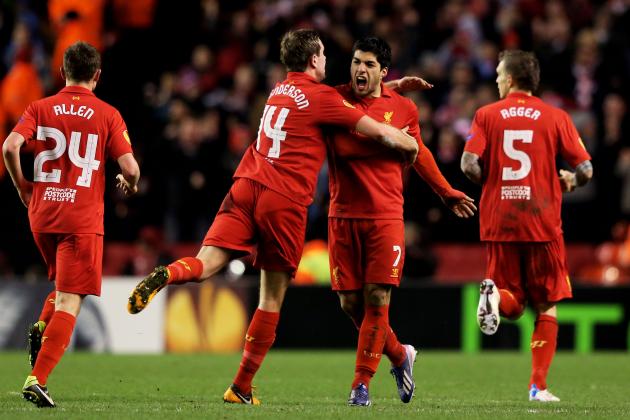 Alex Livesey/Getty Images

Liverpool are fast approaching the end of their first season with Brendan Rodgers in charge. Without a trophy and with no European football at the end of it, 2012-13 has far from been one of the most illustrious in the club's history, yet it has been a necessary first step to the re-shaping of the team.
This season sees the squad finish the year with around 10 players in it who were not a part of it at the end of last season, while plenty more have also departed.
There have been ups and downs during the campaign, as with any other year, but the overriding feeling is one of "could have been close, but ultimately wasn't quite good enough."
Some individual players have excelled more than others, though, while some will have merely done enough to justify the manager's faith in them and prolong their stay for an additional campaign. Others might not have even managed that amount of progress this season.
Here we have the entire first-team squad, graded from A to F on their performances this season.
Begin Slideshow

»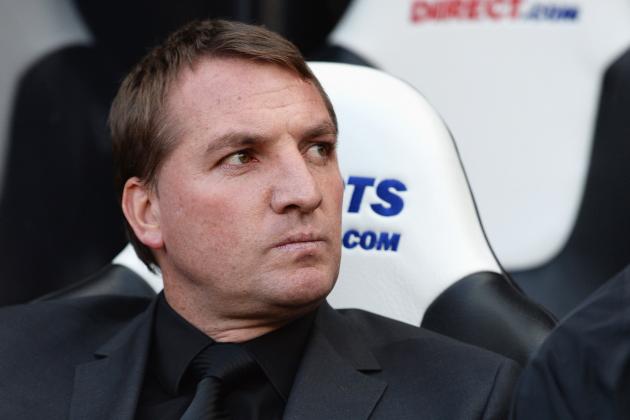 Gareth Copley/Getty Images

It must be taken into consideration that the ratings applied to each player are relative according to their status in the squad at the beginning of the season.
A Grade B for a first-team regular, for example, might indicate that they have had a solid campaign, but not performed regularly enough at their optimum level.
A Grade B for a youth player who has broken through this very season would indicate they have done extremely well in the game time handed to them, enough to justify their step up at this time and that they have more to offer the club going forward.
Some players were also not rated—those who were either given a squad number and appeared for the side on the bench but did not have a substantial on-pitch impact, or else were shipped off to alternative clubs before the transfer windows closed.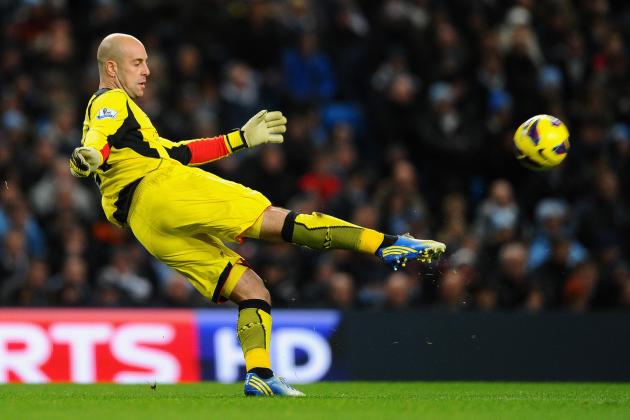 Laurence Griffiths/Getty Images

Players rated: Pepe Reina, Brad Jones
Not rated: Peter Gulacsi (failed to make appearance), Danny Ward (failed to make appearance)
Reina: Grade C (36 appearances)
Pepe Reina has long been Liverpool's No. 1 goalkeeper, but there were certainly times during the present campaign when it seemed as though this might be his final year at the club. Poor form at the beginning of the campaign led to some "uncharacteristic errors"—but these had become all too familiar over the previous two or three seasons, too.
One thing he could always count on, though, was his fitness, but even that has deserted him at times this campaign, as he suffered two spells on the sidelines with injury.
Despite these setbacks, Reina has gotten himself back into pleasing form since the turn of the year, progressing noticeably and keeping a large number of clean sheets. Over the past few matches, indeed, he has shown that he is approaching something like his best form, making a number of important saves to preserve clean sheets and even make match-saving stops having had little to do previously.
This concentration and effectiveness at the right time was a big marker of Reina at his best. Hopefully it is a sign he is returning to that form once more.
Jones: Grade C (15 appearances)
Brad Jones is Liverpool's backup goalkeeper, but he has made an awful lot of appearances this season (relatively speaking) due to Reina's injuries.
Jones has been up and down while in the side; several impressive performances gave supporters hope that he could genuinely challenge Reina for the No. 1 jersey (more in hope of pushing Reina back to form rather than Jones actually taking it over), but he has also had more than a couple of nightmarish performances.
The game against Oldham Athletic in the FA Cup in particular was not his, or the defence's, finest hour-and-a-half, and he has basically shown over the season that he is a capable understudy, but certainly no more.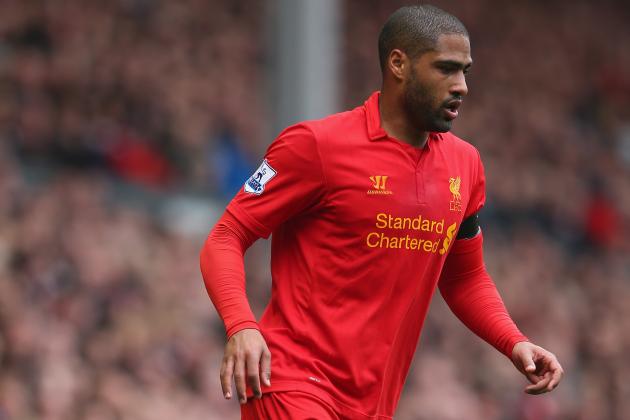 Alex Livesey/Getty Images

Players rated: Glen Johnson, Andre Wisdom, Martin Kelly, Jon Flanagan
Not rated: Ryan McLaughlin (failed to make an appearance)
Johnson: Grade B (40 apps, two goals, five assists)
First-team right-back Glen Johnson was one of the league's best defenders for most of the season but has regressed alarmingly in his performances over the past month or two. Operating at both ends of the pitch, and on both sides of defence, Johnson is an automatic pick, and his ability to carry the ball, his threat on goal and his ability to break into space from deep are all great assets to the team.
On the other hand, Liverpool's defence has been woefully undermanned at some points, with too much emphasis on attacking at times. It's not necessarily all Johnson's fault by any stretch of the imagination, but the full-back areas are certainly zones which the Reds have to improve in defensively.
In short, Johnson had a good start and great middle to the season but has dropped off far too much to warrant a higher grading.
Wisdom: Grade B (18 apps, one goal, one assist)
Andre Wisdom was handed a first-team debut in the Europa League this season, scored less than half an hour in, and was soon pushed into Premier League duty at right-back.
While he is not as attack-minded or as technically proficient as Johnson, he certainly brought balance and stability to the defence as well as an element of tactical flexibility, being able to tuck in as a third centre-back to prevent Liverpool being overloaded against on the counter.
Wisdom had trouble, of course, in some games, as he came up against different types of experienced wide attackers, but all in all, for a young lad playing his first senior matches, his composure on the ball and defensive skills were pretty much spot on.
Kelly: Grade B (seven apps, one assist)
Martin Kelly's case is an interesting one, though a disappointing one. He had started the season in the team, with most if not all defenders fit, as the first-choice right-back for Brendan Rodgers. His early performances were good, though he was as prone to early errors as several other defenders were which cost Liverpool points.
His season was curtailed by a long-term knee injury, though, and he will not return until pre-season for the next campaign. He may well have kept one of his teammates out for the entire year or been switched to centre-back, but in the end, he has had to wait and watch on from the sidelines.
Flanagan: Grade E (two apps)
It's been a disappointing season for Jon Flanagan. Having seen Kelly get injured, he would hope to have been handed more chances in the team, but Andre Wisdom quickly established himself ahead of Flanagan, who also suffered a couple of injuries himself.
Two appearances for the season is a real step back, and injury also killed his hopes of leaving on loan to get some much-needed football. There is a real chance that he could fall to fourth-choice right-back at the club over the summer, meaning he will need to leave, be it temporarily or permanently.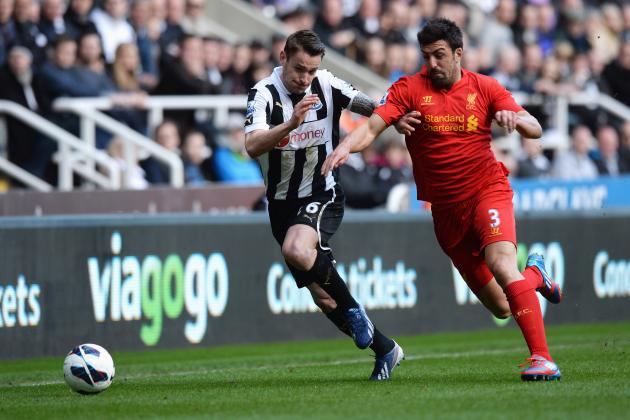 Gareth Copley/Getty Images

Players rated: Jose Enrique, Jack Robinson
Not rated: none
Jose Enrique: Grade C (32 apps, two goals, six assists)
Spanish left-back Jose Enrique was quickly left out of the team after a poor start to the season, but to his credit, he eventually won his place back around November-December with improved offensive displays and a third reshuffle of the preferred starting XI from Brendan Rodgers.
He has proven to link up well down the left flank with the likes of Jordan Henderson or Philippe Coutinho ahead of him. Jose Enrique's pace and power sees him break forward often, supporting the Reds' attacking movement, but his final product and decision making on the ball too often leave a lot to be desired. Defensively, he is capable of switching between woefully inadequate and a top covering full-back within a half-hour period.
Even so, he is finishing the season in far better form than he started it at both ends of the field.
Robinson: Grade E (six apps)
Youngster Robinson should really have utilised this season to push on significantly and get a number of appearances under his belt. Without any real squad depth at left-back and a manager who has belief in young players in place, Robinson should definitely have expected to make 12-15 appearances for the first team in all competitions.
Instead, he has struggled in most games he appeared in, not really staking his claim and certainly not giving Rodgers enough food for thought in terms of strengthening the squad in that area over the summer.
Robinson will end the season on loan to Wolves in the Championship, leaving Liverpool with one senior left-back, which tells you everything you need to know about how little he has pushed on this term. Better is needed next year from the youngster.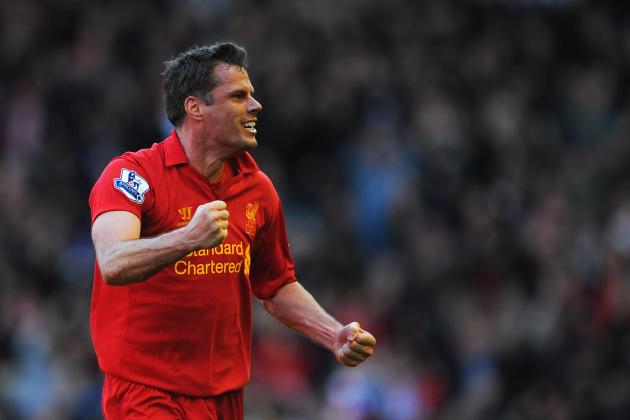 Michael Regan/Getty Images

Players rated: Jamie Carragher, Daniel Agger, Martin Skrtel, Sebastian Coates
Not rated: Stephen Sama (failed to make an appearance), Danny Wilson (loaned to Hearts)
Carragher: Grade B (35 apps, one assist)
Having started the season as a non-first-team regular, Carragher will be delighted to be ending his time as a professional footballer back in the team once more. A cup and European player for the first half of the season, Carragher was handed his chance in January and has remained in the team since then.
The organisation and leadership he brings to the team have not changed, nor his committed style of defending, all of which have helped Liverpool improve at the back. His presence, though, has also forced a slight switch in keeping a deeper defensive line which does, unfortunately, affect the balance of the squad.
Agger: Grade C (38 apps, three goals)
First-choice defender Daniel Agger has been Liverpool's best centre-back this season, but he has still been far from perfect. Immense at his best, Agger has fluctuated from uncertain to very good during the campaign but has benefited from the return to partnering Carragher.
His match reading, bringing the ball out of defence and prowess in the final third have all been massive boosts to the Reds, and his form over the past month or two have marked him out as the best player in the team, possibly other than two attackers in particular.
On the downside, he has conceded a number of goals for the club this term through slack marking off set pieces, failing to control his man and not winning headers. The odd individual error has been seen, but he is far from the worst culprit in this regard in open play.
His fitness has been a major positive; Agger has not missed a league game through injury this season.
Skrtel: Grade D (31 apps, two goals, one assist)
Martin Skrtel started in the first team this season, but his erratic form and failure to adequately form an impenetrable partnership with Daniel Agger, seen so often last season, saw him ousted from the side by the start of the year.
Skrtel made far too many defensive errors and has never been the most vocal player, relying on his partner and goalkeeper to direct him. Reina's injury and the centre-backs being split apart more than ever in open play have no doubt contributed to his dip in form, but regardless, he has been the biggest victim of Liverpool's upturn in results since the midway point in the year.
Coates: Grade E (10 apps, one goal, one assist)
Uruguayan centre-back Sebastian Coates will be another player disappointed with his contributions this season. Though not a regular prior to this year, he will have been hoping to feature more often and, with Skrtel being pushed out of the side, surely must have felt that was his moment to pounce.
It appears that Rodgers prefers not to use Coates, though, possibly favouring the higher line of defence and feeling that he cannot be deployed in that way. Just 10 games in all competitions represents a seriously underwhelming campaign for the young defender, who may be on his way out of Anfield in the summer as a result.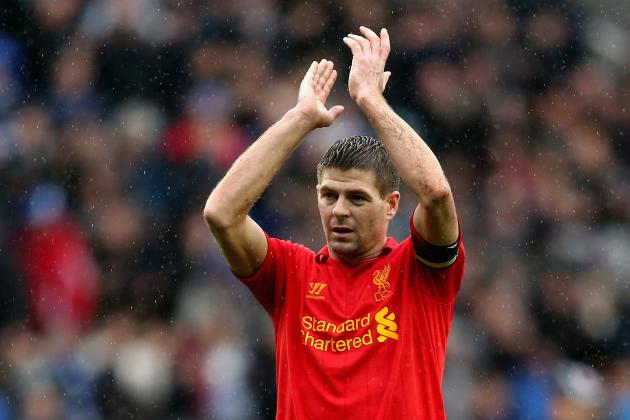 Warren Little/Getty Images

Players rated: Steven Gerrard, Lucas Leiva, Joe Allen, Nuri Sahin
Not rated: Jay Spearing (loaned to Bolton), Conor Coady (one appearance made), Charlie Adam (sold to Stoke City)
Gerrard: Grade B (45 apps, 11 goals, 12 assists)
Had Steven Gerrard played the first four months of the season the way he has played since December, this would undoubtedly be the first Grade A. However, the whole campaign must be taken into account, and it is fair to say that Gerrard struggled to come to terms with his role at first.
Since then, though, his passing and creative control of games have been first-rate, and his end product in the final third exceptional. Gerrard continues to be a massive part of the side, one who perhaps systems must accommodate, but also one who can help make the team rather better than the sum of its parts.
He will remain an integral player next season, though of course improvements can still be made.
Lucas: Grade C (28 apps, one assist)
It hasn't been the glorious return to first-team football that some expected from Lucas Leiva. Following a long-term injury, Lucas made a short-lived comeback before tearing a thigh muscle, needing another three months on the sidelines. Since his second return, Lucas has been a mainstay in the team but not the all-conquering destroyer that people thought they remembered from 2011-12.
Statistically, he has looked impressive, topping the Premier League charts for tackles made per game, but a closer look reveals him to be only 26th in terms of actually winning those tackles*. Too often he is easily bypassed by runners from deep, with or without the ball, and his fitness prevents him from having a big enough impact on Liverpool's defence. Cover for the back four has been at a premium this season, and it is primarily Lucas' job to ensure that doesn't happen.
Better is needed to challenge for the top four, be that by way of an improvement from Lucas or Rodgers searching elsewhere.
Allen: Grade C (37 apps, two goals)
Joe Allen had a terrific start at Liverpool, displaying all the confidence of being a big-money signing and a manager favourite as he dominated the midfield against the likes of Manchester City.
Too quickly, though, that confident approach to games came to an end, as the Reds as a whole struggled with inconsistency and a lack of an in-game identity to fall back on when things didn't go well. Allen was one of those who suffered by losing his place eventually, though Rodgers understandably gave him plenty of chances to win his place back in the side until injury ended his season early.
Allen has plenty of virtues which will prove valuable for Liverpool in the longer term, but you sense he might need the rest of the midfield to be performing well to see him at his best again. He's been far from as terrible as some like to make out, but similarly, he has not been the shining beacon of hope that was expected at the beginning of the campaign.
Sahin: Grade D (12 apps, three goals, three assists)
Nuri Sahin joined on loan from Real Madrid for a season in the summer but lasted only half of that before ending his Anfield stay. Though he was initially a regular in the side, he failed to hold down a spot after being utilised in a more attacking role than he was used to and not having the desired impact on the team.
Arguably, he was a victim of Steven Gerrard being used in a deeper role than was anticipated, but Sahin didn't exactly hang around for long to try and work his way back into the side. He helped the team while he played but certainly hasn't been missed since he departed.
*Lucas makes average of 4.9 tackles per game, the highest rate in Premier League. However, ranked in terms of percentage of tackles won, and only including players to have made 75 or more tackles to eliminate infrequent performers winning fewer tackles (therefore easier to have higher percentage won, but with less consistency), Lucas ranks 26th in the league.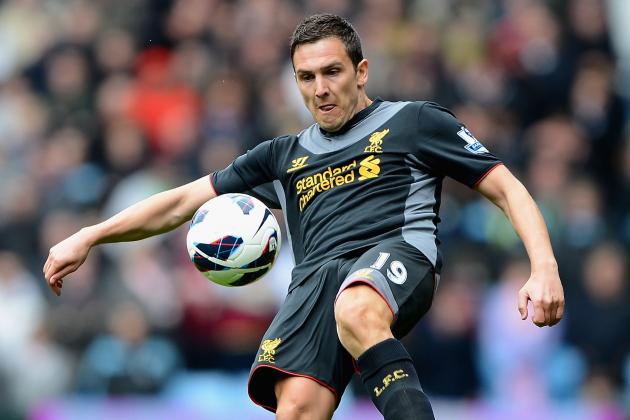 Laurence Griffiths/Getty Images

Players rated: Stewart Downing, Oussama Assaidi, Raheem Sterling, Joe Cole
Not rated: Jordan Ibe (failed to make appearance)
Downing: Grade C (42 apps, five goals, eight assists)
Winger Stewart Downing started the campaign in the side on the opening day of the season and scored the first goal with Rodgers in charge in the Europa League against Gomel. It quickly went pear-shaped, as he lost his place in the team, was demoted to playing with the youngsters in the Group Stage in Europe instead of in the league and eventually was pushed to left-back to try to get some benefit out of having him in the squad.
He wasn't playing well, didn't look confident and was told by the manager he could leave in the January transfer window. At that point, Downing could certainly have been considered a candidate for an "F".
Credit where it is due, though, he pushed his way back into the team and has been nearly an ever-present in the side since the turn of the year, performing an important tactical role in balancing the team on the right side of attack, keeping the width in the team and working hard defensively, too. Downing has never set Anfield alight but has at least been much-improved and has importantly been a positive source of goals this season, both creating and scoring himself.
Improvements can be made in this area, but Downing has been far, far better during 2013.
Assaidi: Grade D (12 apps, one assist)
The signing of Oussama Assaidi caught fans by surprise, and that pretty much set the tone for the entire campaign, with his continued absence from the team over the season being similarly baffling.
Assaidi has looked bright and creative down the left flank when given the chance, if a little lacking in end product, but sporadic appearance could be the reason for that. Whether because Rodgers didn't actually choose him as a signing or because the manager sees much more in training every day than outsiders can see from limited time on the pitch, the Moroccan has been nothing more than a bit-part player this season.
Sterling: Grade B (32 apps, two goals, six assists)
End the season at the end of the calendar year, and Raheem Sterling gets an "A." The young winger was superb for four months, terrorising back lines with his pace and dribbling ability and the quick way he learned from and linked up with Luis Suarez.
He claimed several important and impressive assists but also won plaudits for his attitude and defensive awareness within his tactical role in the team. Understandably, tiredness, both mental and physical, set in as the 17-year-old played so many matches, and he has rarely featured over the second half of the campaign.
Even so, more than 30 appearances in his first full season is a phenomenal effort from the youngster, and his future with the club is assured.
Cole: Grade E (10 apps, two goals, one assist)
Joe Cole's overdue time at Liverpool came to an end in January when he left the club as he joined it: On a "free" transfer, costing the club millions.
His little contribution to the club in the first half of the season was predictably poor and ineffective in the main, but he is spared the lowest ranking on account of his two goals; both were undeniably important at the time (3-2 win vs West Ham and 2-2 draw vs Young Boys), and so he did have some influence on how the season panned out.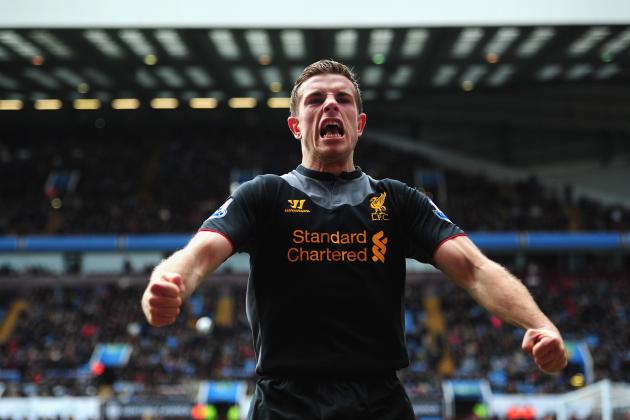 Stu Forster/Getty Images

Players rated: Jordan Henderson, Jonjo Shelvey, Suso, Philippe Coutinho
Not rated: none
Henderson: Grade B (41 apps, six goals, five assists)
Having started the season as almost an un-required extra, Henderson has gone from bit-part midfielder to utility player to almost-undroppable first XI starter.
His commitment, dedication and work-rate are first-class attributes which are too often overlooked, as the emphasis on passing and technical excellence is increased, and after a long run in the side, Henderson unsurprisingly has shown he can excel in those areas too. Goals and assists have become relatively consistent, and he has been a pivotal part of the team's balance in the final third and midfield, playing either centrally or from the left.
Henderson has proved a few people wrong this season but still has more work to do to cement his role in the team for the long term.
Shelvey: Grade C (31 apps, five goals, two assists)
Having started the season so involved in the first team, Shelvey may be a little disappointed with how it has panned out, but he is still a young player and has gained plenty of valuable experience in the first team this term. A strong and combative midfielder but with an eye for goal, Liverpool's biggest issue might be deciding his long-term role in the team.
Shelvey has played as a deep midfielder, a No. 10, a false centre-forward and a wide attacker, and he has had his moments as a good player this term as well as some disappointing displays.
He may face a season out on loan next term with no European football, but he's been far from the most disappointing player at the club.
Suso: Grade B (19 apps, one assist)
Like Sterling and Wisdom, Suso came into the team this season and has played his role in helping the transition of the side, though he has featured rarely since the turn of the year.
A playmaking, attacking midfielder, there is most certainly a place for him in the squad going forward, though he may be another who needs a loan spell first to get that run of 15-25 games under his belt and really push on. Suso has a shed-load of ability, and his touch and vision have the potential to be close to as impressive as a certain No. 10 at the club, but he needs that regular game time to show what he can do more often.
Coutinho: Grade B (10 apps, two goals, five assists)
It's hard to see what more Philippe Coutinho could have done since arriving at the club in January from Inter Milan, as he has been quickly involved with the best attacking work the side has shown and has been involved, on average, in one goal every 96 minutes.
His touch, awareness of space, passing and vision are exemplary, and it is already clear that Liverpool's No. 10 has a big Anfield future ahead of him. Whether he operates in a central or left-sided role, Liverpool have to get the best use out of him. Coutinho himself must learn about coping with different types of defenders, too, as some have adequately marked him out of the game at times, but the early signs are hugely promising for the Brazilian.
Longer at the club in the same kind of form would certainly have won him an "A" rating, and the fans will hope that will be forthcoming next season.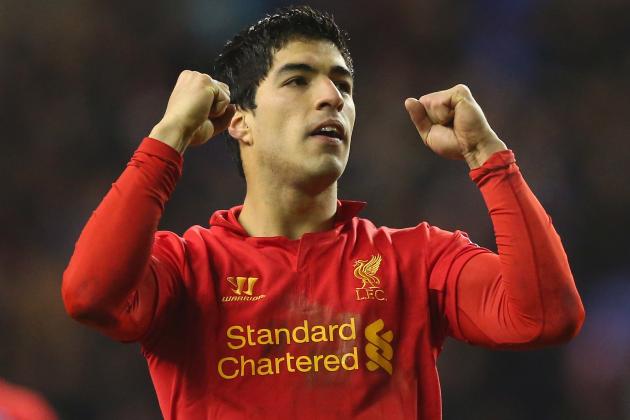 Alex Livesey/Getty Images

Players rated: Luis Suarez, Fabio Borini, Daniel Sturridge
Not rated: Dani Pacheco (loaned to Huesca), Andy Carroll (loaned to West Ham), Jerome Sinclair (one appearance made), Adam Morgn (three appearances), Samed Yesil (two appearances)
Suarez: Grade B (44 apps, 30 goals, 13 assists)
He had to spoil it, didn't he? Luis Suarez has been nothing short of phenomenal this season and is a straight-A student every step of the way. Except in terms of his discipline. Despite rarely being injured and never being sent off for Liverpool, he has now amassed 20 games worth of suspensions for the club—eight for the Patrice Evra affair, one for the Fulham gesture, one for five bookings and now 10 for the Branislav Ivanovic incident.
Liverpool cannot, at this stage, afford to be without their best player for so long.
Suspension aside, Suarez has been exemplary. His commitment, fight, skill, goalscoring and consistency represent everything that the club must aspire to provide in every attacking position. The more of the likes of Suarez they have, the more chance of success there will be.
Decide for yourselves if the 10 games are enough to warrant a "B" instead of an "A".
Borini: Grade D (17 apps, two goals, one assist)
Fabio Borini has had some horrendous luck with injury in his debut season, which has prevented him having the biggest impact he would have liked. An early goal against Gomel gave hope, but despite some encouraging signs with movement and work rate, Borini didn't provide the end result the Reds required from him in the final third.
A return from injury ahead of the end of the season, and a first league goal against Newcastle, offers hope that there is plenty more better work to come from Borini next year and beyond.
Sturridge: Grade B (13 apps, eight goals, five assists)
Liverpool desperately needed a striker in January, one who would come in, settle quickly, link up with Luis Suarez and score goals. Consider that every box checked by Daniel Sturridge, who has registered a goal every 120 minutes so far in his Reds career.
His movement and skill have surprised some, but Sturridge has always been a remarkably well-rounded forward but has lacked the stage to perform on, the belief from the manager and the selflessness to do the teamwork aspect of the game himself too often.
Now at Liverpool, he has his chance to do it all as the main man, and so far his start has been excellent.
There will be times when he does not perform in a workmanlike-enough manner, but these games must become fewer and further between as he understands and accepts that his role in the team is safe only as long as he shows consistency in all areas. Injuries will hopefully become less frequent from next season, too.
And the goals continue to flow.
Statistical and player data from TransferMarkt.co.uk