Brendan Rodgers: Grading His 1st Year in Charge at Liverpool FC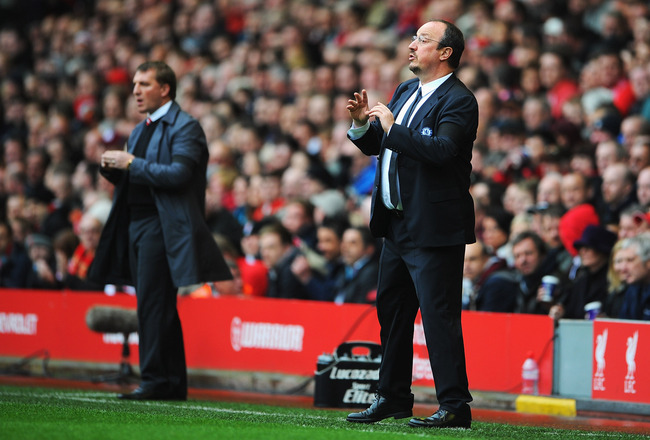 Past and present: Outside of technical boxes, how far off is Brendan Rodgers from previous managers?
Michael Regan/Getty Images
A mostly unknown—and very much unproven commodity—the announcement of Brendan Rodgers as Liverpool FC's 19th full-time manager was met with equal parts contempt and curiosity.
How was it that a man whose appointment elicited praise from Jose Mourinho (via Liverpool Echo), escaped closer scrutiny by bigger clubs? And how had he suddenly stepped into some of the biggest shoes in world football based on one successful year in the top flight?
With so little known about Rodgers in a high-profile position, he was always destined to be betwixt and between during his first year in charge. The stepchild of "I told you so's," winning would give breadth to his admirers, while losses offered depth to the detractors.
And because of this intense examination, Rodgers' every action, substitution, starting lineup, transfer, press conference and off-handed remark provided the sometimes imprecise tools for his inevitable vivisection as well as the needles gauging success or failure.
Following Kenny Dalglish to the throne, the Ulsterman's greatest blessing and curse were always to be uttered in the same breath—he is never going to be "the King."
Incapable of replacing a legend, he will have to fashion his own. As the manager that brought the first Welsh team into the English Premier League, it is something he has already begun.
It is perhaps unfair to measure Rodgers against the loaded scales of previous managers. Some 60 years on, this is not the Liverpool Bill Shankly built. It is a different Liverpool in a different epoch undergoing a very painful transition. Yet those ex-headmen will forge the framework and set his bar for his accomplishments.
So how does Buck Rodgers stack up in his first season at the helm compared to some of his predecessors?
Here is a look at how he has fared in the hot seat at Liverpool FC against the backdrop of the Reds' other bosses.
Performance on the Pitch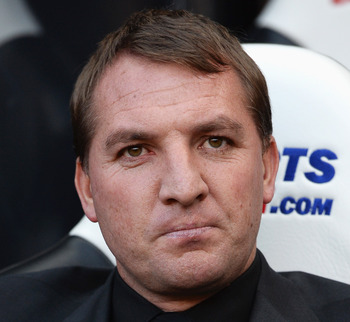 The 6-0 look: Rodgers' pictured during his big win over the weekend.
Gareth Copley/Getty Images
In 51 games this season, Rodgers has won 23, drawn 14 and lost 14 for a 45.10 win percentage (via lfchistory.net). This average ranks him a modest ninth in the list of Liverpool managers.
It may not be a significant enough body of work to draw conclusions from just yet, but his 40.63 win percentage during his 96 games in charge at Swansea (via Wikipedia) isn't particularly inspirational, either.
Yet with three games left in the EPL season, Rodgers has already has amassed two more points (54) scored 20 more goals (67) and is one better in league ranking (seventh) than Kenny Dalglish during his last full year in charge (via ESPN FC).
This season's trophy-less campaign hasn't quite provided the fireworks that people were hoping for, but the league fire is burning a little brighter under the supervision of Rodgers than it did with the King.
Transfer Market Dealings
Blurred: some of Rodgers' signings have not looked the fully formed product.
Clive Brunskill/Getty Images
His first transfer season at Liverpool was not portentous of a bright future for Brendan Rodgers. The reported £26 million combined outlay on Joe Allen and Fabio Borini didn't quite buy him the same value that the £6.75 million total season spend (via The Express) did in keeping EPL debutantes Swansea City 11th in the top flight.
Add to that the ineffectiveness of Nuri Sahin's loan and the inability of Oussama Assaidi to cement his place in the first squad, and a "D" might have been a generous overall grade.
And then came January. In a transfer period traditionally fraught with pitfalls, with little ceremony, he secured the signatures of Daniel Sturridge and Philippe Coutinho while offloading Joe Cole.
As astute a tactician as he was, even Rafael Benitez's grand successes in the transfer market were often tempered by some equally abject failures. For every Fernando Torres, there was a Robbie Keane. For every Xabi Alonso, an Alberto Aquilani (via lfchistory.net).
Although not at the level of the Spanish maestro, the speed with which he rebounded and neatly matched skills to pressing needs are positive indicators that the Liverpool gaffer's future dealings in the transfer market won't be wasteful.
Public Relations Acumen

Enveloped: Brendan Rodgers' publicized psychological game.

Whether seen glowing or glowering in the press, the man from Carnlough is never at a loss for something to say. It's not often that a football manager can point to his criticism of a world leader prompting a rejoinder from that man. But Brendan Rodgers can (via The Telegraph).
The Northern Irishman's propensity for philosophical musings even prompted The Guardian to compile a 10-question quiz challenging readers to determine whether a particular quote was his or Ricky Gervais' fictional character from The Office, David Brent.
Ranging from laudable to lamentable, Rodgers' now infamous "three envelope" scene in six-part documentary Being: Liverpool divided opinion. It was an early marker that this was a man who didn't mind airing his convictions in very public setting.
The current Liverpool top man's proclivity for "honest" appraisals puts him in good company. Liverpool has had their share of colorful characters in the press. None more so than the great Bill Shankly.
The iconic Scot was never shy of offering his estimation. Often in a sweeping and unapologetic fashion. When prompted about the need for Football Association coaching courses, he had this to say (via lfchistory.net):
"When people ask me my credentials for being a manager or a coach I have one answer... Bill Shankly. They're my qualifications, the way I was born."
Rodgers is the first to admit he bears no comparison to the legendary manager of yore (via espn.co.uk), but hopes to rebuild the club as Shankly did in the '60s.
If his word—or many thereof—is anything to go by, he may be on the right track.
Keep Reading

Liverpool: Like this team?