San Francisco Giants: April Report Card by Category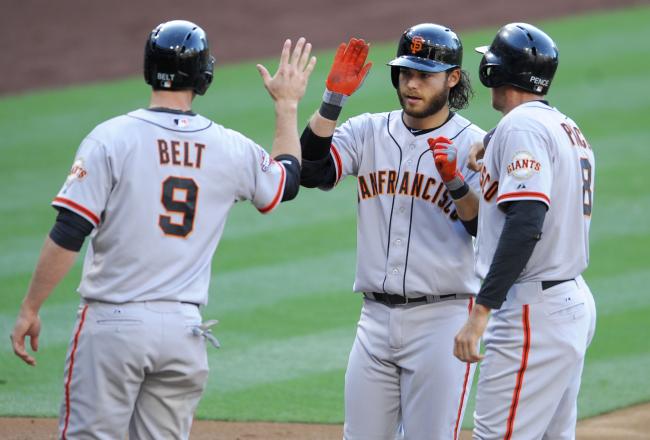 Denis Poroy/Getty Images
The opening month of the 2013 regular season is over already. After all the waiting, the hype, the expectations, the pressure...
April is officially in the books.
The defending World Series champion San Francisco Giants are off to a solid start. The team has a 15-12 record, tied for second place in the NL West along with the Arizona Diamondbacks. Both teams trail the red-hot Colorado Rockies—although, eventually, those red-hot Rockies bats are sure to cool off. Just a prediction.
Obviously, it's still early. There is still a lot of baseball to be played. Still, if April was the first pop quiz of MLB 101, these are the grades the Giants would have received.
1. Offense: A-
Team batting average: .264
Average runs per game: 4.185
The Giants, typically regarded for their pitching as opposed to their offensive production, are proving they can, in fact, score runs. It's a good thing, as their stellar starting staff is currently underachieving. In April, the bats are the ones picking up the slack.
In all honesty, the Giants' success at the plate should come as no surprise. The team boasts a complete lineup top to bottom, from Angel Pagan as the true leadoff hitter all the way down to a hot-handed Brandon Crawford in the eighth spot.
Pagan, Marco Scutaro, Pablo Sandoval, Buster Posey, Hunter Pence, Brandon Belt, Blanco/Torres and Crawford...
Not too shabby.
Shortstop Brandon Crawford has been the unexpected hot hand thus far. He leads the team in home runs (five) and has come through time and time again as the anchor in the lineup.
Right fielder Hunter Pence is another standout. After a rocky 2012 season with both the Giants and the Phillies, Pence has returned to All-Star form. His four home runs are surpassed only by Crawford's five, which illustrates that Pence's power shortage last season appears to be just that: a thing of the past.
2. Defense: B
The Giants' defense has the ability to be spectacular. And in April, we've seen some pretty magical glovework from the G-men.
Third baseman Pablo Sandoval is diving and stretching like a man 50 pounds lighter. Utility infielder Joaquin Arias is proving he can excel at every position—and who knows, maybe the Giants' lack of depth at catcher might spur manager Bruce Bochy to throw Arias behind the plate one of these days.
The Brandons—Belt and Crawford—are both above-average fielders. Crawford is a potential Gold Glove recipient if he can add more consistency in his decision-making. He firmly believes he can make every play, even the impossible ones. To be fair, he often does make the jaw-dropping defensive play. However, his .971 fielding percentage ranks among the team's lowest, while his three errors ranks among the highest.
Left fielder Gregor Blanco has yet to make an error in 20 games played. Knock on wood the streak of perfection continues.
3. Pitching: C+
Starting rotation ERA: 4.24
Starting rotation record: 9-6 in 27 total starts
Wait...that can't be right.
Left-hander Madison Bumgarner has been the ace of the rotation in April. Bumgarner is 3-0 with a 1.55 ERA, which is nearly a full two runs lower than the next man on the totem pole, Barry Zito.
Zito, to his credit, has managed to build upon his success during the 2012 playoffs. After a horrendous start on April 16th against the Milwaukee Brewers (nine earned runs allowed over 2.2 innings), Zito rebounded with seven shutout innings against the Padres on April 21st.
Tim Lincecum, one of the biggest question marks for the Giants heading into the 2013 season, has been up and down. His control and ability to locate pitches looked much improved in an April 22nd start against the Padres in which he pitched 6.2 innings of shutout baseball.
A number of important lessons were learned from that start for Lincecum. First, he can pitch to Buster Posey. Posey and Lincecum stopped starting together midway through 2012, only returning once the playoffs began. Second, Lincecum can still locate his pitches. In nearly seven innings, he only surrendered two walks—a big step in the right direction for "The Freak."
Still, the Giants' staff is struggling in unexpected places. Opening Day starter Matt Cain is still looking for his first win while battling a dismal 6.49 ERA. Ryan Vogelsong has yet to find his groove as well.
In terms of the bullpen, San Francisco's new closer, Sergio Romo (not new to the team, but in a new role), has taken to the job well. He has already amassed eight saves, along with a sparkling 2.13 ERA and 0.87 WHIP. An injury to the always-key Jeremy Affeldt has forced Bochy to tinker with his left-handers, and Javier Lopez and Jose Mijares have picked up the slack well.
New Giant Chad Gaudin is continuing to impress after earning his roster spot in spring training. Gaudin has a 1.80 ERA and a 0.87 WHIP.
As May rolls around and the season wears on, look for Cain and Vogelsong to break out of their respective funks. Zito and Lincecum will continue to be examined under a microscope. The offense will hopefully continue its success, and the defense should tighten up as early-season jitters decrease.
Overall, the Giants have come through April with a passing grade. However, the bar is high for the defending champs. Hopefully, they can overcome the curve and make the honor roll in May.
This article is
What is the duplicate article?
Why is this article offensive?
Where is this article plagiarized from?
Why is this article poorly edited?

San Francisco Giants: Like this team?