April Report Cards for the Boston Red Sox Top 10 Prospects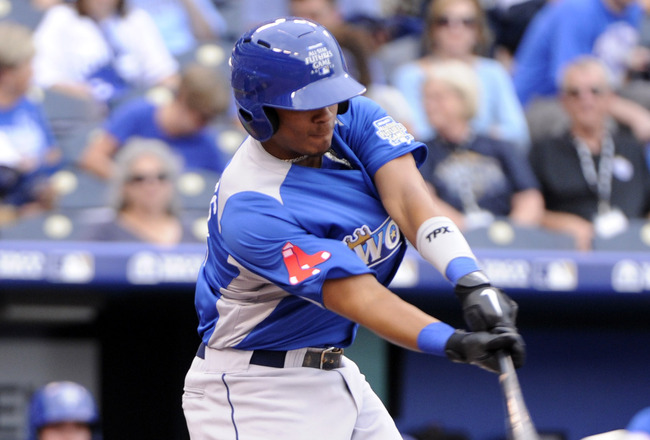 Xander Bogaerts is one of Boston's most exciting prospects
H. Darr Beiser-USA TODAY
With the regular season now in full swing, it's time to take a quick trip down to the farm to check out the progress of Boston's youth.
Red Sox management has made a concerted effort to enhance the farm system in recent years, producing several elite prospects.
Here is a quick analysis of the top ten prospects in the Red Sox system as well as a grade for their first month of playing time this year. Enjoy!
10. Deven Marrero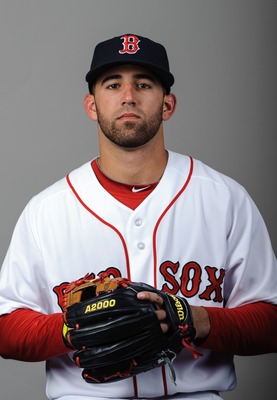 USA TODAY Sports
Position: SS
DOB: 8/25/1990 (Age: 22)
Height/Weight: 6'1", 195
Bats/Throws: R/R
Drafted/Signed: First round (24th overall), 2012 (Arizona State)
ETA: 2015
2013 Stats: .294/.400/.451, 8 XBH, (0 HR), 10/9 K/BB, (14 G, High-A Salem)
Marrero was projected to go in the top ten in the 2012 draft, but a less than stellar Junior season at Arizona State (alma mater of Dustin Pedroia) dropped him to the 24th pick where Boston was glad to snatch him up.
Marrero is known primarily for his off the charts athleticism, but his real calling card is definitely his defense where he has all the tools to develop into a plus all around defender, highlighted by outstanding range and instincts. He should be able to stick at short as a major leaguer.
At the plate, Marrero has a knack for getting the bat on the ball, but he does not project to hit for much power. He's also had a chance to show off his above-average plate approach this season. He should pile up walks in the big leagues.
While he won't be a major base stealing threat, Marrero does have enough speed to swipe between 10 and 20 bags per season.
So far in 2013, Marrero has had a very strong season. He's done everything the Red Sox have expected of him. He's hit for average, taken plenty of walks, and has been a staple at shortstop. The one area of concern is his apparent lack of power. It will be interesting to see how Marrero's extra base pop develops as the season wears on. Regardless, the young shortstop is on the cusp of a breakout year.
Grade: B+
9. Brandon Jacobs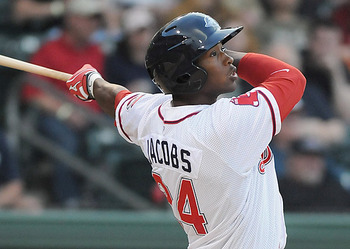 Courtesy of Goupstate.com
Position: OF
DOB: 12/8/1990 (Age: 22)
Height/Weight: 6'1", 225
Bats/Throws: R/R
Drafted/Signed: 10th round, 2009 (Parkview HS, Ga.)
ETA: Late 2014
2013 Stats: .203/.307/.338, 8 XBH, (1 HR), 24/9 K/BB, (21 G, High-A Salem)
Jacobs exploded onto the scene in 2011 with a breakout campaign at Greenville that saw him post an impressive .303/.376/.505 line with 17 home runs and 30 stolen bases.
In his breakout year, Jacobs showed off some very solid tools, highlighted by plus power, a decent hit tool, and very good base running skills. However, his strikeouts do tend to pile up as a result of poor pitch recognition and an impatient plate approach.
His defense is highly questionable as well. Jacobs' above average range is weighed down heavily by very poor instincts and lacking glove work.
Jacobs regressed in 2012, and this year doesn't look much better so far.
The young outfielder has fought to stay above the Mendoza line. His astronomical strikeout rate and unprecedented lack of power are also not encouraging.
Jacobs has always been a boom-or-bust type prospect. He has a shot at being a consistent 30-30 performer at the major league level. Then again, without improvement to his hit tool and plate approach, he may never make it out of the minor leagues. Right now, his numbers suggest the latter path.
Grade: F
8. Blake Swihart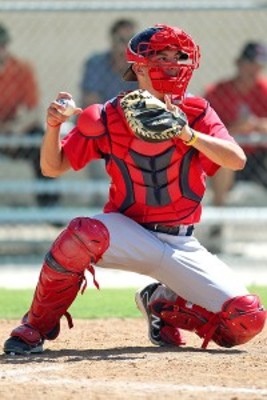 Courtesy of ESPN.com
Position: C
DOB: 4/3/1992 (Age: 21)
Height/Weight: 6'1", 175
Bats/Throws: S/R
Drafted/Signed: First Round (26th overall), 2011 (V Sue Cleveland HS, N.M.)
ETA: Late 2015
2013 Stats: .271/.348/.390, 4 XBH (0 HR), 10/7 K/BB, (17 G, High-A Salem)
The top catcher in the 2011 draft, Swihart had the talent to be taken in the top ten picks, but fell to the 26th pick due to signability issues. Boston lured him away from a commitment to Texas with an above slot $2.5 million deal.
Considered by many to be Boston's future behind the dish, Swihart has all the raw tools to be an excellent all around catcher.
He will hit for average and take plenty of walks, and he should develop above average power as he matures. He's already flashed above average bat speed from both sides of the plate.
He won't be a base stealing threat, but his athleticism plays up well behind the plate where he has shown quick reactions and lateral movement to go along with a plus arm. His game calling skills need work, but he has the intelligence and the tools to be a gold glove catcher.
Swihart's professional career has been rocky so far. A .262/.307/.395 batting line last year was a little disappointing, given his price tag. However, Swihart's raw ability has continued to impressive scouts despite his statistics.
His 2013 season provides more hope for his future. Although his performance thus far won't blow you away, they're certainly quality numbers for a 21-year-old in High-A.
Grade: B
7. Bryce Brentz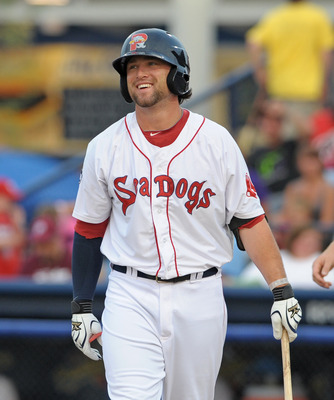 Eric Hartline-USA TODAY Sports
Position: OF
DOB: 12/30/1988 (Age: 24)
Height/Weight: 6'0", 190
Bats/Throws: R/R
Drafted/Signed: First round (36th overall), 2010 (Middle Tennessee State)
ETA: 2013
2013 Stats: .279/.347/.512, 11 XBH (4 HR), 19/8 K/BB, (22 G, Triple-A Pawtucket)
In his first full season, Bryce Brentz crushed 29 homers and drove in 94 runs across the Red Sox low-A and High-A affiliates. He also managed to hit for a good average as well, although his overly aggressive plate approach resulted in a high strikeout rate and a weak OBP.
He followed up that performance with a .296 average and 17 bombs in 2012 at Double-A Portland. Having ascended through much of the system, he is now on the cusp of the majors.
Brentz possesses a standout power tool. He has the chance to hit 25 or more home runs as a big leaguer. He also has a plus arm that should play very well in right field.
Brentz's only obstacle to reaching the majors is poor pitch selection and a lacking hit tool. If he wants to nail down an everyday spot on the Red Sox roster, he must make strides in those areas.
His performance at so far Triple-A has shown some promise. He hasn't lost his power, and he's managed to post decent on-base numbers. While striking out will always be part of his game, he's consistently increased his walk totals at every level of the minors, a good sign of things to come. If he keeps things up, Brentz should see time in the majors this year.
Grade: B+
6. Henry Owens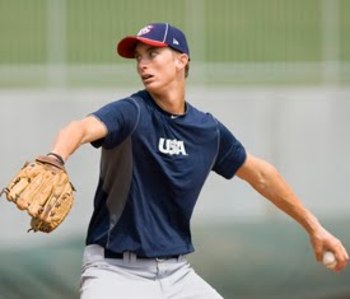 Position: LHP
DOB: 7/21/1992 (Age: 20)
Height/Weight: 6'6", 190
Bats/Throws: L/L
Drafted/Signed: First round (36th overall), 2011 (Edison HS, Calif.)
ETA: 2015
2013 Stats: 2-1, 26.0 IP, 2.08 ERA, 0.885 WHIP, 10.4 K/9, 2.8 BB/9 (5 GS, High-A Salem)
The 20-year-old Owens reminds a lot of scouts of a young Jon Lester, and with good reason.
Owens is well built, with an impressive 6-7, 200 pound frame. He still has quite a bit of projection, as he has plenty of room to add strength over the next few years.
Owens features three impressive pitches. His four-seam fastball sits in the low-90s, and should gain a few more ticks as he adds strength. He has very good deception on his heater. Hitters have trouble picking it up out of his hand. He also throws a curveball in the mid-70s that has plus potential. Owens features a changeup as well that has also shown plus potential. The young lefty has dominant stuff that should make him a strikeout artist as a big leaguer.
The biggest hurdle in Owens' development has been control issues, as evidenced by his 4.2 BB/9 rate last season. Fortunately, those problems have been entirely absent thus far this season.
Owens has been outstanding in his first five starts. If he keeps up his current pace, Owens will start generating quite a bit of media attention. Get pumped, Red Sox Nation.
Grade: A
5. Matt Barnes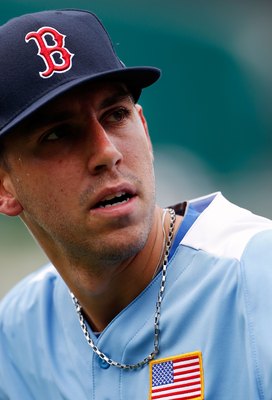 Jamie Squire/Getty Images
Position: RHP
DOB: 6/17/1990 (Age: 22)
Height/Weight: 6'4", 205
Bats/Throws: R/R
Drafted/Signed: First round (19th overall), 2011 (Connecticut)
ETA: 2014
2013 Stats: 1-1, 14.0 IP, 9.00 ERA, 2.143 WHIP, 10.9 K/9, 3.9 BB/9 (4 GS, Double-A Portland)
Barnes entered the 2011 season with high expectations, after being taken with Boston's highest draft pick since 2003. He met and far exceeded those expectations.
Barnes began the year with a nearly perfect stint at low-A Greenville. In 26 2/3 innings, Barnes only surrendered 1 run, 12 hits, and 4 walks, while striking out 42 batters, good for a league-leading 14.18 K/9 rate. His 0.34 ERA was second only to pitching prodigy and 4th overall pick, Dylan Bundy. Barnes earned a quick promotion to high-A Salem, where he continued to put up quality numbers.
In his first full season, Barnes relied heavily on a deadly fastball-curveball combination. His fastball sits in the mid to upper 90s with good sink and nice late movement. Barnes commands his fastball extremely well. It grades out as a plus to better offering.
Barnes' curve is a bit behind in development. He has good feel for the pitch, and it has flashed strong deception and tight rotation at times. However, it currently lacks consistency. The curve has plus potential, but it could take some time to get there.
Barnes' development as a starter depends heavily on improvement of his third and fourth pitches. He's currently trying to work in a changeup, which has shown above average potential, but it's still in the development stages. Barnes rarely throws it. Developing his changeup is a crucial next step in his ascension through the system.
So far, Barnes has not looked all that exciting this year. Although his statistics are ugly, difficulties in the early going were expected for Barnes.
He leaned heavily on his fastball in his early career, but to retire hitters in Double-A and beyond, he will have to mix in his secondary pitches much more often. This is something Barnes is not yet used to. Some more growing pains should be expected in the next few weeks, so things will likely get worse before they get better for Barnes. But when all is said and done this year, Barnes will be a much stronger pitcher.
Grade: C-
4. Garin Cecchini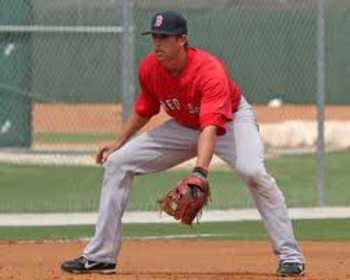 Courtesy of Soxprospects.com
Position: 3B
DOB: 4/20/1991 (Age: 22)
Height/Weight: 6'2", 200
Bats/Throws: L/R
Drafted/Signed: Fourth round, 2010 (Alfred M. Barbe HS, La.)
ETA: 2014
2013 Stats: .373/.466/.640, 12 XBH (2 HR), 12/13 K/BB, (20 G, High-A Salem)
Probably the most underrated prospect in the Red Sox system, Cecchini has garnered little attention despite putting up excellent numbers at every level and possessing 5 above average or better tools.
Cecchini broke onto the scene at age 20 in the New York-Penn League where his put up an impressive .298/.398/.500 slash line over 32 games of action. He quickly fell off the map, however, as his season was cut short by a broken wrist. Fully healthy in 2012, Cecchini earned a promotion A-ball, where he hit .305 with a.394 on base percentage while swiping 51 bags. Cecchini only managed 4 home runs, but he did hit 38 doubles over 118 games.
Cecchini is well built with an excellent power frame. He also has a picture-perfect upper cut swing from the left side that has left minor league scouts drooling. Although there is some debate in this area, I believe that Cecchini has the best hit tool in the entire Red Sox system. He should hit .300 or better as a big leaguer. And coupled with plus bat speed, his hit tool should turn those doubles into home runs as his body fills out.
On defense, Cecchini has a plus arm and nice, soft glove work. He should develop into an above average defender at third. We'll have to wait and see what happens to Will Middlebrooks when Cecchini is ready for the majors.
Cecchini has absolutely hit the cover off the ball this season. While we all expected him to hit for average and take walks (and he has), his impressive .640 slugging percentage was completely unexpected. Cecchini's sudden power surge in the early going could be a sign of good things to come. Stay tuned.
Grade: A+
3. Allen Wesbter
Jim Rogash/Getty Images
Position: RHP
DOB: 2/10/1990 (Age: 23)
Height/Weight: 6'2", 190
Bats/Throws: R/R
Drafted/Signed: 18th round, 2008 (McMichael HS, N.C.)
ETA: 2013
2013 Stats: 0-0, 14.0 IP, 3.21 ERA, 1.143 WHIP, 10.9 K/9, 3.9 BB/9 (3 GS, Triple-A Pawtucket)
0-0, 6.0 IP, 3.00 ERA, 1.00 WHIP, 7.5 K/9, 1.5 BB/9 (1 GS, Red Sox)
Allen Webster relies heavily on an upper-90s sinking fastball with impressive movement and ground ball splits. His sinker has drawn comparisons to that of a young Derek Lowe. But he's not a one-pitch-wonder by any means. Webster also throws a plus changeup and a well above average slider, both of which will be swing-and-miss pitches at the big league level.
Webster has struggled with command and control over his minor league career, but a strong start to the 2013 season may suggest that those issues are a thing of the past.
Let's be honest, just the fact that Wesbter made it to the major leagues is a huge accomplishment. Even if he hadn't pitched well, we'd be praising his efforts. Turns out, he did pitch well.
In six innings of work, Webster allowed just two runs, walked one, and struck out five. His control problems seemed entirely absent in his short major league stint, as he delivered first-pitch strikes to all but four of the batters he faced.
While he was sent back down to Triple-A immediately to continue to refine his command, Webster is making huge strides towards a future in the Red Sox rotation. With any luck, we will see him again this year, hopefully for a more extended stay.
Grade: A-
2. Jackie Bradley Jr.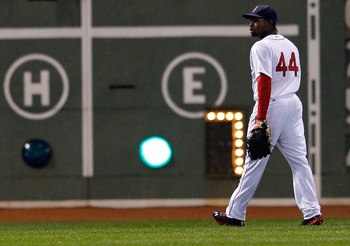 Jim Rogash/Getty Images
Position: OF
DOB: 4/19/1990 (Age: 23)
Height/Weight: 5'10", 180
Bats/Throws: L/R
Drafted/Signed: First round (40th overall), 2011 (South Carolina)
ETA: 2013
2013 Stats: .097/.263/.129, 1 XBH (0 HR), 12/6 K/BB, (12 G, Red Sox)
.226/.333/.258, 1 XBH (0 HR), 10/5 K/BB, (8 G, Triple-A Pawtucket)
In his first full season, Bradley's bat exploded to the tune of an incredible .359/.480/.526 batting line. He fell back to earth a bit when he was quickly promoted to AA, but he still put up an impressive .373 OBP.
Bradley's defensive prowess also played up nicely in his first full professional season. He has only slightly above average speed, but his elite instincts give him plus range in center field. Bradley has also shown off his excellent glove work and a plus arm. He will be a perennial gold glove candidates as a big leaguer.
His abilities at the plate should not be overlooked, however. Bradley has a plus hit tool with fluid mechanics and great bat control. He can get a little pull happy sometimes, but he should learn to hit the other way given time and practice. Bradley also has arguably the best plate discipline in the Red Sox system. He's an on base machine.
And once he's on base, his solid speed and above average instincts play up well on the base paths. He won't hit for much power, but he's starting to look more and more like Boston's future leadoff hitter.
Despite his astronomical potential, Bradley has disappointed this year.
After a strong spring performance, the young center fielder fell to pieces in Boston, prompting a quick demotion to Triple-A. He earns some points for making it to the majors so fast, but his statistics in Boston and in Pawtucket have really been poor. Until he can turn things around, Bradley will remain in the minor leagues.
Grade: C+
1. Xander Bogaerts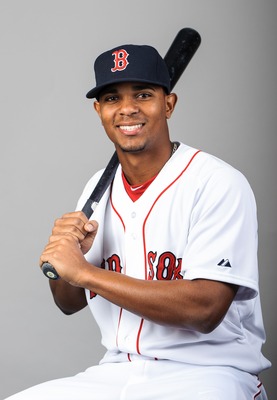 USA TODAY Sports
Position: SS
DOB: 10/1/1992 (Age: 20)
Height/Weight: 6'3", 185
Bats/Throws: R/R
Drafted/Signed: Aug., 2009 (Aruba)
ETA: 2013
2013 Stats: .301/.370/.410, 6 XBH (0 HR), 24/9 K/BB, (19 G, Double-A Portland)
And now onto the unquestioned leader of the Red Sox farm system.
In 2012, Bogaerts opened some eyes as he posted a .303/.373/.523 slash line with 20 home runs between High-A and Double-A ball. Thus, he solidified himself as a truly elite prospect.
Bogaerts should continue to hit for average as he moves up the ladder, and his pitch recognition will improve with time. He possesses elite power that gives him 30-homerun pop at the big league level. Coaches have also commented that he is a highly intelligent player, dedicated to honing his craft.
His defense is still a work-in progress, but few scouts feel that he should remain at shortstop as he continues to fill out. A move to third base or left field is in Bogaerts' future. Left field seems more likely, since Will Middlebrooks has third base locked down for the foreseeable future.
Bogaerts' raw power and surprisingly advanced hit tool make him the best prospect in the Red Sox system, and one of the most exciting young players in the game.
And he hasn't missed a beat this year.
After an aggressive promotion to Double-A Portland, Bogaerts is already hitting over .300 with quality on base numbers. There are a couple of areas of concern, such as his limited power thus far and his surprisingly high strikeout numbers, but such issues are common for a young player such as Bogaerts making the leap to Double-A.
I'd expect him to make marked improvements over the course of the season, possibly earning a September call-up to Boston.
Grade: B+
All statistical information obtained from Baseball-Reference.com
Keep Reading

Boston Red Sox: Like this team?