Toronto Raptors' Biggest Disappointments and Surprises of the 2013 Season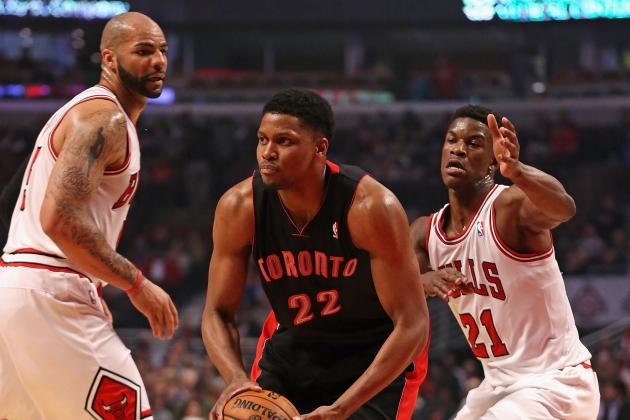 Jonathan Daniel/Getty Images
The Raptors acquired Rudy Gay midseason.
Between injuries and trades, the Toronto Raptors have absolutely had some ups and downs this season. While certain players failed to live up to their potential, others displayed commendable play and vast improvement.
Now that the season's over, let's take a look back at the players who disappointed us and the pleasant surprises that arose during the 2013 season in Toronto.
Begin Slideshow

»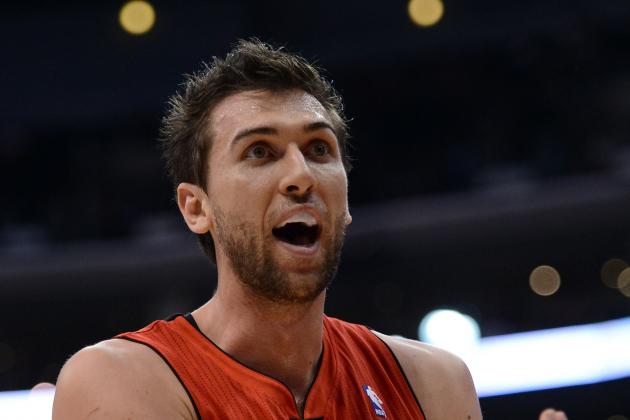 Harry How/Getty Images
Bargnani was out for much of the season with injuries.
There were several disappointments having to do with Bargnani's season in Toronto. First of all, he played in only 35 games and got sidelined for the season in March due to an elbow injury. As a result, Bargnani made no impact whatsoever for the Raptors down the stretch.
When Bargnani did play, he played terribly. The power forward averaged 12.7 points, a career-worst 3.7 rebounds and 1.1 assists per 28.7 minutes of game play. Clearly, his play has diminished considerably. For his career, Bargnani averages a much better 15.2 points and 4.8 rebounds per game.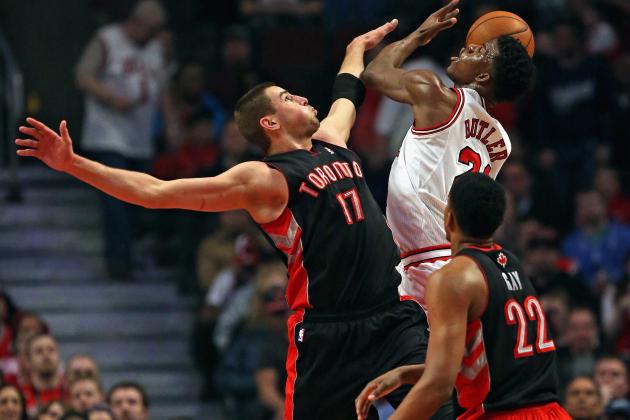 Jonathan Daniel/Getty Images
Valanciunas won a rookie honor in March.
Especially in Bargnani's absence, Valanciunas made a name for himself on the low post for Toronto. In particular, he had a great game against the Washington Wizards on April 3. The center totaled 24 points and 10 rebounds in 41 minutes of play.
The 20-year-old rookie steadily improved throughout the season as he got more experience on the court. Valanciunas was even named the Eastern Conference rookie of the month for March because of his stellar play.
Next season, Valanciunas will certainly prove a huge asset down low for the Raptors. He was a very pleasant surprise for Toronto this season.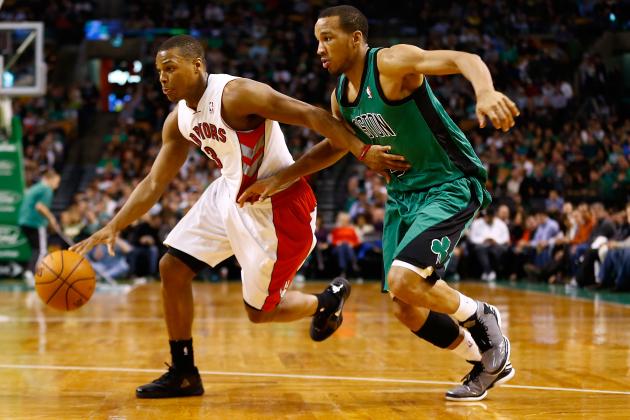 Jared Wickerham/Getty Images
Lowry has yet to become a leader in Toronto.
Though the point guard can be a good defender and a versatile player, he failed to demonstrate his ability to lead his team at the point this season. Lowry's numbers were promising for the month of November, but his play declined after he missed time in December because of a triceps injury.
For the 2012-13 season, Lowry averaged 11.6 points, 4.7 rebounds and 6.4 assists in 29.7 minutes of game play. When Jose Calderon was traded at the end of January, Lowry was forced to take over the lead guard position for himself, and he didn't quite deliver for the Raptors.
Lowry needs to lead the team next season by facilitating plays and running offense. Hopefully, he has yet to reach his potential at the point guard position.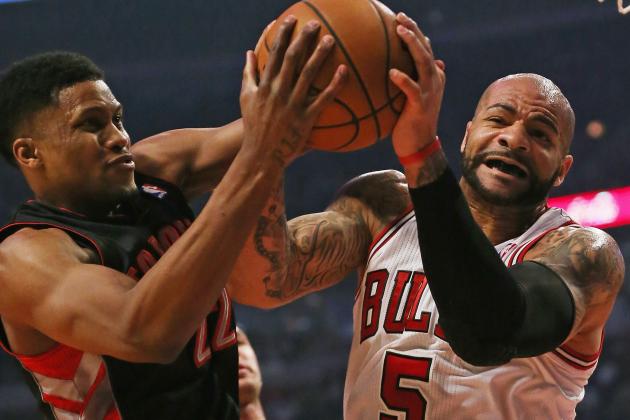 Jonathan Daniel/Getty Images
Rudy Gay has been a huge asset since he arrived in Toronto at the beginning of February.
In late January, ESPN.com reported that Rudy Gay would go to the Toronto Raptors via a six-player trade between the Grizzlies, Raptors and Pistons. Toronto lost veteran guard Jose Calderon in the deal, but they acquired quite a force in Rudy Gay.
The forward led the team in scoring most games, averaging 18.2 points and 6.1 rebounds per 35.8 minutes of game play. He had a particularly excellent game against the Brooklyn Nets on April 14, scoring 26 points and grabbing 10 rebounds to help his team to the third win in a five-game winning streak.
Gay found a new home in Toronto, and he flourished this season. Like Valanciunas, he will be a huge asset next season for the Raptors.
Jared Wickerham/Getty Images
Pietrus was with the Celtics last season, and he was a pretty strong bench player.
Though Pietrus was a good asset coming off the bench for the Boston Celtics for the 2011-12 season, he made little impact with the Raptors this past season. The 31-year-old small forward averaged a career-worst 5.3 points and 1.9 rebounds in 20.3 minutes of play.
These figures are even less impressive in comparison to his career statistics. Pietrus averages 8.3 points and 3.1 rebounds for his entire NBA career.
Toronto acquired Pietrus early on in the season when they were down a few players because of injuries. He played in only 19 games and appeared to be feeling the wear-and-tear of his nine years in the NBA.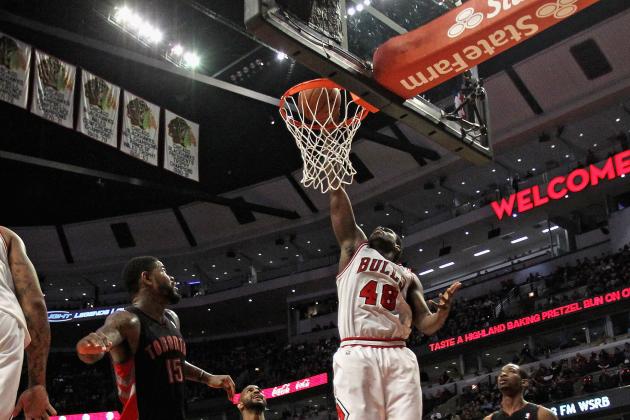 Jonathan Daniel/Getty Images
Johnson had his best season yet on the low post.
With Bargnani suffering from injury and mediocre play, the Raptors were lucky to see power forward Amir Johnson seriously step up on the low post. For 2012-13, he saw a career-high 28.7 minutes and averaged a career-best 10.0 points and 7.5 rebounds per game.
These numbers improve significantly on Johnson's career averages of 6.8 points and 5.5 rebounds per 20.8 minutes of game play. On April 12, Johnson had a spectacular game against the Chicago Bulls, scoring 24 points and grabbing nine rebounds in 40 minutes.
Such improvement was a welcomed surprise, and Johnson will likely continue to play consistently well next season.