North Carolina Basketball: How Tar Heels Match Up with Every ACC Team Right Now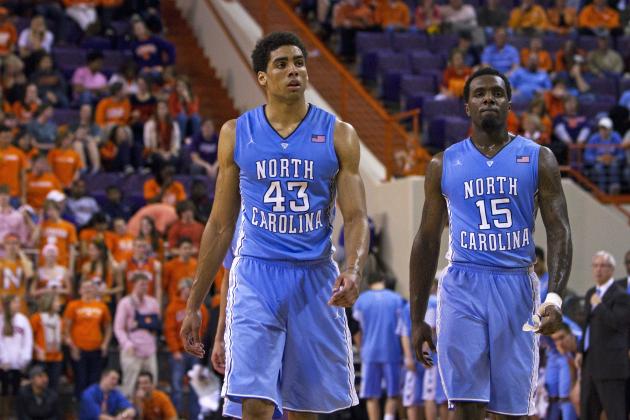 Joshua S. Kelly-USA TODAY Sports

Is it too early to match up the North Carolina Tar Heels with every ACC team?
Probably. But that's what we're doing anyway.
At this time, we still don't know if top recruit Andrew Wiggins will decide to take his talents to Chapel Hill or somewhere else. That makes it kind of difficult to break down positional matchups, as Wiggins would likely take the 3 spot.
On top of that, we have no clue which of the five possible centers will be starting.
With all the questions floating around Chapel Hill, most of the focus will be on the challenges each of these programs bring and how good they will be next year. They are also ranked from the least competitive programs to the ones that will present the most problems for the Tar Heels.
Consider this my super-early ACC preview.
Begin Slideshow

»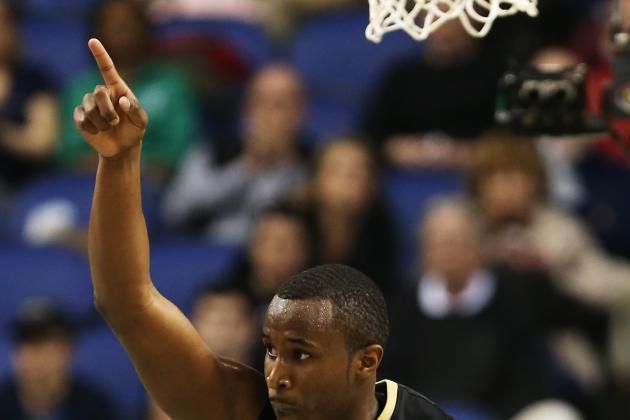 Streeter Lecka/Getty Images

Wake Forest fans were hoping for a turnaround when the program hired Jeff Bzdelik as head coach in 2010. That hasn't happened.
Under the leadership of Bzdelik, the Demon Deacons have amassed a putrid 34-60 record.
That isn't to say he is a horrible coach, but by all accounts it would appear he isn't good enough to pull the Deacs out of the fiery hell they have been living in. What's worse is the team lost its top scorer in C.J. Harris.
The Demon Deacons will need significant contributions from senior Travis McKie and sophomores Devin Thomas and Codi Miller-McIntyre to be competitive against the Tar Heels.
In the end, there just isn't enough star power in Winston-Salem.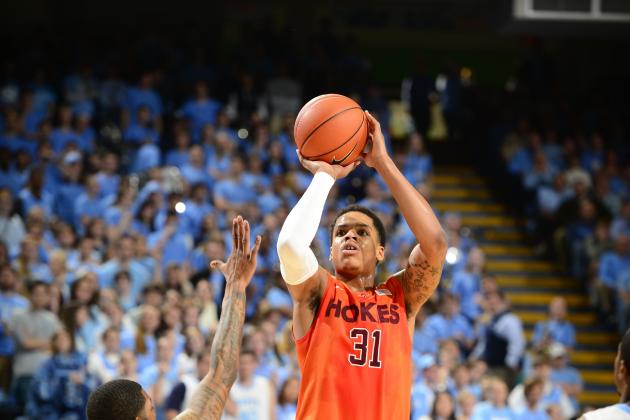 USA TODAY Sports

Last season, Virginia Tech took North Carolina to overtime in the Dean Dome, but the Tar Heels went on to win 72-60. It was an impressive game by the Hokies, especially considering Erick Green was held to just 16 points that day.
However, Green is no longer there, and even when he was just scoring 16 points, he was taking attention away from the other guys.
But the Hokies do have Jarell Eddie for another season, and he can cause all sorts of havoc when he is playing well. Cadarian Raines also showed some promise, but James Michael McAdoo put up 22 points on him in their last meeting.
The Tar Heels didn't lose enough, and the Hokies simply didn't gain enough to make the next meeting much of a challenge. It won't be easy to replace Erick Green's 25 points per game.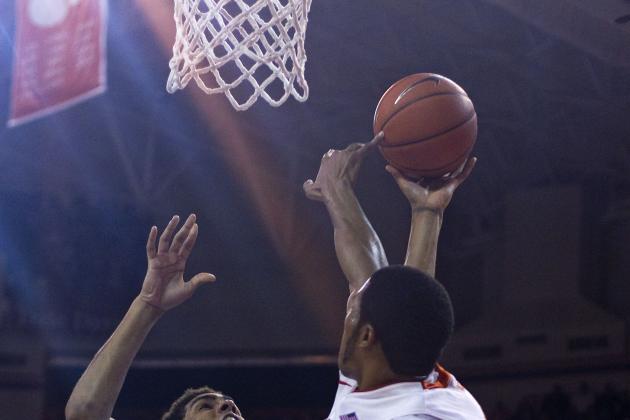 Joshua S. Kelly-USA TODAY Sports

The only time Clemson and North Carolina met last season, seniors Devin Booker and Milton Jennings had a field day with the Tar Heels despite the loss. The duo combined for 37 points and 21 boards that night.
Unfortunately for the Tigers, nobody else did much of anything. And that is what Clemson is left with in 2013-14.
The only thing I see holding this team together is head coach Brad Brownell's defensive mind. Clemson was ranked 33rd in the nation, holding opponents to just 60.1 points per game last season.
Though Booker and Jennings certainly played a part in that, defensive coaches like Brownell find ways to get stops on that end of the floor—whether they have high-caliber talent or not.
And frankly, those are the teams North Carolina has the most trouble with. The Tar Heels struggle when they are forced into long half-court sets.
Until we find out the Tar Heels' poor post play has been remedied, they will continue to be suckered into desperation shots by the guards. Clemson probably won't pick up a win over UNC, but the Tigers won't make it easy either.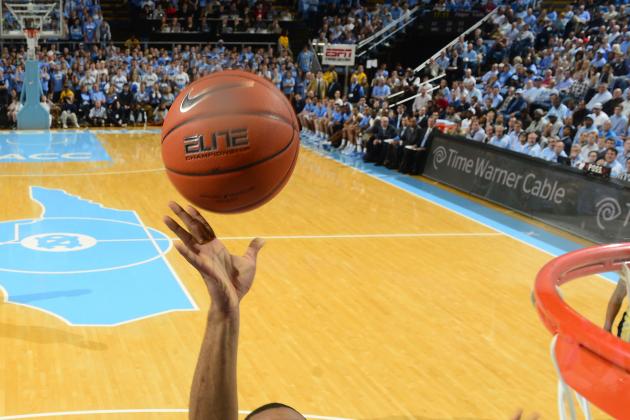 USA TODAY Sports

Even though I have Georgia Tech at No. 11 versus North Carolina, it will be a much better team next season. This just speaks to the ACC's talent pool next season.
Kammeon Holsey looks poised for a strong senior season, and he had his way with the Tar Heels in 2013. He scored 28 points over the two games they played.
Also primed for a big season is the 6'8", 245-pound Robert Carter, who made a splash in his first year with the Yellow Jackets. The hefty power forward averaged 9.9 points and 6.7 rebounds as a freshman.
Add senior center Daniel Miller to the mix down low, and the interior is looking pretty stacked. However, the perimeter play is still a little weak.
As of now, McAdoo is the only player at Carolina who is guaranteed a slot in the post. And with Tech's strength in the paint, the outcome of the next matchup may depend on the play of UNC's freshman and sophomore bigs.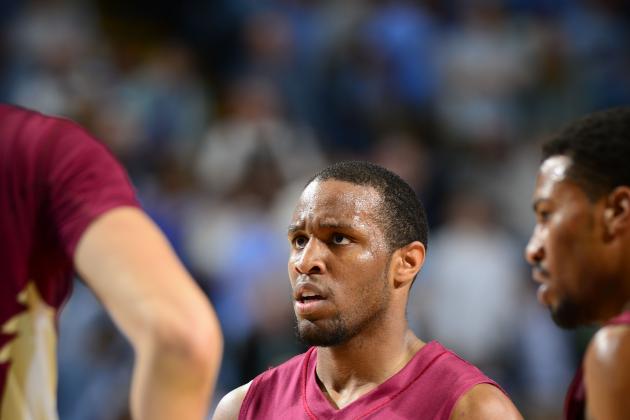 Bob Donnan-USA TODAY Sports

Florida State's backcourt took a big hit with Michael Snaer's graduation. The Seminoles lost their leading scorer, their clutch shooter and one of their top defenders in one fell swoop.
The 'Noles finished their 2012-13 campaign with an 18-16 record overall and were just 9-9 in the ACC. A loss like Snaer won't be easy to overcome.
Robert Gilchrist showed some promise as a defender who could step up in Snaer's absence. Shooters Devon Bookert and Terry Whisnant II will also help absorb the blow with their perimeter games.
And while FSU's interior appears to be in good hands with seniors Okaro White and Kiel Turpin, it still lacks the star power to put it over the top of a UNC team that handed the Seminoles three losses in 2013.
Losing Reggie Bullock and Dexter Strickland hurt North Carolina, but it has the depth to make up for that. The team also has two players in P.J. Hairston and James Michael McAdoo who will be putting up some serious numbers next season.
Unless it can pull in Andrew Wiggins, FSU doesn't appear to be any better off than last year. That should bode well for a Tar Heels squad with experience.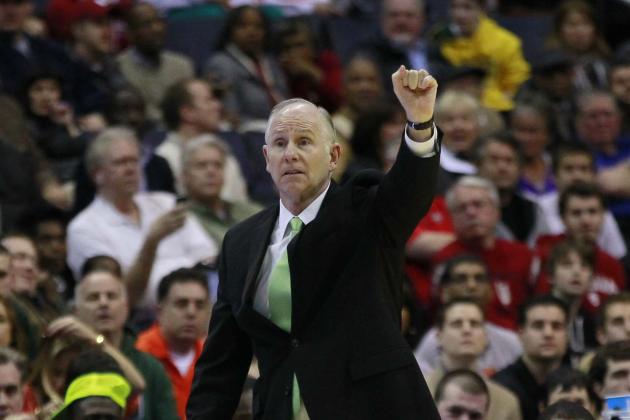 Geoff Burke-USA TODAY Sports

If you think Roy Williams had it bad last season, you should really feel sorry for the lovable Jim Larranaga. He lost his top six scorers to eligibility and the draft. There will be no Shane Larkin, Durand Scott, Trey McKinney-Jones, Kenny Kadji, Reggie Johnson or Julian Gamble.
Man, that hurts.
I should probably have the 'Canes closer to the bottom, but my faith in Larranaga is keeping Miami's head slightly above the water. He still has depth in the backcourt with guys like Rion Brown and Garrius Adams, along with a couple 4-star guards heading to South Beach.
The biggest question marks are left in the frontcourt, where Kadji, Johnson and Gamble were mainstays for the past few years. That should make McAdoo's job a little easier, but Carolina has its own question marks at the center position.
On paper, I don't foresee Miami being much of a contest for UNC. But Larranaga may find a way for this team to be competitive once again.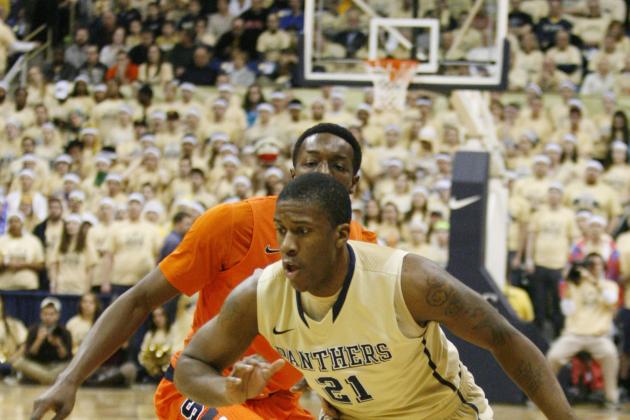 USA TODAY Sports

By no means are the Pittsburgh Panthers an offensive powerhouse. Their 69 points per game last season wasn't bad, but it's the defense that makes this team tick.
They ranked eighth in the nation, holding opponents to just 56 points per game. Opposing teams only reached the 70-point mark five times last season—and one of those was in overtime against Marquette.
Again, defensive teams cause problems for the Tar Heels. And the way head coach Jamie Dixon rotates his players, they won't be gassed by Carolina running the floor.
Durand Johnson played the fewest minutes of any Panther last season, and he still averaged 11.9 minutes per game. His 4.3 points per game was also the lowest scoring average.
That's depth.
You won't find many stars on this team, but Lamar Patterson is one of them. As a junior, the small forward averaged 10 points, 4.3 rebounds, 2.8 assists and 1.2 steals over 27 minutes per game.
The Panthers finished 24-9 last season, and they seem to be poised for another fine season. Tray Woodall will be a big loss, but that is their only loss. And James Robinson should be able to step right in as a solid floor general.
This is another one of those defensive teams that will give North Carolina hell in the half court. The good news is that the Panthers will have to do it in Chapel Hill in their only regular-season matchup.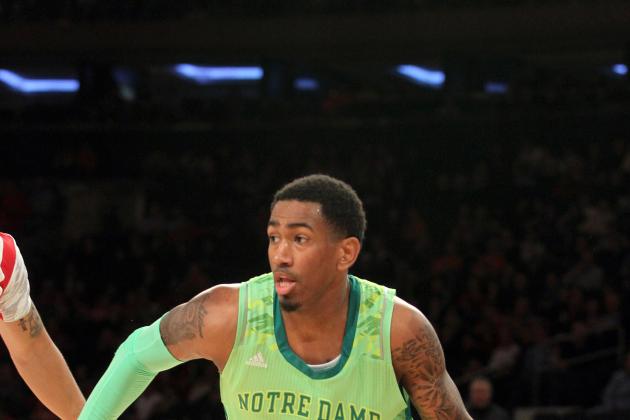 USA TODAY Sports

Year to year, it seems as though Notre Dame struggles to beat the big dogs. That wasn't any different last season, as the team only managed a few signature wins such as the five-overtime victory over Louisville.
And even though the Fighting Irish made the NCAA tournament the last four years, they have only escaped the Round of 64 once.
You can throw all of that out the window, though, because the Irish appear to match up pretty well with the Tar Heels. Their strength is on the perimeter, and North Carolina is notoriously weak in that area on defense.
Leading scorer Jerian Grant and point guard Eric Atkins are a lethal combination in the backcourt. Both players averaged 5.5 assists last season and combined for 24.5 points per game. Atkins also shot 41.5 percent behind the arc.
He's not the only one on this squad who will stroke it from deep, either. As a team, the Irish shot 37 percent from three-point land. That's just 0.3 percent shy of UNC's mark last season.
If North Carolina doesn't step up its perimeter defense, it's going to be in serious trouble when these teams meet. The Tar Heels will need a strong performance on both sides of the court from P.J. Hairston, Leslie McDonald and Marcus Paige.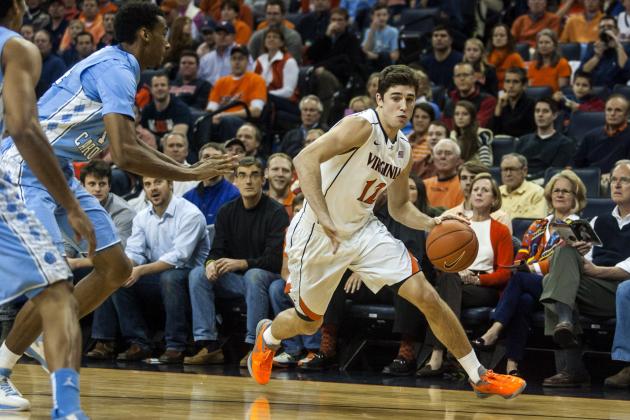 USA TODAY Sports

As many teams found out last season, Joe Harris is virtually impossible to contain, and Virginia will be getting one more year out of its leading scorer. That fact alone is enough to make Tar Heel fans shiver after he dumped 46 total points on their team in 2013.
But another fact is just as discomforting.
The Tony Bennett-led Cavaliers held their opponents to just 55.6 points per game, ranking fourth in the nation for that category. Their defense will take a hit with the loss of Jontel Evans, but, like Clemson, don't expect that loss to be very noticeable.
Bennett takes pride in that side of the floor.
What's worse for the Tar Heels is the only regular-season meeting between these two will be in Charlottesville. The Cavaliers were 9-0 in ACC play at John Paul Jones Arena last season, which included wins over North Carolina, NC State and Duke.
It won't be easy for the Tar Heels to escape a loss there.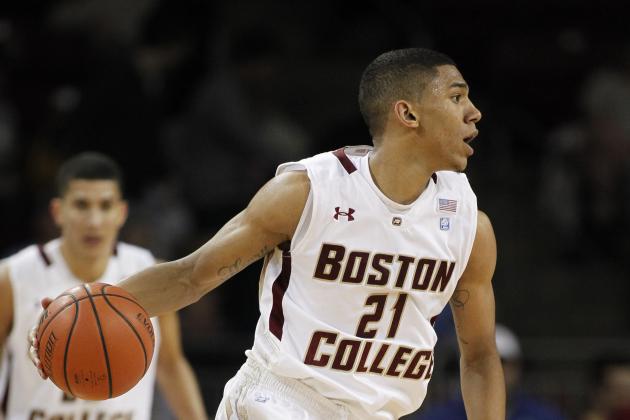 Greg M. Cooper-USA TODAY Sports

Boston College finished its season with a 16-17 record overall and a lousier 7-11 record in the ACC. Don't make the mistake of overlooking this Eagles crew, though.
The 2012-13 squad had eight sophomores and two freshman, making it one of the youngest teams in the country. Even in losses, these young players showed some serious grit.
And when speaking of grit, Olivier Hanlan comes to mind. He averaged 15.4 points, 4.2 rebounds, 2.3 assists and 1.2 steals per game in just his freshman year. He also set the single-game scoring record for ACC freshmen, topping former Tar Heels Tyler Hansbrough and Harrison Barnes with 41 points.
Hanlan put up 22 points in his only game against the Tar Heels, too.
Matched with Ryan Anderson and Joe Rahon, Olivier Hanlan completes a very deadly trio that is sure to pull off some serious upsets in 2013-14. Don't think for a second that the Tar Heels couldn't be one of them.
This team has the kind of dynamic players who can match up very well with the Tar Heel stars. Depending on what position Hairston plays, it could be Carolina's best three against Boston College's best three.
I see a hell of a game between these two programs in the near future.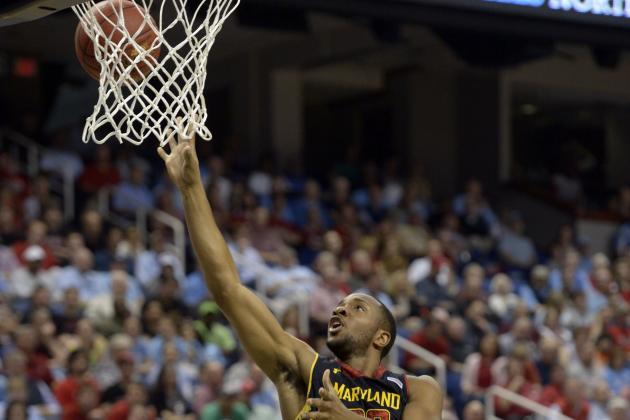 John David Mercer-USA TODAY Spor

Alex Len may be headed to the NBA, but the Maryland Terrapins are poised for a great final season in the ACC. The only other losses were James Padgett and Logan Aronhalt, and neither player was used very much last season.
Dez Wells was clearly the best player on the squad last season. The do-it-all forward averaged 13.1 points, 4.9 rebounds and three assists per game. And who can forget that 30-point masterpiece that knocked Duke out of the ACC tournament?
Much like UNC's Hairston, Wells is an energy guy who can spark huge runs for the Terps.
Nick Faust had a somewhat disappointing sophomore campaign, but I'm seeing a breakout season coming up for the 6'6" versatile guard. His size and quickness can frustrate the best of defenders. He just needs to become a more consistent shooter.
Without Len, though, a lot of weight will fall on the broad shoulders of Shaquille Cleare at center. He may not be quite ready for the task, but again, we don't know if any Tar Heels will be either.
The Tar Heels defeated the Terrapins three times last season, however, and that was with Len. As good as the Terps will be, I don't see them taking out UNC in Chapel Hill.
And thanks to the ACC's grudge against Maryland, North Carolina won't be traveling to College Park in 2013-14.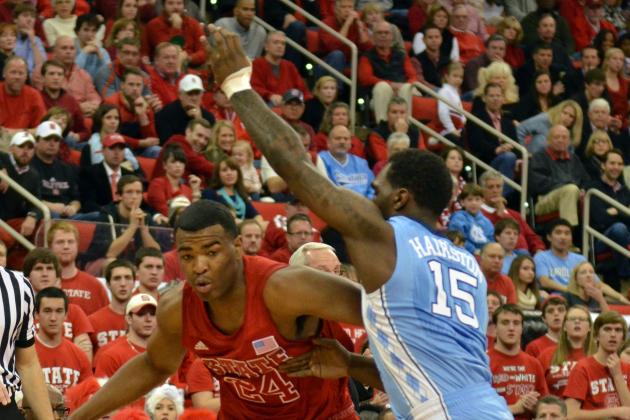 Rob Kinnan-USA TODAY Sports

It's a good thing NC State has a head coach who can reload with recruits. Lorenzo Brown and C.J. Leslie left early for the NBA draft, Rodney Purvis transferred to UConn and both Scott Wood and Richard Howell graduate this year.
That doesn't leave much experience in Raleigh, but there is still plenty of talent.
Tyler Lewis played great when he had to fill in for a hobbled Brown, and that experience should carry over well into his sophomore season. Mark Gottfried also landed speedy point guard Anthony "Cat" Barber, who could start or play a backup role to Lewis.
T.J. Warren was also outstanding as a freshman and will probably shape up to be better than Leslie—if he isn't already. He can play both the 3 and the 4 with his size and range, and that may depend on where Gottfried sees incoming freshman Kyle Washington fitting.
Whoever is down low will get some serious support from freshman BeeJay Anya. This kid has the massive frame and the skills to start right away. And that's a good thing because he will probably have to.
This renewed rivalry should be just as entertaining this season as the last, which saw a series split. This time the Tar Heels have the experience, though. That should give them a slight edge, but the talent on these squads is pretty close.
Don't expect the Tar Heels to dominate just because the Wolfpack lost some key players.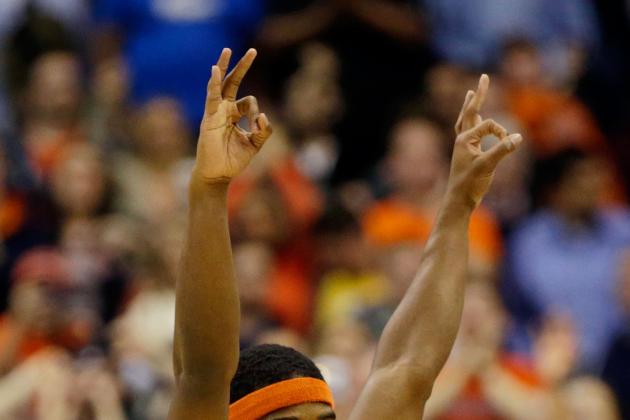 Win McNamee/Getty Images

The only thing new to Jim Boeheim in 2013-14 is playing in the ACC. In his 37 years as coach, he has seen plenty of players come and go, and he always has a top-notch team.
Don't expect any different this time around.
Losing key players like Michael Carter-Williams, James Southerland and Brandon Triche puts a slight damper on things, but Boeheim has the pieces to make a quick recovery.
C.J. Fair will be returning for his final season with the Orange. He scored 14.5 points and pulled in seven boards per game his junior season, leading the team in both categories. He was also 30-of-64 beyond the arc.
Boeheim will also have the services of 5-star point guard Tyler Ennis to help dilute the loss of Carter-Williams.
But what will truly make this Syracuse team a challenge for North Carolina is its defense. Boeheim uses his legendary 2-3 zone, which makes it tough to drive or get anything going inside. And because of that, it's harder for teams to find openings downtown.
Syracuse held it's opponents to 58.7 points per game and just 28.4-percent shooting behind the arc.
And the only regular-season game these two play will be at Syracuse. Between the defense and the crowd, it's going be hard for the Tar Heels to pick up a W there.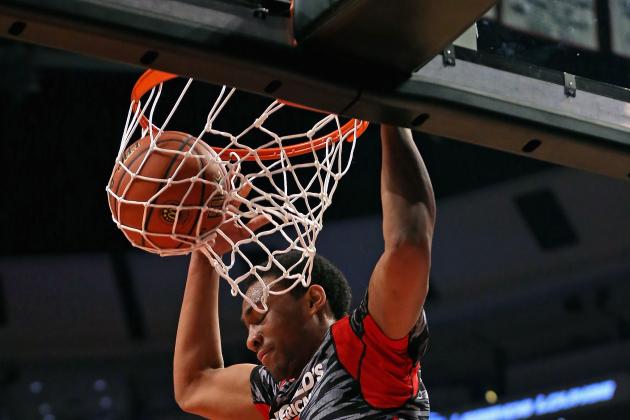 Jonathan Daniel/Getty Images

As of now, the Duke Blue Devils have to be considered the favorites to win the conference. They lost Mason Plumlee, but there is still another brother, Marshall, waiting to step up and annoy Tar Heel fans throughout the country.
Mike Krzyzewski also lost Ryan Kelly and Seth Curry, but he gained Jabari Parker, and Andre Dawkins is set make his return to the floor.
The Blue Devils also have Rasheed Sulaimon, Quinn Cook and Amile Jefferson returning, along with an eligible Rodney Hood. Oh yeah, and we can't forget a couple other excellent recruits in Matt Jones and Semi Ojeleye.
Seriously. Good Lord.
As usual in college basketball, there will be some guys who slump or don't live up to their hype or potential. However, there is enough talent and depth on this team to overcome any of those minor obstacles.
The Tar Heels will be really good next year, but they may need the help of Andrew Wiggins to avoid another sweep in 2013-14 if the Devils are as good as they look on paper.
But if Hairston, McAdoo and the five other bigs develop the way they should, we will be watching a completely different story unfold. It's just too early to tell.
This could be the most competitive season the ACC has ever seen.