Projecting the 2013 Impact for Each Tennessee Titans 2013 Draft Selection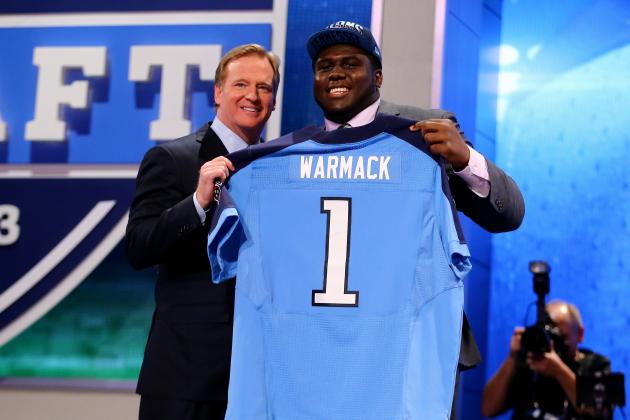 Al Bello/Getty Images

It's a popular belief that the Tennessee Titans had a strong 2013 draft, with Chance Warmack being their coveted first-round selection.
The other seven draft picks were all considered solid picks that filled needs, but tight end was a need that actually wasn't addressed.
Many of these draft picks are going to have immediate impacts on the Titans as rookies, and a productive showing from these guys will help the Titans vastly improve over their 6-10 record from last season.
Begin Slideshow

»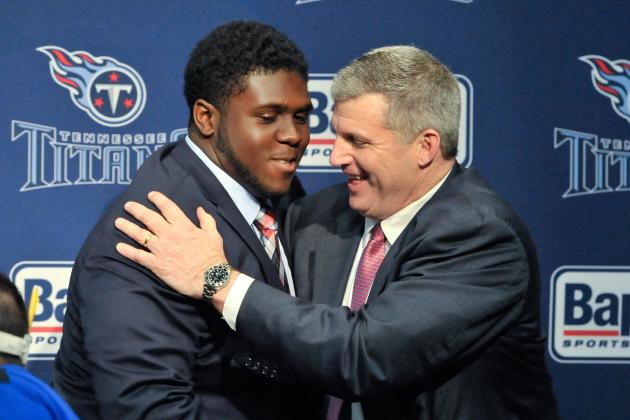 Jim Brown-USA TODAY Sports

Chance Warmack was definitely on the top of the Titans' draft board heading in, so obviously Warmack will get the opportunity to start opposite Andy Levitre at guard.
Expect the Titans' run blocking to get much better with Warmack in there next season, and that should be music to Chris Johnson's ears.
Also, the pass protection should improve for Jake Locker. That will hopefully help Locker start progressing into the quarterback the Titans desperately need him to be.
Mike Munchak and Bruce Matthews knew what they were getting in Warmack and have to be extremely excited about how much better the offense will flow next season.
No other prospect could have made such a big improvement to this Titans roster than Warmack.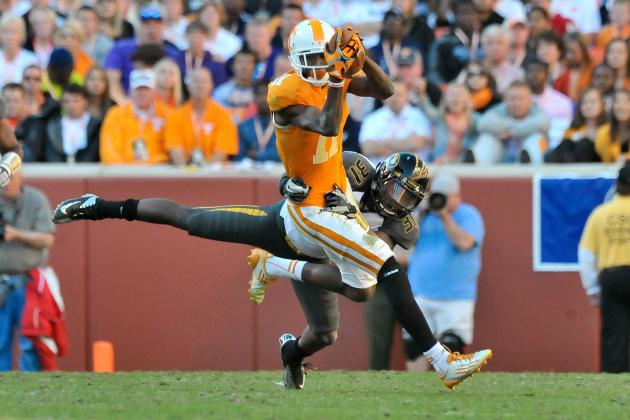 Jim Brown-USA TODAY Sports

This pick shocked a lot of people, but the Titans apparently really coveted Justin Hunter, giving up three draft picks to move up to the 34th pick.
Some are speculating that the Hunter pick means Britt will slowly be phased out due to all of his off-field issues.
However, there's no reason these two can't coexist and really help this offense stretch the field.
This is also another pick that directly benefits Chris Johnson's ability to work in space, which is what he needs to really be effective.
As for Hunter and what he can do his rookie season, he could easily push for around 30 to 35 receptions for the season.
What it really boils down to is surrounding Locker with as many weapons as possible, and Hunter is a weapon that should help the Titans score their fair share of points.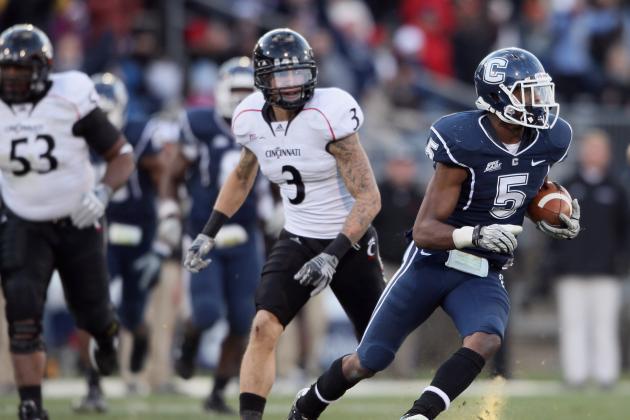 Elsa/Getty Images

This wasn't a flashy pick by any means in the third round, but it certainly filled a need for the Titans at cornerback.
If Warmack would've been off the board before the Titans got their first pick, then it's likely they would've gone with Dee Milliner.
Blidi Wreh-Wilson is one of those long corners that brings versatility to the table. He's also going to be a huge upgrade on special teams for the Titans.
In terms of his immediate impact, he'll see plenty of snaps in certain packages. He could also compete for a starting role in training camp with Jason McCourty and Alterraun Verner.
Expect Wilson to see the field on plenty of occasions in his rookie season and maybe even become the starter at some point.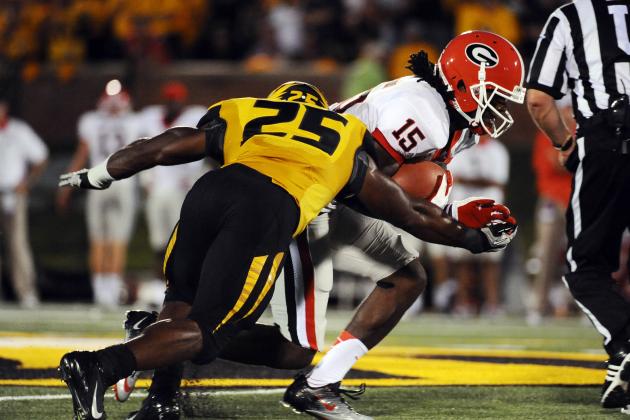 Dak Dillon-USA TODAY Sports

Linebacker wasn't a glaring need heading into the draft, but the Titans did need some depth behind Zach Brown at weakside linebacker.
Zaviar Gooden is a guy who really relies on his speed to make plays. That'll serve him well as a special teams contributor next season.
Unless an injury occurs to Brown, then it's unlikely that Gooden will see a whole lot of playing time lining up as a linebacker in 2013.
Gooden still needs a lot of work to become a reliable contributor on anything more than special teams.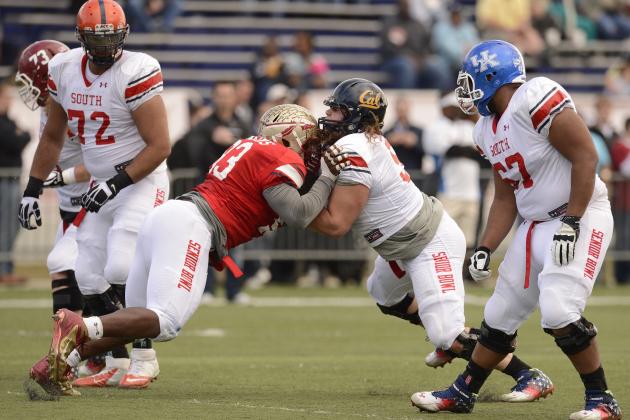 USA TODAY Sports

This might end up being the steal of the draft for the Titans when we look back on this a few years down the road.
Brian Schwenke plays with the nastiness that Chance Warmack also plays with. That nastiness will give Schwenke a great chance at being the starting center in Week 1.
The Titans have been lacking a great center for a while now, and Schwenke could very well end up being the guy that changes that.
Schwenke really caps off what has been a positive overhaul to this offensive line over the offseason, and he'll be an instant contributor to this team.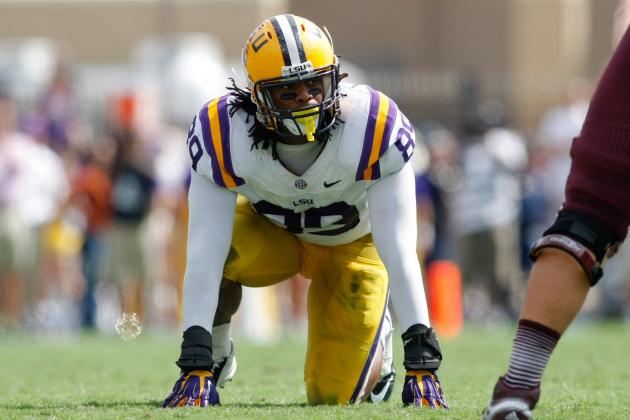 Brett Davis-USA TODAY Sports

It came as a surprise that the Titans waited so late in the draft to take a defensive lineman, but Lavar Edwards could end up being a great value pick here.
Edwards primarily backed up Barkevious Mingo at LSU, so his numbers don't jump off the page.
However, Edwards brings a great motor to this Titans defensive line that sorely needs it right now.
After Kamerion Wimbley and Derrick Morgan, there's not much to hang your hat on at defensive end for the Titans.
That should mean that Edwards sees plenty of snaps in his rookie season.
Since Edwards didn't start much at LSU, it's pretty conceivable that he'll be used in special situations for the Titans as well.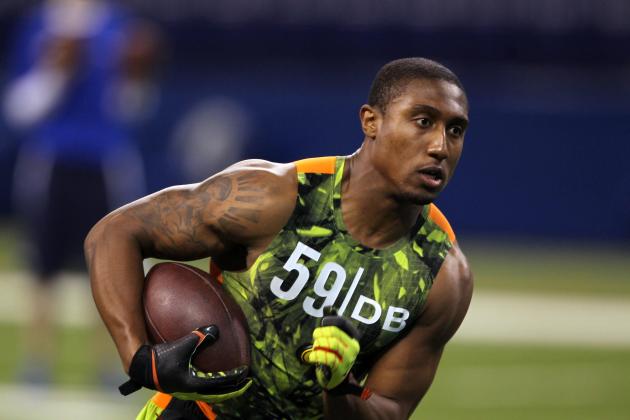 Brian Spurlock-USA TODAY Sports

Khalid Wooten comes in and basically addresses any depth concerns the Titans may have had heading into the draft.
The Titans already have their expected starters with Alterraun Verner and Jason McCourty.
Wooten still has some concerns with his speed for a cornerback at the next level, so expect him to see the field rarely in 2013 unless a few injuries occur.
He could also get a chance to make some contributions as a punt returner.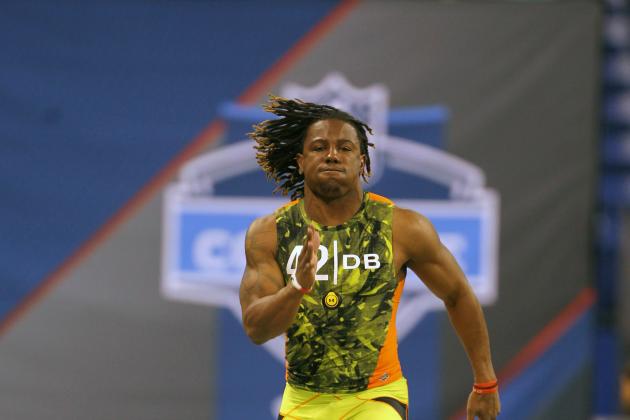 Brian Spurlock-USA TODAY Sports

The Titans rounded out their draft by taking strong safety Daimion Stafford out of Nebraska.
Stafford is a hard-hitter who is strong in defending the run, but he's a raw player that really needs to improve on his instincts when the ball is in the air.
With the safety position being completely set heading into the season, don't expect Stafford to see the field too often in his rookie season.
Stafford has the aggression and determination to eventually become a starter for this unit in a few years.