Final Report Card Grades for New Jersey Devils' 2013 Season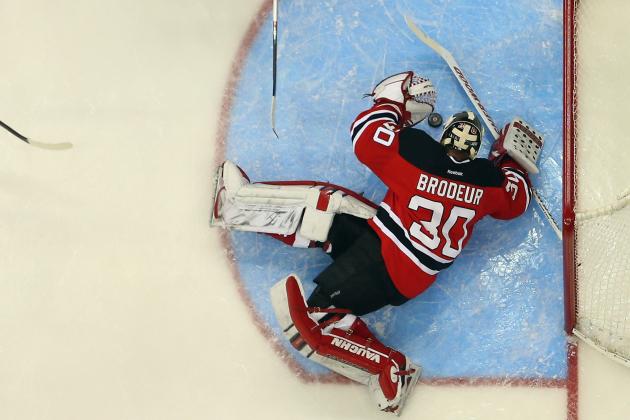 Bruce Bennett/Getty Images

The New Jersey Devils are officially done for the season.
The team's painful campaign came to a painful end Saturday against the New York Rangers, when the team got shut out 4-0. The Devils are missing the playoffs for just the second time since the 1995-96 season.
And it's not hard to see what went wrong for the Devils. The team underperformed across the board, without a single player putting up acceptable numbers.
Just how poorly did they play? Here are the team's final grades, based both on season performance and reasonable expectations.
All stats obtained via NHL.com, Hockey-Reference.com, Devils.NHL.com and Capgeek.com
Begin Slideshow

»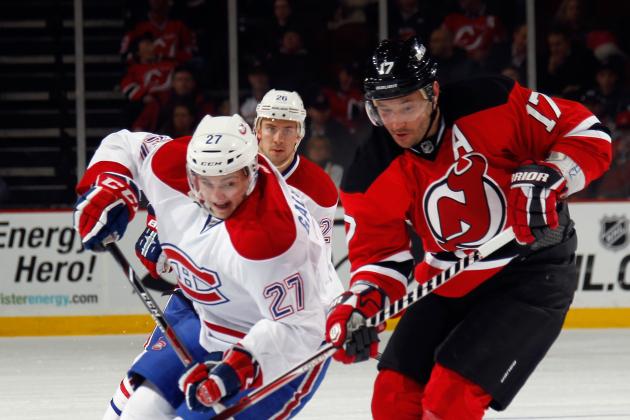 Bruce Bennett/Getty Images

37 games, 11 goals, 20 assists, -6
Grade: C+
Ilya Kovalchuk entered the season as the offensive leader for the Devils. After captain Zach Parise left for Minnesota in free agency, Kovy was left to lead the motley crew of young talent and seasoned veterans. In this, he failed miserably.
Kovy finished second on the team with 31 points, and was only six points off of a point-per-game pace. However, this is a player who has twice scored 50 goals, who was signed to a $100 million contract, and who simply has to perform better.
Kovalchuk is supposed to be an elite forward, and he didn't play like it this year. He did manage to lead the league in shorthanded goals (four), and he played more per game than any other forward; but to play so much and excel in just a few areas show: his numbers just aren't good enough.
He was once again a minus-rating, meaning his even-strength ice-time resulted in a net loss for the team, he didn't score enough goals and his play was horribly inconsistent.
Kovalchuk showed last year that he's capable of playing near Hart-finalist levels under the right conditions. Now he has to show he can do it without Zach Parise helping him out.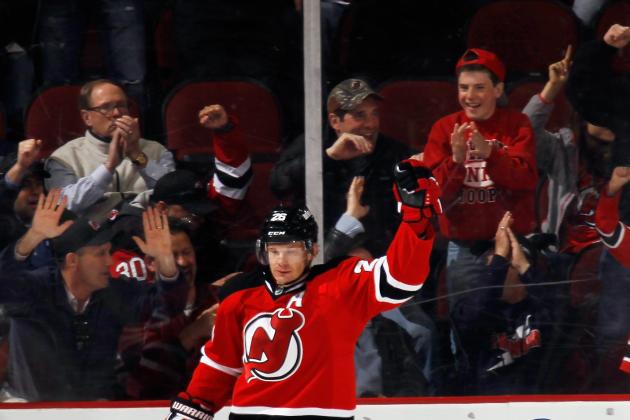 Bruce Bennett/Getty Images

48 games, 14 goals, 22 assists, +5
Grade: B
Patrik Elias, a lifetime Devil, had the best season of the Devils players: His 36 points in 48 games are by far the most on the team, and his plus-five rating suggests he contributed on both ends of the ice.
Elias led the Devils with 22 assists and his 14 goals were second on the team. He led forwards with a plus-five rating, and he was really the only Devils forward to play with the least bit of consistency all season long.
Now a free agent, Elias faces a tough decision of whether or not to stay with the only NHL team he's ever played for, despite the fact that they may be a sinking ship.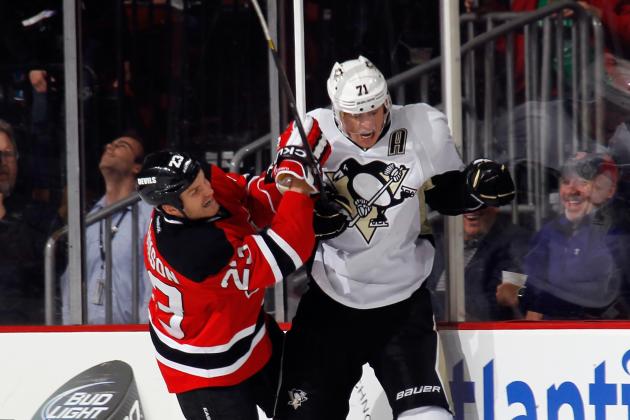 Bruce Bennett/Getty Images

48 games, 15 goals, 9 assists, -6
Grade: B-
David Clarkson started the season on a torrid pace, scoring 10 goals in his first 14 games. Unfortunately, he quickly cooled and failed to produce for much of the remainder of the season. When all is said and done, he finished with a team-best 15 goals, nine assists, minus-six rating, and nearly 50 percent more shots than any other Devil (180, compared to Kovalchuk's next-best123).
Clarkson plays a physical game, making him one of the better goal-scoring grinders in the league. But after a hot start, Clarkson slowed down dramatically and finished with overall unimpressive numbers.
Like Elias, Clarkson is a free agent now, but his performance this year did not demonstrate what he's truly capable of. The Devils will have a tough choice ahead of them of whether to hold onto the young firecracker despite somewhat lackluster numbers.
More likely than not, they'll try to keep him, since he is one of the few skaters who demonstrated any offensive ability this season.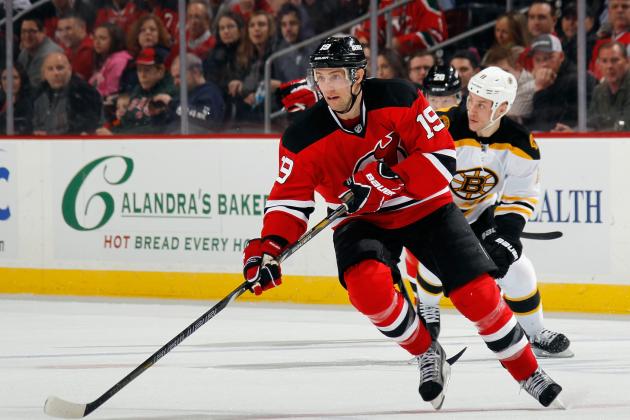 Bruce Bennett/Getty Images

48 games, 7 goals, 13 assists, -5
Grade: C
Travis Zajac garnered a lot of attention after signing an eight-year, $46 million deal before the season began. Management made it clear that he was a player they wanted to partially build around.
Unfortunately, the forward instead suffered through one of his least productive seasons. 20 points through a full 48-game season is just unacceptable for a first-line center. A lot of pressure was on Zajac after Parise's departure, and it would seem that so far he's crumbled horribly under the pressure.
The season has bleak implications for a franchise that will soon be leaning heavily on Zajac, but the one thing salvaging his season was his better-than-57-percent face-off win-percentage. With the Devils a perennial contender for worst face-off team, he does offer a great value in that one area.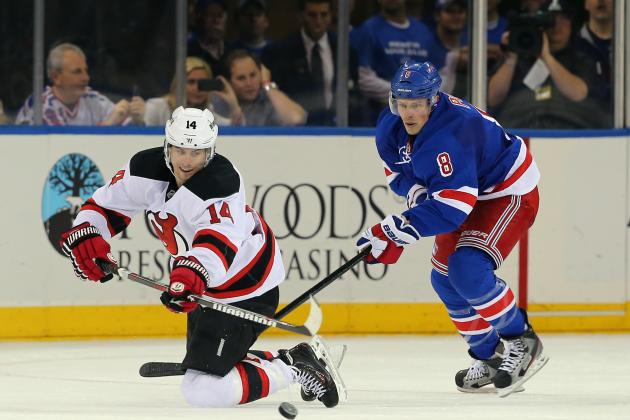 Bruce Bennett/Getty Images

42 games, 11 goals, 5 assists, -3
Grade: C+
After a rookie season in which Adam Henrique earned a nod as a Calder Trophy finalist, his follow-up performance has to be considered a sophomore slump.
Henrique started the season late due to injury, and his goal scoring often helped the team, but his failure to develop into more of a playmaker is discouraging, as was his lack of production as the season went on.
Henrique is still young and there's no reason to think he won't keep developing into an impressive forward, but he was certainly not the player they needed this season, as his stats and the team's standings can attest to.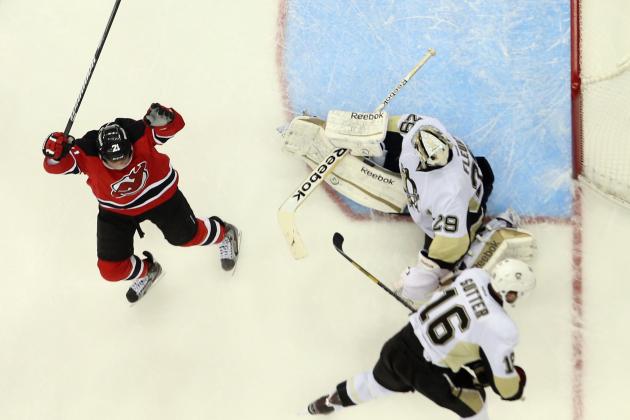 Bruce Bennett/Getty Images

28 games, 8 goals, 4 assists, -2
Grade: B-
The Devils acquired Andrei Loktionov during the season in exchange for a draft pick, and he ended up being a great addition to the roster. He started out impressively and even worked his way up to the top-line alongside his countrymen Kovalchuk and Ponikarovsky.
Unfortunately, an injury to Kovalchuk seemed to disrupt his flow and he quickly disappeared from the scoring sheets.
Loktionov will be a restricted free agent now, but the Devils will hopefully be able to bring the young skater back. He was one of the few promising forwards for what turned out to be an abysmal offense this season.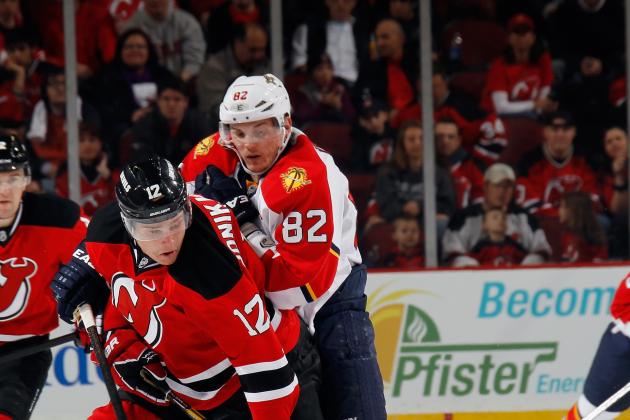 Bruce Bennett/Getty Images

30 games, 2 goals, 5 assists, +1
Grade: D
Alexei Ponikarovsky was part of the Devils' finals team last season, but opted to leave the team and sign with the Winnipeg Jets during the offseason. The Devils reacquired him mid-season to bolster their roster, but he failed to do much.
The only thing keeping Poni from a failing grade is his positive plus/minus rating; he's one of only three forwards with at least two points who can boast a positive rating. Beyond that, his scoring was unreliable, unpredictable, and far from enough to help the team substantially.
Poni was a great addition to the team last season and had a few huge moments in the team's run to the finals, but whatever magic he had last season was gone this year. As a free agent once again, there's no reason to think he'll stay with the Devils, given his poor play and apparent desire to sign elsewhere.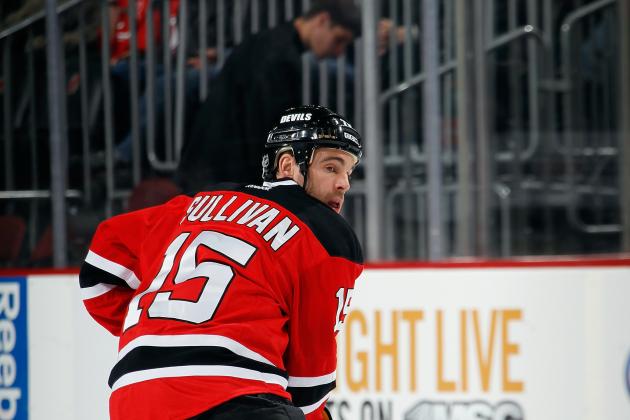 Bruce Bennett/Getty Images

9 games, 2 goals, 3 assists, -4
Grade: B-
Steve Sullivan was one of the last players moved on deadline day, being dealt from the Coyotes in exchange for a draft pick. And to his credit, Sullivan actually played quite well once joining the Devils.
The 38-year-old forward started his career on the Devils, but had not played for the team in 15 years. Despite that, the veteran came in and played as well as any Devil as the season winded down.
Sullivan will be a free agent and may be considering retirement, but if he decides to keep playing, the Devils may be wise to hold onto him and see if he can put together a whole season of decent play.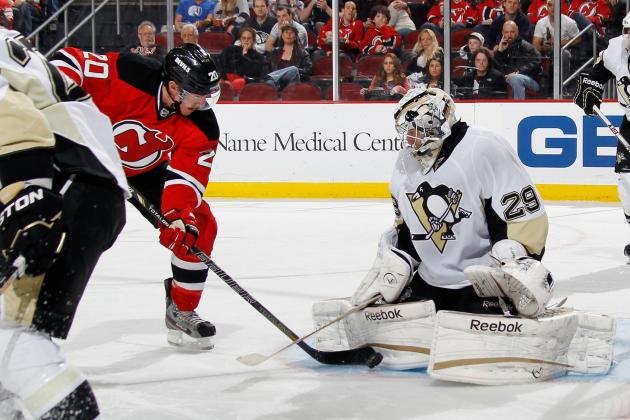 Bruce Bennett/Getty Images

44 games, 6 goals, 9 assists, -2
Grade: B-
Ryan Carter was part of the fourth line that proved so effective in last year's playoff run. The entire line was brought back and promoted with more playing time, and all three proved pretty effective.
Carter didn't put up fantastic numbers, but he came up clutch a few times and played with more consistency than most of the Devils.
Though far from extraordinary, Carter did what could reasonably be asked of him.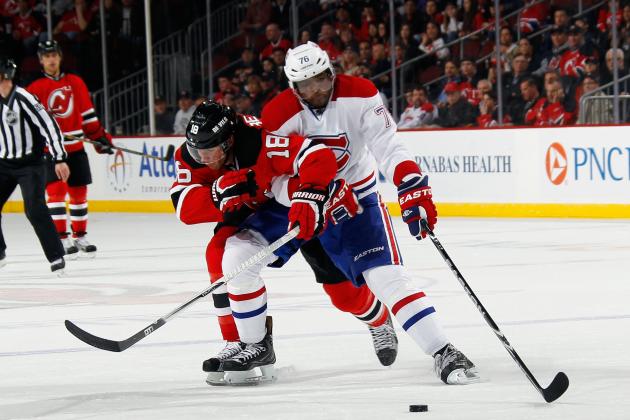 Bruce Bennett/Getty Images

47 games, 8 goals, 7 assists, -7
Grade: C+
Steve Bernier was the second piece of the magical fourth line of last year's playoffs, and he continued to play unexpectedly well this season.
Bernier has shown that, though extremely inconsistent, he can provide some supplementary goal-scoring, as he demonstrated at points this season. Unfortunately, he also ended up as a bit of a defensive liability, as evidenced by his minus-seven rating.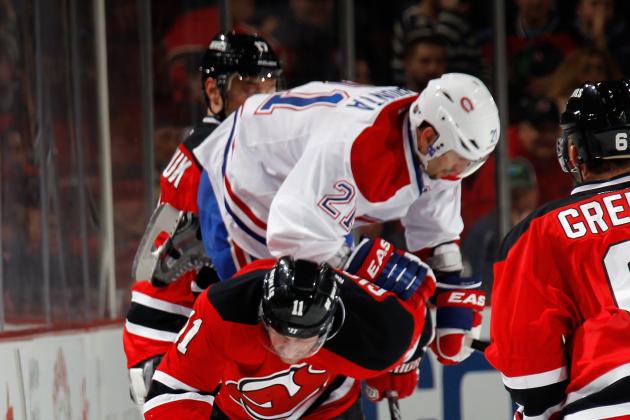 Bruce Bennett/Getty Images

48 games, 4 goals, 10 assists, +2
Grade: B+
Stephen Gionta may only be 5'7", but he has the physical play of a much larger skater: His 87 hits led the team. His plus-two rating was second only to Elias among forwards, and he even contributed 14 points along the way.
Much like Bernier and Carter, Gionta needs to be met with tempered expectations. He isn't as good a scorer as his brother, and he's probably never going to be a top-six forward. But Gio showed he can contribute offensively without leaving the defense out to dry, as well as adding a physical edge to the Devils' attack.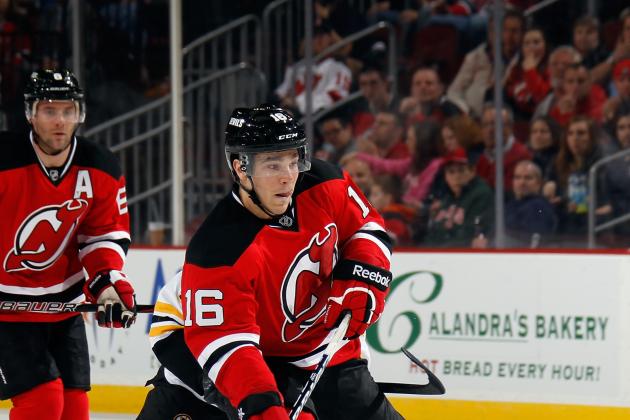 Bruce Bennett/Getty Images

13 games, 2 goals, 2 assists, -1
Grade: C
Matt D'Agostini was acquired somewhat early in the season from the St. Louis Blues in exchange for a draft pick. The young forward will be a restricted free agent at season's end, so his time with the Devils could be looked at almost as a try out. By those standards, D'Agostini did not really impress.
To be fair, he only appeared in 13 games and had limited playing time in those games, but even so, he managed just four points and a minus-one rating.
The Devils have lots of free agents this offseason, and D'Agostini could potentially fill-in for a bottom-six forward spot, so the Devils may be interested in keeping him. However, should they let him go, it seems unlikely they'll grow to regret the decision.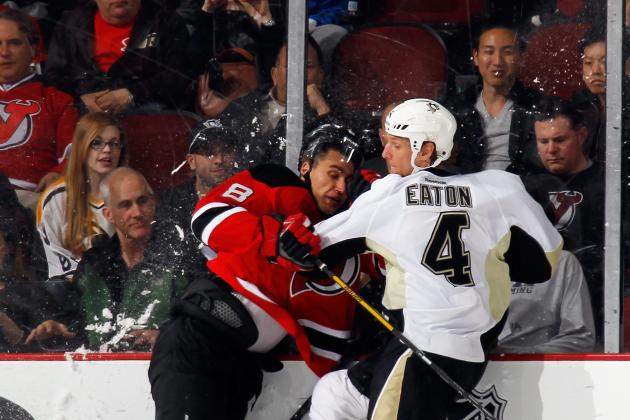 Bruce Bennett/Getty Images

22 games, 2 goals, 7 assists, -3
Grade: C-
Dainius Zubrus missed more than half the season due to injury, but he was still able to get in 22 games for the Devils. In those 22 games, he's played the sort of hockey fans have gotten used to seeing from him.
Zubrus has a good head for the game and seems to know what he's doing on the ice, but his production has never been quite impressive enough, and this year it became hurtful to the team. As a free agent this offseason, the Devils will likely let Zubrus walk unless he's willing to take a substantial pay cut.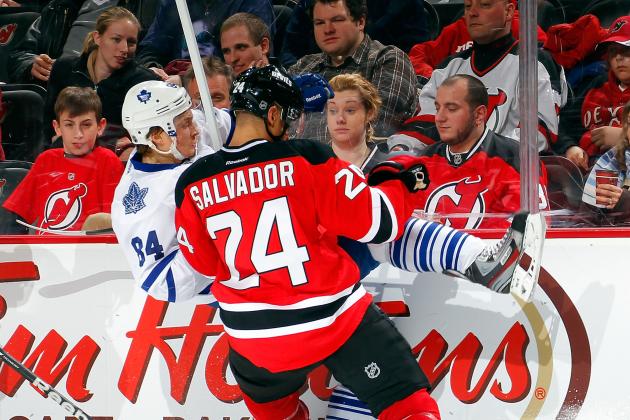 Paul Bereswill/Getty Images

39 games, 0 goals, 2 assists, -12
Grade: F
Bryce Salvador had a lot on his plate this season, beginning his tenure as the Devils' most recent captain. And though he may have tried, he certainly did not stick out.
In fact, Salvador was arguably the Devils' worst player this season. Always a stay-at-home defender, his two points aren't too surprising––though definitely pathetically low––but paired with a tied-for-team-worst minus-12 rating, it's entirely unacceptable.
Sal did excel in some categories: He led the team with 79 blocked shots, but he also had just 36 hits and tied for third on the team in giveaways.
Overall, it was the kind of season that makes you wonder why exactly this guy was named captain to begin with.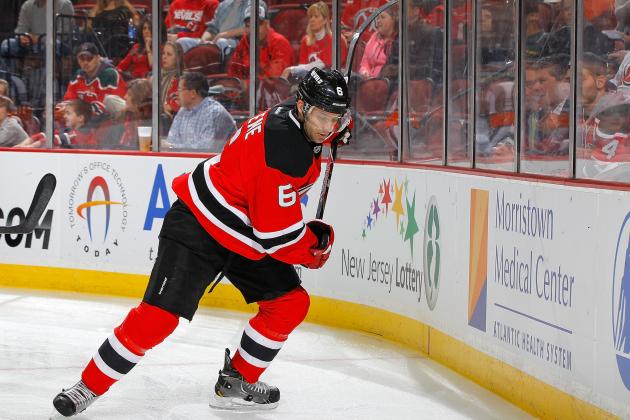 Jim McIsaac/Getty Images

48 games, 4 goals, 12 assists, +12
Grade: A
Andy Greene showed that he is one of the few defenders who can play somewhat consistently for the Devils this season. In fact, he might have been the most effective player on the team.
Averaging a point every three games, Greene leaves something to be desired for an offensive defenseman. However, thanks to Marek Zidlicky, some of the pressure to produce was off of him. That gave him the opportunity to excel at the other end of the ice.
Greene was stellar on defense this year, leading the team in takeaways (32), taking second in blocked shots (70), and adding 47 hits on top of that.
This season left many questions unanswered about the future of the team, but after a season that saw him go plus-six better than anyone else on the team, he should be seeing a lot more opportunities next season.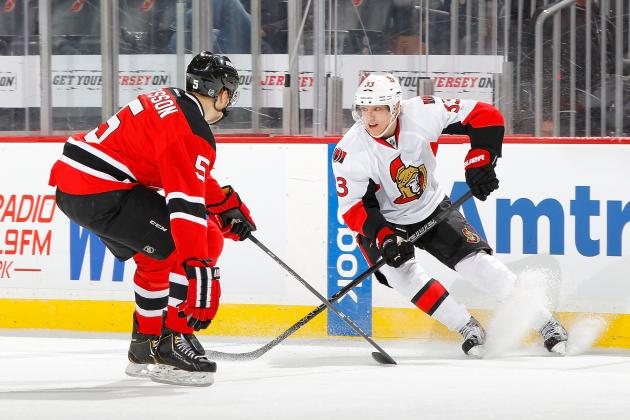 Jim McIsaac/Getty Images

37 games, 0 goals, 6 assists, +4
Grade: C+
Adam Larsson was the Devils' first-round pick in the 2011 NHL draft. The team selected the young Swedish defenseman with the fourth-overall pick, and have given him more than a hundred games over his first two seasons to hone his skill.
It wasn't a superb season for Larsson: He managed just six points without a single goal, and wasn't overwhelmingly effective on defense.
That said, he had a respectable plus-four rating, 37 hits, 49 blocked shots and 17 takeaways.
Larsson isn't the star fans had hoped for yet, but he showed a steady season of development, and gave fans reason to be optimistic about his future.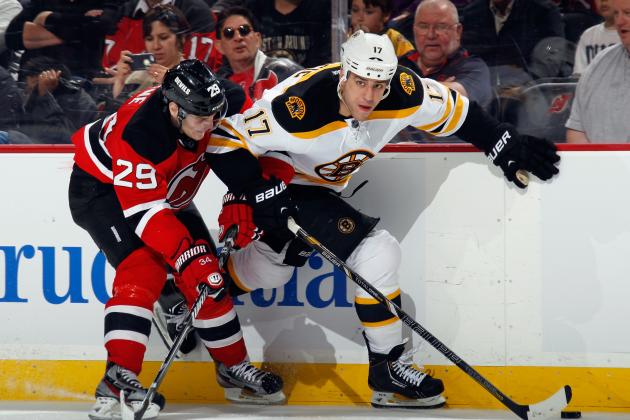 Bruce Bennett/Getty Images

31 games, 1 goal, 5 assists, +6
Grade: C+
Mark Fayne has rarely been a standout performer. After playing his way onto the roster during the 2010-11 season, he has become a regular member of the Devils' defensive squad. And though his numbers are never spectacular, they're not horrible either.
This year was essentially more of the same. Though he didn't excel by any means, he managed a point here or there. His plus-six rating is second best on the team. Additionally, he had 25 hits and 40 blocked shots. Nothing superb, but he played well often enough that he deserved to start most nights.
And moving forward, this season would hopefully keep Fayne in the team's top six.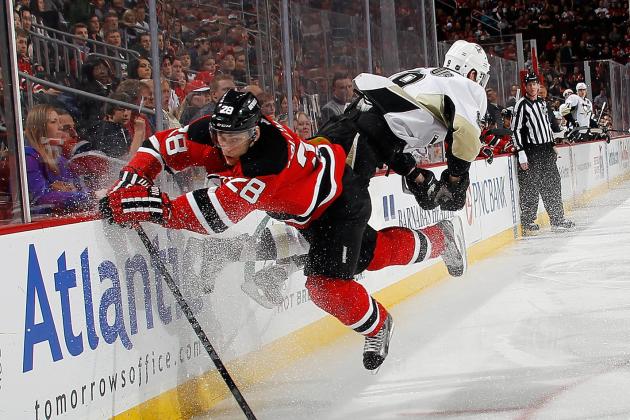 Bruce Bennett/Getty Images

37 games, 1 goal, 4 assists, -5
Grade: D+
It's hard to believe that just a few years ago, Anton Volchenkov was a highly-respected d-man who could land some punishing hits while also staying near the league lead in blocked shots.
Since the Devils signed Volchenkov, he has done neither of those things. His physical game has calmed down, while his total lack of production has continued. The result is a defender who brings almost nothing to the table.
Five points is actually a reasonable expectation for Volchenkov. However, his -1 rating is unacceptable. He had 51 hits, only sixth on the team, and had the third most blocked shots with 50 (nearly 30 fewer than Salvador).
Volchenkov used to be an incredibly effective defender, and hopefully he'll return to a reasonable level of play. This season, though, it's hard to see him as anything other than a disappointment.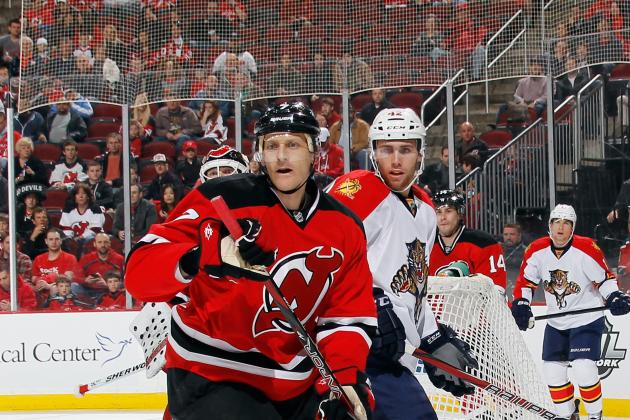 Bruce Bennett/Getty Images

25 games, 1 goal, 3 assists, +0
Grade: D
Henrik Tallinder has been one of the leaders of the Devils defensive corp the last few years, so it's a bit surprising how irrelevant he became this season; he ended up spending a number of games on the bench as a healthy scratch.
Tallinder was just entirely underwhelming in his performance. Four points in 25 games is much less than should be expected of a decent, puck-moving defenseman of his caliber. He had just 15 hits, 15 blocked shots and six takeaways, showing that he rarely really had an effect on a game.
As roster filler, he sufficed. But battling for a position, he was just altogether unimpressive.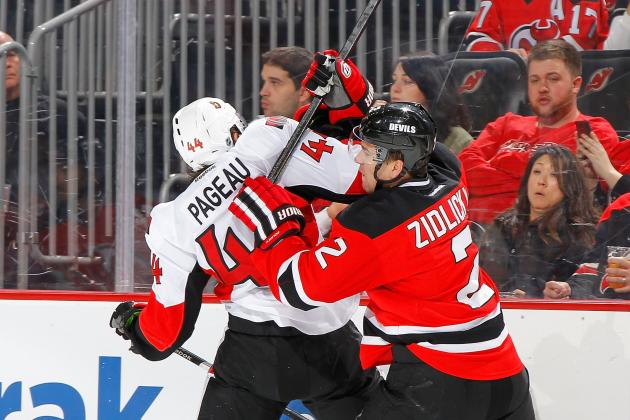 Jim McIsaac/Getty Images

48 games, 4 goals, 15 assists, -12
Grade: C+
The Devils acquired Marek Zidlicky around last year's trade deadline, and he really improved the team: His speed and offensive ability brought a new element to the Devils' defense, and he fit in well both on the power play and in regular play.
This season, two things happened: One is that his offensive game suffered a bit, and the other is that he became a defensive liability.
On offense, his 19 points is not terrible, but simply isn't enough for a d-man getting playing time on the first power-play unit. And the power play is where he found most of his success: He scored one goal and had 10 assists while up a skater.
On defense, he wasn't too impressive. He was fifth with 52 hits and 42 blocked shots, but his 31 giveaways were the most of the team's defensemen, as were his 45 missed shots.
Most telling of all is his team-worst minus-12 rating, showing just how big a liability he was on the back end.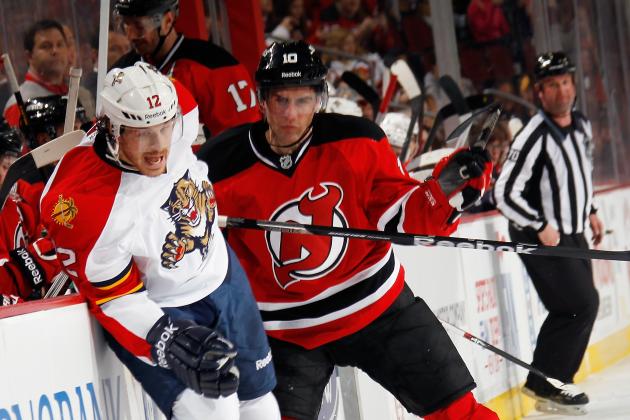 Bruce Bennett/Getty Images

23 games, 2 goals, 3 assists, -8
Grade: D+
Peter Harrold was the Devils' eighth defenseman this year. Luckily, thanks to overall unimpressive play from the defense, he was given a number of chances to help the team. Unfortunately, it's not clear he actually provided any help.
After Salvador, Harrold had arguably the worst defensive season. His minus-eight rating is certainly not endearing, nor are his 21 hits or 10 blocked shots.
It's true that he only saw limited play this season, and maybe that will change next season––it all depends on what some of the other seven d-men do.
One thing's for sure, though. Harrold certainly didn't guarantee himself a roster spot with his play this year.
Bruce Bennett/Getty Images

13-9-7, 2 SO, 2.22 GAA, .901 SVP
Martin Brodeur continued his historic career into his 40's this season, and though he can still clearly play at a professional level, the question remains, should he?
The question has to be asked after the Devils missed the playoff for the second time in three years. The first time was two years ago, the first losing season of Brodeur's career. Now, a short time later, Brodeur is once again coming off of an extremely unimpressive season.
Marty was actually playing pretty well for a while, before an injury kept him out for an extended time. By the time he got back, the Devils had sunk pretty far, and he wasn't able to help dig them out of the hole.
Basically, Brodeur can't be blamed for the Devils missing the playoffs, but he also didn't come up clutch when they needed him to. A younger Marty might have been able to get hot to end the season, but this Brodeur just seemed tired.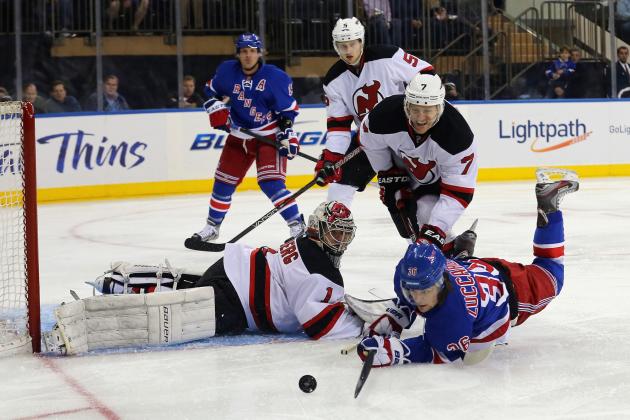 Bruce Bennett/Getty Images

6-10-3, 1 SO, 2.76 GAA, .883 SVP
Grade: F
Johan Hedberg served as the Devils' backup goalie this season. He even received more than 10 straight starts during a period when Martin Brodeur was injured. Sadly, the extra playing time did anything but raise his value.
Of his 19 starts, Moose managed just six wins. His save-percentage is well below the .900 marker, and his single shutout isn't enough to make fans ignore his hideous goals-against average.
After earning the team five of the six possible points in his first three starts, Hedberg got dreadful. From February 16 to March 5, Moose started seven games. During that time, the team managed just a single point in the standings (out of a possible 14), and Hedberg gave up an astonishing 26 goals.
While Marty likely has enough for another season in him, Hedberg seemed to show clearly this season that he is done. He still has a year left on his contract, but the Devils would be wise to dispose of him in some way. Keeping him on the roster only hurts the team at this point.