New York Yankees: Winners and Losers from First Month of Action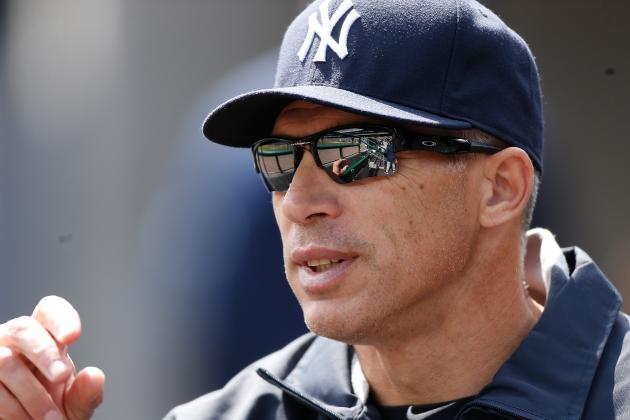 Gregory Shamus/Getty Images
Girardi has somehow managed to keep the Yankees in contention through the first month.
Through the first month of the 2013 season, the New York Yankees have defined themselves as the team that overcomes setbacks.
They knew coming into the regular season that the first month would be a challenge. With Derek Jeter, Curtis Granderson and Mark Teixeira all expected to be out until May 1, the club's prognosis was grim.
As the first few weeks passed, it became clearer that May 1 was not a realistic goal for the injured Yankees stars. Another fracture was discovered in Jeter's ankle and Teixeira's wrist is not far enough along for him to rejoin the club. Only Granderson has shown promise in being able to return to the lineup, and he hopes to be back in the Bronx in early May.
In spite of the setbacks, manager Joe Girardi has the team sitting third in the AL East Division and in a wild-card spot as the first month comes to a close.
The numerous injuries the Yankees have had to deal with opened up opportunities for players otherwise relegated to coming off the bench. Some of those players have made the most of their chances while others have seen their shots at glory pass them by.
This article takes a look at a few of the Bombers' winners and losers from April.
Begin Slideshow

»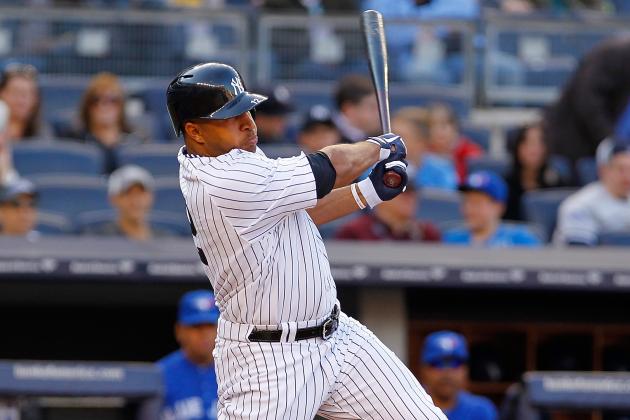 Mike Stobe/Getty Images
Wells has proven invaluable to the Yankees.
When Granderson was lost to the Yankees with a broken arm before the season began, it resulted in Brett Gardner being moved to center field. That move left an opportunity for someone to grab the starting left-fielder spot in the Yankees lineup.
Enter Vernon Wells.
Coming off two seasons where he hit just .222 with a 121-to-36 strikeout-to-walk ratio with the Angels, Wells came relatively cheap (traded for two minor leaguers with $28.1 million of $42 million remaining salary to be paid by the Angels) to the Yankees. The expectation was that he would occasionally spell one of the three starting outfielders and DH.
Instead, Wells has established himself as a key component to the Bombers lineup. He is second on the team in hits (27), runs (14), average (.307), home runs (6) and walks (10). In addition, he is third in RBI (13) and slugging percentage (.557).
Only time will tell if Wells can continue to be as productive as he has been in April. With the return of Granderson, his playing time may become limited, but given what he has done this first month, it will be a difficult decision for Girardi whether or not to sit the reborn slugger.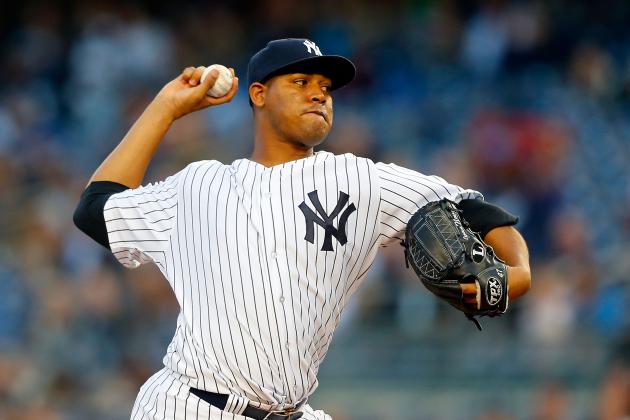 Jim McIsaac/Getty Images
Nova's promise has been tempered by injury and inconsistency.
The fifth starter's spot in the Yankees rotation was up for grabs entering spring training in 2013. By Opening Day, Joe Girardi had handed the role to 26-year-old Ivan Nova. He had been a 16-game winner in 2011 but was coming off a disastrous 2012 campaign that saw him lose his place among the starting five.
There was hope that Nova had regained his form and would have a bounce-back season.
After three starts, the doubters were lining up. To that point, the Yankees hurler hadn't gone more than five innings in any game and had not given up less than two runs in any start. He carried a 6.14 ERA heading into a game against the Toronto Blue Jays and through two innings of that contest, he yielded four hits, a home run and hit a batter while allowing Toronto two runs. Then in the third inning, he left the game with soreness, which was later diagnosed as triceps inflammation. The team promptly put the hurler on the DL and inserted David Phelps (the pitcher Nova had beaten out for that spot in the rotation) into a starting role.
Whether there will be a chance for Nova to regain a starting spot is anyone's guess, but April hasn't lived up to the club's hopes when it comes to the once promising pitcher.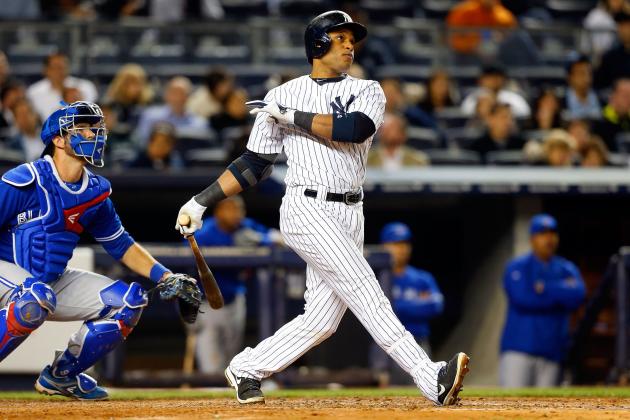 Jim McIsaac/Getty Images
Cano is the Yankees' most feared hitter.
For Robinson Cano, 2013 is not one of grabbing an opportunity. Rather, it is a season of living up to expectations.
Coming off a World Baseball Classic performance that saw the star second baseman win the tournament MVP award while hitting .514 over eight games, it appeared that Cano was ready to establish himself among baseball's elite.
After one month of the season, he has disappointed no one.
Over the first 25 games, he has hit .324 with seven HR, 17 RBI and 17 runs scored. He leads the team in each of those categories.
He has accomplished it while being bounced between the second and third spots in the order.
If April is any indication of what Cano's season will be, then the Yankees star can expect to be considered an MVP candidate at year's end.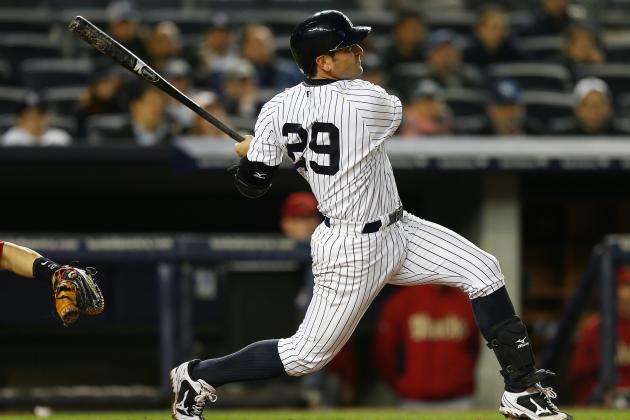 Elsa/Getty Images
Cervelli had improved both at the plate and behind it in April.
Two weeks ago, Francisco Cervelli would have fallen into the "winner" category for 2013. Following a fall from grace in 2012 that saw him demoted to the team's Scranton/Wilkes Barre club, the 27-year-old backstop had worked his way into the primary catching role this season.
In 17 games, Cervelli was hitting .269 with a .500 slugging percentage and batting .375 with RISP.
Defensively, he proved himself more than capable in spring training, throwing out 50 percent of runners attempting to steal, and carried that into the regular season, as he has gunned down two of four base stealers.
Unfortunately, in the same game that saw pitcher Ivan Nova leave with inflammation of his triceps, a foul tip broke Cervelli's hand and the catcher will be out a minimum of six weeks following surgery.
As a result, highly touted prospect Austin Romine has been called up to take his place, and if the rookie does well, Cervelli could end up on the wrong end of a "Wally Pipp."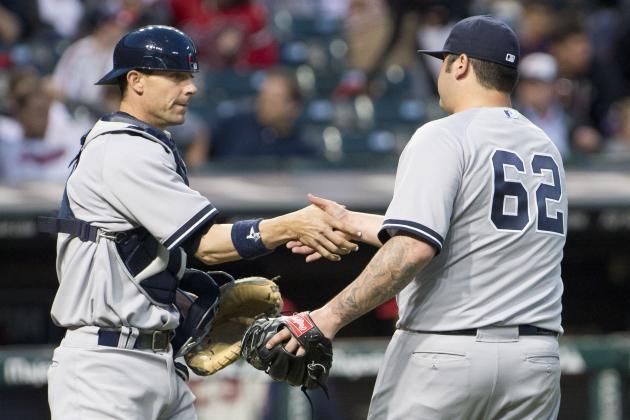 Jason Miller/Getty Images
Cervelli's demise is Stewart's opportunity to take over behind the plate.
Chris Stewart has always been known as a defensive specialist and a weak hitter. He has never been a primary catcher (the most he has ever played in one season is 67 games in 2011) and carries a .220 lifetime batting average.
With Francisco Cervelli's injury, Stewart has become the primary catcher for the New York Yankees.
Defensively, he is living up to his reputation, as he has thrown out 50 percent of potential base stealers (four of eight runners). Offensively, he has been somewhat of a surprise to the Yankees and their fans.
Currently, he is hitting .267 with a .679 OPS. Both would be career highs if he maintains them.
Perhaps all he needed was the opportunity to shine, and 2013 has provided him with that chance.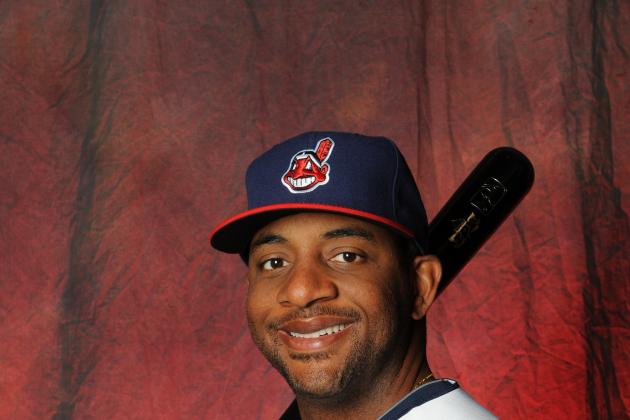 Rich Pilling/Getty Images
Francisco was signed and released by the Indians prior to the Yankees grabbing him.
Given a solid spring training (he hit a combined .308 with the Indians and Yankees) and the flexibility he provided Joe Girardi while he tried to maintain a productive lineup, Ben Francisco opened 2013 with the big league club.
The thought was that Francisco would give the team a right-handed bat to use at DH and give the starting outfielders an occasional day off.
The problem is that Francisco's spring stats haven't carried into the regular season.
To date, the 31-year-old journeyman outfielder is hitting .103 in 13 games played. He has struck out eight times while accruing just three walks.
Those are results that won't be tolerated for long by a team hoping to keep its head above water while its stars heal.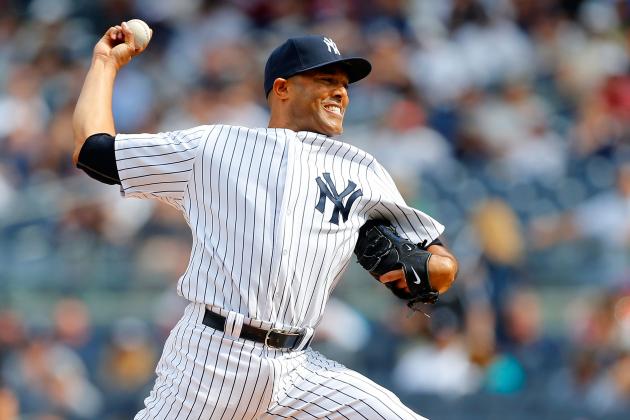 Jim McIsaac/Getty Images
Rivera has given the Yankees the "same ole same Mo."
It is hard to believe that the greatest reliever in the history of Major League Baseball entered 2013 with something to prove, but that was exactly the situation for Mariano Rivera.
Yankees fans can exhale.
Coming off the devastating leg injury suffered early in 2012, many wondered just what they would see when Rivera took the mound in the Bronx this season.
They should have known better.
Through the first 25 games, Rivera has made 10 appearances and holds a 1.80 ERA. He has nine saves in nine opportunities and an excellent 1.00 WHIP. His strikeout-to-walk ratio is 10-to-1 and opposing batters are hitting just .231.
To summarize, it is the same, ageless Mariano Rivera that baseball has always known, and he is on pace to make this, his final season, the best he has ever had.
All statistics in this article can be found at MLB.com and yankees.com.